Broccoli Apple Salad
A dreamy broccoli apple salad made from all-star ingredients. Bright broccoli florets, crisp apples, crunchy fried shallots, candied nuts and slivered red onions are tossed in a honey-kissed, creamy, almond dressing.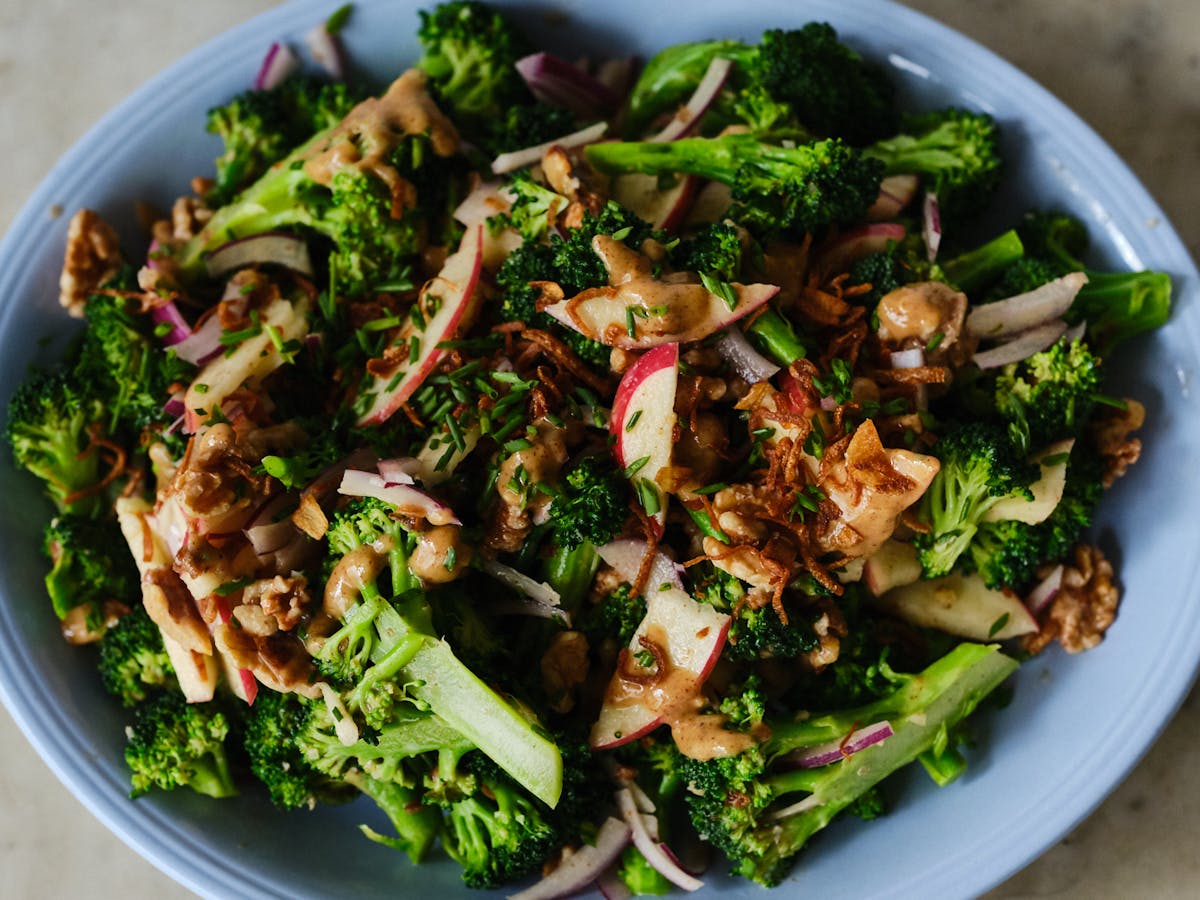 All things crunchy and colorful are combined in this broccoli apple salad. And it's a beauty! Bright broccoli florets, crisp apples, crunchy shallots, candied nuts and slivered red onions are tossed in a barely sweet, creamy almond dressing.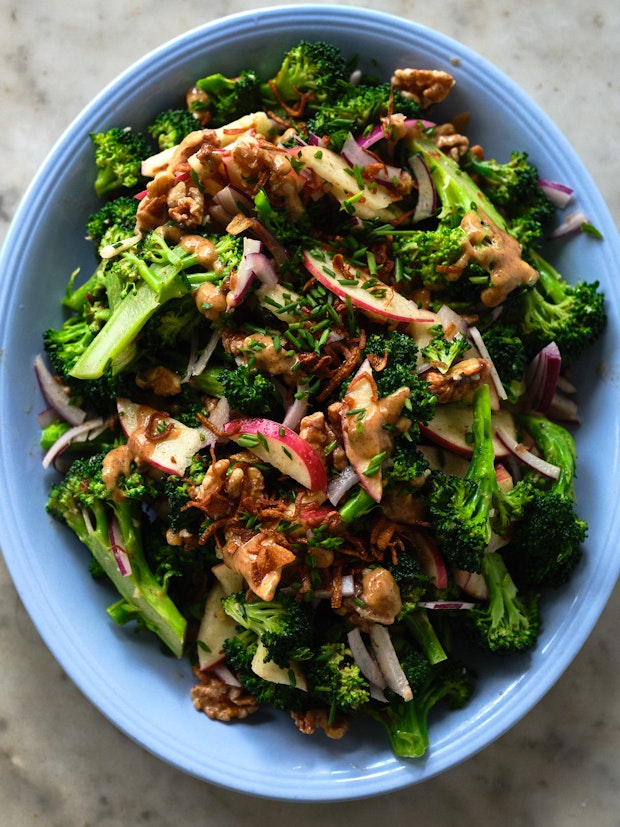 This is a hearty and substantial salad with lots of play between the sweet of the apple, the savory shallots, and the crunch of the candied walnuts and crisp, flash-boiled broccoli. It's the sort of thing that is welcome on just about any table - holiday, picnic, Tuesday night, or desk at work. I if you're on the look out for feel-good lunch ideas, I also love this broccoli salad as a bento component.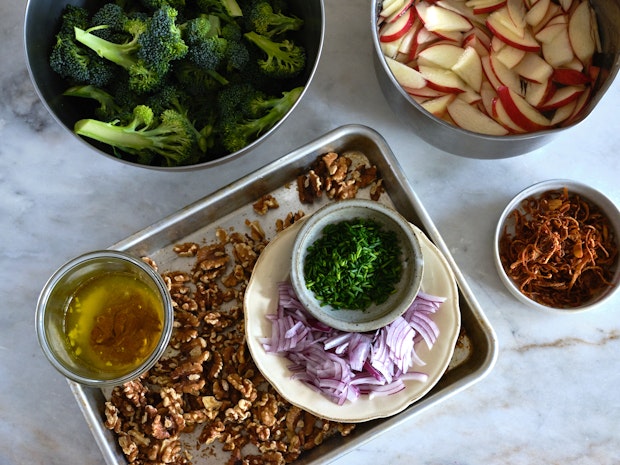 Make Ahead Plan
With a bit of planning, this recipe comes together quickly. You can make most of components ahead of time, but, pro-tip, don't dress the salad until you are ready to serve it. This preserves the various crunches. Make the almond butter dressing up to a few days in advance. Same goes for the crispy shallots. If you are going to do the version with candied walnuts, those will hold in an air-tight container for weeks. Beyond that you're simply boiling broccoli and slicing apples.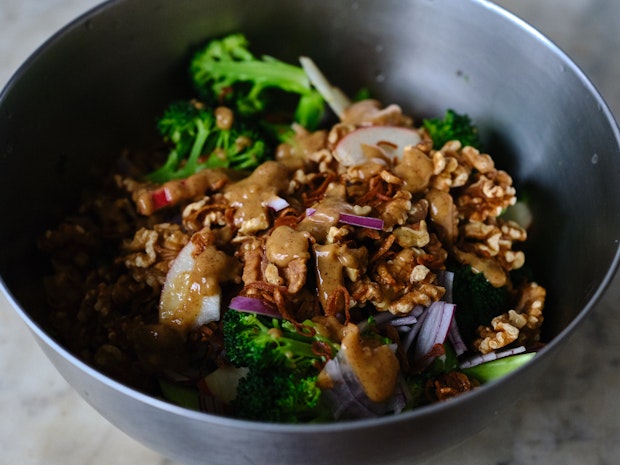 Broccoli Salad Variations
Make it a Main Dish: Add caramelized tofu, pan-glazed tempeh, or spicy tempeh crumble (on top) to turn this into a main course.

Ginger Carrot Broccoli Salad: Swap out the creamy almond butter dressing in the recipe below, and use this ginger carrot dressing instead.

Broccoli Apple Salad with Spicy Ranch Dressing: Swap out the creamy almond butter in the recipe below and use this spicy ranch dressing in this wedge salad recipe instead.

Broccoli Apple Salad with Peanut Butter Dressing: In this version, swap out the almond butter and swap in peanut butter.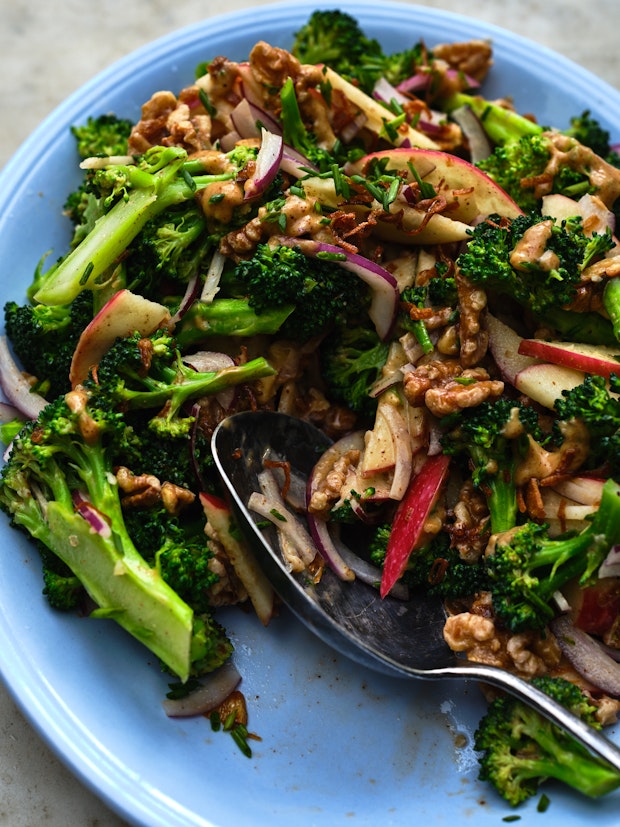 More Broccoli Recipes
Broccoli Apple Salad
The success of this salad hinges on the broccoli. Buy good-quality, bright green broccoli with tight florets. Now, do your best not to overcook it. You don't want it to stay crisp and bright. As far as substitutions go, if you don't have almond butter on hand, peanut butter is an easy swap. And if you don't have time to make candied walnuts, toasted walnuts are just fine! Lastly, if you aren't going to use the apples immediately after chopping, or if you're going to pack this into a lunch, let the apples sit in a bowl of water plus the juice of a lemon. This will help to prevent browning - drain completely before using.
Ingredients
5

cups

broccoli florets

1

garlic clove

scant 1/2 teaspoon fine grain sea salt

1/4

cup

almond butter

3

tablespoons

freshly squeezed lemon juice

1

tablespoon

honey

2

tablespoons

extra-virgin olive oil

3

tablespoons

hot water

2

apples, cut into bite-sized pieces

1/2

small red onion, thinly sliced

1/2

cup

candied walnuts

or toasted walnuts

1/3

cup

pan-fried crunchy shallots*

1/4

cup

chopped chives
Instructions
Bring a medium pot of water to a boil and salt as you would pasta water. Boil the broccoli just long enough to take the raw edge of - 10 or 15 seconds. Drain and immerse it in cold water (or let cold water run over it). At this point, I like to spin the broccoli in a salad spinner to get the water off, but a few good knocks against the sink in a strainer can do the trick pretty well. Set aside.

Make the dressing by sprinkling the salt over the clove of garlic. Smash the clove and chop, smash and chop - turning it into a paste. In a small bowl whisk the salty garlic paste with the almond butter, lemon juice, honey and olive oil. Add the hot water and whisk until light and creamy. Taste, make any adjustments, and set aside.

In a large bowl gently toss the broccoli, apples, red onion, most of the shallots and nuts with a generous drizzle of the almond dressing. Turn out onto a platter and finish with the rest of the shallots and chives if you like. Serve family style.
Notes
Serves 4-6.
*Thinly slice peeled shallots razor thin, then place in a small saucepan. Add enough oil to coat the shallots well. The shallots should be swimming in oil, but not entirely submerged. Cook slowly, over medium heat, until shallots are deeply browned and fragrant. Use a strainer to remove shallots, transferring to a paper towel to cool. Sprinkle with a bit of salt. Keep the shallot oil for another use.
Related Recipes
More Recipes
Popular Ingredients