Spicy Tempeh Crumble Bowl
A riff on one of my favorite recipes in Andrea Nguyen's Vietnamese Food Any Day - a caramelized tempeh crumble. The sort of thing that immediately becomes the best component in your rice bowl.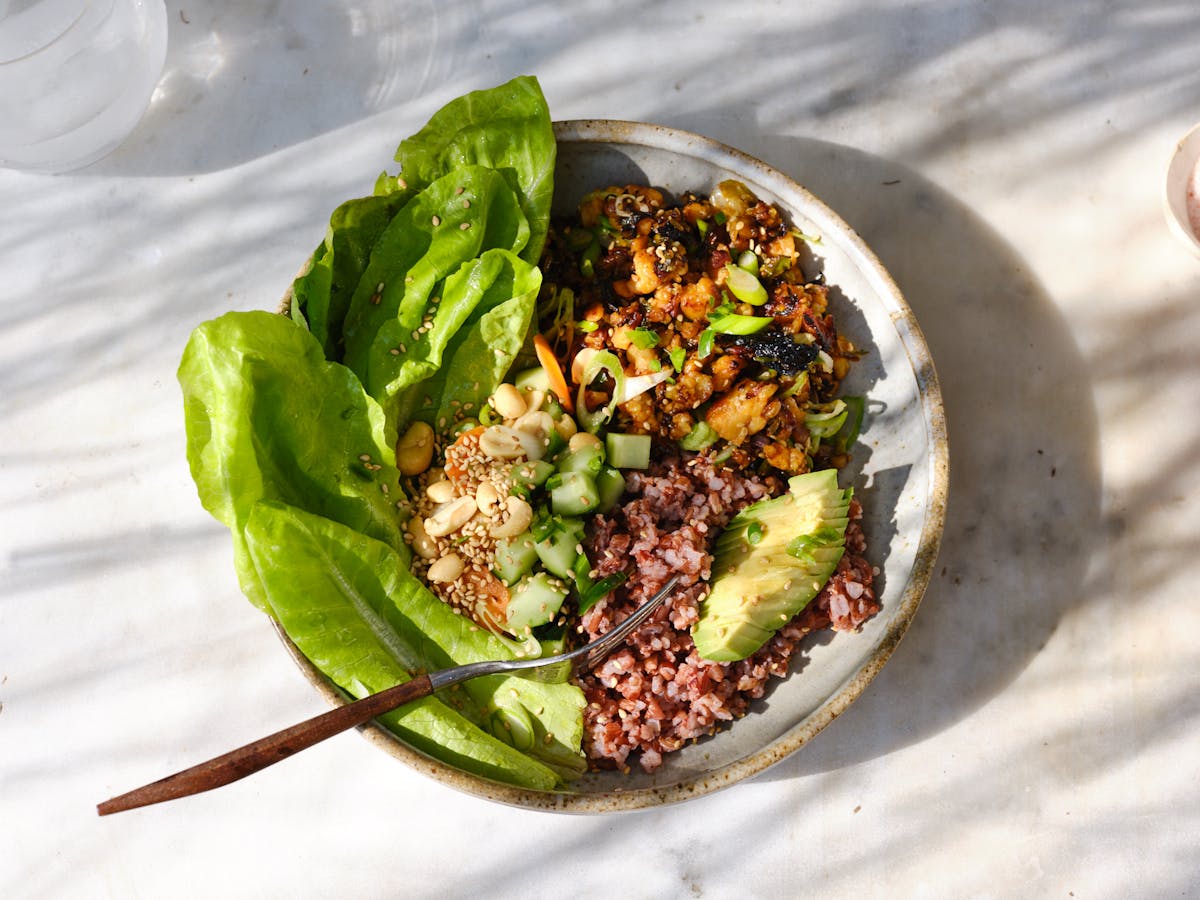 Today's recipe is a riff one of my favorites from Andrea Nguyen's most recent book, Vietnamese Food Any Day. It's a caramelized tempeh crumble, the sort of thing that immediately becomes the best component in your rice bowl. If you're on the fence about tempeh, this is the place to start.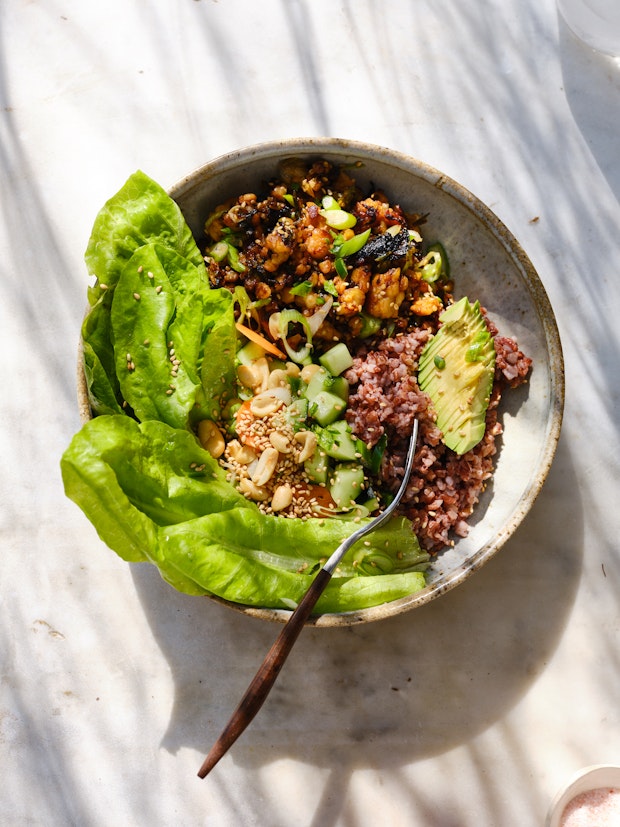 What is Tempeh?
Tempeh is a fermented whole food, soy-based, and much loved in traditional Indonesian culture. To make tempeh, soybeans are soaked, partially cooked, combined with a starter, and then spread into a layer to allow fermentation to take place. A lot goes on at this stage, and you can read a more detailed play-by-play about tempeh production here. Soybean tempeh is most common, but other variations are also available. You also might see tempeh combined with other power ingredients like flax, or other grains.
Andrea acknowledges that tempeh isn't a traditional Viet ingredient, but she uses it in banh mi, pho, and crumbles like this one to mimic meat, "when crumbled into small pieces...tempeh absorbs the seasonings well and fries up nicely."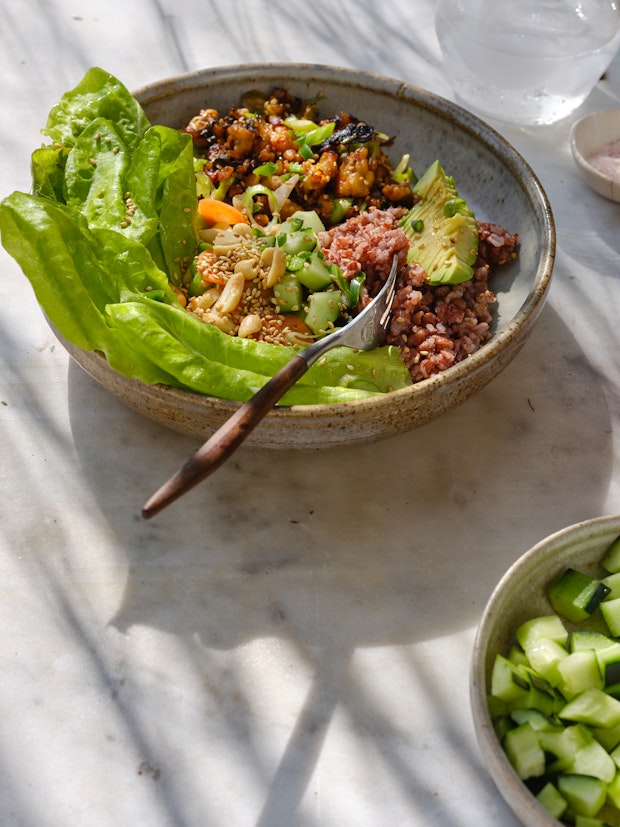 Why Tempeh is such a Power Food
Tempeh is widely considered a powerhouse ingredient because it is rich in a good range of nutrients. It also weighs in nicely on fiber, antioxidant, and protein fronts. Add to that the fermentation factor (basically, the fermentation helps with nutrient absorption, and digestibility) and you have a food that is working for you, not against. A lot of people like to substitute tempeh in place of something meaty. For example, this tempeh crumble might take the place of a pork crumble. Here's where you can find more tempeh recipes, and I also like this list of tempeh benefits on McKel's Nutrition Stripped Site. More tempeh in 2020!
The Tempeh Crumble recipe
In Andrea's version she uses 1/2 cup of chopped lemongrass. The lemongrass adds beautifully fragrant citrus notes, and is one of my favorite flavors. That said, the times I was in a hurry to make dinner, I found myself skipping out on the 1/2 cup of chopped lemongrass (the lemongrass in my yard is crazy tough) and repeatedly making this shortcut version. It uses serrano chiles and extra green onions - still really tasty, just quicker to throw together.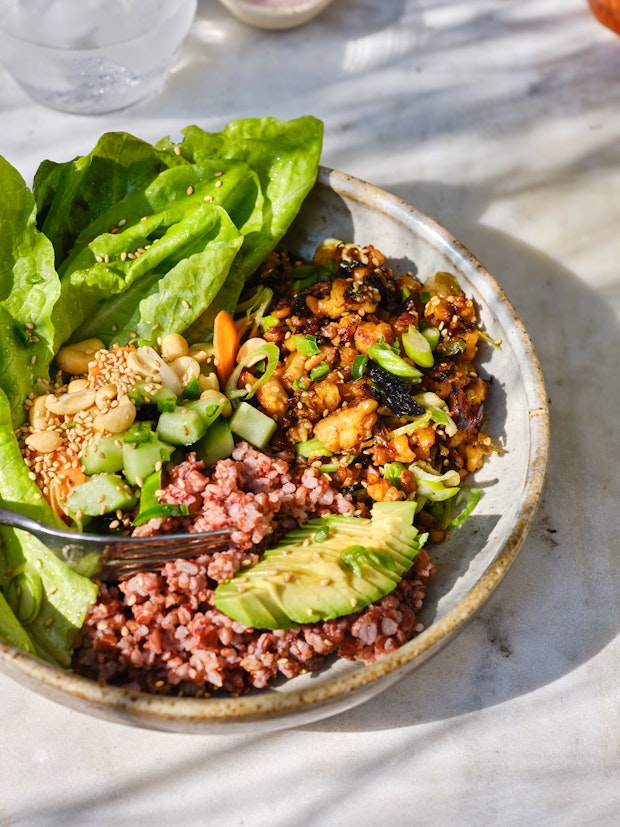 Ways to Use the Tempeh Crumble
Here (above) you see the tempeh crumble as a component in a rice bowl. The basic components are rice and the tempeh crumble plus what ever is on easy and on hand in the refrigerator or pantry. I grabbed peanuts, some garden lettuces, cucumber, pickled carrots, and avocado. A dollop of guacamole wouldn't be unwelcome. The crumble would also be great on these Vegan Nachos, in these Garlic Lime Lettuce Wraps, or in place of the tempeh in this Taco Salad.
Spicy Tempeh Crumble Bowl
The tempeh crumbles are great as a component in a rice bowl, as pictured here. But don't let that limit you! They're also great in dumplings, on nachos, in banh mi, or as a component in a stir-fry.
Ingredients
1

tablespoon

sugar

1

tablespoon

sriracha

2

tablespoons

tamari or soy sauce

3

tablespoons

extra-virgin olive oil

2

medium serrano chiles, seeded and chopped

8

green onions, thinly sliced including green parts

8

ounces

tempeh, crumbled

3

cloves

well-chopped garlic

1

tablespoon

toasted sesame seeds

To serve: (any / all) cooked whole grain rice, lettuces, chopped cucumber, pickled carrots, avocado, plus more sriracha & tamari (to taste)
Instructions
In a small bowl combine the sugar, sriracha, tamari, and 1/4 cup water. Set aside.

In a large skillet over medium-high heat, warm the olive oil. Stir in the chiles and half of the green onions and cook, stirring regularly, until softened, a few minutes. Stir in the tempeh and sriracha seasoning liquid, and allow the mixture to bubble and fry for about ten minutes. Press on the tempeh to break it up into smaller pieces, to maximize surface area for browning and crisping. Give the occasional stir, and re-spread across the bottom of the pan so as much mixture has contact with the pan as possible.

Toward the end of the ten minutes, stir in the garlic, and cook for another minute or two. Remove from heat and stir in the sesame seeds and the remaining green onions.

Serve warm or at room temperature over rice with any of the suggested toppings. Tempeh crumbles will keep, refrigerated, for a few days.
Related Recipes
More Recipes
Popular Ingredients