Quinoa Salad
A favorite quinoa salad punctuated with crunchy cucumbers and toasted cashews. There's creamy feta, wisps of arugula, flecks of red onion and herbs, and a special ginger-curry dressing. So delicious!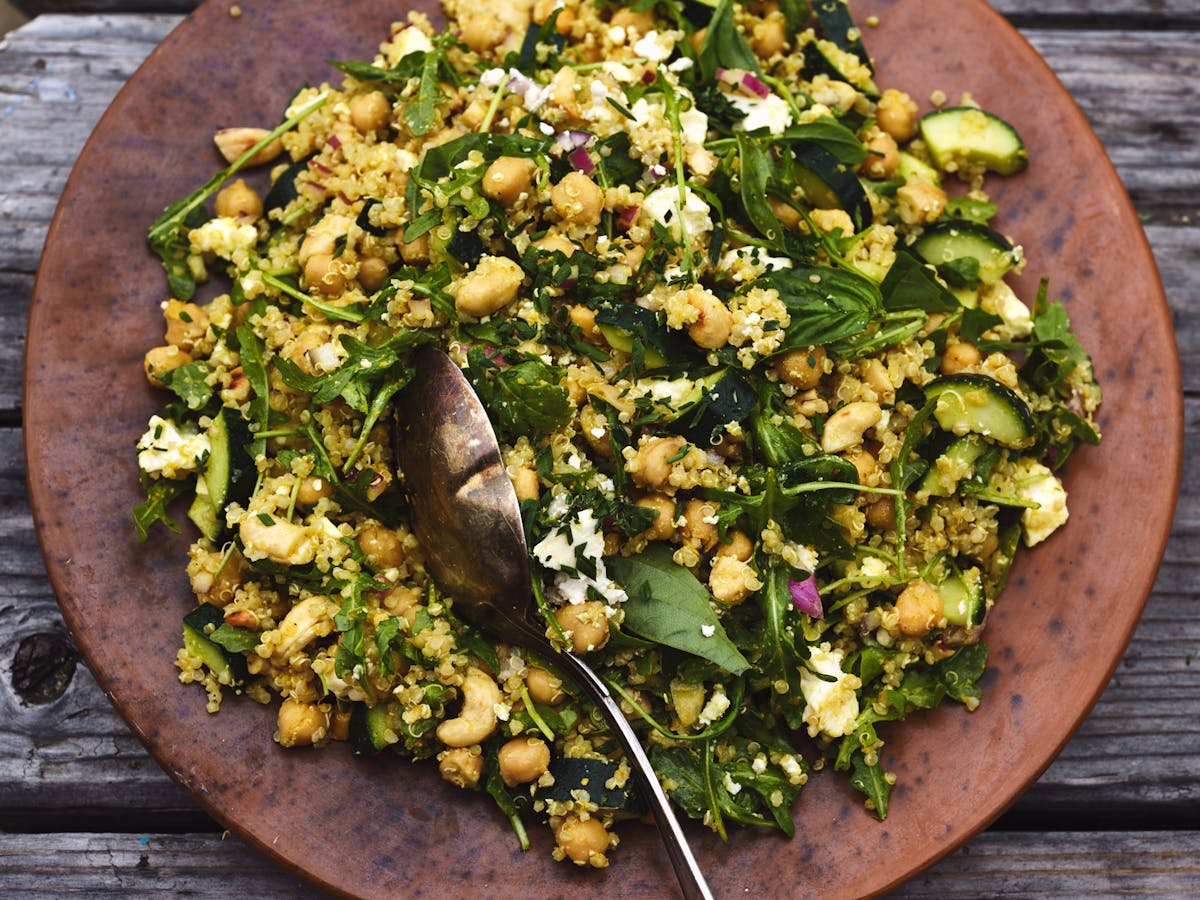 This favorite quinoa salad checks all the boxes. I hope you make it! Let's talk it through. A nutritious quinoa base is punctuated with crunchy cucumbers and toasted cashews. There's creamy feta, wisps of arugula, and flecks of red onion and herbs. The thing that makes this salad stand out from other quinoa salads is the bright, strong, ginger-curry dressing made with garlic and a good splash of orange juice. It's *so* tasty.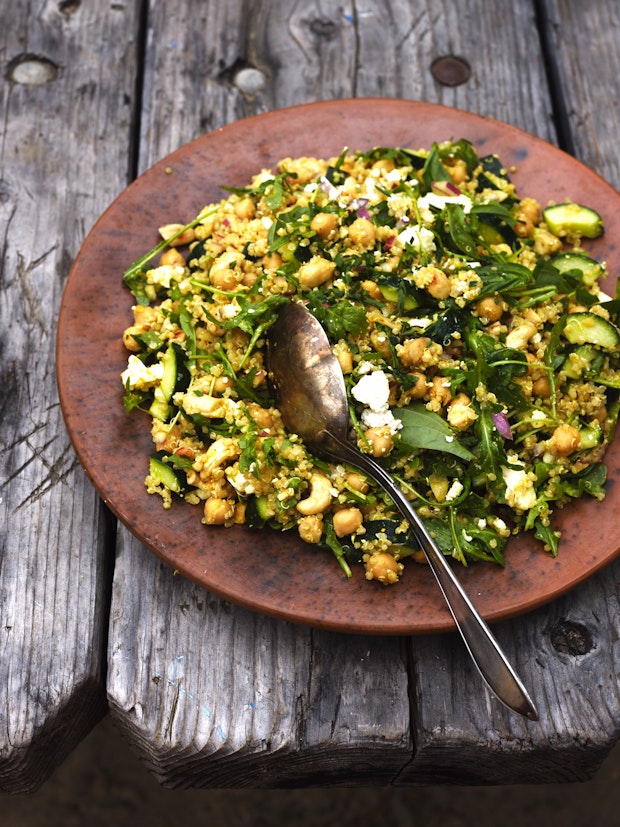 Quinoa Salad
Five reasons to love this recipe:
This quinoa salad is all about the ginger-curry dressing. The dressing is flavor-packed and can be made up to a few days ahead of time. It is also a great spread on sandwiches, and drizzled over grilled vegetables or bruschetta.
This salad is even better on the second day. Re-toss with a bit of extra dressing and you're good to go.
A quinoa salad like this one is a fantastic option for family meals and potlucks where you might have to accommodate a range of allergies. It is gluten-free and can be nut free if you swap pepitas or sunflower seeds for the cashews.
If you're looking for something a bit more substantial, turn this salad into a hearty one-bowl meal by topping the salad with a hard boiled egg, slivered omelette, or tempeh crumble.
It's loaded with goodies like toasted nuts, cucumbers, herbs, and arugula. Along with the quinoa, and the spice-forward dressing, you have all the good stuff in one bowl.
This salad is big on flavor, colorful, a crowd-pleaser, fresh, and healthful. All around, a great summer salad.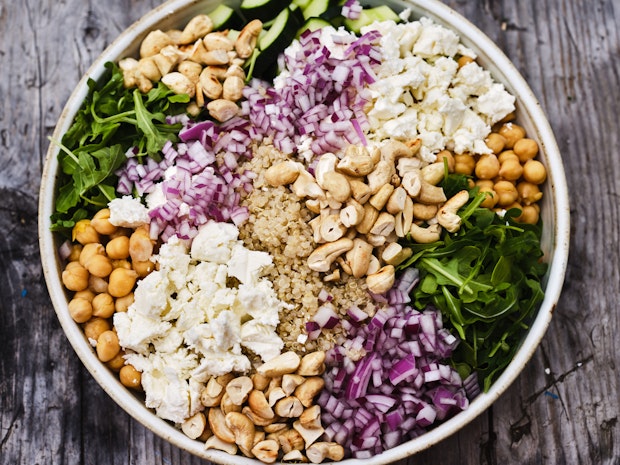 Quinoa Salad Ingredients
This salad comes together quickly, especially if you make the dressing ahead of time or keep it on hand.
quinoa
red onion
arugula or spinach - you can use any chopped green, really. Thin shavings of green cabbage is another option. Peppery leaves of arugula is my first choice though.
toasted cashews
chickpeas
feta cheese - taste your way through different feta over time. The range of feta available dramatic and super interesting. Some are saltier than others. You will find varieties made from sheep milk, cow milk, goat milk, or a blend. True Greek feta is made with sheep's milk, and I tend to grab that. Opt for blocks of feta over crumbles.
herbs
ginger-curry dressing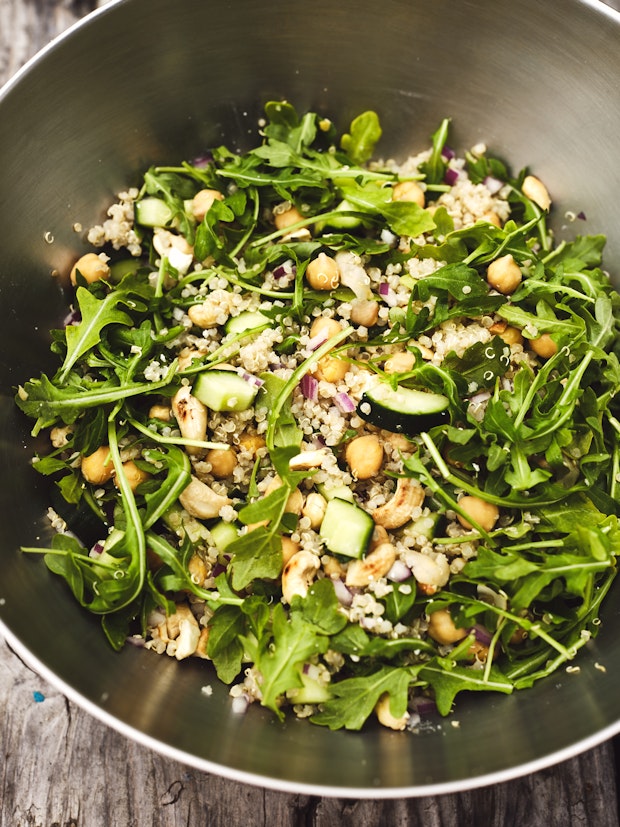 How To Cook Quinoa
This recipe has you start out with a couple cups of cooked quinoa. You can use any color quinoa you like. If you aren't sure how to cook quinoa, or how to be sure it turns out nice and fluffy, there's a post for you. This page explains how to cook quinoa, and talks through a lot of ways to work this special ingredient into your cooking.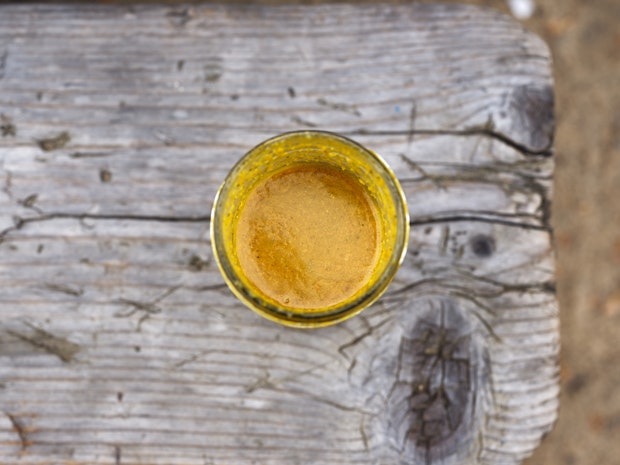 As I mentioned up above, the ginger-curry dressing is what makes this salad really sing. The recipe below has you make more than you need, so you'll have extra to use on other things throughout the week.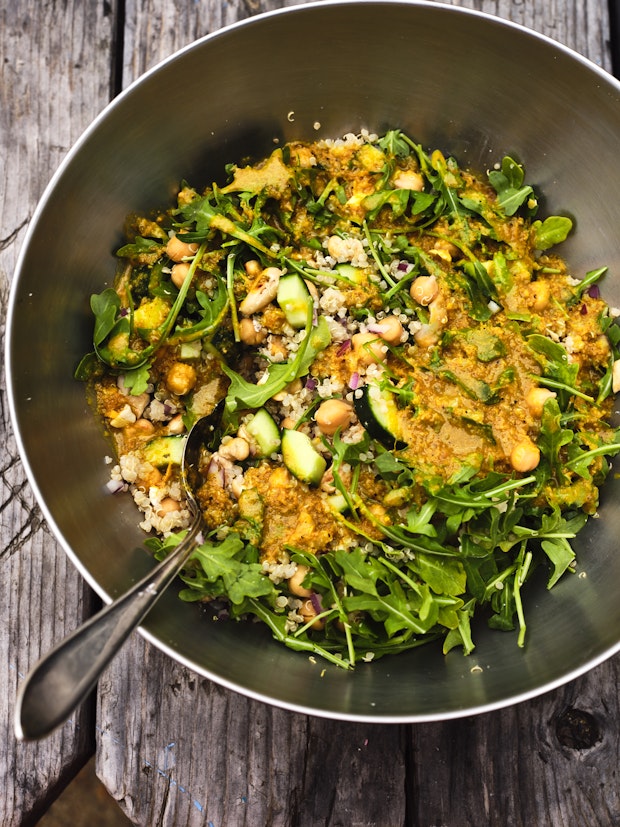 Here you see all the ingredients coming together. The key is tossing everything really, really well. Then introduce the feta cheese so it holds its shape.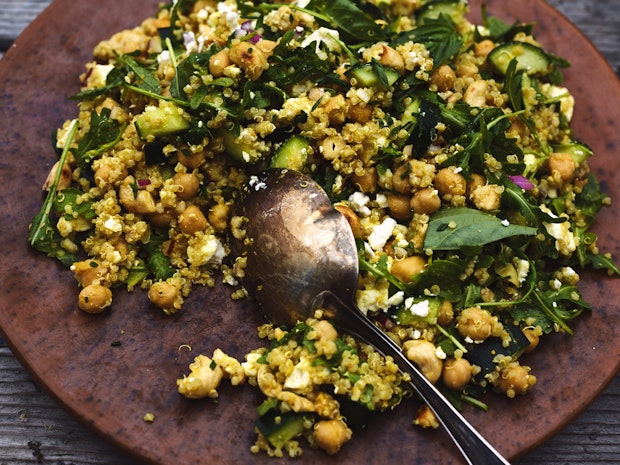 Serving & Storing
This quinoa salad is best at room temperature. If you're thinking of serving refrigerated leftovers, allow the salad to sit on a counter at room temperature for long enough to lose the chill before serving. The same applies to the dressing, bring it to room temperature before using.
Want to cook more quinoa recipes?
- Double Broccoli Quinoa
- Baked Quinoa Patties
- Warm and Nutty Cinnamon Quinoa
- Vegan Quinoa Burritos
- Heather's quinoa
- Kale Quinoa Bites
- more fave quinoa recipes
Salad Recipes
If you're looking for more salad recipes and inspiration, you're in the right place.
- 50+ salad recipes in one spot
- Spicy Sesame Coleslaw
- Grilled Wedge Salad with Spicy Ranch Dressing
Quinoa Salad
Use a good tasting red wine vinegar here. If you don't have red wine vinegar, a good-tasting white wine vinegar is fine too! I use a Madras curry powder here, use a favorite. You can use chickpeas cooked from dried in place of the canned ones listed - go with about 2 cups. If you skip the feta, you'll want to salt the quinoa salad before serving - the feta adds a salty component and without it the salad goes flat. A good seasoning will fix that. And here's where to look if you aren't sure how to cook quinoa.
Ingredients
For The Ginger Curry Dressing:

2

tablespoons

freshly squeezed orange juice

1/4

cup

red wine vinegar

3

medium cloves garlic, peeled

2

tablespoons

grated ginger, peeled

2

tablespoons

curry powder

1 1/2

teaspoon

fine grain sea salt

1

tablespoon

sugar or honey

3/4

cup

extra virgin olive oil

For The Salad:

2

cups

cooked quinoa

1/3

cup

finely chopped red onion

2

cups

arugula or spinach

2/3

cups

toasted cashews, chopped

1

medium cucumber, seeded, cut into 1/4 moons

1 14-

ounce

can chickpeas, drained

3

ounces

/ 2/3 cup feta, crumbled

For serving: 1 cup fresh herbs - torn basil, minced chives, torn mint, etc.
Instructions
Make the Ginger Curry Dressing:
Use a blender or food processor to combine all the ingredients except the olive oil. Slowly drizzle the olive oil in as you're blending until the dressing emulsifies and becomes creamy in appearance. Taste, adjust with more salt and/or vinegar and set aside.
Assemble The Salad:
Combine the quinoa, red onion, arugula, cashews, cucumber, and chickpeas in a large bowl. Drizzle with about 1/2 cup of the ginger-curry dressing. Toss well, and then toss more. Sprinkle the feta across the salad and gently toss to distribute throughout. Serve at room temperature with fresh herbs added at the last minute.
Related Recipes
More Recipes
Popular Ingredients