A California Panzanella
This is a wildcard panzanella. And it is very Northern California inspired - featuring multi-grain bread, a spicy peanut sauce, sprouts, and grilled or roasted tofu.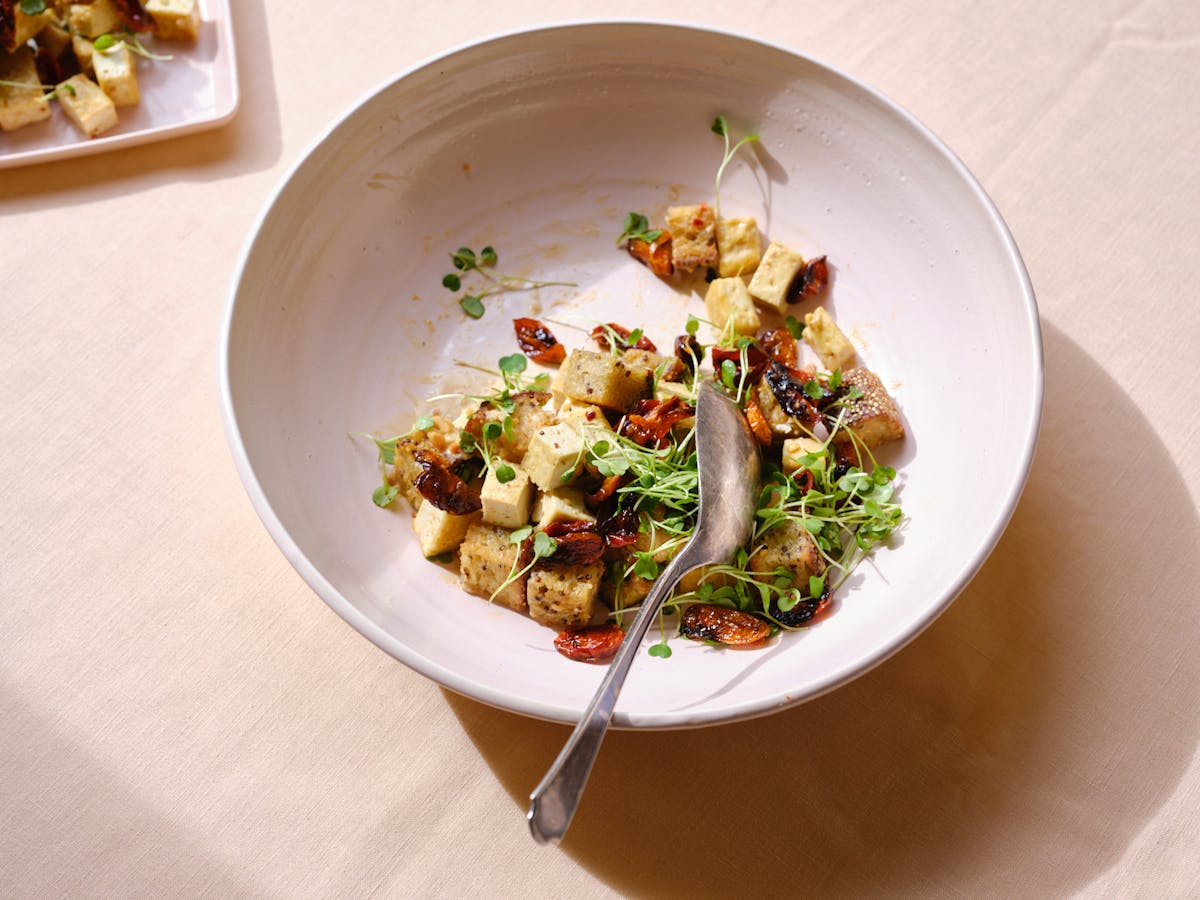 This is a wildcard panzanella. And it is very Northern California inspired. I first featured a grilled version of it in Super Natural Cooking after enjoying a quirky sandwich while driving up the California coast to a spot near Anchor Bay. The sandwich was a mix of oven-roasted tomatoes, peanut butter dressing, grilled tofu, and sprouts, all pinned between two slices of multigrain bread. Odd yet completely delicious. I liked it enough to rework it into this twist on panzanella, the much-loved Italian bread salad.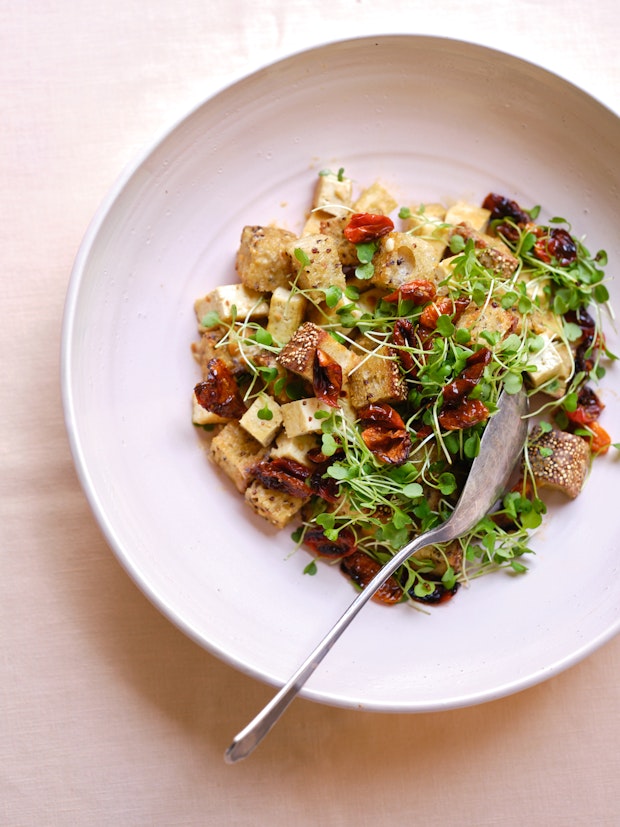 This version in Super Natural Cooking is grilled. This version you can make using your oven instead. Just remember, when the weather warms, roll out your grill - toast the bread, and cook the tofu slabs that way.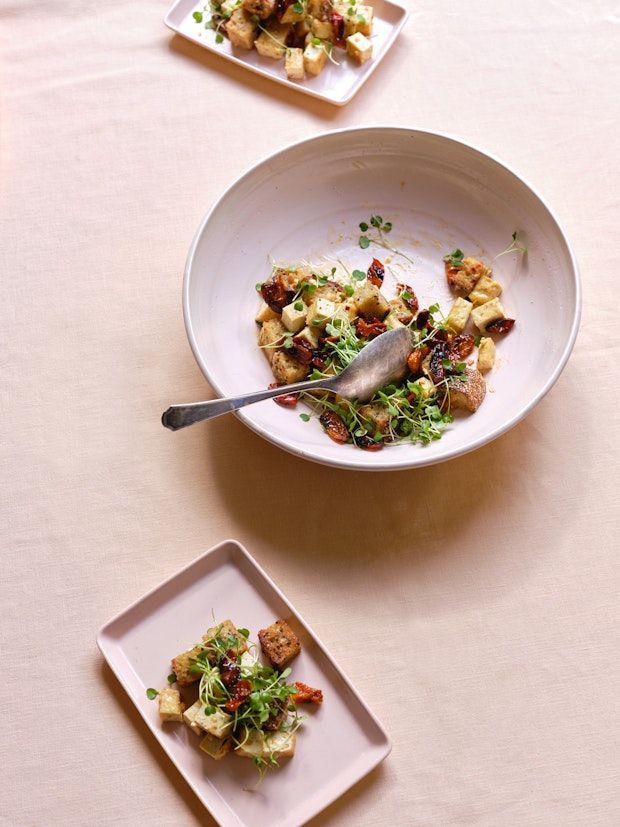 You have some options with the tomatoes. When cherry tomatoes are abundant, and in-season, I love to toss them in a bit of olive oil, and roast them on a sheet pan in a hot oven until browned and blistered. Here's the post about roasted cherry tomatoes. But, you can also use chopped, sun-dried tomatoes, the ones packed in oil are best here. Kind of raisin-y in texture.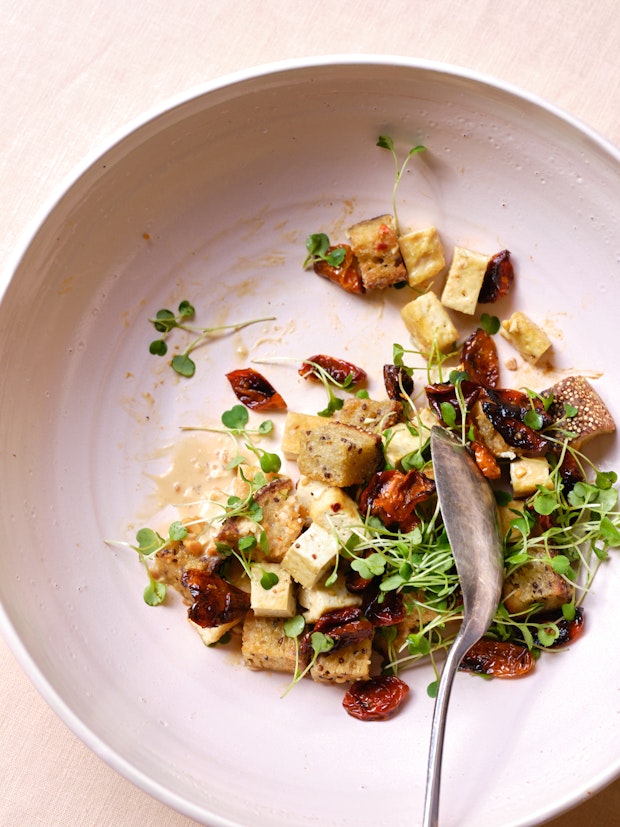 This is a great way to use up day-old bread. It's even better than using a loaf of fresh because the bread ends up more structured and hearty.
A California Panzanella
Ingredients
2

thick slices of hearty multi-grain bread

2

tablespoons

extra-virgin olive oil, plus extra

fine-grain sea salt

12-

ounce

block extra-firm tofu, sliced into 4 slabs

1/3

cups

all-natural peanut butter

2

tablespoons

brown rice or apple cider vinegar

1

clove

garlic

½

teaspoon

toasted sesame oil

¼

teaspoon

red pepper flakes

1/3 to 2/3

cup

hot water

1 ½

cups

sprouts

½

cup

roasted cherry tomatoes
Instructions
Heat the oven to 375°F. Cut the bread into 1-inch cubes, and toss with the olive oil and a generous sprinkling of salt. Bake until golden and crunchy, ten minutes or so.

Brush the tofu with a bit of extra virgin olive oil, place it on a sheet pan and bake, flipping once, until golden on both sides. Seven minutes, or so, on each side. Remove from the oven, cut into ½-inch pieces, and place in a large bowl.

In the meantime, make the peanut dressing by combining the peanut butter, vinegar, garlic, sesame oil, red pepper flakes, and ¼ teaspoon salt into a medium bowl. Thin with the hot water. I like the dressing to be the consistency of thin, melted ice cream. Taste and adjust with more salt, or pepper flakes, if needed.

Just before serving, pour a generous amount of the dressing over the tofu, and toss it gently, but well. It should look quite overdressed at this point. Add the bread and gently toss again. Turn out onto a platter and top with the sprouts and then the roasted tomatoes. Serve at room temperature.
Related Recipes
More Recipes
Popular Ingredients