Grillable Tofu Burgers
Seasoned with a good amount of cumin, cayenne and mustard, these are hearty, filling, easy to make, dump-everything-in-the-food processor grillable tofu burgers.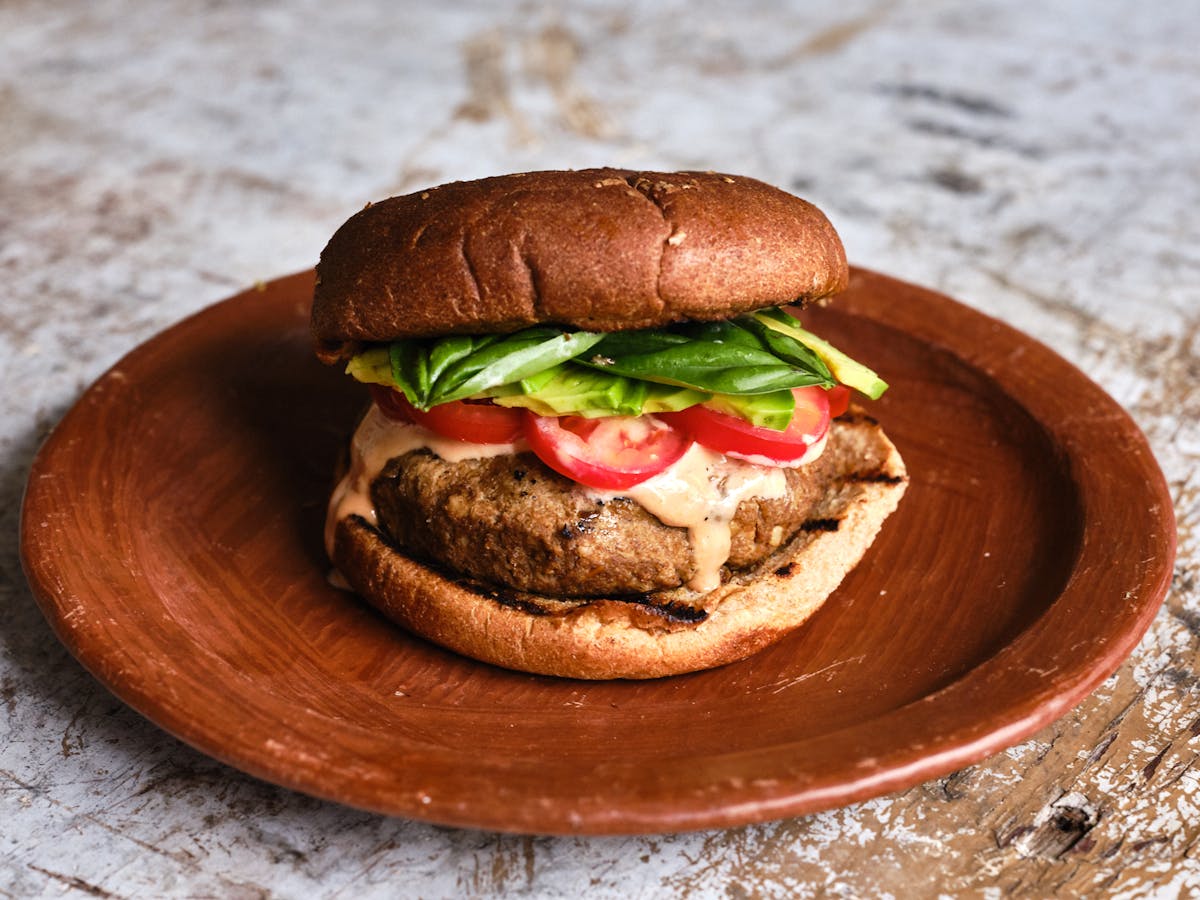 Wayne calls this the "1996 Veggie Burger." It's basically an old-school hippie burger. I love them for a few reasons. First, they're grill-able. Second, they're made from ingredients I understand - organic tofu, seeds, nuts, eggs, spices, and breadcrumbs. And third, they're endlessly adaptable by switching up the spices & your burger toppings.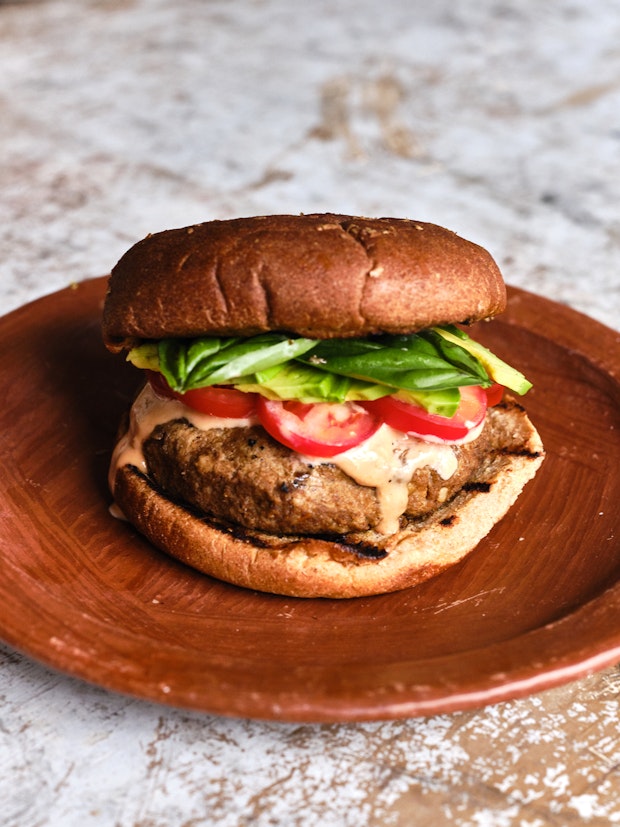 The Recipe
On the cooking front, I've been cleaning out some drawers. Primarily going through old magazine clippings (which is part of the reason I've been featuring more magazine inspired recipes than usual). I've been finding lots of gems, and these tofu burgers jumped out at me. I've adapted them from a reader contributed recipe that ran in the October 2004 issue of Sunset Magazine. The recipe was sent to Sunset by Jeremy Wolf of San Francisco, and I enjoyed them so much! They were impossibly easy to make, relying on the "throw everything in the food processor" technique, and called for a quirky mix of ingredients ranging from tofu, seeds, and nuts, to mustard, cumin, and mushrooms. In the years since, I've done a lot of variations, and I'll talk through a few of them below.
I will say, I suspect you'll be tempted to tweak the seasonings, and you should! But here's my advice. Don't skimp on the cumin or mustard, you need some assertive flavors to kick in - keep in mind you're dealing with ground tofu and eggs as a burger base. Whatever you do think bold!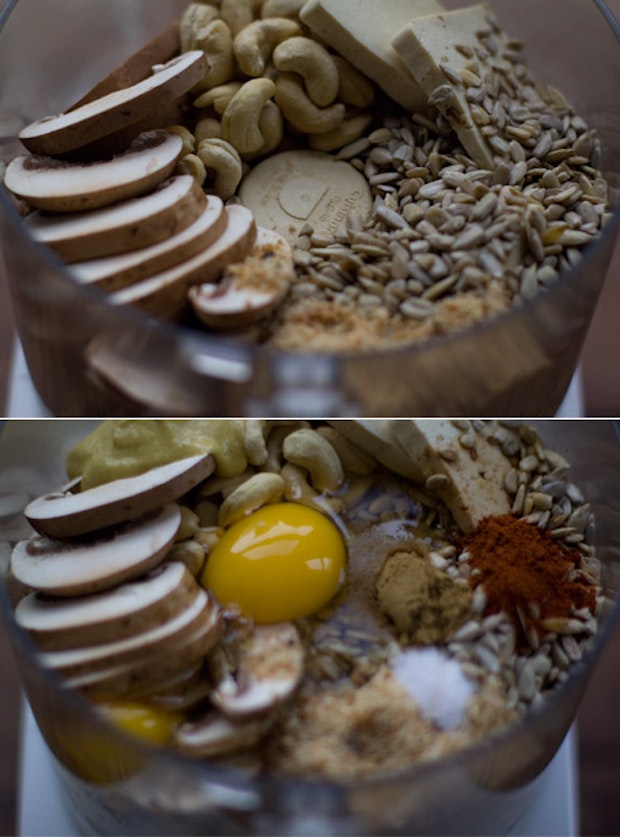 Tofu Burgers - How To Cook Them
One of the great things about these is you can cook them a number of ways. You can use a skillet, you can grill them, or you can bake them. The main thing you need to do is blend the mixture to a smooth-ish consistency. Then firmly shape and press the mixture into firm patties. I call for the firmest tofu you can find (extra-firm), but each tofu brand has a different quantity of water in it. If your mixture is too wet, simply blend in more breadcrumbs 1/4 cup at a time, and go from there. The mixture also firms up as it sits, so keep that in mind. You can let it rest for 10 minutes or so before shaping if you have the time.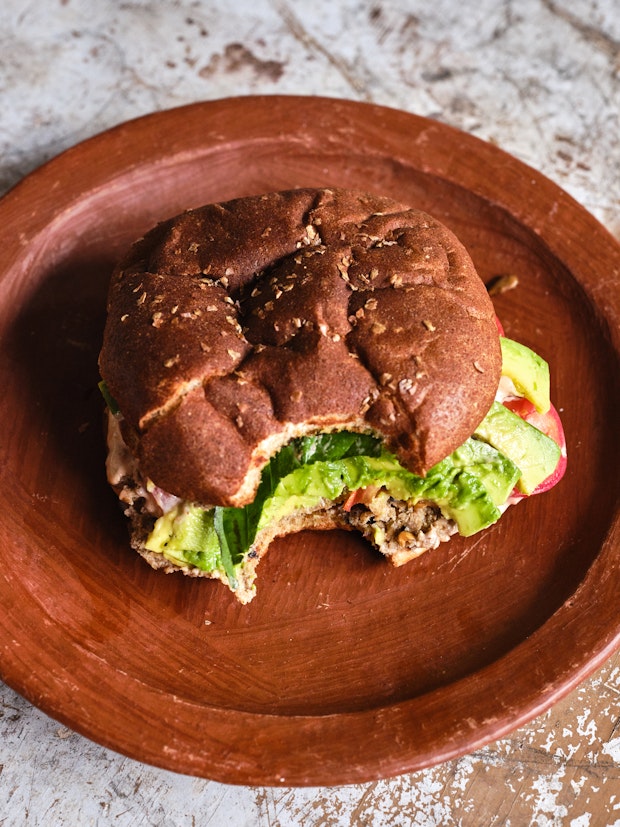 Tofu Burger Variations
A number of people have attempted to make these without the egg. I haven't tested that version yet, but here's are a few notes from the comments. From Lisa,"For the vegan, I reserved part of the batch before adding eggs, and put in a tablespoon of almond butter as a binder, plus a little extra breadcrumbs." Jacqui says,"...although I was out of eggs, so I used 2 T of chia seeds mixed with 6 T of water as a replacement. Worked great!"
For a gluten-free option Lisa commented with this brilliance, "I make something similar to these and use masa harina instead of breadcrumbs for a gluten-free option… it definitely gives it a "southwestern" twist, and is SO delicious."
Cooking Tips
If you're nervous about the patties falling through grill grates, Judith says,"…my husband was in charge of the grill, started out on aluminum foil, we thought they might fall through the grates, he ended up putting them right on the grates (they firmed up while cooking on the foil for a bit) and they were wonderful!"
A couple other favorite summertime sandwiches include this chickpea salad sandwich and this veggie burger from Super Natural Cooking. And I like to bring these when we're out camping. Here's where you can see all my favorite camping recipes. Enjoy!!
Grillable Tofu Burgers
Be sure to seek out the firmest tofu made from organic soybeans you can find. If your mixture is too wet after blending (tofu brands have a range of water in them) add more breadcrumbs 1/4 cup at a time. Toppings pictured include basil, tomatoes, avocado, & sriracha-ketchup-mayo slather. You can also do a lettuce wrap in place of buns.
Ingredients
1

pound

/ 16 oz / 450 g extra-firm tofu, drained and patted dry, then sliced

2

large eggs

1/2

cup

/ 2 oz / 55 g fine dried bread crumbs, plus more if needed

1/2

cup

/ 2 oz / 55 g cashew nuts

1/2

cup

/ 2 oz /55g sunflower seeds

1/2

cup

/ 2 oz / 55g sliced mushrooms

1

tablespoon

Dijon mustard

1

tablespoon

shoyu, tamari or soy sauce

1

teaspoon

ground cumin

1/2

teaspoon

ground cayenne

1

teaspoon

smoked paprika (optional)

1/4

teaspoon

fine grain sea salt

1

tablespoon

extra virgin olive oil

extras: whatever buns & condiments you like!
Instructions
Place all the ingredients except the olive oil in a food processor. Pulse until the mixture comes together and is free of most chunks, stopping to scrape down the sides of the food processor once or twice if needed. If it seems a bit thin to you, add more bread crumbs a handful at a time until everything comes together.

Divide the mixture into eight equal portions and use your hands to (really) press and form into round but flat-ish patties. If you want larger burgers, shape into 4-5 patties. Allow to sit for ten minutes or so. You can also refrigerate at this point.

If grilling, gently rub each patty with a bit of olive oil, and place on a medium hot grill. Grill, covered, usually 5-7 minutes on the first side, and 4-5 on the flip. Be sure the centers are cooked. If cooking on a stovetop, pour the olive oil into your largest skillet over medium-high heat, and arrange as many patties as you can without crowding. Cover, and cook turning once, until deeply browned on both sides. Roughly ten minutes. You want to make sure the middle of the patties cook through. If the pan is too hot you'll burn the outsides before the middle cooks up, so be mindful of that.

Serve with your favorite burger fixings!
Notes
Adapted them from a reader contributed recipe that ran in the October 2004 issue of Sunset Magazine.
Related Recipes
More Recipes
Popular Ingredients