Mango Breakfast Chia Pudding
Mango Breakfast Chia Pudding is a great way to start the day. This chia pudding is super nutritious. It is vegan, dairy-free, gluten free, and naturally sweetened.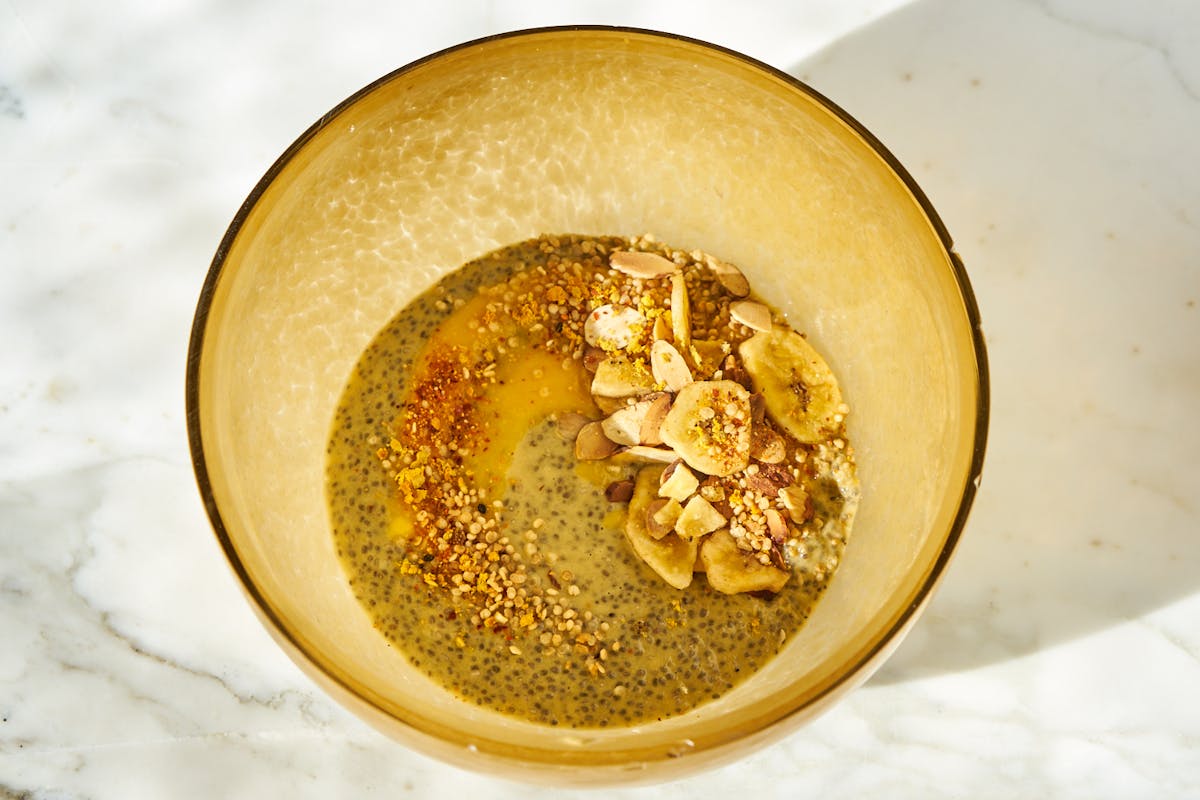 I've been feeling like my breakfasts needed a jolt of inspiration, and this mango breakfast chia pudding is a step in the right direction. It's creamy from nut milk, naturally sweetened with pure mango puree, and you can top it with as many nuts, seeds, and powders as you like.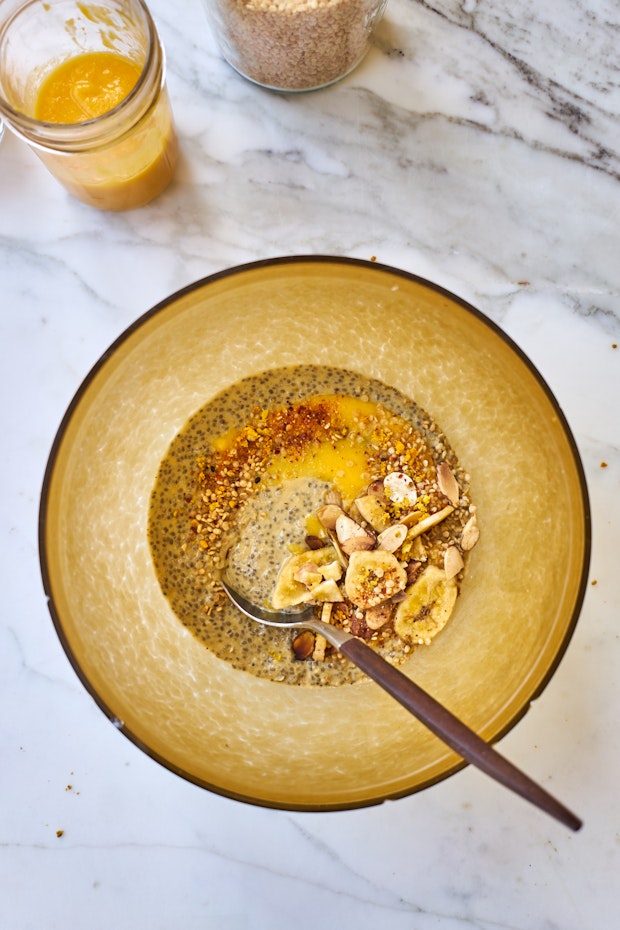 I asked a bunch of you about your breakfast routines (here on Instagram), and was floored by the nearly 600 responses! If chia pudding isn't your jam, definitely check out the breakfast comments attached to that photo - SO many great alternate ideas. 
Chia Pudding for Breakfast! Start the Day Strong.
Today's recipe, it's super simple. First of all, I love chia for breakfast. Chia seeds are protein and fiber-rich, and are the richest plant-based source of omega-3 fatty acids. You can read more about why chia is often thought of as a superfood here. In practice, they keep me full, are a great vehicle for flavors I love, and are wonderfully versatile.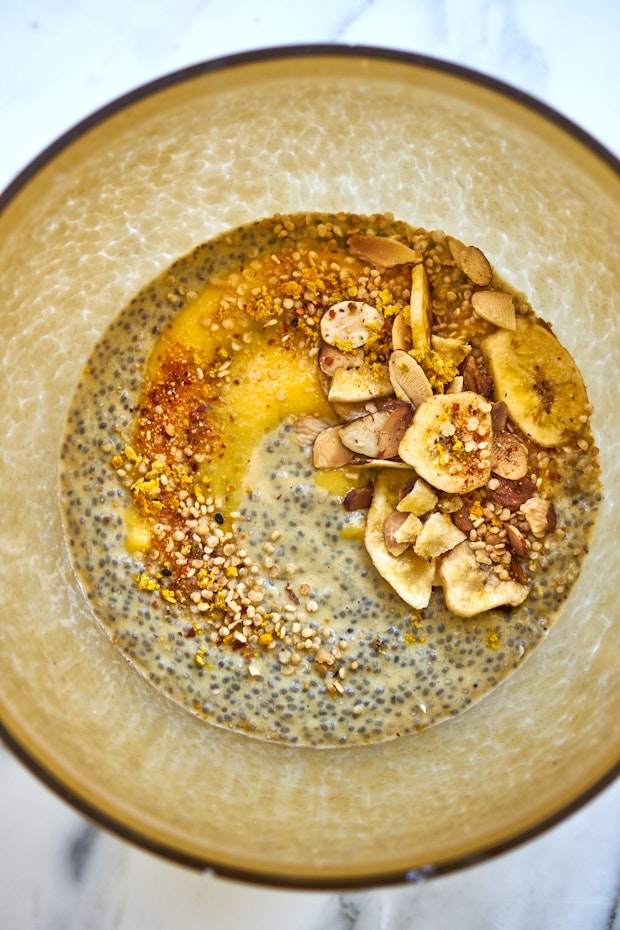 Make it Your Way
This chia pudding is super nutritious. It is vegan, dairy-free, gluten free, and naturally sweetened. As I mention above, you can boost it with as few, or as many toppings as you like. If you have a look at the photo below, you'll see toasted almonds, shichimi togarashi spice (or use a pinch of cayenne), bee pollen, frozen mango pureed with a hand blender, banana chips, quinoa crispies or crisped brown rice.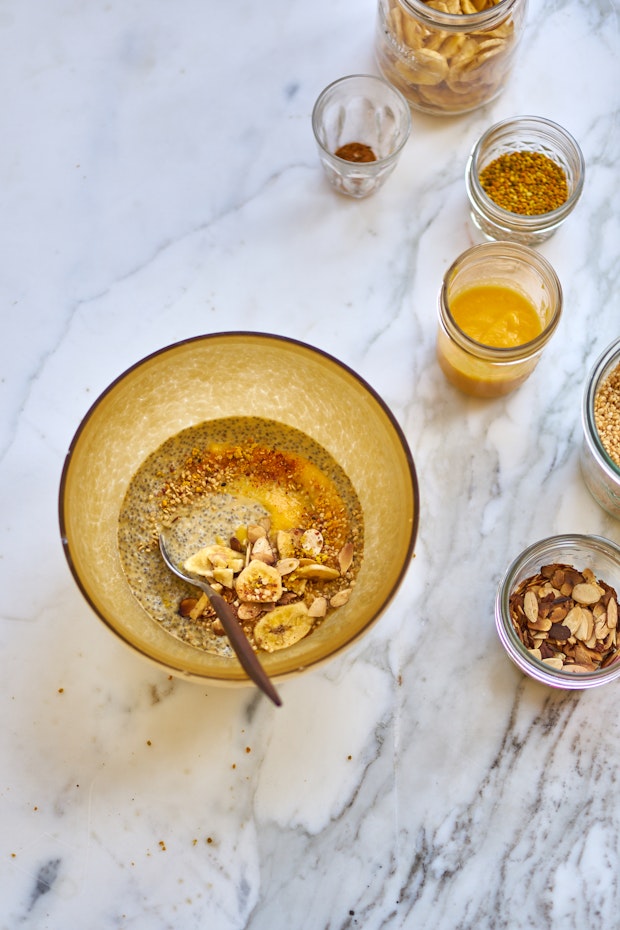 Also, chia seeds are just cool in general. It's because of the way chia seeds expand and gel up that the whole concept of chia pudding works. In addition, you can sprout chia seeds, use them to thicken dressings, or as a base for chia puddings like this one. They're great!
Add some crunch!
Lastly, the crunch factor, let's talk about it! It's important. I like crunchy toppings on chia puddings, and the more the better. It contrasts with the the way chia gels. Banana chips are great, quinoa crispies are another favorite, and you can't go wrong with toasted nuts and seeds. Enjoy!
Mango Breakfast Chia Pudding
To make the mango puree, process a bag of frozen mango in a blender, or with a hand-blender. I like to do a big batch at a time, and portion it out into baggies. Also, you can use your milk or mylk of choice here. I like oat milk, almond milk, or almond-coconut milk blend here. The mango makes this bowl naturally quite sweet. If you think this needs added sweetener you can use coconut nectar, maple syrup, stevia, or honey, to taste.
Ingredients
5

tablespoons

chia seeds

1/2

cup

mango puree

3/4

cup

almond or oat milk

pinch

of good salt

top with any or all of the following: quinoa or brown rice crispies, bee pollen, shichimi togarashi or cayenne, toasted almonds, banana chips
Instructions
Combine the chia seeds with the mango puree, and stir well. Add the almond milk and stir well. Allow to sit for 15 - 30 minutes, stirring occasionally, or until the chia seeds completely bloom and soften. You can also do this step a night ahead, which makes for a great overnight breakfast.

Just before serving, top with any of your chosen toppings.
Related Recipes
More Recipes
Popular Ingredients