A Glow-promoting, Luminizing Breakfast Beauty Bowl
Highlighting a few skin-friendly superstars in this Luminizing Breakfast Beauty Bowl - a mixed berry and chia smoothie base topped with a rainbow of seasonal ingredients.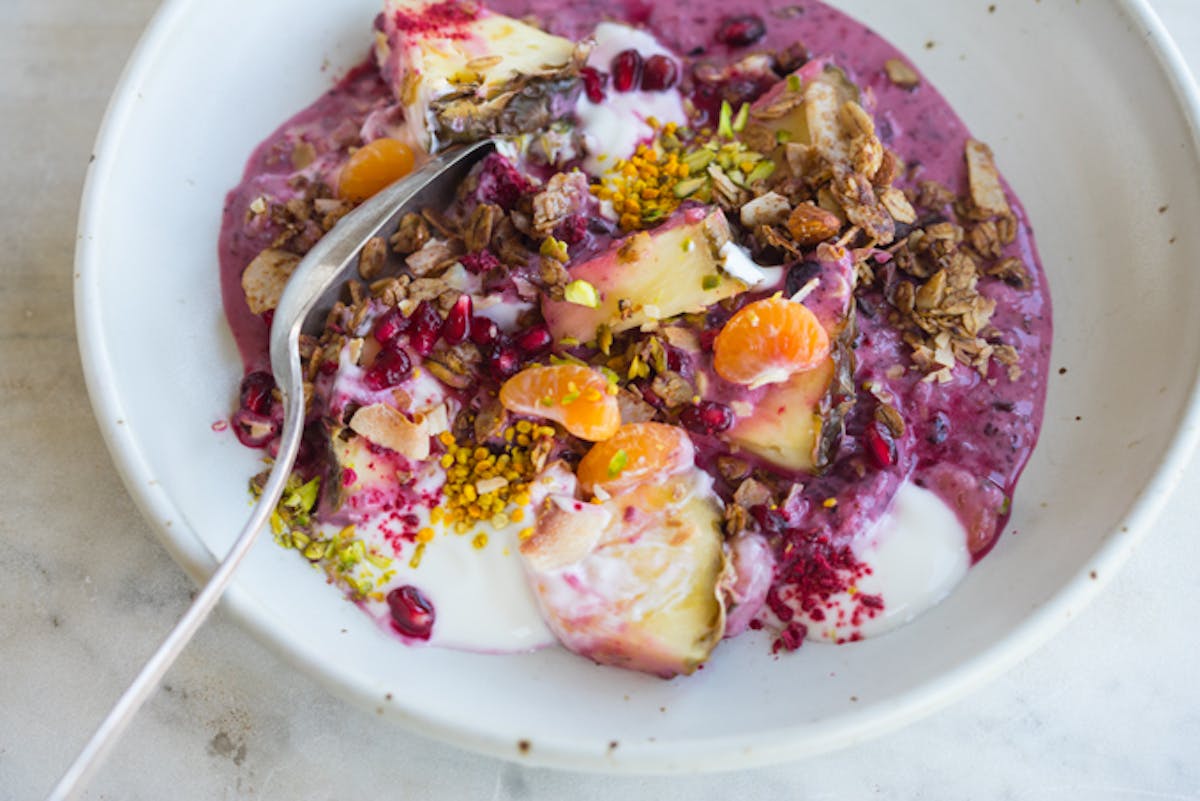 One of the very best ways to work toward beautiful, luminous, glowing skin is through eating well and mindful hydration. Your skin is often a direct reflection of the internal eco-system of your body, and, being nice to your inside is one of the best ways to positively impact your outside. It's the foundation you need to support good skin, bright eyes, strong hair, thick eyelashes, healthy nails, and on and on. Eating a seasonal, plant-centric, whole foods diet is a great place to start, but I thought I'd take today to highlight a few skin-friendly superstars in this Luminizing Breakfast Beauty Bowl - they're extra beneficial and skin-supportive, and quite easy to work into your day to day.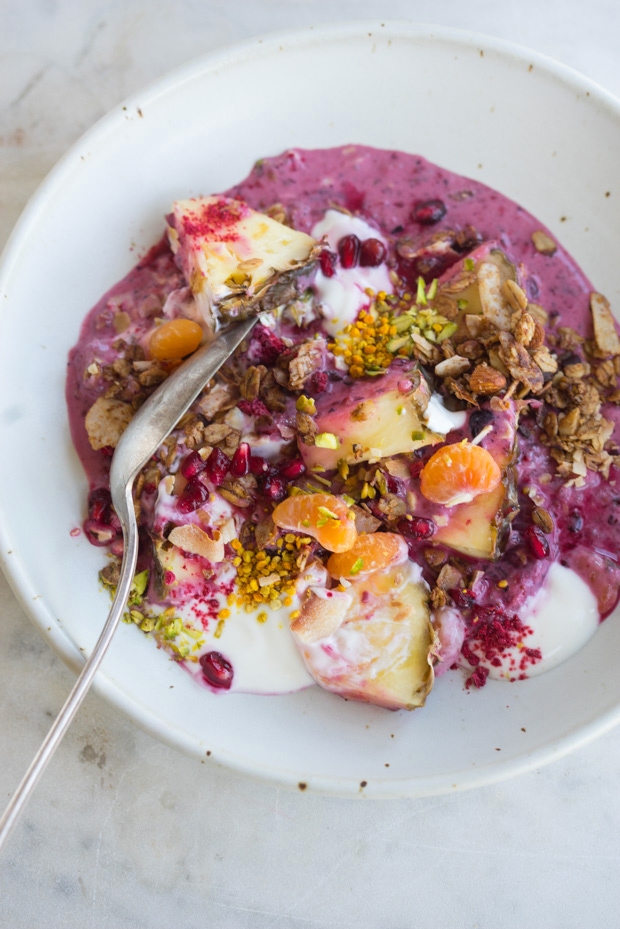 The base of this beauty bowl is a simple mixed berry smoothie boosted with some chia. The berries are compact, anti-oxidant, anti-inflammatory powerhouses, rich in cleansing fiber and collagen-boosting Vitamin C. I use mixed berries (blackberry, blueberry, strawberry) for a bit of diversity (and because they're quite easy to come by in most freezer sections) but if you really want to step up your Vitamin C game, you might trade in acai for the berries now and then. Switch it up - diversity in your is also important.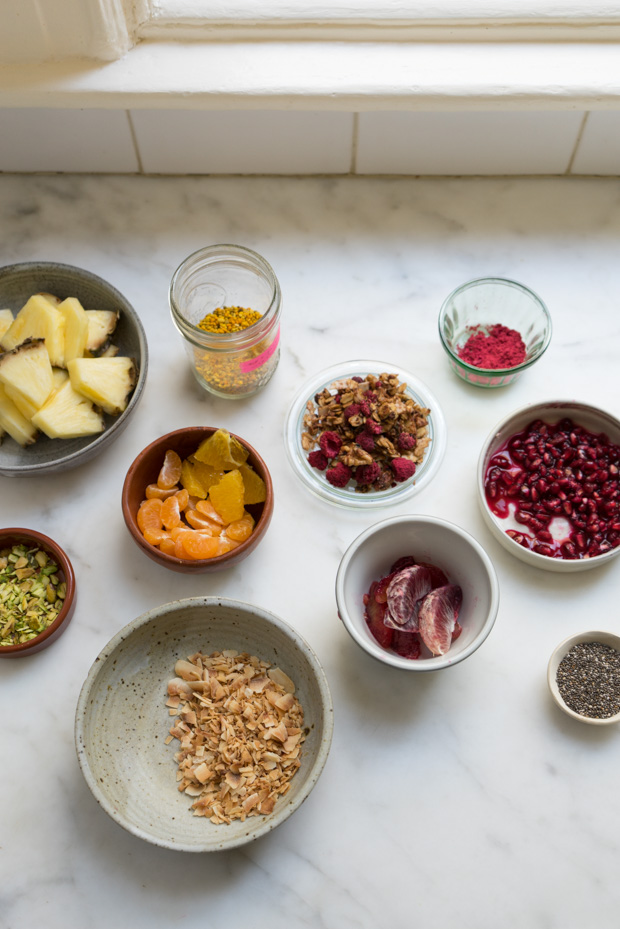 Use whatever plain, unsweetened, yogurt you prefer - coconut yogurt, Greek yogurt, nut milk yogurt, or sheep or goat milk yogurt - the probiotics here help balance out your digestion and overall internal ecosystem. Use whatever yogurt works for you. Chia helps with tissue repair and skin regeneration. That's the foundation here.
Beyond that, you can boost your beauty bowl with as few or many other ingredients as you have on hand. Pick at least a handful. Here (pictured) you see digestion-friendly pineapple wedges, pomegranate seeds (thought to help reduce UV photo damage), Vitamin C-rich citrus (blood oranges and mandarin segments), a sprinkling of nuts and granola, some crushed dehydrated raspberries, and a sprinkling of bee pollen.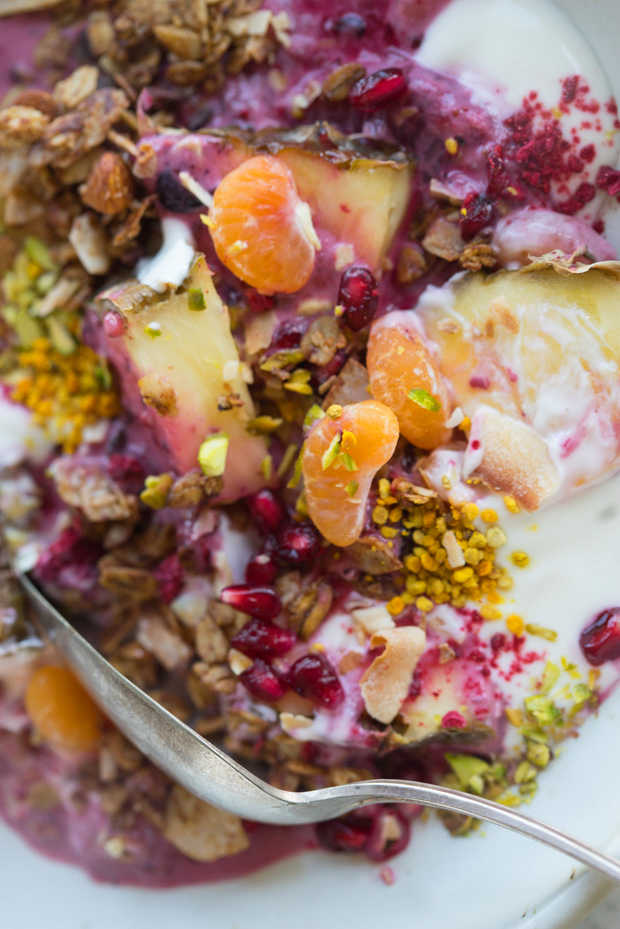 I love serving this sort of thing as a DIY breakfast option. You can make a big batch of smoothie (pourable straight from the pitcher), and then offer up a "buffet" of toppings. Everyone can customize their own bowl to their liking ;)!
A Glow-promoting, Luminizing Breakfast Beauty Bowl
If you don't have a few of the topping ingredients, no big deal. Start with the smoothie base and build from there, focusing on what is seasonal, fresh and available in your area.
Ingredients
1

cup

frozen organic mixed berries (blueberries, strawberries, blackberries)

1

teaspoons

chia seeds

1/2

cup

preferred unsweetened yogurt or nut milk, plus more for topping

sweetener to taste: coconut nectar, liquid stevia, maple syrup

Toppings (any all): pineapple wedges, citrus segments, pomegranate seeds (and juice), a handful of granola or toasted oats, dehydrated berries (whole & crushed), bee pollen, cacao nibs, toasted coconut, chopped nuts
Instructions
Blend the berries, chia seeds, yogurt or nut milk, until smooth. Sweeten to your liking, and transfer to a serving bowl (or divide between two serving bowls).

Place a few pineapple wedges and citrus segments in each bowl and give a quick toss. Sprinkle with pomegranate seeds, granola, toasted coconut, and any of the other toppings you like and have on hand.
Related Recipes
More Recipes
Popular Ingredients