Chickpea Salad Sandwich
The chickpea salad sandwich filling to make in bulk for easy lunches and snacks all week. A perfect vegetarian or vegan sandwich option.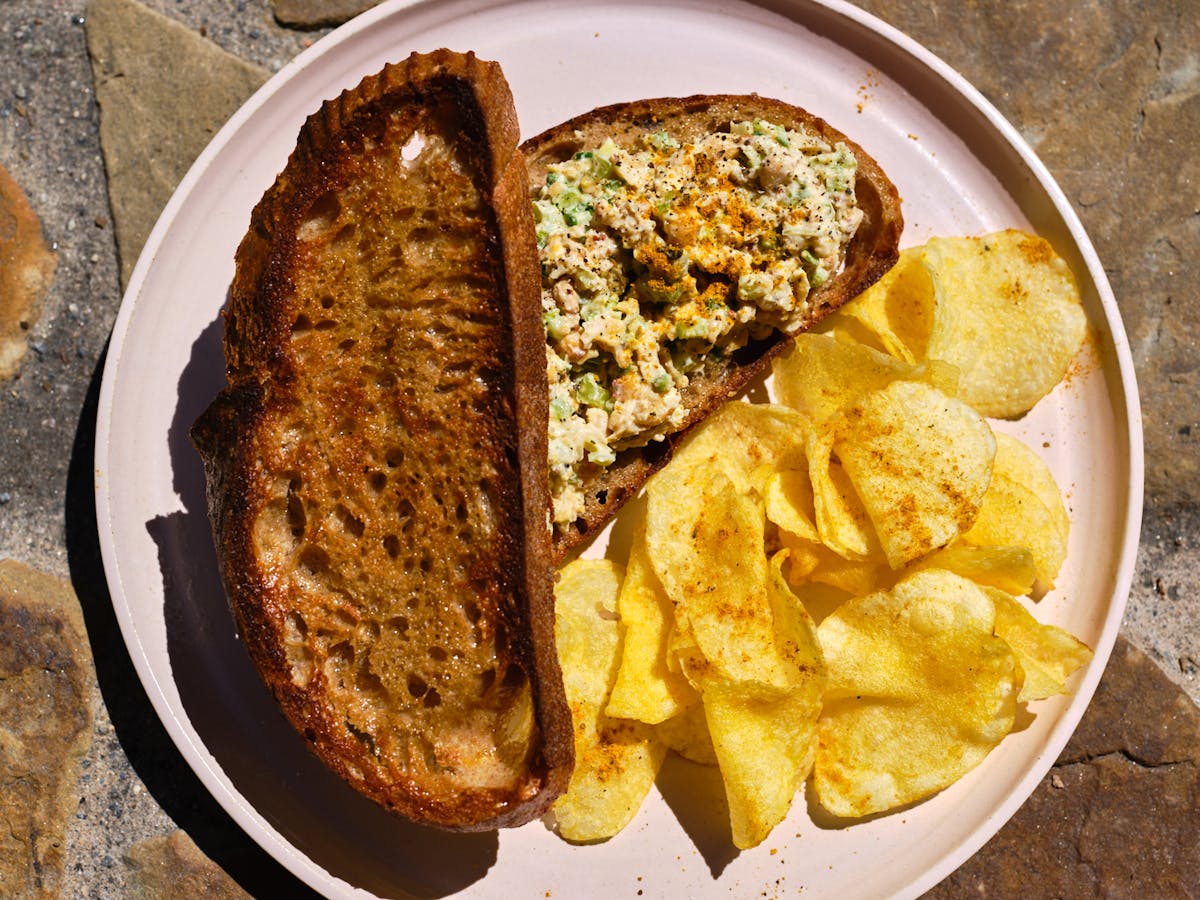 If you're looking for low-lift, substantial, vegetarian or vegan sandwich ideas, you're going to want to make a deli-sized container of this chickpea salad sandwich filling. It's not only perfect for really great chickpea salad sandwiches, it's also a favorite filing in lettuce wraps, and a legit snack spread throughout the week. When you go the sandwich route, it's like a vegan "tuna salad" sandwich with chickpeas standing in for the tuna. Or chicken salad sandwich with chickpeas instead of chicken. This is not a new concept, but I thought I'd walk you through the version I make around here on many Sunday afternoons.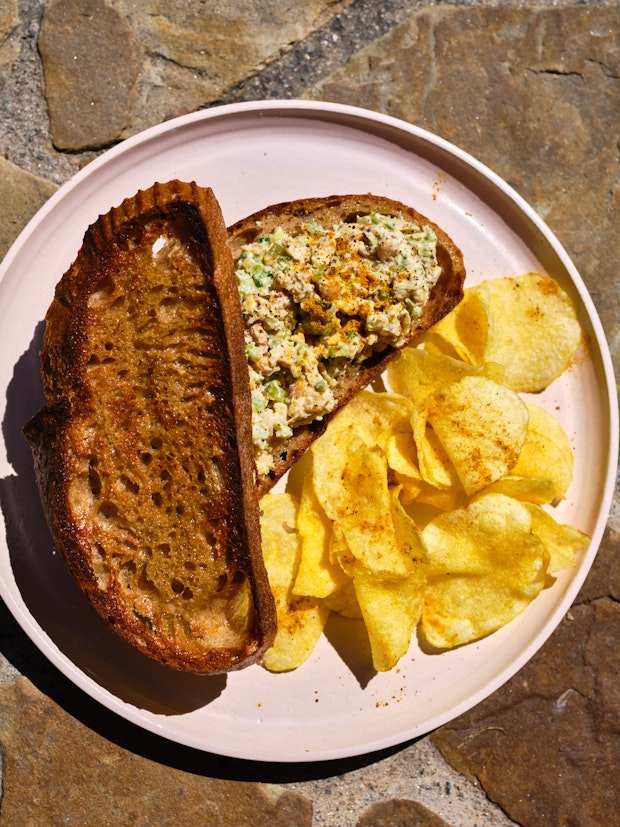 What I Love About This Sandwich
There are so many things I love about this sandwich. I love the garlic-rubbed crunchiness of the bread in contrast to the softer chickpea salad filling. And I love that it keeps me going for hours. Basically, it's delicious, and it does the job. If you keep a big container of this in your refrigerator, not only can you make excellent chickpea salad sandwiches all week, you can switch it up all sorts of ways I'll outline below.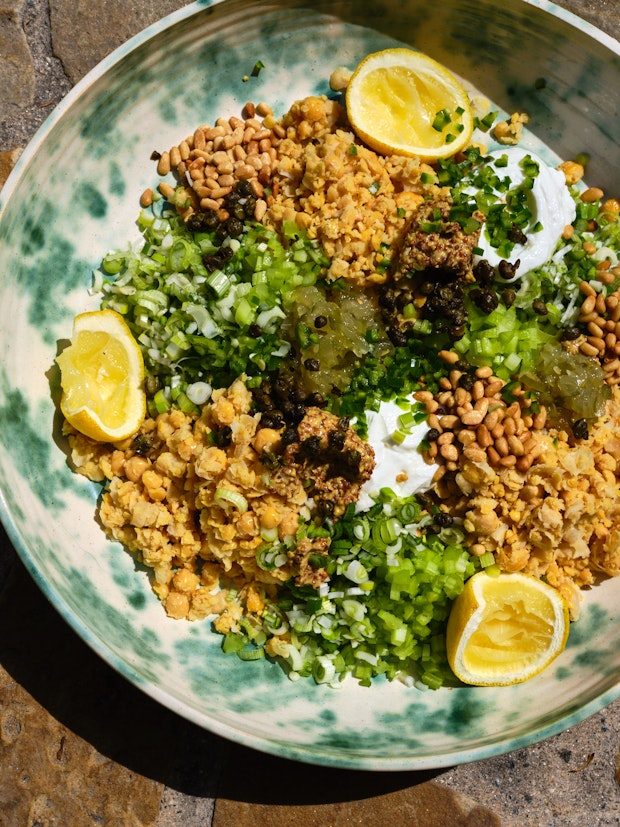 Chickpea Salad Sandwich Ingredients
To take an average chickpea salad sandwich to the next level, pay attention to the ingredients first. I go strong a number of the ingredients others tend to be a bit shy about, but I find this approach delivers a chickpea sandwich filling that hits all the right buttons, and is even better on days two and three. The flavors really come together. Here are some thoughts on the ingredients in this sandwich, and how I choose (or deal with) each one.
Bread

: I'm going to argue that there are two routes to go on the bread front. You're either going to want to choose slices of good, hearty sourdough bread for this sandwich. Slices you can toast or grill brushed with olive oil and rubbed with the better part of a clove of garlic. Or, take the completely opposite approach by choosing a soft, pillowy squishy loaf of some sort of multi-grain sandwich bread. Maybe you lightly toast this bread, but maybe not. I most often opt for the toasted sourdough (pictured throughout), and tend to enjoy it open-faced this way, but there are times when I like this chickpea salad sandwich with a softer bread as well. I suspect you'll know which camp you're in from go.

Chickpeas

: You smash the chickpeas, and to do so you have a couple options. Because I will do just about anything to avoid unnecessarily having to wash an appliance, I typically hand-smash the chickpeas in a large bowl using a large fork, or (even better!) a potato masher. Some chickpeas are softer than others, it seems to vary from can to can, and I find chickpeas cooked from dry beans generally have more structure. If you end up with harder chickpeas, the fork method can be a bit frustrating. Grab a potato masher or a few quick pulses in a food processor also does the trick. You want to break down the chickpeas, not attempt to turn them to hummus, so go easy on the pulsing.

Mustard

: I prefer whole-grain mustard here, but if you have a Dijon-style mustard on hand, by all means use that. I also tend to dial up the mustard quite a bit - more assertive, but still balanced I'd argue.

Relish

: I usually reach for whatever deli-style relish Wayne has in the refrigerator door. It's usually on the sweeter side but doesn't have to be.

Walnuts

: I love the texture and substance a few toasted walnuts bring to this sandwich. Give it a go, even if you're a bit skeptical. I found myself out of walnuts for this round of sandwiches and really enjoyed the pine nut swap!

Chile

: I always add a finely chopped serrano to this chickpea salad sandwich filling, it adds dimension more that spiciness, and a nice pop of green flavor. Optional, of course, but recommended.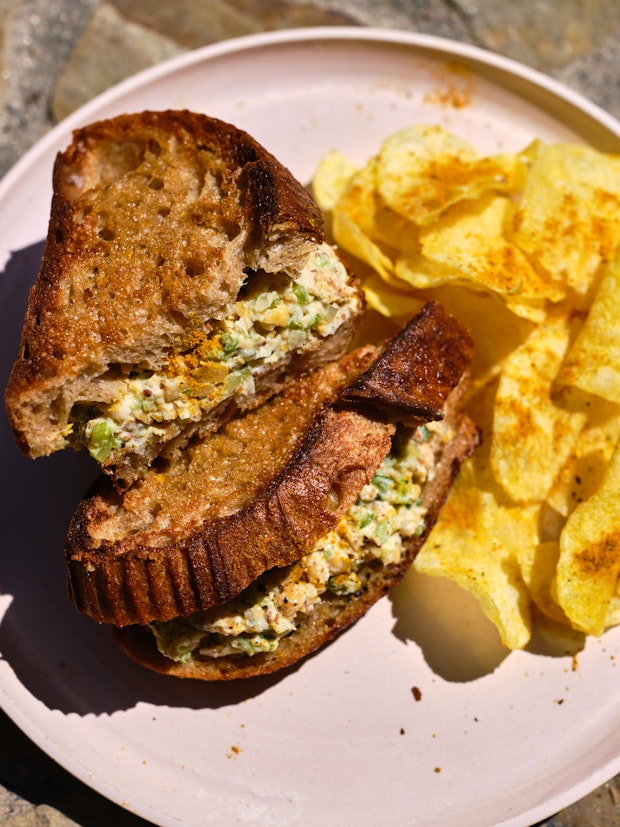 Video: How To Make a Chickpea Salad Sandwich


Variations!

The recipe I'm posting down below is my base "go-to" chickpea salad sandwich recipe. But I love to play around. Here are some variations I've enjoyed over there years to encourage you to also experiment with the ingredients you have on hand.
Ultra Hippie Chickpea Salad Sandwich

: To the chickpea salad, add a couple handfuls of finely chopped kale & toasted sunflower seeds in place of the walnuts, and a tablespoon or so of nutritional yeast. Finish with crushed toasted nori or nori furikake.

Spicy Chickpea Salad Sandwich

: I love a spicy everything, but with this sandwich like the lead spicy component *on* the sandwich, not mixed in. Tabasco, Cholula, or other hot sauce sprinkled across the top of the chickpea salad component is where it's at for me. Calabrian Chile paste is also A+ here as the spicy topping.

Vegan Chickpea Salad Sandwich

: To make this sandwich vegan, use your favorite plant-based, vegan yogurt. You basically want something to pull all the ingredients together, so if you don't have a vegan yogurt on hand, you can experiment with a vegan mayo, tahini, or a combination of the two as well. Keep in mind, this is basically a vegan "tuna" salad sandwich, with smashed chickpeas standing in for the tuna. And similar to a tuna sandwich, it is very much about personal preference and ingredient ratios.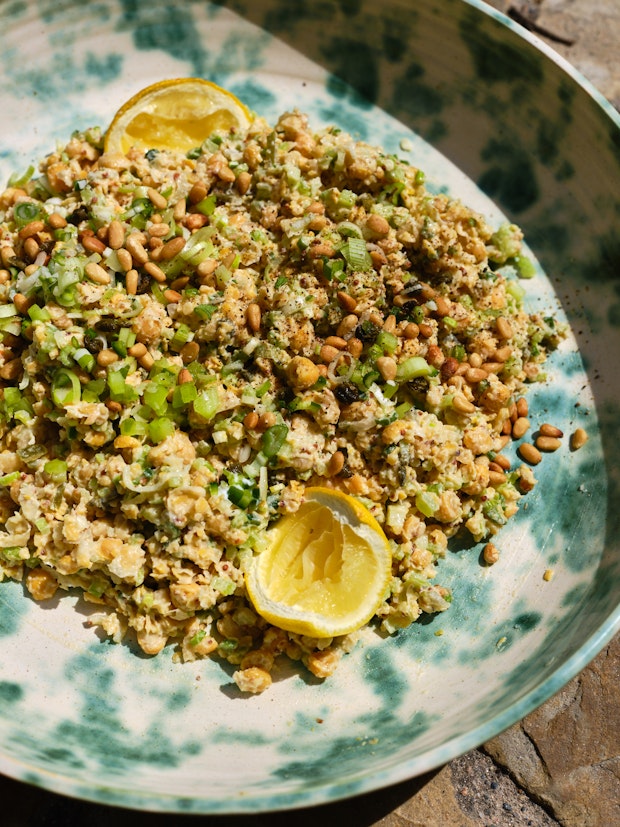 The recipe included below is my base starting point, but play around a bit with the ingredients you keep on hand and love. Other things I like to mix in (not all at once): shredded basil in summer, a smoked salt, finely shredded cabbage, shredded carrots, a couple teaspoons of miso, a bit of preserved lemon. Have fun, experiment, and let me know any favorite combinations you come up with.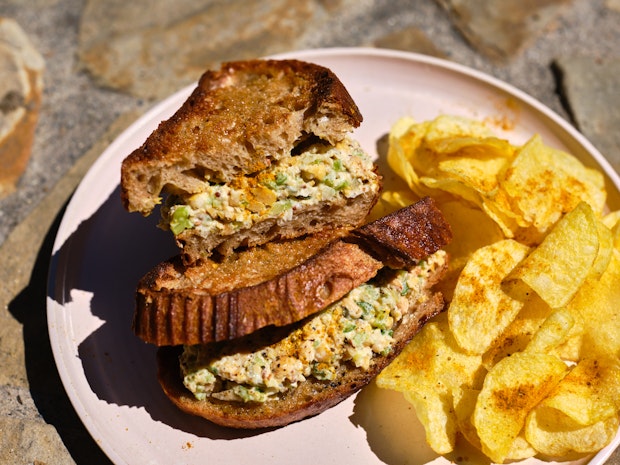 I hope you enjoy this sandwich as much as I do, it really is one of my favorite, easy, feel-good lunches. If you love chickpeas as much as I do here's where you can browse more chickpea recipes - there are tons! There are more sandwich recipes, and some of my favorites include this Vegetarian TLT Sandwich, classic Egg Salad Sandwich, Grillable Tofu Burgers. Or if you're just looking for easy ways to combine good bread with good toppings, it's hard to beat bruschetta, and I talk through how to adapt it for the seasons on that page - beyond tomatoes ;).
Chickpea Salad Sandwich
I talk through my preferences for each of the sandwich components above, and also have tips and substitution ideas. The main takeaways? Nail down the best kind of bread, and remember that the chickpea salad filling is even better the day after to make it, twice as good the day after that. The flavors just really come together in that classic "salad sandwich" kind of way with the celery and the relish and the green onions when you give it a bit of time. Also, if you don't have walnuts, I also love toasted pine nuts here. Enjoy!
Ingredients
1 1/2

tablespoons

capers, drained

1

tablespoon

olive oil

2 14-

ounce

cans chickpeas, drained and rinsed

2/3

cup

Greek yogurt

2

tablespoons

whole grain mustard

1/2

cup

green onions, very thinly sliced

1

cup

celery, finely diced

1/3

cup

toasted walnuts, chopped

1/4

cup

relish

1

medium serrano chile, stemmed, seeded, and finely diced

salt and pepper, to taste

1

lemon

slices

of bread

to serve: a favorite curry powder, potato chips
Instructions
Press the capers with a paper towel to removes as much moisture as possible. Place them in a small, cold skillet along with the olive oil, and then begin to fry them over medium heat. Stir often, and cook until the capers start to brown. Transfer to a paper towel to cool.

In a large bowl smash the chickpeas well. I like to smash as many whole chickpeas as possible. Alternately, you can pulse the chickpeas in a food processor for this step. Add the yogurt, mustard, green onions, celery, walnuts, relish, serrano chile, and fried capers to the chickpeas. Stir well, until uniform. Taste and add a bit of salt and pepper if you like. Squeeze the juice of half a lemon across the top, stir again, and adjust with more as needed. Refrigerate until ready to assemble sandwiches.

When you're ready to make sandwiches, toast the bread if you like, rubbing with a bit of olive oil and a garlic clove after. Top with a generous scoop of the chickpea salad. You can serve open faced or topped with a second slice of bread. An optional dusting of curry powder and a side of a few potato chips is always welcome. Enjoy!
Related Recipes
More Recipes
Popular Ingredients