Frittata Sandwich
A robust frittata sandwich made with a spicy garlic spread, roasted cherry tomatoes, and avocado on slabs of homemade bread.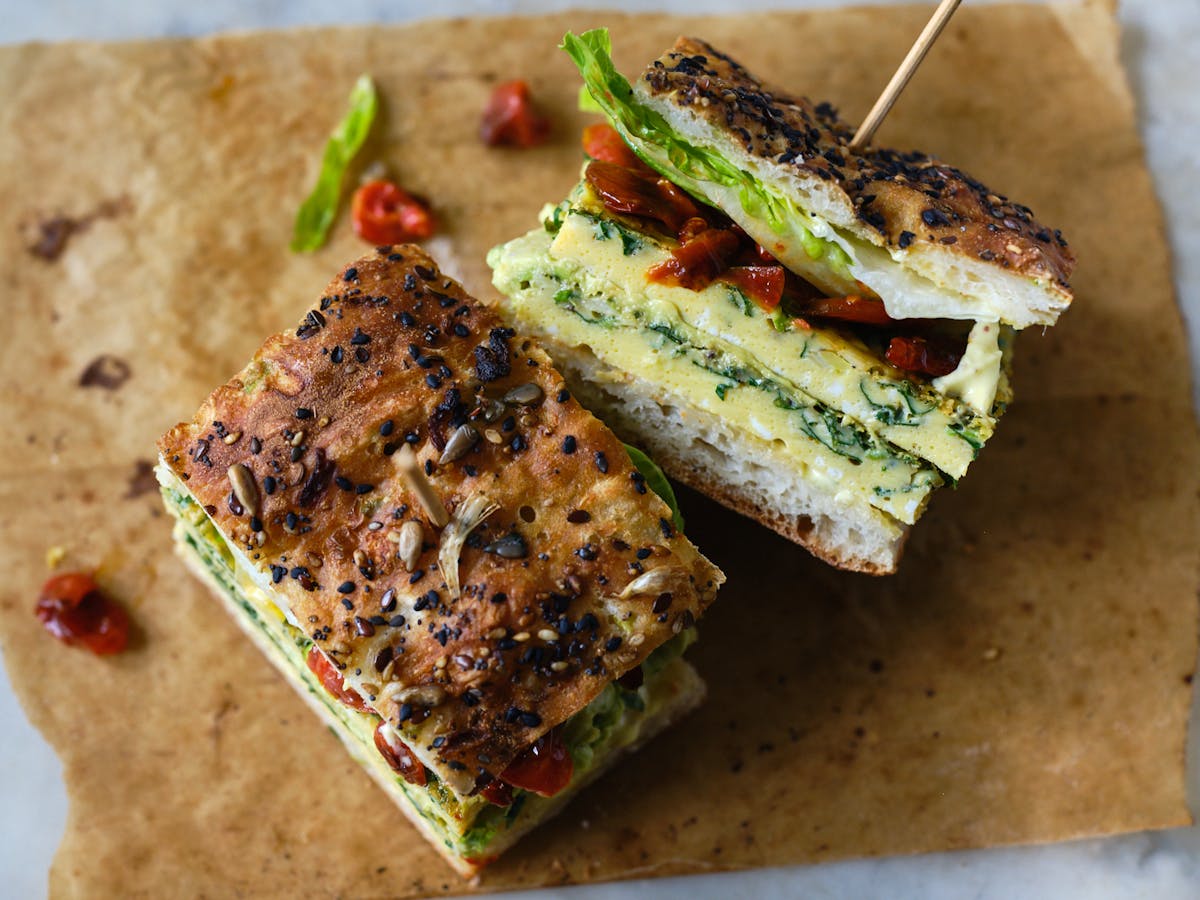 Every few months I find myself in San Diego. Usually North County, not far from where I went to college. I love that stretch of coast (Salk Institute! Encinitas!) and we pop down as often as we can. A trip to this area isn't complete without braving La Jolla traffic to visit Wayfarer Bread. It's the neighborhood bakery of dreams located in Bird Rock. They often have a frittata sandwich on the menu and if we're there for lunch, it's what I order. The version I had last April involved asparagus, avocado and spring onion aioli with slabs of sheet pan frittata and slices of Hatch chile cheddar cheese loaded between slices of their beautiful sourdough. I made a mess of it all, but loved every bite.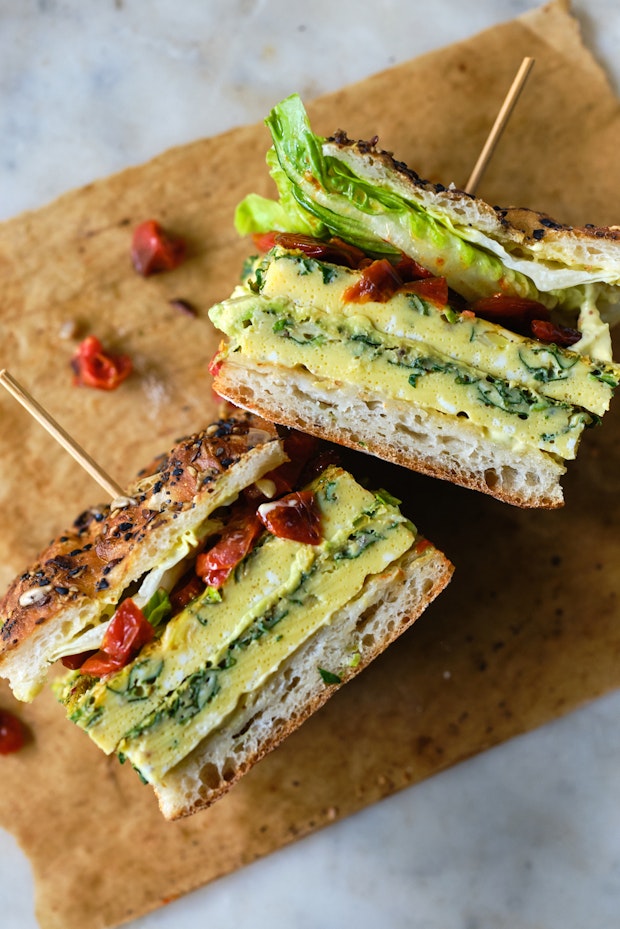 Back at home, I've since tried to step up my frittata sandwich game. Sheet pan frittatas are wildly versatile and convenient, but until I experienced the Wayfarer sandwich, I primarily enjoyed sheet pan frittata slices as a rice bowl component, or as an accompanying some sort of potato situation for brunch, or as a make-ahead component for breakfast burritos. But lately, if I make one, and if I have some good bread, I channel some Wayfarer sandwich vibes, raid the refrigerator, and go for it. Here's a recent favorite version, made with a lot of components you'll probably recognize from previous recipes posted here!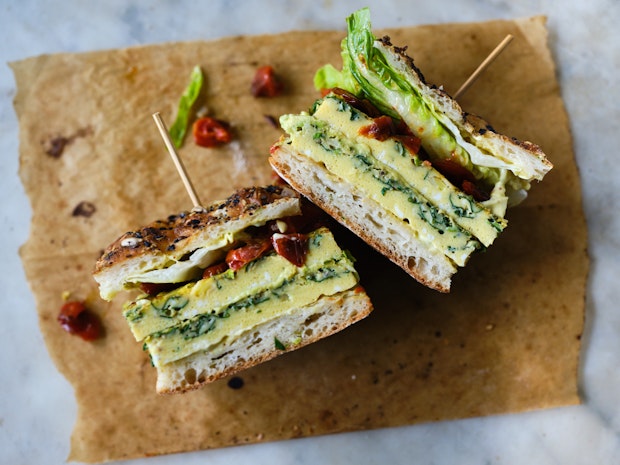 Frittata Sandwich: The Components
Good bread: Good sandwiches are built on great bread. I make some recommendations down in the recipe, but bonus points for homemade. A sandwich baked on homemade bread tastes extra special. I toast for this sandwich.
A good slather: For this sandwich I use a wildly garlicky aioli-ish spread situation spiked with serrano chile pepper. You'll have leftover, and it can be used to make just about everything savory taste better.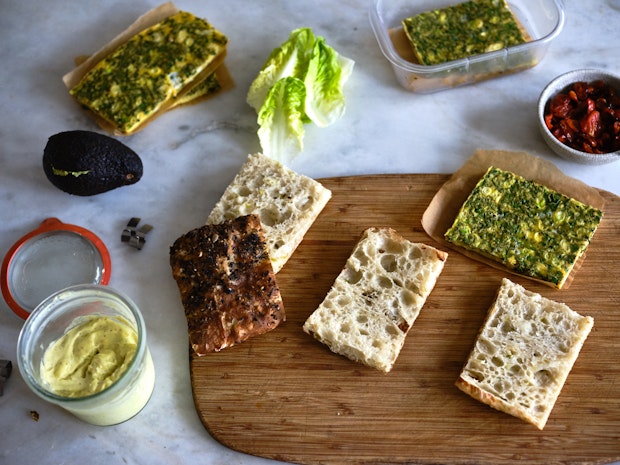 Seasonal vegetables: I layered lettuces and roasted cherry tomatoes here. Plus some ripe avocado. The sheet pan frittata was additionally loaded with lots of chopped kale and green onions. Go with the season, or whatever your family likes!
Sheet pan frittata: If you bake a tray on a Sunday, you have enough to make a few sandwiches throughout the week.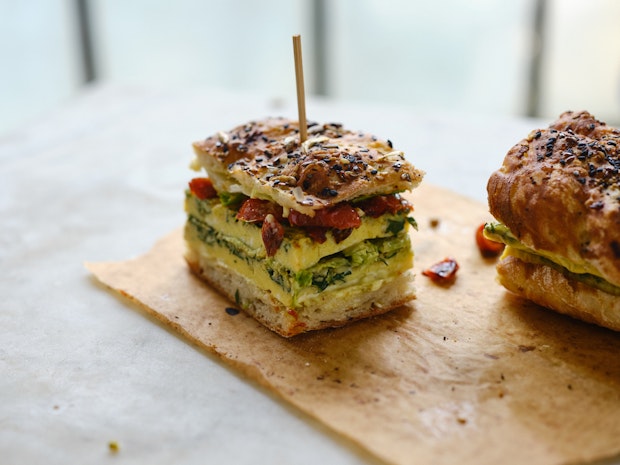 The frittata sandwich pictured is made on homemade bread - it's not quite focaccia, it's not quite nan-e barbari, it's something in the neighborhood of both though.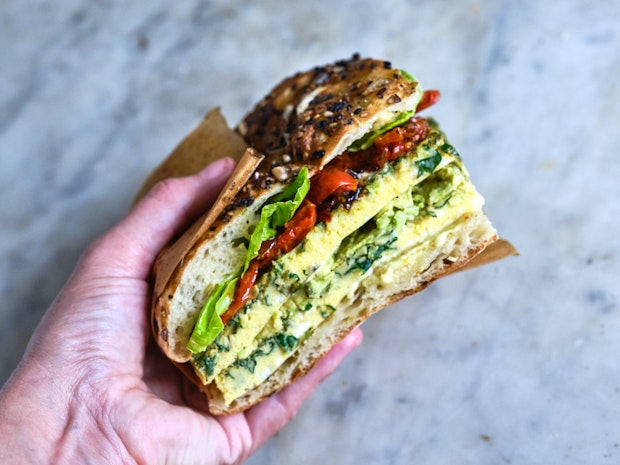 Variations
There are infinite ways to experiment with this sandwich. Start by playing around with the bread. You can see the bread I like to use here, but you can never go wrong using great sourdough. Beyond that, switching up the added ingredients in the sheet pan frittata is always an option. I like to use this component as a way to work in greens and/or herbs, but you might load it up with caramelized onions, or roasted seasonal vegetables. Spreads and slathers are also swap-able. Strong flavors are welcome here, so don't be shy about working in different chiles, garlic, spices, and pastes.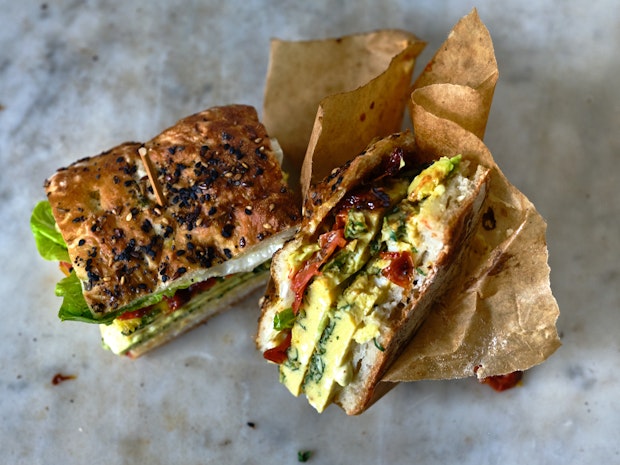 More Sandwich Recipes

Frittata Sandwich
Bread choice is key here. My choice is typically flat-ish, a little structured, and tasty - something like focaccia or nan-e barbari. Also, you'll have plenty of extra spread here. Use it for other sandwiches throughout the week, or as a dipping sauce for sweet potato fries. I also love the garlicky spread with spicy green notes as a substitute for mayo in traditional potato salads - it's brings big garlic flavor and is absolutely delicious.
Ingredients
Garlic-Serrano Spread:*
5

medium cloves garlic, peeled

1

egg

1/4

teaspoon

fine grain sea salt

1

teaspoon

Dijon-style mustard

1-2

tablespoons

freshly squeezed lemon juice

1

cup

extra-virgin olive oil

1

medium serrano pepper, stemmed and seeded (optional)
Frittata Sandwich:
A ripe avocado

Thin slices of good cheddar cheese

Lettuces
Instructions
Make the garlic-serrano spread: Combine the garlic, egg, salt, mustard, 1 tablespoon of lemon juice, olive oil, and serrano pepper in a wide-mouth jar. Use a hand blender to create a smooth, glossy emulsion. This usually takes 30 seconds to 1 minute. Taste and adjust with more salt and lemon juice it needed. Refrigerate until ready to assemble sandwiches. *This part of the recipe does use raw egg - children, pregnant women, the elderly, and anyone with an immune system disorder should avoid eating uncooked egg because of salmonella risk. You can use an alternate spread for your sandwich, or blend a favorite mayonnaise with garlic, mustard and serrano chile pepper.

To make each sandwich, carefully slice the bread horizontally and toast both pieces.

Slather each side with garlic aioli. Smash some avocado into one side, and arrange some roasted tomatoes and thin slices of cheddar on the other side. Add a few lettuce leaves, and a square of sheet pan frittata. Double up with another square of frittata if you want a heartier sandwich.

Close your sandwich and wrap tightly in parchment or waxed paper. Repeat to make more sandwiches. Keep refrigerated until about 15 minutes before you're ready to eat and enjoy.
Related Recipes
More Recipes
Popular Ingredients