Chocolate Bundt Cake
Slathered with chocolate buttermilk icing, this beautifully moist chocolate bundt cake is made with a blend of whole wheat and all-purpose flours, stout beer, maple syrup and brown sugar. It's the perfect travel-friendly treat.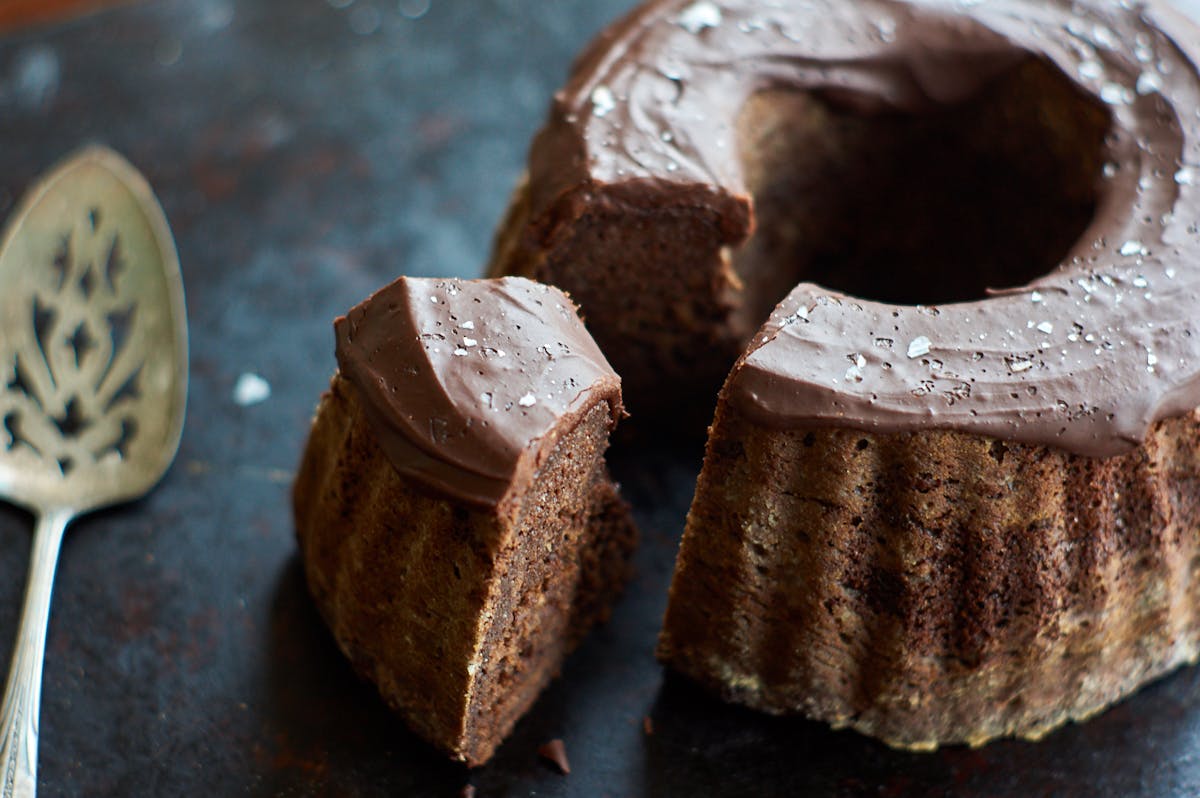 Slices of this chocolate bundt cake spent the better part of the past week in the car with me. Each piece, wrapped in parchment, was tucked between the Ak-Mak crackers and a jar of almond butter. It is a fine travel cake, one that can handle a day or two in the car- blizzards, bumps in the road, hairpin turns, and all. Topped with a generous sweep of chocolate buttermilk icing, it's unfussy, and ready to frost straight from the pan.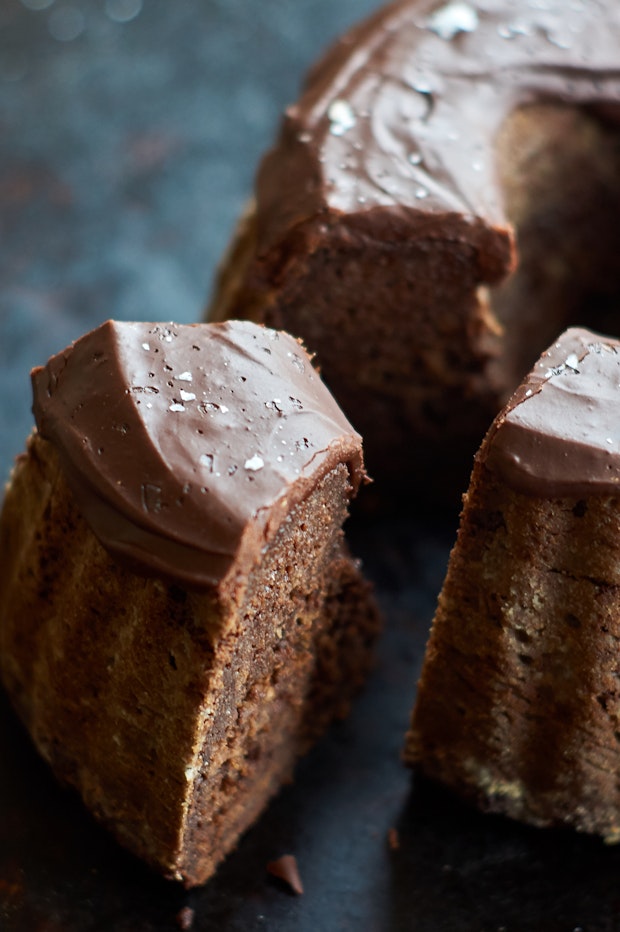 Chocolate Bundt Cake: Key Ingredients
Flours: I make this bundt cake with an equal blend of whole wheat and all-purpose flours. Whole wheat flour brings a bit of heartiness and added structure (and flavor!) to the cake.
Sugars: This cake gets tempered sweetness and a moist, tender texture from maple syrup and dark brown sugar.
Stout: I use dark stout beer in the batter. It's the wildcard ingredient that lends a malty base note and depth of flavor. Go for a not-too-hoppy porter or stout. Beyond that, chocolate porter or chocolate stout would both be good choices. I know many of you can get your hands on a Guinness, which is totally fine as well.
Yogurt and Melted Butter: The core liquids in this bundt cake batter help deliver a rich, flavorful cake that is effortlessly sliceable and a bit less decadent than typical versions (without sacrificing deliciousness!).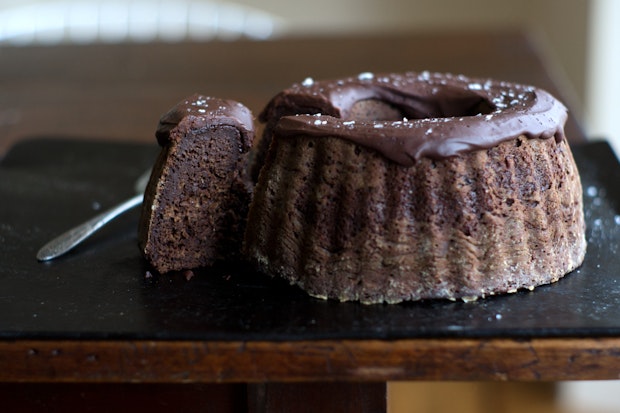 What If I don't have a Bundt Pan?
For those of you who don't have a bundt pan, no problem! You can bake this cake batter in a wide range of pans. It makes great little cakes, and loaf cakes, and cupcakes. You know the drill, adjust the baking time, and bake until the sides of the cake start to pull away from the pan a bit, and a tester/knife inserted into the center comes out clean.

This cake travels beautifully wrapped in parchment paper or waxed paper bag. A stretch of common string secures the wrapper in place.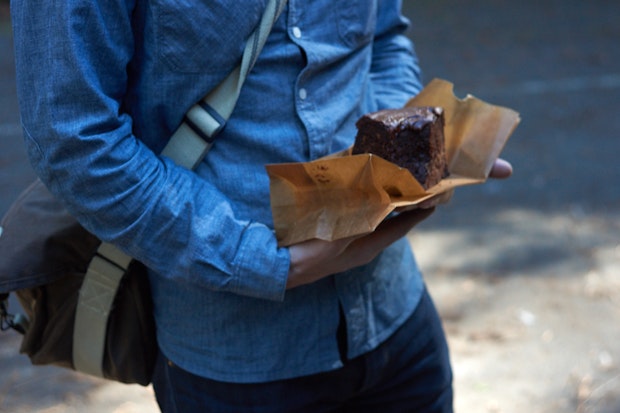 Chocolate Bundt Cake: Variations
Coffee Version: A number of people over the years have asked about making a version without beer. You can use I cup of strong coffee in place of the 1 cup of reduced beer.
Chocolate Bundt with Olive Oil: Laura mentions, " made this cake tonight with 1/3 cup extra virgin olive oil, which I mixed in with the yogurt egg mixture, instead of butter and it turned out delightful. Next time I might add thick pieces of dark chocolate into the batter, too."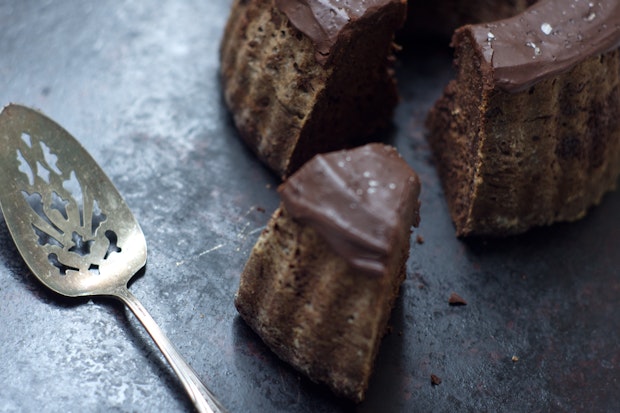 I hope you enjoy this cake as much as we have! It was just the thing to unwrap on a picnic table underneath a grove of sky-scraping redwood trees.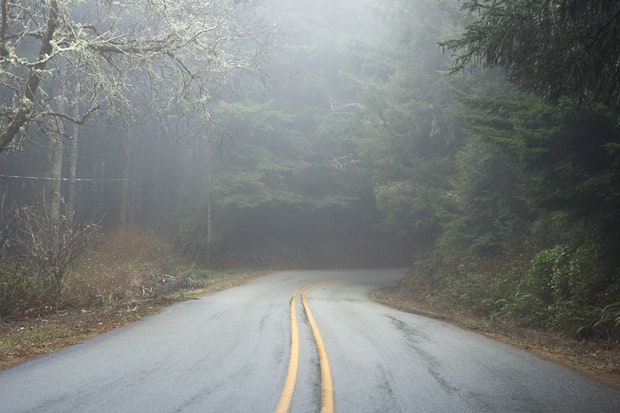 More Cake Recipes
Chocolate Bundt Cake
I use less butter here, than most other cakes of this sort. And I'd argue, you can't really tell. That said, scaling back much more beyond this wasn't a good idea, so i don't recommend it. Also, I use buttermilk in the icing because I typically have it on hand, but you can certainly substitute stout/porter or water. And if you love extra frosting, go ahead and double up.
Ingredients
Chocolate Bundt Cake:
2

cups

/ 475 ml chocolate porter or stout beer

8

tablespoons

unsalted butter, plus more for the pan

3/4

cup

/ 75g natural cocoa powder (non-dutched)

1

cup

/ 5 oz / 140 g whole wheat flour

1

cup

/ 4.5 oz / 125 g unbleached all-purpose flour

1

cup

/ 4.25 oz / 120 g dark brown sugar

1 1/2

teaspoons

baking soda

3/4

teaspoon

fine grain sea salt

3

large eggs

1 1/2

cups

/ 355 ml plain whole yogurt

3/4

cup

/ 180 ml pure maple syrup
Chocolate Buttermilk Icing:
3/4

cup

/ 2.75 oz / 75 g powdered sugar

1/4

cup

/ 25g natural cocoa powder (non-dutched)

2

tablespoons

buttermilk

flaky sea salt, to serve
Instructions
Preheat oven to 350°F / 180°C, with a rack in the center.

Butter and flour (generously) a 11 or 12-cup capacity bundt pan (or equivalent). As I mention up above, you can bake this in other cake pans, just be mindful to avoid filling the pan(s) more than 2/3 - 3/4 full. Adjust the baking time as well, baking until the cake begins to pull away from the sides of the pan, and the center tests clean when you insert a knife.

In a saucepan over medium heat, simmer the beer down to 1 cup / 240 ml, it will take 15 minutes or so. Remove from heat, add the butter and stir until melted. Stir in the cocoa powder, mixing until smooth, then set aside to cool, stirring occasionally to release heat.

In a medium bowl, whisk together the flours, sugar, baking soda, and salt. Set aside.

In a large mixing bowl, combine the eggs, yogurt, and maple syrup. Whisk well, until nicely blended and uniform in appearance. Gradually add the (cooled) stout mixture, stirring all the while. Stir until well blended. Add the flour mixture, folding until just blended, using as few strokes as possible, a few lumps in the batter are fine.

Transfer the batter to the prepared pan and bake for 35 - 45 minutes if using the bundt pan, or until a knife inserted in the center comes out clean. You really don't want to over bake this cake - err on the slightly moist side if anything. Remove from the oven, allow to cool for ten minutes or so, and turn out onto a cooling rack.

In the meantime, make the icing by whisking together the powdered sugar, cocoa, and buttermilk. Really go at it for at least a minute. The icing should end up smooth and creamy looking, adjust with a touch of powdered sugar or a few extra drops of buttermilk if you want to tweak the consistency at all. When the cake is completely cool, run the icing around the top with an offset spatula and let it set.

Serve sprinkled with a bit of flaky sea salt. But don't sprinkle with flakes of salt until ready to serve, or you'll end up with little divots (see photos :).
Notes
Makes one chocolate bundt cake.
Related Recipes
More Recipes
Popular Ingredients