An Incredible No Bake Chocolate Cake
The easiest chocolate cake you'll ever make. And it's always a huge hit. It's the sort of easy dessert perfect for summer, and entertaining, because you don't need to heat your oven.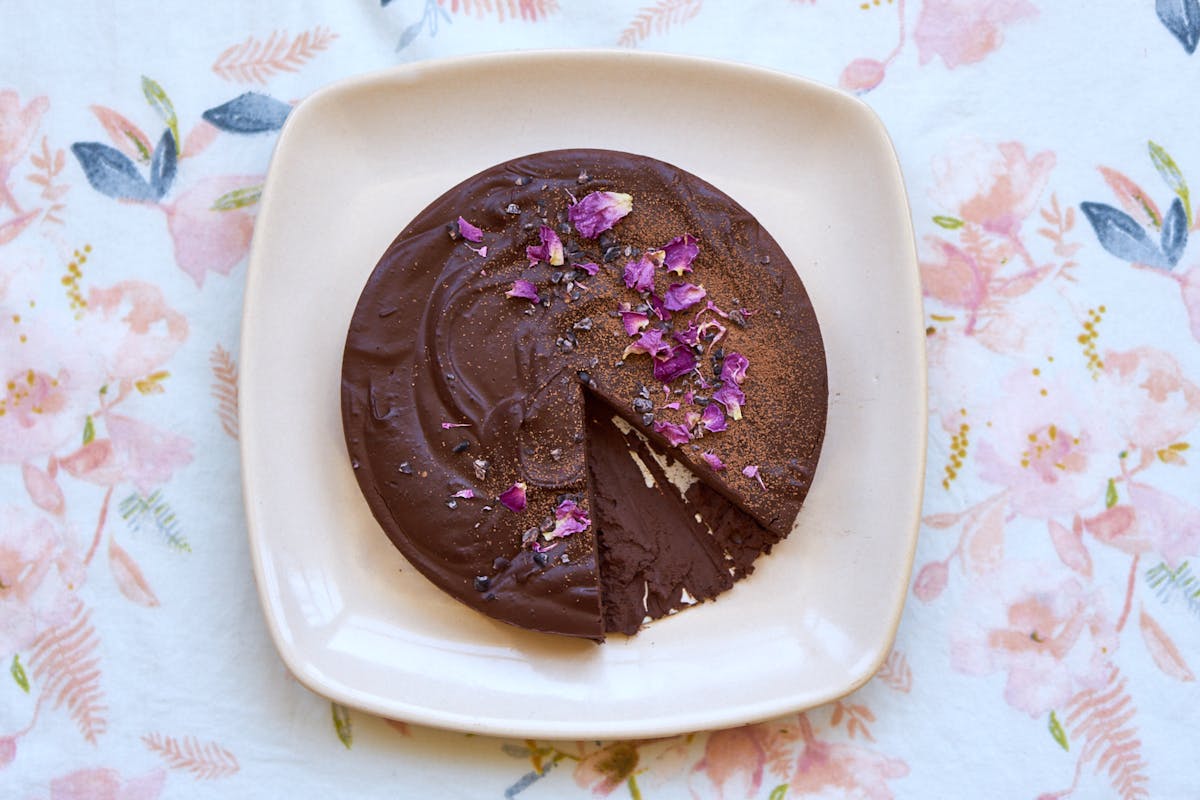 I suspect this will be the easiest chocolate cake you'll ever make. And it's always a huge hit. It's the sort of easy dessert that is perfect for summer (and entertaining!) because you don't need to heat your oven. I think of it as a no bake chocolate cake, you wouldn't be far off calling it a slice-able truffle. Or, imagine an espresso-spiked, velvety, chocolate mousse you were able to cut into beautiful wedges. Sounds incredible, right? If you have ten minutes,  some dark chocolate, cream, and something to infuse the cream with, you're in business. I also have some non-dairy variations as well.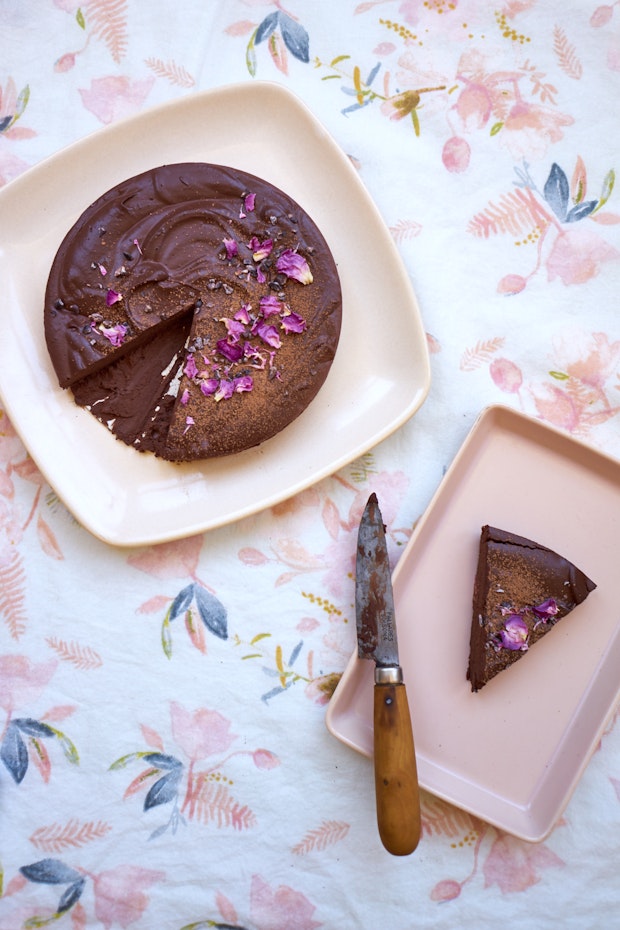 When this Sort of Chocolate Cake is Perfect
This is the sort of thing I'll throw together if we're having friends over for dinner and I run out of steam on the dessert front. It's less trouble to make than it is to go out and buy something. A small slice really goes the distance. It's intense, it's hardcore chocolate. Paired with a touch of whipped cream (or whipped coconut cream) it's a total crowd-pleaser. I infused the cream used in the cake with espresso adn allspice in this version, but you could play it straight. Or take it in any direction you're inclined - there are dozens of great suggestions in the comments.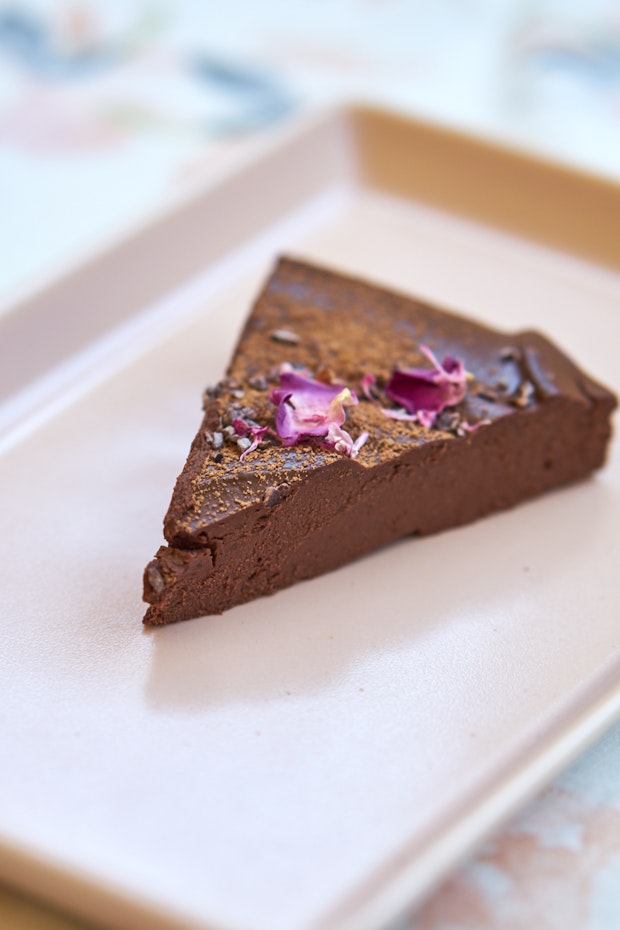 Choosing the Right Pan
This is a small but mighty chocolate cake. The choice of pan warrants a mention. You end up with with ~ two cups of batter, and for the most part you can pour that into any small-ish, parchment-lined cake pan you like. The parchment is important if you ever want to get the cake out of the pan. For this cake, I used a little loaf pan I like, but I've done this in small spring-form pans, and on occasion little tart pans. Just keep in mind, a bigger pan will mean a thinner slice. A small loaf pan like this yields a deeper slice, and so on. It's hard to screw up - I mean, it's a slice-able truffle cake. In the lead photo I've used a 6-inch springform pan. In the shot below, I've used a small loaf pan.
In a pinch - a number of you have mentioned that you simply pour the chocolate mixture into individual muffin tins, or dessert cups, allow it to set, and served this way. Brilliant! Less cake like, but I suspect no one will complain.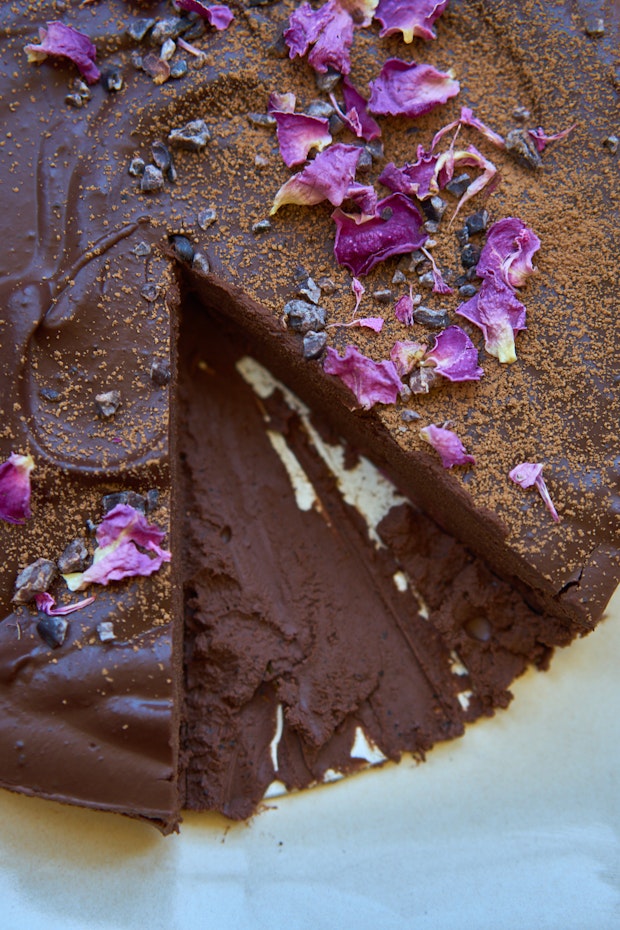 Variations
Want to avoid heavy cream? There are a number of substitutions that work well. I love using cashew cream in place of the heavy cream called for in the recipe. Make cashew cream by combining 1 part cashew nuts + 1 part water and process in a high speed blender until silky smooth. No need to strain. Coconut milk also works nicely as a substitution.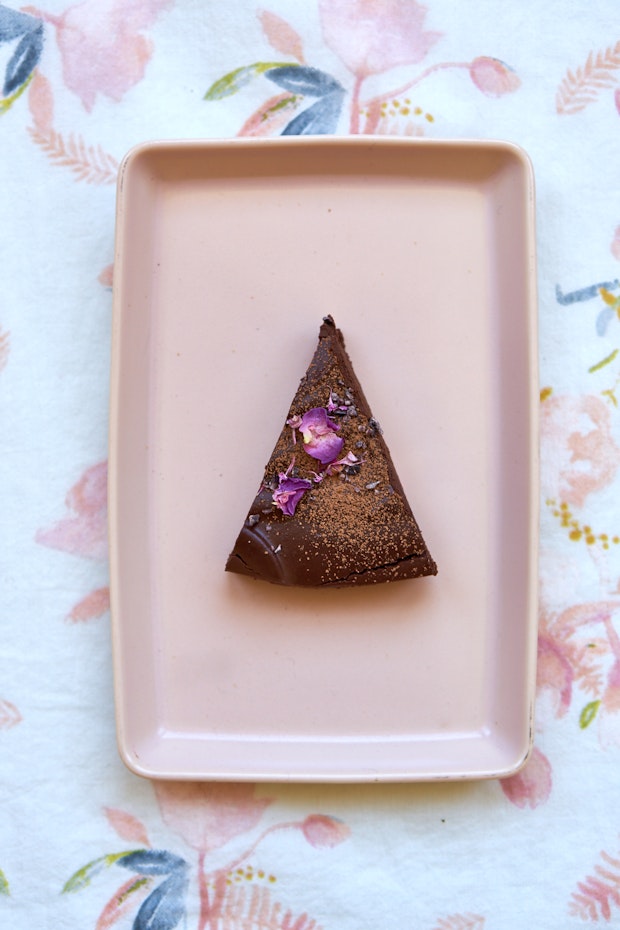 Choosing the Right Chocolate
Because this cake is all about the chocolate, you don't want to skimp on quality. I've been using Guittard Organic 74% Bittersweet Chocolate Wafers for this cake. It works beautifully. I often use it straight, meaning, without the added espresso or allspice noted in the recipe. So it's just the beautiful chocolate notes coming through. San Francisco family-run chocolate represent! But, any good chocolate between 70% - 80% will work.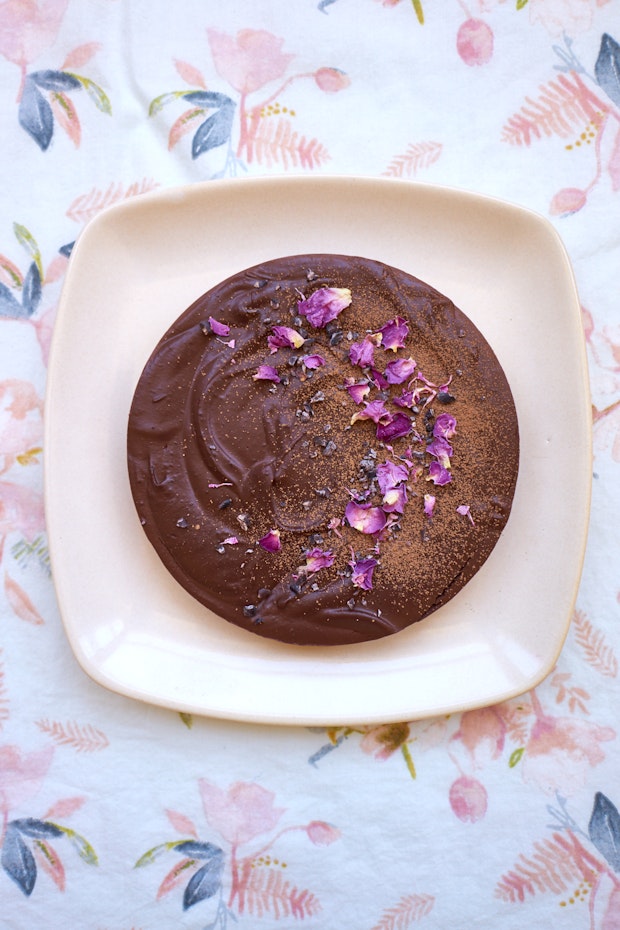 Finishing Touches
I like to bring a bit of extra flavor (and some pretty) with a dusting of cocoa powder, a few dried rose petals, and a sprinkling of cacao nibs. Others like to finish things of with a few berries. Generally speaking, if it pairs nicely with chocolate, go for it. A few toasted nuts, or crumbled cookies wouldn't be unwelcome.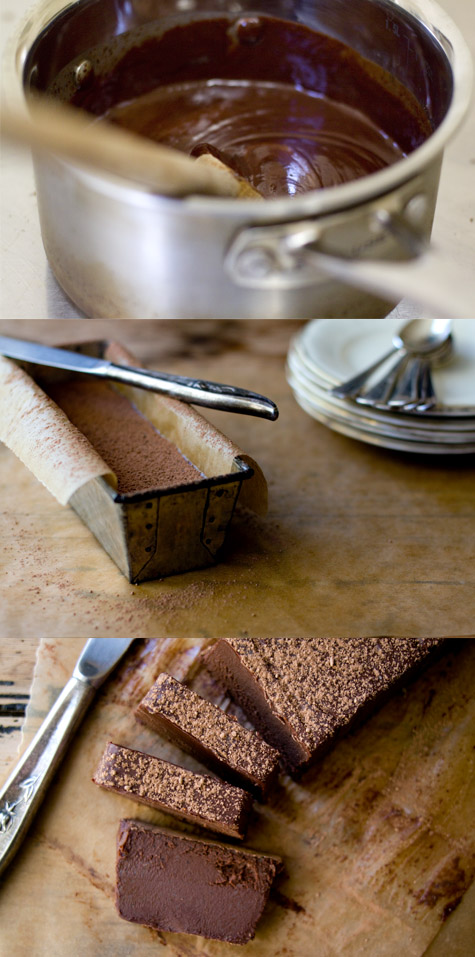 If this isn't quite the right chocolate cake for you, I have a few others to recommend! This flourless chocolate cake is a classic all-time favorite, and everyone loves this Violet Bakery Chocolate Devil's Food Cake, and you can't go wrong with these incredible brownies.
More Cake Recipes
No Bake Chocolate Cake
Ingredients
butter, to grease pan

8

ounces

/ 225 g 70% chocolate, well chopped

8

ounces

/ 225 g heavy cream, cashew cream, or full-fat coconut milk

1/2

teaspoon

allspice (optional)

2

teaspoons

finely ground espresso (optional)

1/4

teaspoon

fine grain salt

cocoa powder, to serve

optional other toppings: rose petals, cacao nibs
Instructions
Prepare your Pan
Lightly butter a 6-inch / 15cm springform pan or equivalent. I typically use small loaf pans which are less common, but many small pans will work here (see main entry). Line with parchment paper and set aside.
Make the Cake
Barely melt the chocolate in a double boiler over gentle heat.

In a separate medium pan heat the cream over gentle heat. Stir in the allspice and the espresso, if using. When the cream is very warm / hot to the touch, remove from heat and stir in the salt.

Pour the chocolate into the cream, and very slowly and steadily stir until everything comes together smoothly. Make sure the components aren't at all separate. Pour the mixture into the prepared pan, cover with plastic wrap, and refrigerate until chilled throughout, a few hours, or overnight.
Serve the Cake
When ready to serve, remove from the pan, let set at room temperature for ten minutes or so, dust with a bit of cocoa powder, sprinkle with any other toppings you like, and slice. Alternately, you can slice and serve from the pan.
Related Recipes
More Recipes
Popular Ingredients