Dragonfruit Bowl with Walnuts and Berries
A vibrant chia-based dragonfruit bowl that comes together in a flash.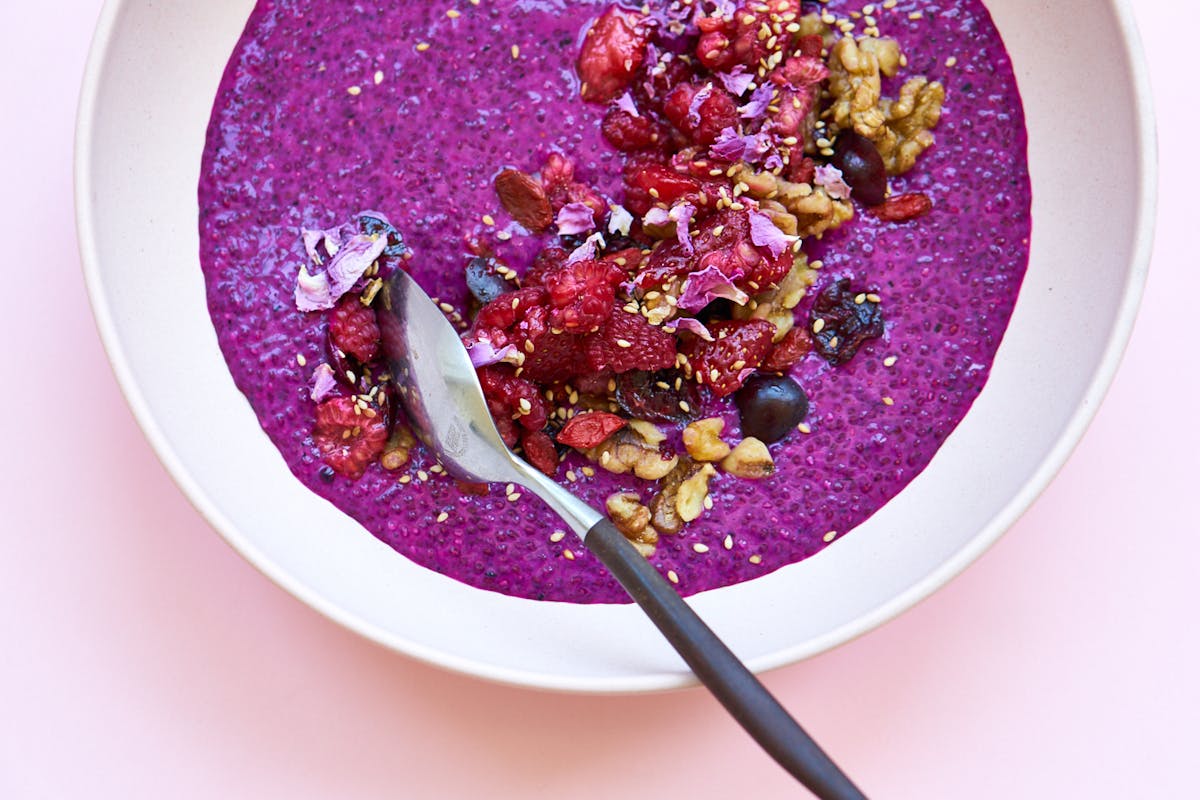 Have you seen the little packets of dragonfruit puree in your supermarket's freezer section? I love them, and stock up whenever I can. They seem to be popular in San Francisco, and tend to sell out fast. The packets are great for smoothies (of course), but sometimes, when I can't be bothered to set up and clean my blender, I'll make myself a dragonfruit bowl using the thawed packets. It's a twist on my favorite breakfast chia pudding, and comes together in a flash.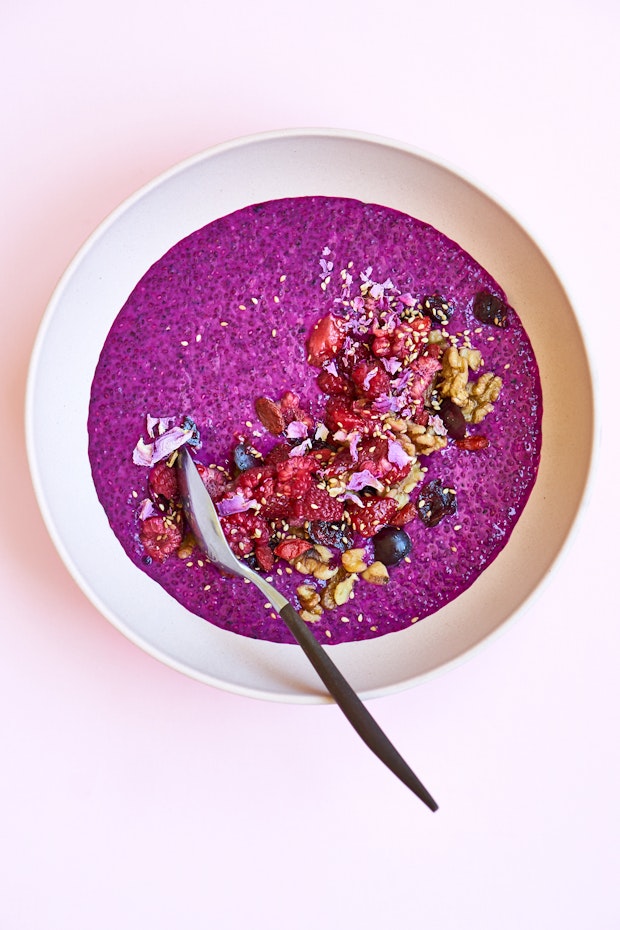 Variations
You make these bowls with just a wide range of fruit purees. Acai works great, although not a pretty as the dragonfruit. I love raspberry, strawberry, and black berry as well. In general, the berry purees are on point.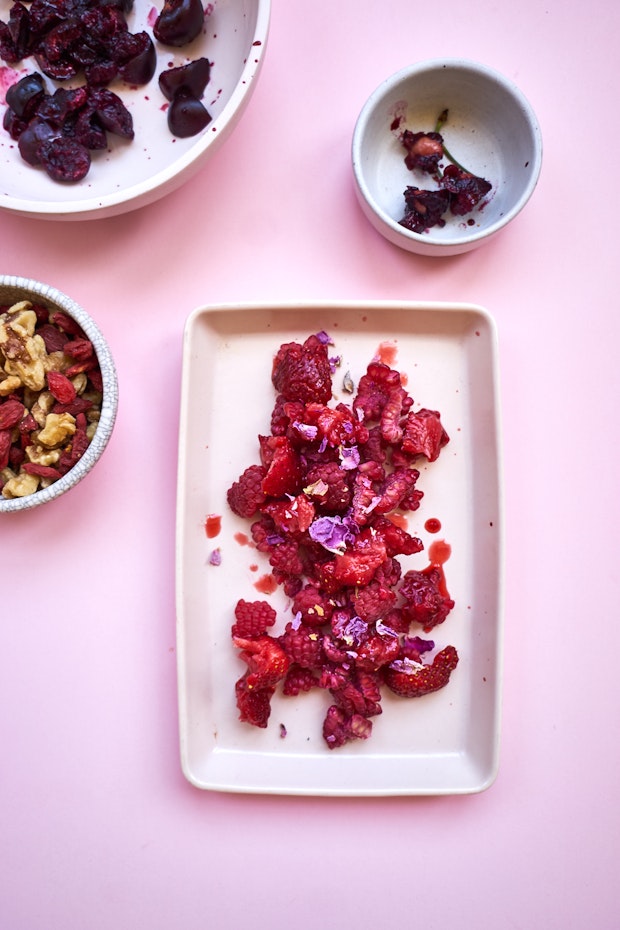 Dragonfruit Bowl Toppings
The only limit here is your imagination. I tend to use whatever I have around. Crushed berries, and miscellaneous seeds are often contenders. Something extra crunchy is essential, and you see toasted walnuts here. Think seasonal as well - I like to add torn cherries when they're in season, or sliced figs later in the year. Also! I love puffed quinoa or other cereal on top.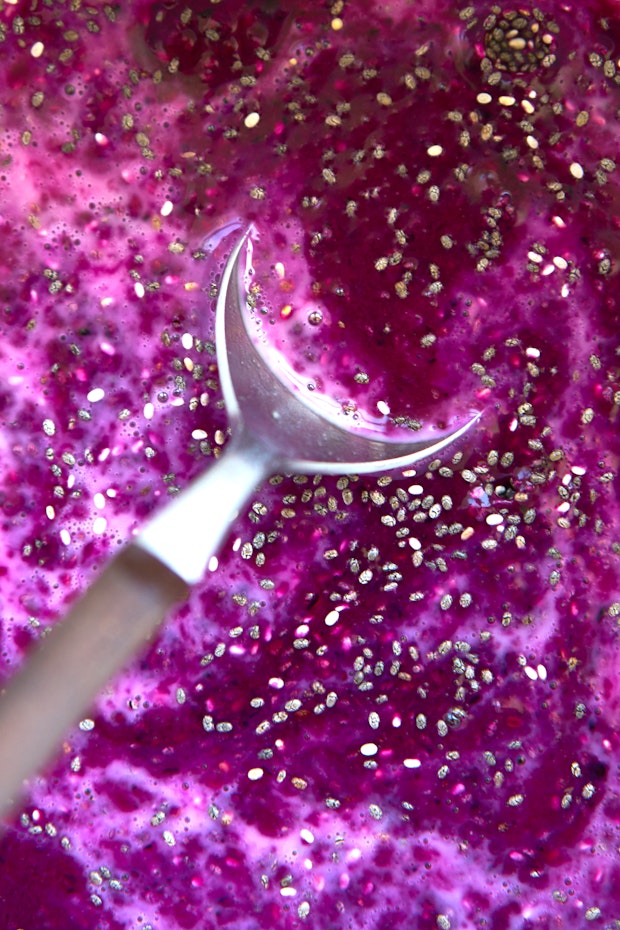 Other Recipes to Make with Dragonfruit
Keep an eye out for other products made with dragon fruit. It's such a fun ingredient to experiment with. I've seen dried dragonfruit slices (also named pitaya), and more recently discovered a beautiful dragonfruit powder. I use the same puree called for in this recipe, in this refreshing dragonfruit shrub quencher. And use the dried fruit in this dragonfruit tonic. Have fun experimenting!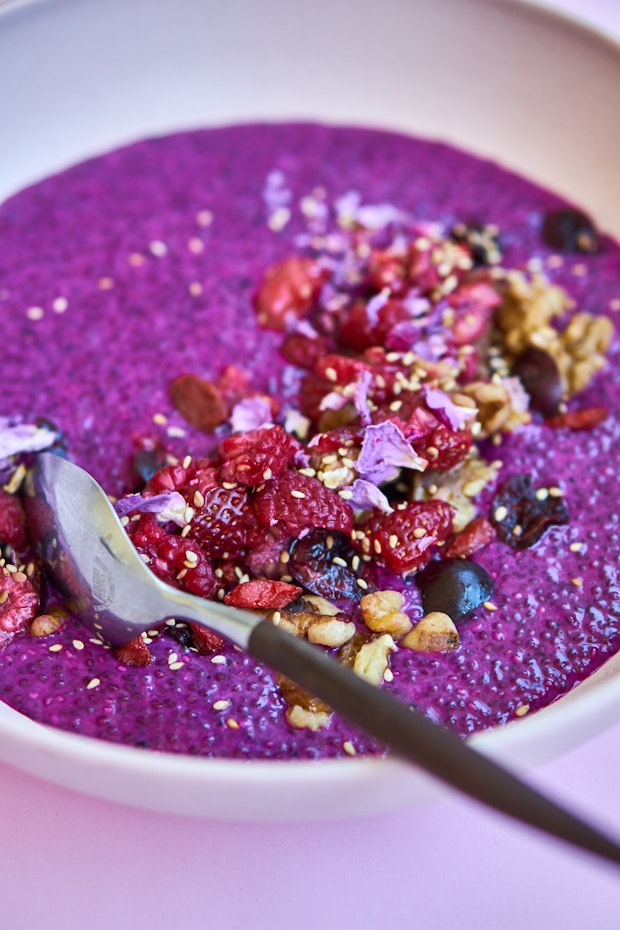 Dragonfruit Bowl with Walnuts and Berries
You can look for dragon fruit puree packets in freezer sections. Stock up when you come across it. For this recipe, you then thaw packets in your refrigerator. Also, you can use your milk or mylk of choice here. I like oat milk, almond milk, or almond-coconut milk blend here. The dragonfruit makes this bowl naturally quite sweet. If you think this needs added sweetener you can use coconut nectar, maple syrup, stevia, or honey, to taste.
Ingredients
4

tablespoons

chia seeds

1/2

cup

dragonfruit puree, 3.5-ounce freezer pack, melted

1 1/2

teaspoon

pomegranate powder (optional)

3/4

cup

almond or oat milk

pinch

of good salt

top with any or all of the following: seasonal berries, toasted walnuts, goji berries, sesame seeds
Instructions
Combine the chia seeds with the thawed dragonfruit puree, and stir well. Add the pomegranate powder (if using), and almond milk, and stir well. Allow to sit for 15 - 30 minutes, stirring occasionally, or until the chia seeds completely bloom and soften. You can also do this step a night ahead, which makes for a great overnight breakfast. Just before serving, top with any of your chosen toppings.
Related Recipes
More Recipes
Popular Ingredients