Everything Bagel Breakfast Casserole
If you're looking for a great breakfast casserole, this has you covered. It's a deep-dish merging of grated cheese, bagels, eggs, plant-based sausage and the crunch and savoriness of everything bagel seasoning.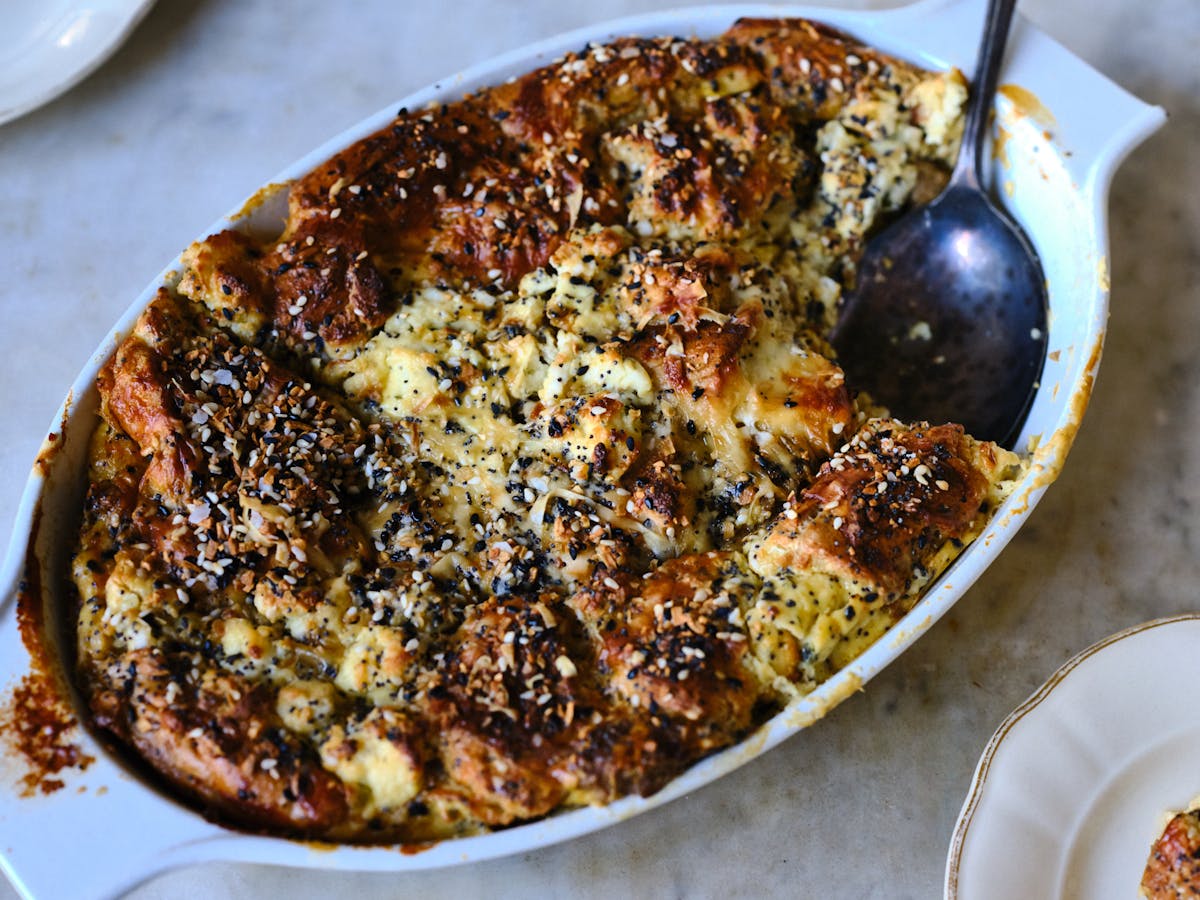 Breakfast casseroles are a thing for good reason. You can prep them the day before. They're great for serving a crowd, and they're endlessly adaptable. This is my take on the popular Everything Bagel Breakfast Casserole. It's a deep-dish merging of grated cheese, bagels, eggs, plant-based sausage along with the crunch and savoriness of everything bagel seasoning. The bagels that break through the top get beautifully crunchy and kissed with oven-toasted cheese. Like many things in life, the details matter here and I've gone into some depth on the things to think about as you make your own brunch-time fave.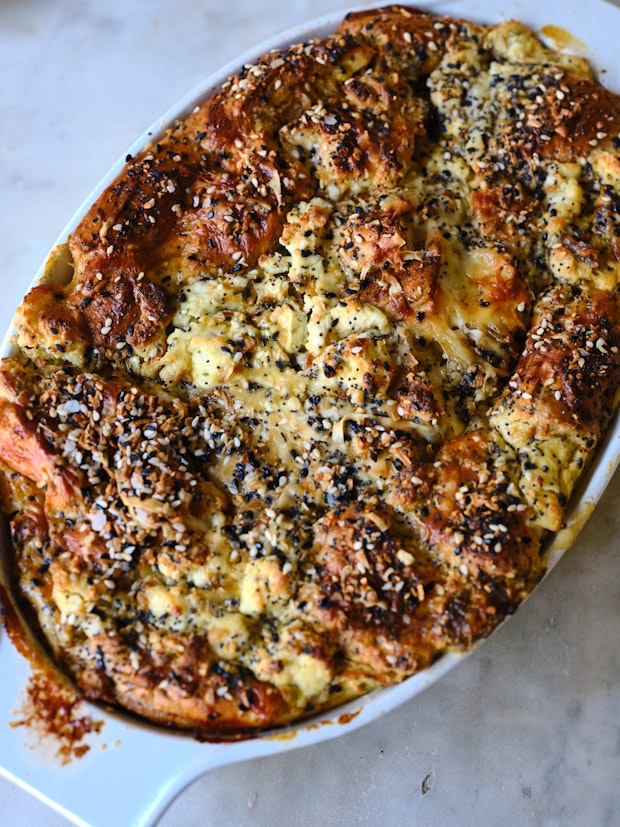 Make Ahead?
Absolutely! The great thing about a breakfast casserole like this one is you can completely prep it the night before. Wake and bake it in the morning. Or, you can bake it right away, after combining all the ingredients in the baking dish. You end up with slightly different textures, depending on your timing, but both are great. An overnight casserole results in a more custard-like texture.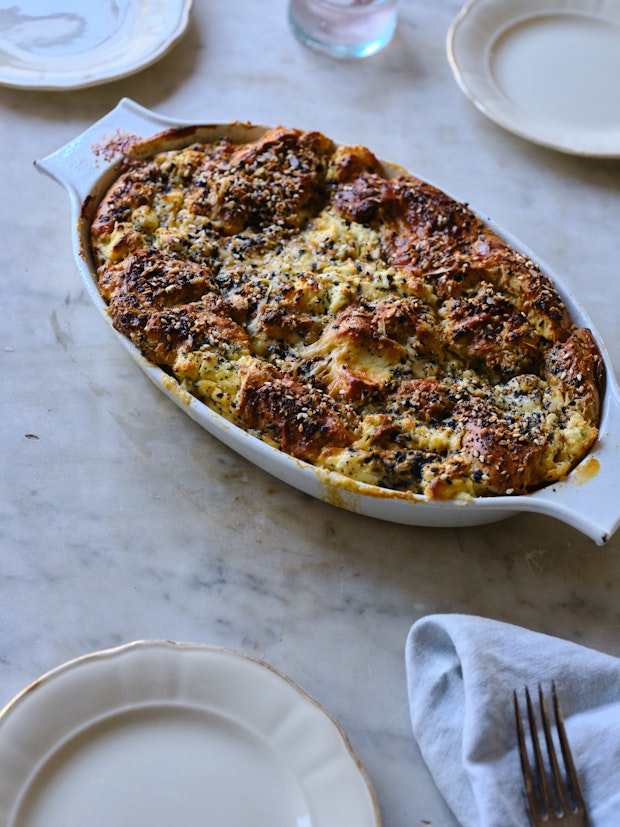 Stale Bagels vs. Fresh Bagels
My attitude here is to use what you have. Bagels that are a bit stale work brilliantly. Freshly baked bagels work great too. There's a bit of a calculus if you're hyper-specific about the texture you like. Bagels that are on the fresh side combined with the egg mixture the day prior to baking will yield a breakfast casserole with a more custard-like texture. Think French toast. On the other hand, if you use stale bagels and toss everything together just before baking you'll end up with a casserole that has more definition and a slightly drier overall texture to the bread chunks. I love them both, but am a bit partial to the version pictured here - tossed just before baking, made with 3 day-old bagels.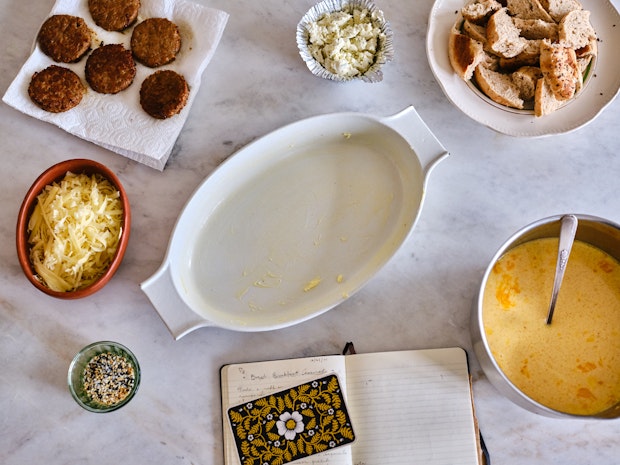 What Kind of Bagels Should I Use?
I've baked this casserole with a number of different bagels over the years. As far as supermarket-brand bagels go, the version I liked best was made with Dave's Bread Epic Everything Bagels. I like to work whole grains in wherever I can, so that's what I use here, but any good bagels will work.
How To Make a Breakfast Casserole Video
Can I Substitute ____ Cheese in This Breakfast Casserole?
The short answer here is yes. A wide range of cheeses can work in this sort of thing. Basically you're dealing with one grated cheese that you work into the egg mixture, and another cheese that functions more as a topping or punctuation. So, on the grated front if you prefer a strong cheddar or Swiss cheese, by all means make the swap. A lot of people use cream cheese for the "punctuation" cheese in this style breakfast casserole, because the theme here is...bagel. But the best version I've made was when I took some Boursin garlic and herb cheese from my dad's refrigerator and used that instead. It ended up being creamy, oozy, herby magic where it hit the golden bagels on top. Feta works great too. Same goes for goat cheese. This is a long way of saying cream cheese is the standard here, but feel free to up your game by using something with a stronger flavor and personality.
Breakfast Casserole Variations & Ideas
Hash Brown Breakfast Casserole

: Sometimes I skip the plant-based sausage crumbles (processed plant-based meats aren't typically my thing but they work well here), and throw in a few well-cooked hashed browns instead, Or you could do both. If you keep frozen hash browns, or frozen sweet potato hash browns on hand this is an easy add. Brown them up in a skillet and allow to cool (enough so they won't cook the eggs instantly). When assembling the casserole I tend to add them to the baking pan and then pour the egg and bagel mixture on top of them. So you get some potato thickness and not just shredded potato bits.

Green It Up Version

: Add a few handfuls of well-chopped kale or spices to the egg mixture. Or, if you have something like saag paneer left over, add that! Finish with lots of chopped green onions and chives. The onions can go on either before or after baking.

Pretzel Version

: Whenever I make this I always think to myself that an old-fashioned soft pretzel version would be fun. You'd use a few of those big Bavarian-style soft pretzels in place of the bagels.

Buttermilk & Bagel Breakfast Casserole

: I mention this down below, but I'll emphasize here as well. I actually love to make this casserole with some buttermilk if I have it on hand. It works beautifully, especially along with the mustard accent. Just swap out about 1/2 cup of the milk called for and replace with buttermilk.

Leftover Breakfast Casserole

:

You can smash leftover pieces of this casserole into a medium-hot skillet with a bit of oil to reheat. Parts get nice and toasty cheesy, and it's super good. Smash casserole.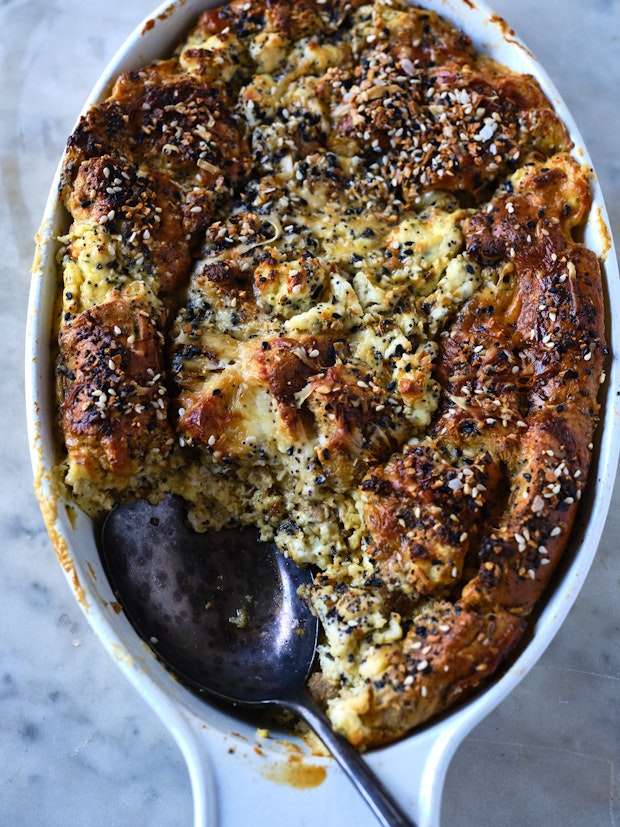 One last thing I want to call out here is that this recipe was written for a standard 9x13-inch baking pan, but don't let that limit you. If you have a big enough skillet, that'll work. What you see here is an enameled cast-iron pan I love. Use whatever big pan you like for this, just don't fill let the eggs get higher than about 3/4 full. If you're still a little nervous about over-flow just place a rimmed baking sheet below the casserole..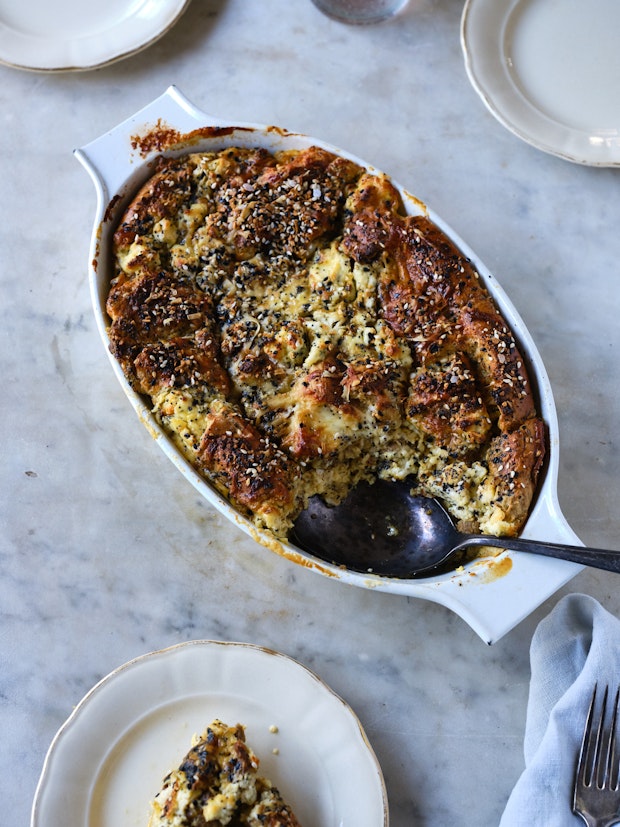 More Breakfast Ideas
I love a good breakfast, and if you're in the same boat, take a browse through these breakfast ideas. If I had to call out some all-time favorites: This has been my go-to waffle recipe for years. Or these for classic pancake lovers out there. Fregola sarda is a top choice for brunch. I love a good frittata, same goes for a good omelette. Lastly, I like to make my own breakfast cereal blend.
If you're just a casserole fan in general, please try this mushroom casserole I've loved since I was a kid.
Everything Bagel Breakfast Casserole
A couple pro-tips for this recipe if you're game! I like to grate the Gruyere cheese on a box grated. You end up with thicker pieces of cheese versus the wispiness of cheese coming off a microplane grater. On the liquids front, I actually love to make this casserole with some buttermilk if I have it on hand. Just swap out about 1/2 cup of the milk called for and replace with buttermilk, In an effort to keep the recipe streamlined I won't write it into the recipe, just know it's a nice swap if you keep it on hand.
Ingredients
a splash of extra virgin olive oil

6-8

ounces

plant-based sausage (optional)

1 1/2

tablespoons

Dijon-style mustard

1/4

+ teaspoon cayenne powder

1/2

teaspoon

fine grain sea salt

2

cups

milk, oat milk, or other plant-based milk

8

eggs

2

large bagels, torn into 1 1/2-inch segments

1 1/2

cups

Gruyere cheese, grated

4

ounces

Boursin cheese, feta, goat cheese or cream cheese

3

tablespoons

everything bagel seasoning
Instructions
Preheat oven to 350F with a rack in the center. Oil a 9x13-inch baking dish, or equivalent.

If using, cook your plant-based sausage per package instructions (usually in a small amount of oil), until browned on both sides. Remove from skillet and place on paper towel until it has cooled a bit. Crumble and set aside.

In a large bowl whisk together the mustard, cayenne, salt, milk, and eggs. Add half of the Gruyere cheese, the bagel segments and the cooked plant-based sausage. Toss until everything is well coated.

Pour the mixture into the prepared baking dish. Sprinkle with the remaining Gruyere, then dot with crumbled pieces of the Boursin cheese. At this point you can either bake the casserole or refrigerate it, covered, overnight.

When you're ready to bake, sprinkle the casserole with the everything bagel seasoning. Cover with foil, poke a few holes in the foil with a fork, and bake for 45 minutes. Carefully remove the foil and bake for another 30-40 minutes, or perhaps a bit longer if you are baking straight from the refrigerator. The casserole should be beautifully golden when it is ready. Cool for 5-10 minutes before serving.
Related Recipes
More Recipes
Popular Ingredients