Fregola Sarda, the Perfect Lunchy Brunch Dish
Fregola is a beautiful, tasty Sardinian pasta made from hard durum wheat flour - rolled, sun-dried, and toasted to a mix of shades of yellow, gold, and brown. It's so good.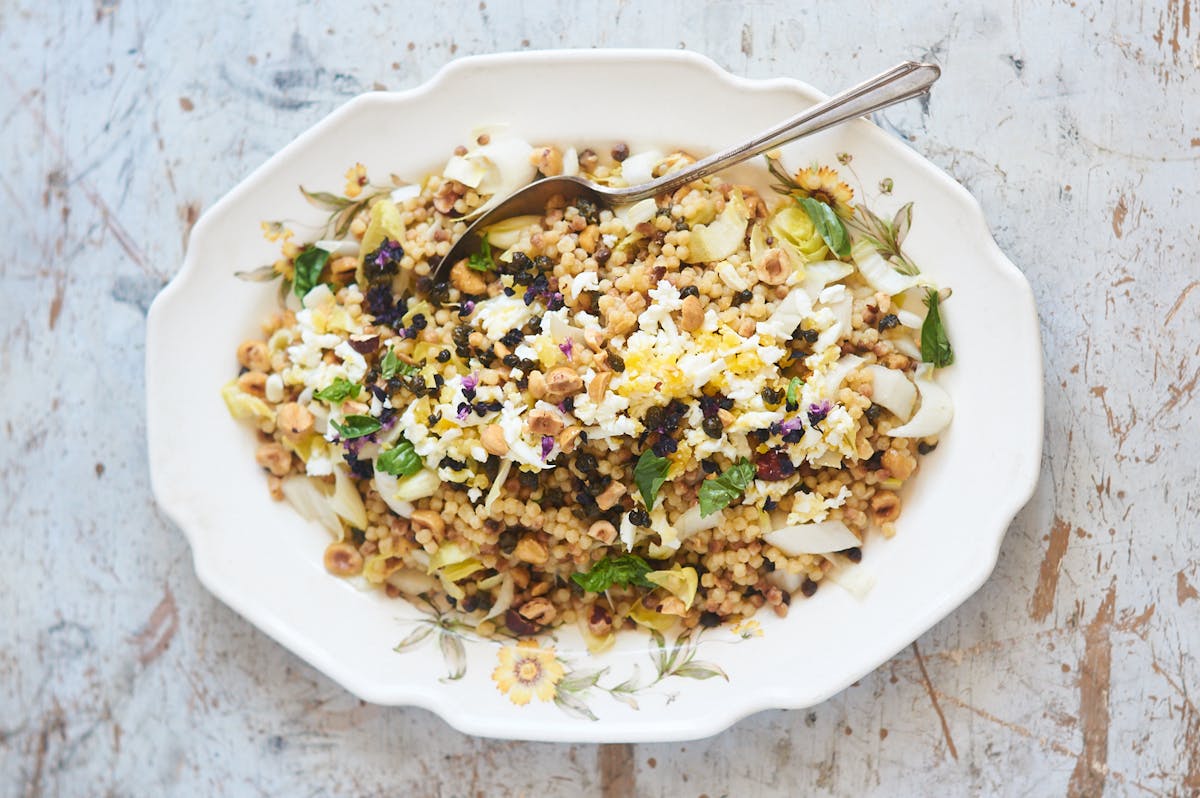 I thought we could welcome spring with one of my favorite recipes from Near & Far. It's the perfect lunchy, brunch dish, and it's made with fregola. Fregola is a beautiful, tasty Sardinian pasta made from hard durum wheat flour - rolled, sun-dried, and toasted to a mix of shades of yellow, gold, and brown. The pasta is rustic and nutty, each grain with a raggy surface adept at catching flavor. It's so good.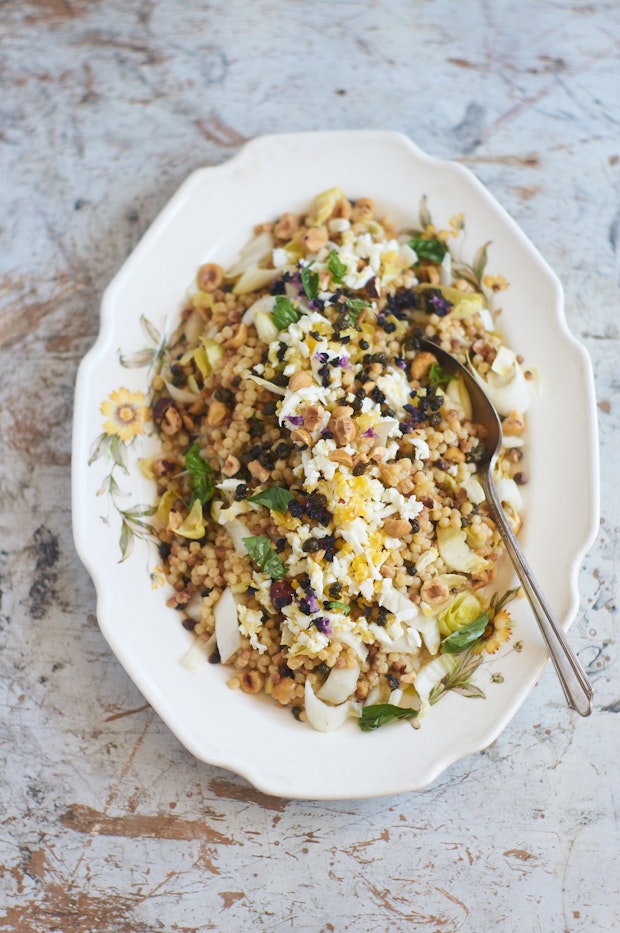 Let's Make Something with Fregola!
Toss the fregola with ribbons of endive, toasted hazelnuts, capers and basil, and you have a salad that is a little bit nutty, a hint briny, herbaceous, and filling. I tend to make this during shoulder seasons. As spring evolves into summer, or as summer shifts into fall -- tweaking the herbs based on what is available and vibrant. It's also amazing with roasted cherry tomatoes mid-summer. A long way of saying that it's hard to go wrong here.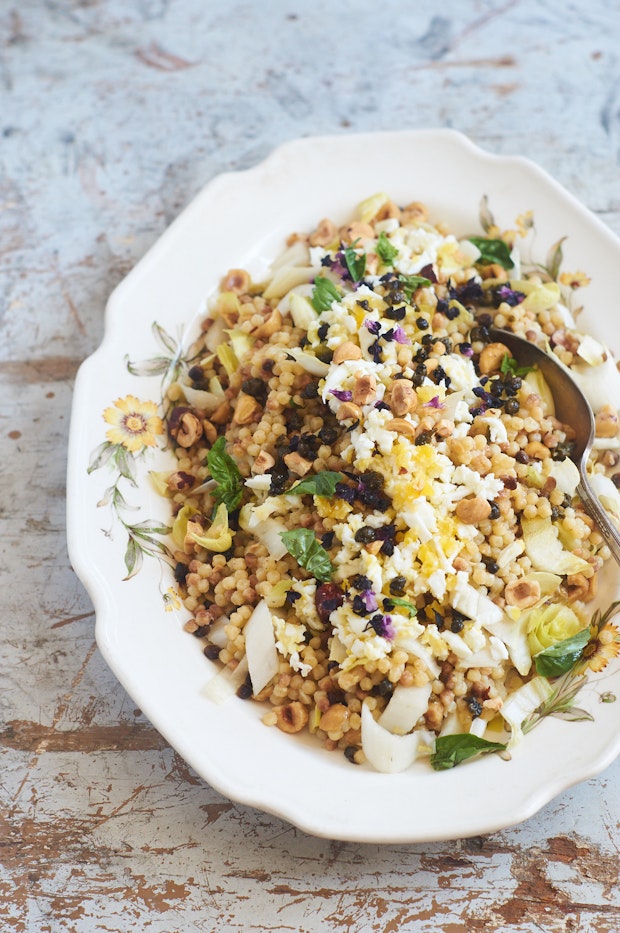 It's worth sourcing fregola if you can. That said, this is also great using orzo pasta, or Israeli couscous. I like the grip of the fregola, but sleeker orzo is always a crowd pleaser. if you're looking for other pasta ideas, here are all my favorite pasta recipes. This homemade cavatelli is super fun, same goes for this pici or pappardelle - and you can never go wrong with homemade pesto. Enjoy!
Fregola Sarda
If you have trouble finding endives, substitute another shredded chicory or radicchio.
Ingredients
3

large eggs

fine-grain sea salt

1 1/4

cups

fregola (or orzo, Israeli couscous)

1/4

cup

/ 60 ml extra-virgin olive oil

1/4

cup

/ 45g capers, rinsed and patted dry

2

medium cloves garlic, smashed

1

lemon

2

or 3 medium endives, cored & cut into 1/2-inch ribbons

1/2

cup

/ 15g torn fresh basil

1/3

cup

/ 45g chopped toasted hazelnuts

optional: a sprinkling of dried currants
Instructions
Place the eggs in a pot and cover with cold water by 1/2 inch or so. Bring to a gentle boil. Turn off the heat, cover, and let sit for exactly 10 minutes. Have a big bowl of ice water ready and when the eggs are done cooking, place them in the ice bath for 3 minutes or so--long enough to stop the cooking. Peel, grate on a box grater, toss with a couple pinches of salt, and set aside.

Bring at least 8 cups of water to a boil, salt the water generously, add the fregola, and cook for 10 to 15 minutes (or follow the package instructions). You want it al dente, not at all mushy. Drain, rinse lightly with cold water, and shake off as much residual moisture as possible.

While the pasta is cooking, heat the olive oil in a large skillet over medium-high heat. Add the capers and garlic and cook until the capers burst and start to brown. Remove from the heat, discard the garlic, and stir in 1/4 teaspoon of salt.

To serve, transfer the fregola to a large bowl or platter. Pour the contents of the skillet on top of the pasta and give it a good toss. Add the zest from the lemon and about 1 1/2 tablespoons of lemon juice -- a good, generous squeeze. Add the endives, basil, and most of the hazelnuts and toss again. Taste and adjust seasoning before finishing with the grated eggs, remaining hazelnuts, and currants.
Related Recipes
More Recipes
Popular Ingredients