Green Falafel Bowl
The star of this show is the golden-crusted, green spinach falafel. Lemon-flecked, made with chickpeas, you see them tucked into this rainbow assortment of hummus, pita, kale, cucumber, and carrots.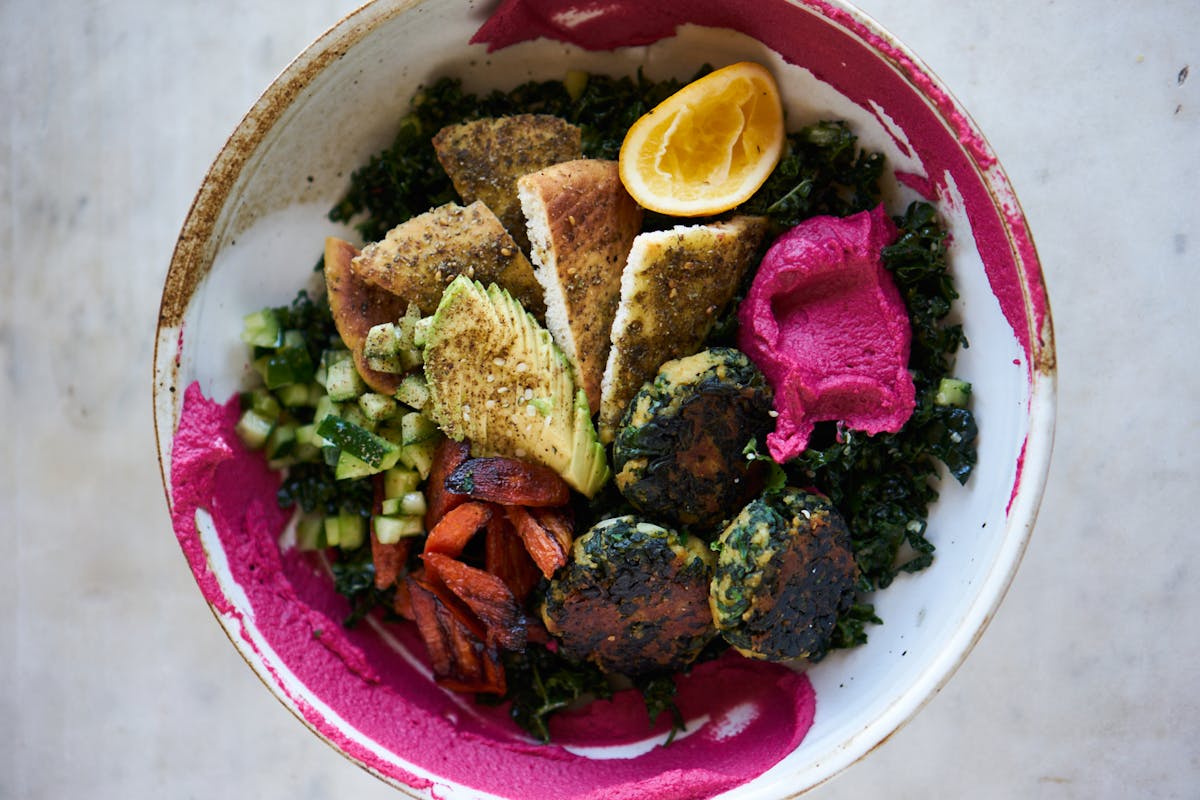 No surprise, the cornerstone of this recipe is little balls of spinach-flecked falafel. If you look at the photo, you'll see the pan-seared patties hanging out in the 5 o'clock position. They're crusted, golden, browned on the outside, tender and lemon-punctuated on the inside. They're also packed with good-for-you greens and chickpeas. I make them in big batches, freeze them, and eat them (allll the time) as snacks, or in bowls like these.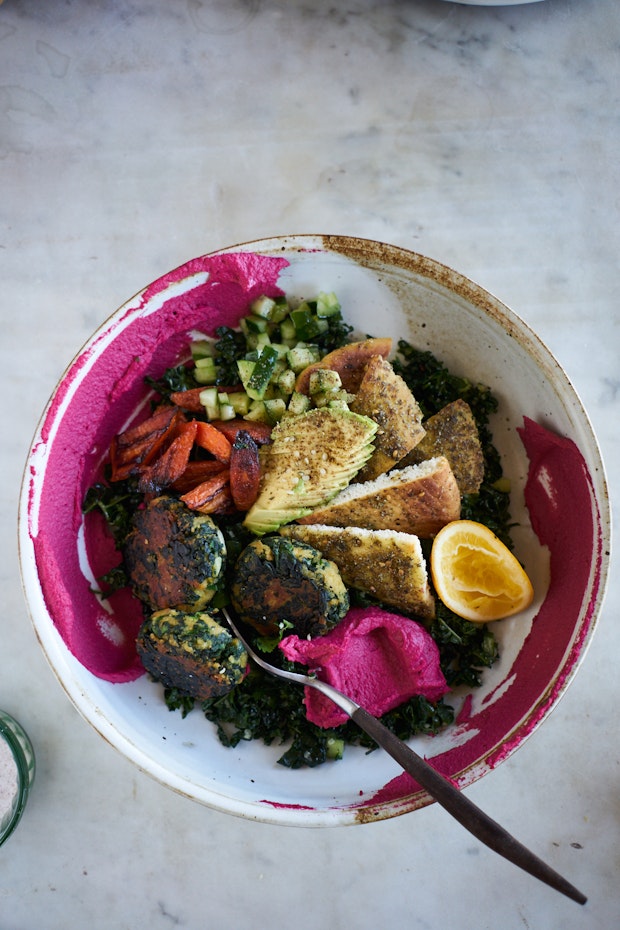 Falafel at the Center
If you have the falafel, you can pull together a pretty good snack or meal. It could be something along the lines of what you see here, or something different based on what you have on hand. I had some hummus in the fridge (a red beet version of this hummus), some kale, carrots, and cucumber that needed to be used, and some pita. Also, some herb stragglers. The pita and carrots went into the oven, I cooked the falafel in a skillet, and chopped up the rest. Let's say you didn't have any of that, but you did have some romaine, yogurt, and a garlic clove. You could do falafel lettuce wraps instead, smashing the garlic into a paste and adding it to the yogurt along with a bit of salt. Use that as your sauce. The name of the game here is adaptability.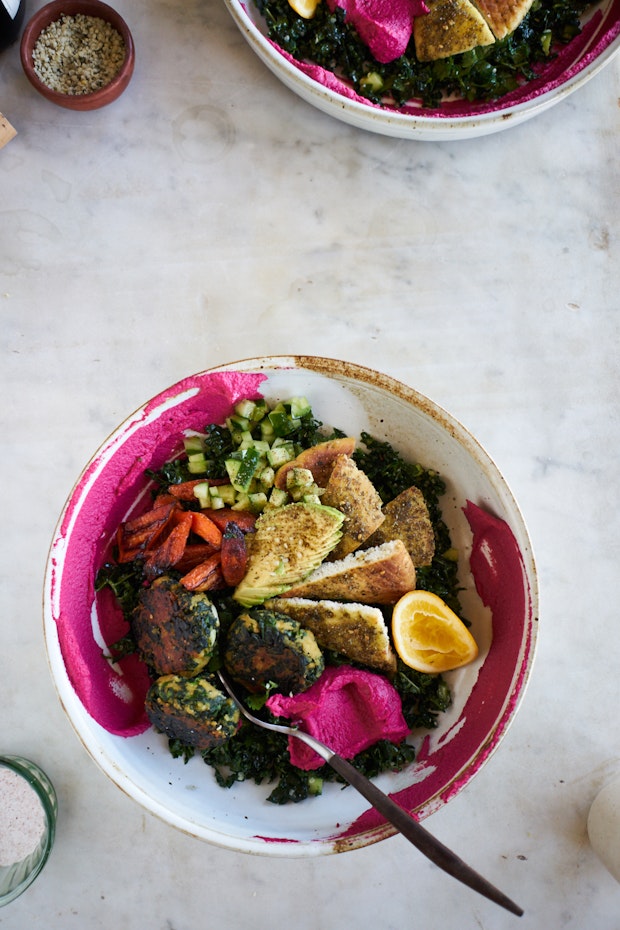 Cooking Methods
Once you've formed the falafel you have a range of cooking options. If you smush them a bit, and pan-fry them in a bit of oil, you'll get the best golden crust. Sometimes I bake them (450°F), also pretty-strong contender. I've even tested them in an Air Fryer, and they're one of just a handful of things to exceed my expectations in it (7 minutes at 390°F, shake the basket, and do another 7 minutes).
A Vegan Version
I'll note this in the recipe headnotes below as well. To make the falafel vegan, you can use flax "egg" (5 T. water + 2 T. ground flax seeds whisked together), and skip the cheese.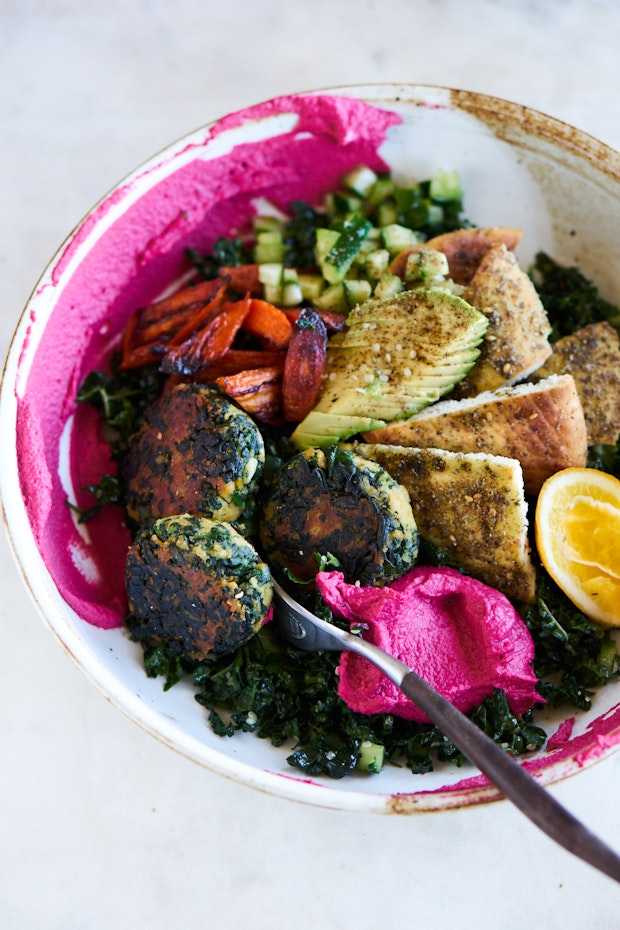 Green Falafel Bowl
A couple of tips! You can use frozen spinach here. Fresh is better, but frozen does work, and is fine, and you don't have to pre-wash it ;)...but use fresh spinach if you want my favorite version of these. To make the falafel vegan you can use flax "eggs" (5 T. water + 2 T. ground flax seeds whisked together), and skip the cheese. To make it gluten-free, use gluten-free oats (pulsed in a processor) in place of the breadcrumbs. One last idea, an alternative version (if you're up for an extra step) roll each ball in seasoned breadcrumbs, spritz with olive oil, and pop in the oven. So good!
Ingredients
Green Falafel:
1

pound

/ 16 ounces spinach or kale, washed and trimmed

2

eggs

5

cloves

garlic

1

cup

cooked chickpeas

1

cup

breadcrumbs

1/2

cup

/ 20g grated Parmesan

1

teaspoon

baking powder

1/4

+ teaspoon fine grain sea salt

zest of one lemon
Green Falafel Bowl (pictured):
3-4 green falafel / beet hummus / toasted pita wedges / roasted carrots / chop salad (kale, cucumber, cilantro) tossed with a splash of olive oil & squeeze of lemon / sliced avocado
Instructions
Preheat the oven to 450°F. Place a large skillet or pot over high heat. When hot, add the spinach, in batches if necessary. Stir until collapsed and most of the moisture has evaporated. Transfer to a cutting board, and chop well. The more chopped, the better.

Combine the eggs, garlic, chickpeas, breadcrumbs, cheese, baking powder, and salt in a blender. Blend until combined. Transfer to a large bowl, add the lemon zest and chopped spinach, and stir until uniform.

With your hands, form the mixture into small, 1 1/2-inch balls. You should end up with 20-30-ish balls. Place on a baking sheet, smush them down a bit, and put in the oven for 20 minutes or so, until very golden, flipping once along the way. If you don't bake all of them, freeze the remaining. Alternately, you can cook the falafel in a skillet with a splash of olive oil.

Serve the falafel with a sauce, or dipping sauce, or with additional components (listed in ingredients list) as part of a falafel bowl. Enjoy!
Related Recipes
More Recipes
Popular Ingredients