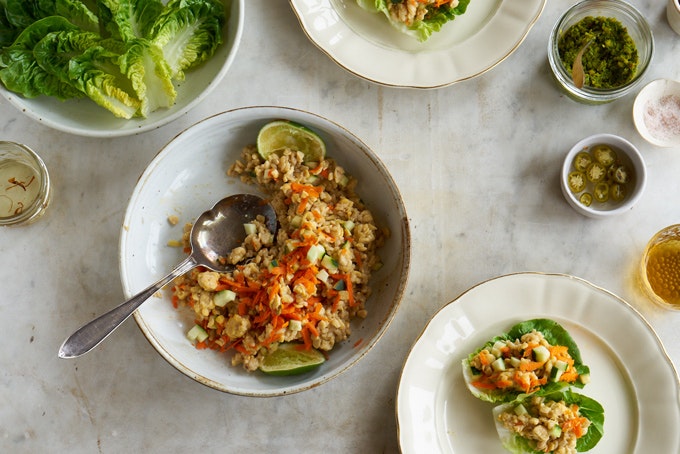 Garlic Lime Lettuce Wraps Recipe
Lettuce wraps are a fave around here (and a nice change from taco night). This has become a favorite weeknight meal. Ginger and garlic tempeh rice, folded into lime-spiked lettuce wraps with lots of herbs, cucumber, and carrots. It's a one-pan meal that comes together in no time!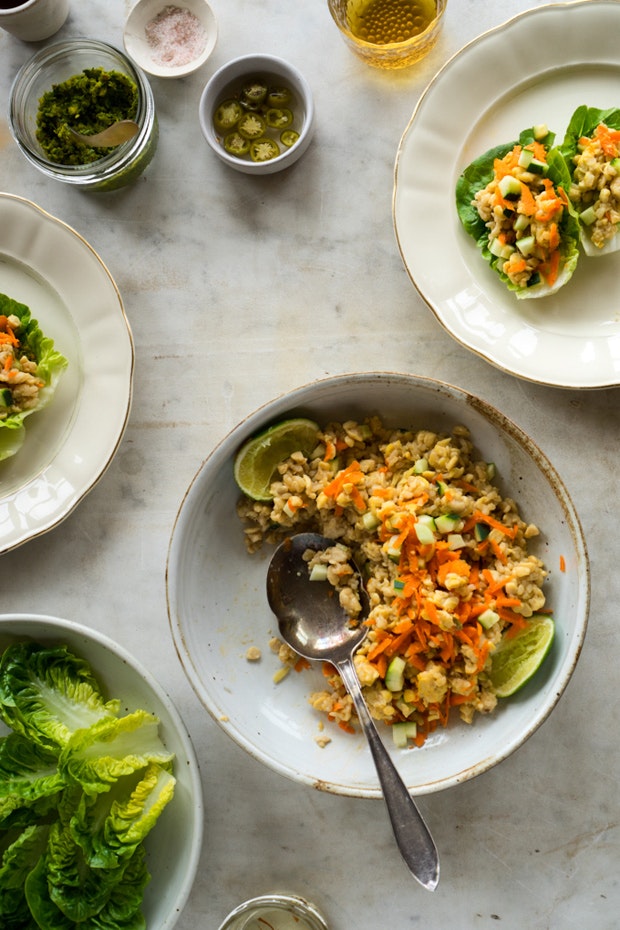 A couple of tips related to this recipe. If you find a tempeh brand you like, buy it in multiples. It freezes really well. Also, I like to make these lettuce wraps with brown rice that I've blended with other grains - like a little bit of millet, and quinoa. But, brown jasmine rice on it's own is also A+! Experiment with toppings - a sprinkling of toasted nuts, or even a dollop of guacamole is always good.
Garlic Lime Lettuce Wraps
Ingredients
2

garlic cloves,

peeled

1-

inch

segment of fresh ginger,

peeled

1/2

cup

almond,

cashew, or coconut milk

scant 1/4 teaspoon fine grain sea salt

8

ounces

plain tempeh,

crumbled

1 1/2

cups

/ 6 ounces leftover rice

1

teaspoon

soy sauce or shoyu

1

tablespoon

freshly squeezed lime juice

1

small cucumber,

deseeded, and cut into 1/4-inch dice

1

small carrot,

peeled and grated

a handful of sliced herbs,

cilantro, basil, mint

10 - 12

whole lettuce leaves,

romaine, little gems, etc.
to serve (all optional):
extra lime, serrano vinegar*, shallot oil, a favorite curry paste
Instructions
Use a mortar and pestle to smash the garlic and ginger into a paste. Heat 1/4 cup of the nut milk in a medium sauce pan over medium heat, stir in the ginger-garlic paste along with the salt, and barely simmer for a minute of two before adding the tempeh. Stir until well-coated, cover, and allow to cook for about five minutes, stirring once or twice along the way. Add the rice, stir, and allow it to heat.

In the mean time add the soy sauce, and lime juice to the remaining nut milk, stir well, and add to the saucepan as well. Transfer to a serving bowl, and stir in the cucumber. Top with the grated carrot, and herbs, and give a light final toss.

To serve, spoon a generous amount of the rice mixture into a lettuce leaf. If you want to make them extra special do any/all of the following. Spread a whisper thin layer of curry paste across the lettuce, top with the rice mixture, and finish with a spoonful of serrano chile vinegar*, and a thread of shallot (or lemon) oil.
Notes
*Serrano Chile Vinegar & Chiles: Combine 8 serrano chiles, sliced 1/8th-inch thick with 2 cups white vinegar in a Mason jar, and refrigerate. Use the chiles w/in a week or two. You can use the vinegar for weeks after that in dressings, etc.
Related Recipes
More Recipes
Popular Ingredients