Olive Biscuit Cookies Recipe
Adapted from a Susan Herrmann Loomis recipe - charming, snappy, salty-sweet olive-flecked shortbread deliciousness. Quirky yet sophisticated, they exist in some middle Earth realm between cracker and cookie.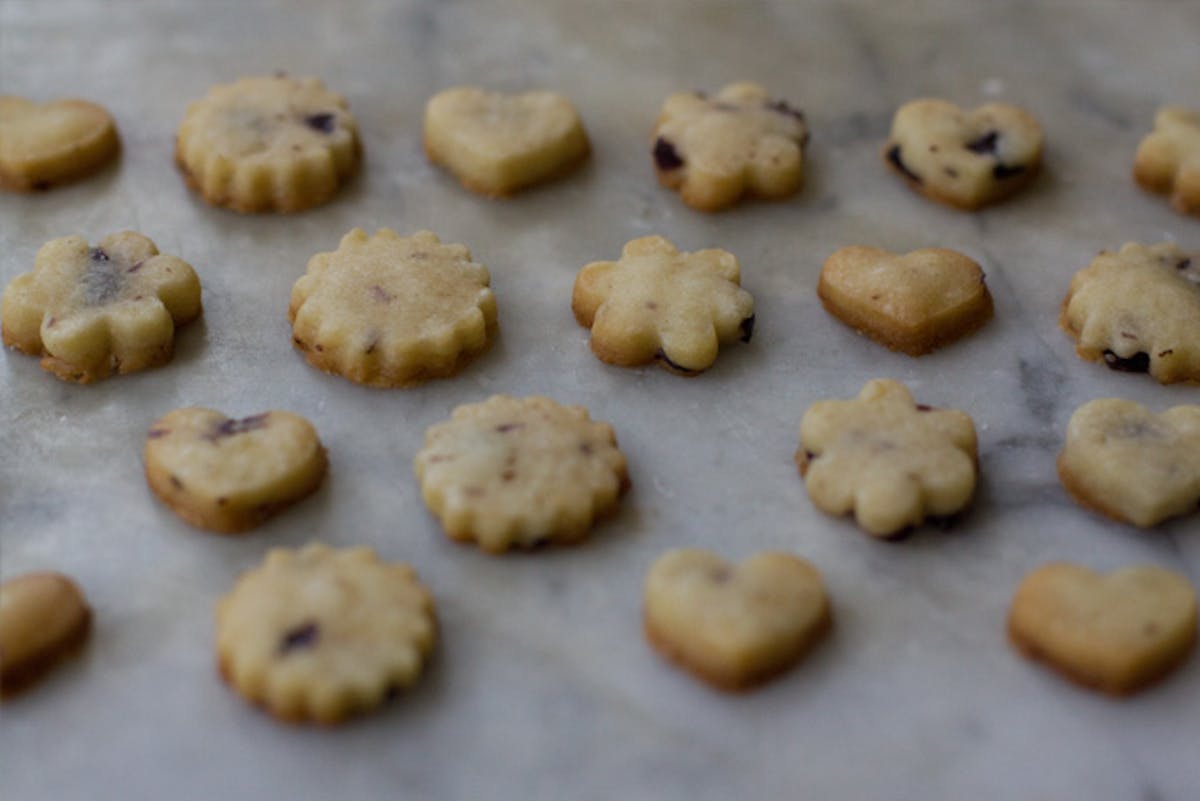 I don't remember exactly when the clipping for these little treats ended up in my recipe files. I do feel as if it has been there for the better part of a decade. The font at the top of the page reads Olive Biscuits, les Scourtins aux Olives de Nyons, the recipe printed on a scrap of paper that often floats to the top of my "must try" pile. Unfortunately, it would then filter back down again, gradually buried under new strips of newsprint and torn-out magazine pages. Up and down the pile it would float. Until now.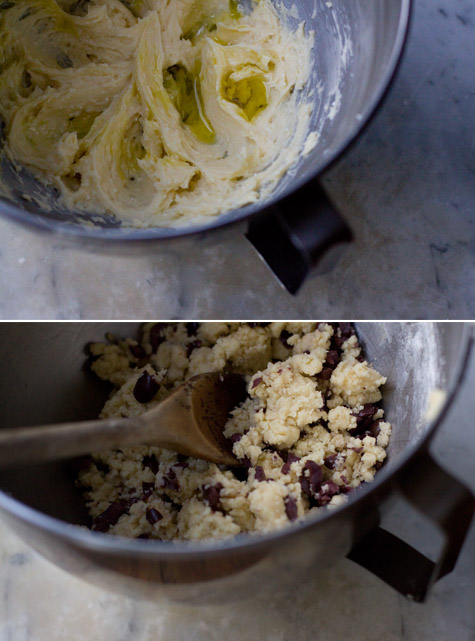 I took the opportunity to bake a batch the other night when we had a full house that included little Jack and also Wayne's family visiting from the east coast. Out of the oven came two sheets of charming, snappy, salty-sweet olive-flecked shortbread deliciousness. They're quirky yet sophisticated, and exist in some middle Earth realm between cracker and cookie.
With a base of powdered sugar and white flour, they're not at all from the "Super Natural" pantry, but the recipe always struck me as intriguing enough to still want to give them a go. And I'm glad I finally did. I made the dough a day ahead of time, stamped and baked them the day of. I made them as part of a little pre-dinner snack assembly - these little olive biscuits, spicy nuts, and tiny champagne grapes. No fuss, and people were still hungry for dinner.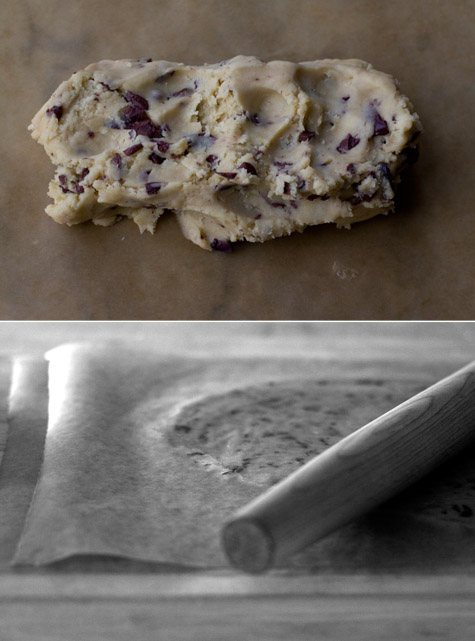 I'm going to be honest, I suspect this is a recipe that will divide you into two camps. Many of you will love these salty, sweet treats, and some of you who won't like them a bit. I'll totally make these again. I love the look on people's faces as they are trying to figure out what is going on flavor-wise. The way they look at you as they discover something a bit unexpected. So, just know, before you dive in here - if you're not on the more adventurous side of the fence when it comes to food, or if you are the type of person who wants their cookies to takes like traditional cookies, you might give them a pass.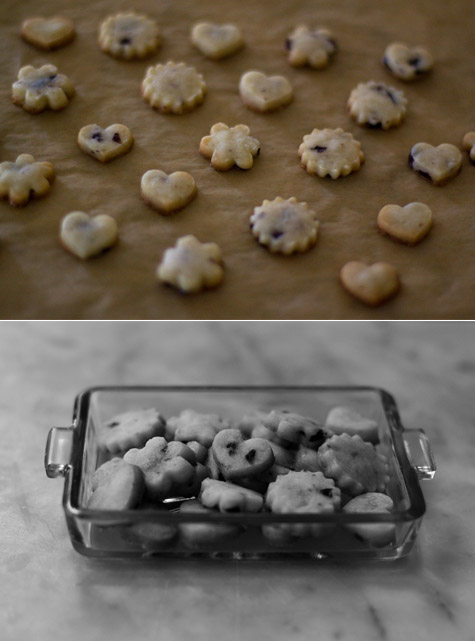 As I mention down below, the recipe is one shared by Susan Herrmann Loomis. It was a family recipe shared with her by Jean-Pierre Autrand of Les Vieux Moulins in Nyons, Provence, and was published on Epicurious.com in 1999. You can read the comments from other people who have made them - like I said, two camps. I made a few tweaks to the recipe and instructions as I went along, reflected below.
Olive Biscuit Cookies
Susan's recipe calls for olive from Nyons, preferably. Kalamatas are what I had on hand, and they worked out nicely. I thought they would stain the dough, but they didn't.
9 tablespoons / 4.5 oz / 130g unsalted butter, room temperature

3/4 cup / 3 oz / 85 g powdered sugar, sifted
1 tablespoon extra-virgin olive oil
1 1/4 cups / 6.5 oz / 185 g all-purpose flour
1/2 cup / 2 oz / 55g cured olives, pitted and chopped
two pinches of sea salt
Either by hand, or with an electric mixer, beat the butter in a large bowl until light and billowy. Add the sugar, and stir until it is incorporated, then drizzle with the olive oil and stir until combined. Use a wooden spoon to stir in the flour by hand just until the dough is smooth. Add the olives and salt and stir just until they are evenly distributed throughout the dough. You'll end up with a sticky dough.
Place the dough in the middle of a large piece of parchment paper. cover it with a second piece of parchment paper and roll out the dough until it is 1/4-inch thick. Because the dough is sticky, you need to use this method, plus it is quite convenient. Refrigerate the dough for at least 45 minutes, or overnight.
When you are ready to bake the cookies, preheat the oven to 350F / 180C, with racks in the top and bottom third. Line two baking sheets with parchment paper and set aside while you stamp out cookies using whatever size of sharp edged cookie cutter you like. Sharp edges help cut through the olives. Bake until the edges of the cookies are golden, rotating the pans from top to bottom, front to back once after about 8 minutes. Bake for about 12 minutes total for tiny cookies, and a bit longer for larger cookies. Just keep a close eye on them, and the edges will tell you when they are done baking.
Makes a few dozen tiny cookies, or a dozen or so larger ones.
Adapted from this, a Scourtins aux Olives de Nyons recipe shared by Susan Herrmann Loomis. This was a family recipe originally shared with her by Jean-Pierre Autrand of Les Vieux in Nyons, Provence.
Prep time: 60 minutes - Cook time: 10 minutes