Melissa Clark's Instant Pot Hummus (with Variations)
Instant Pot Hummus, the one recipe that keeps my Instant Pot on the counter (instead of under it). Melissa Clark's recipe results in a silky smooth hummus. Once you nail down the method, the variations you can do are endless.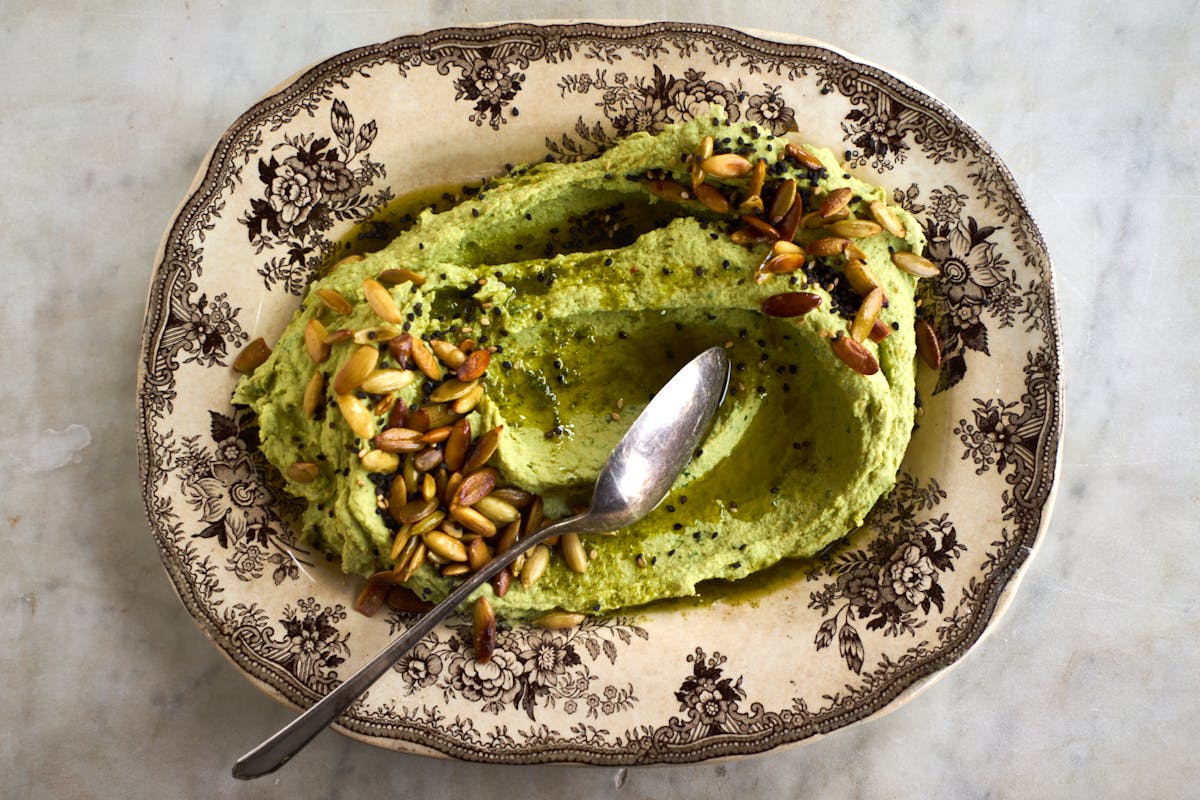 I've been having quite a lot of fun playing around with different Instant Pot recipes over the past few months, but one recipe has emerged as a breakout - an Instant Pot Hummus. It's the one that keeps my Instant Pot on my counter instead of under it. It's the hummus from Melissa Clark's Dinner in an Instant. I find myself making it once or twice a week (no joke!). Because, who doesn't need nearly effortless containers of hummus in their refrigerator all week?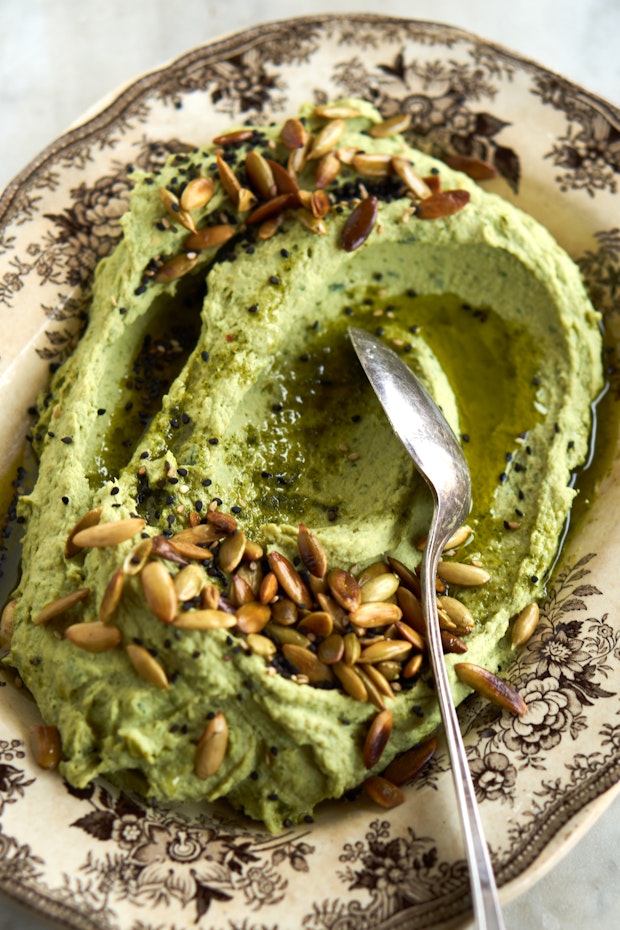 The recipe yields a silky, smooth hummus, and once you nail the method, the variations you can do are endless. I love to take it in different directions, and the version you see photographed here is fortified with a couple generous handfuls of spinach. I'll also including notes related to a few other favorite variations down below as well. Because, as much as I love classic, straight-forward hummus, I also like to make an herb version, a spinach hummus, there's a beet version, and (pictured here) berbere spiced hummus - maybe my favorite version yet?!. It goes on and on.
Melissa uses some interesting techniques here, and it results in a beautifully smooth, billowy hummus - without having to peel each individual chickpea! I think the biggest positive impact on the texture comes from making an ice watery paste with tahini, garlic, and lemon juice, and then working in the chickpeas from there.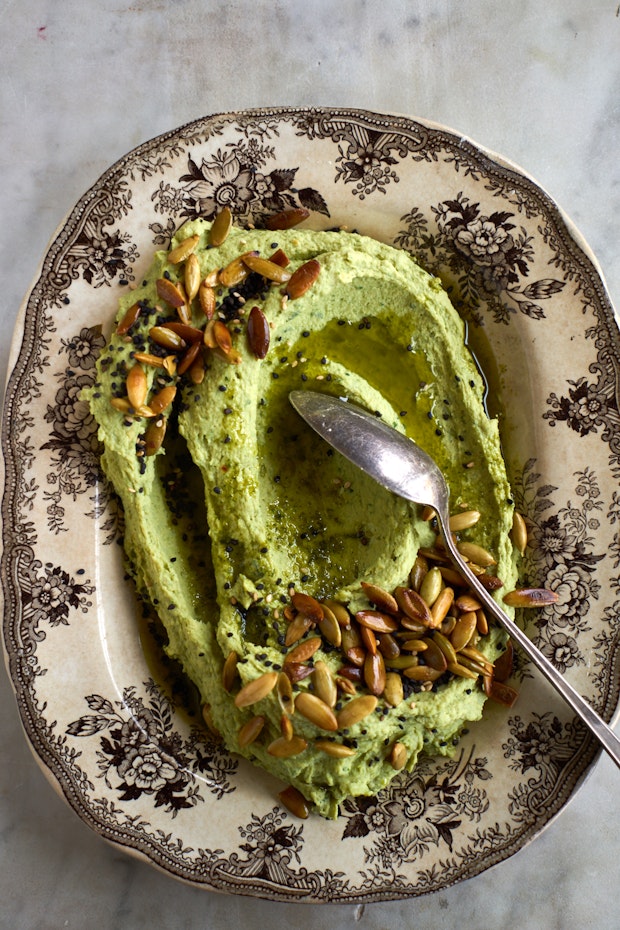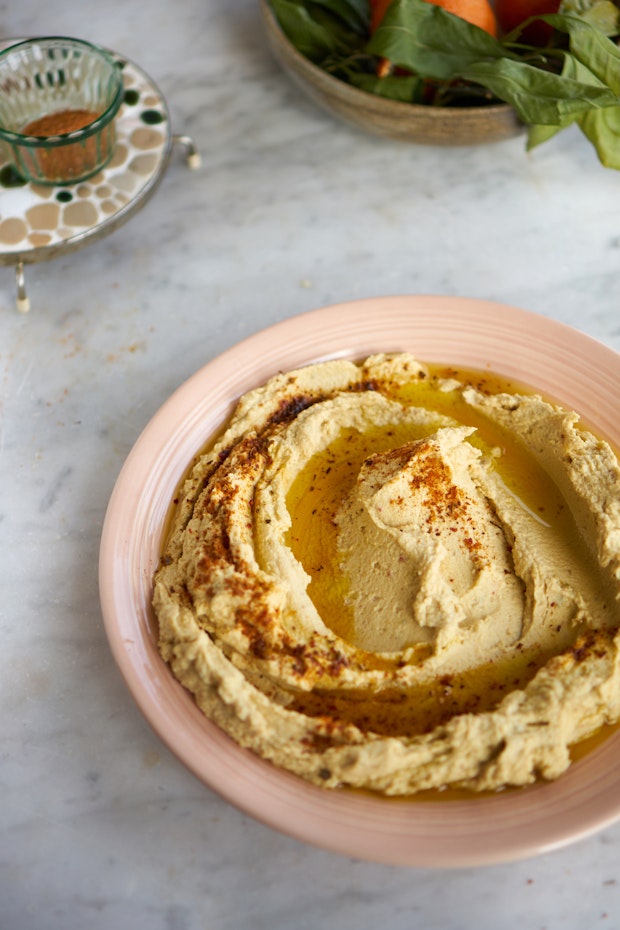 Instant Pot Hummus Variations
Berbere Hummus (pictured above): The version pictured here is flared out with berbere, a spice blend typical to Ethiopia and Eritrea. I like the berbere recipe in Josef Centeno's Baco cookbook. But if you don't have it, google around for another version online. To make the berbere-accented hummus, add 1 tablespoon (or more to taste!) of berbere spice to the blender with the other ingredients. Also, sprinkle on top of the hummus, after drizzling with olive oil.
Beet Hummus: throw a small, peeled (yellow, orange, or red) beet or two into the pot long with the chickpeas, and proceed with recipe. Alternately, you can add the beet raw to the blender.
Herby Miso Hummus: Add a dollop of this wintery miso paste to the blender,
Turmeric-soaked Chickpeas with Yuzu and Black Pepper Hummus: I'll post my technique for these chickpeas soon (working on it!), I season that hummus with a generous splash of yuzu juice, you can find alongside Japanese ingredients on occasion in well-stocked grocery stores. Also, lots of freshly ground black pepper.
If you don't have an instant pot, you can still use these ideas, just start with cooked (canned will work) chickpeas. Also, for reference, this is the Instant Pot I used for this recipe: Instant Pot DUO Plus 6 Qt 9-in-1
Melissa Clark's Instant Pot Hummus
Leftovers will last a week refrigerator. Also, again, if you don't have an Instant Pot, you can still use these ideas and technique, just start with cooked (canned will work) chickpeas - 3.5 - 4 cups of drained, canned beans.
Ingredients
8

ounces

(1 1/4 cups) dried chickpeas

1 1/2

teaspoons

kosher salt, plus more as needed

Juice of 1 lemon, plus more as needed

2

garlic cloves, grated or chopped

1/4

teaspoon

ground cumin

1/3

cup

tahini

Ice water, as needed

2

tablespoons

extra-virgin olive oil, plus more for serving

As pictured: add 2 big handfuls of spinach, toasted pepitas and sesame seeds for serving
Instructions
Pour the chickpeas and 1 teaspoon of the salt into the pressure cooker / Instant Pot and add water to cover by 1 inch. Cook on high pressure for 50 minutes. Allow the recipe to naturally release. The chickpeas should be tender and soft. If not, cook at high pressure for another 5 minutes, then manually release the pressure. Drain the chickpeas.

Meanwhile, place the lemon, garlic, cumin, and remaining 1/2 teaspoon salt in a blender or food processor and let the mixture sit for 5 minutes without processing. Then add the tahini and process to combine; you'll end up with a thick paste. Add 2 tablespoons ice water and blend it in, and then continue adding ice water, 1 tablespoon at a time, blending until tahini has thinned down to a sauce consistency.

Add the drained chickpeas and the olive oil to the tahini and blend to combine, stopping to scrape down the sides of the blender as necessary. If the hummus looks too thick (likely), add more ice water, 1 tablespoon at a time, just keep going until it thins to your liking. If you're making spinach hummus, go ahead and add the leaves now, and blend until smooth and integrated. Taste, and adjust the seasoning as necessary. Then scrape the hummus into a serving dish and top it with a generous drizzle of olive oil and any additional toppings you like.
Related Recipes
More Recipes
Popular Ingredients