Chickpea & Rice Soup with Garlic Chile Oil
A simple, chunky rice soup, studded with lots of chickpeas, flecked with kale, and drizzled with a vibrant garlic-chile oil. It has peanuts. It has a dusting of turmeric.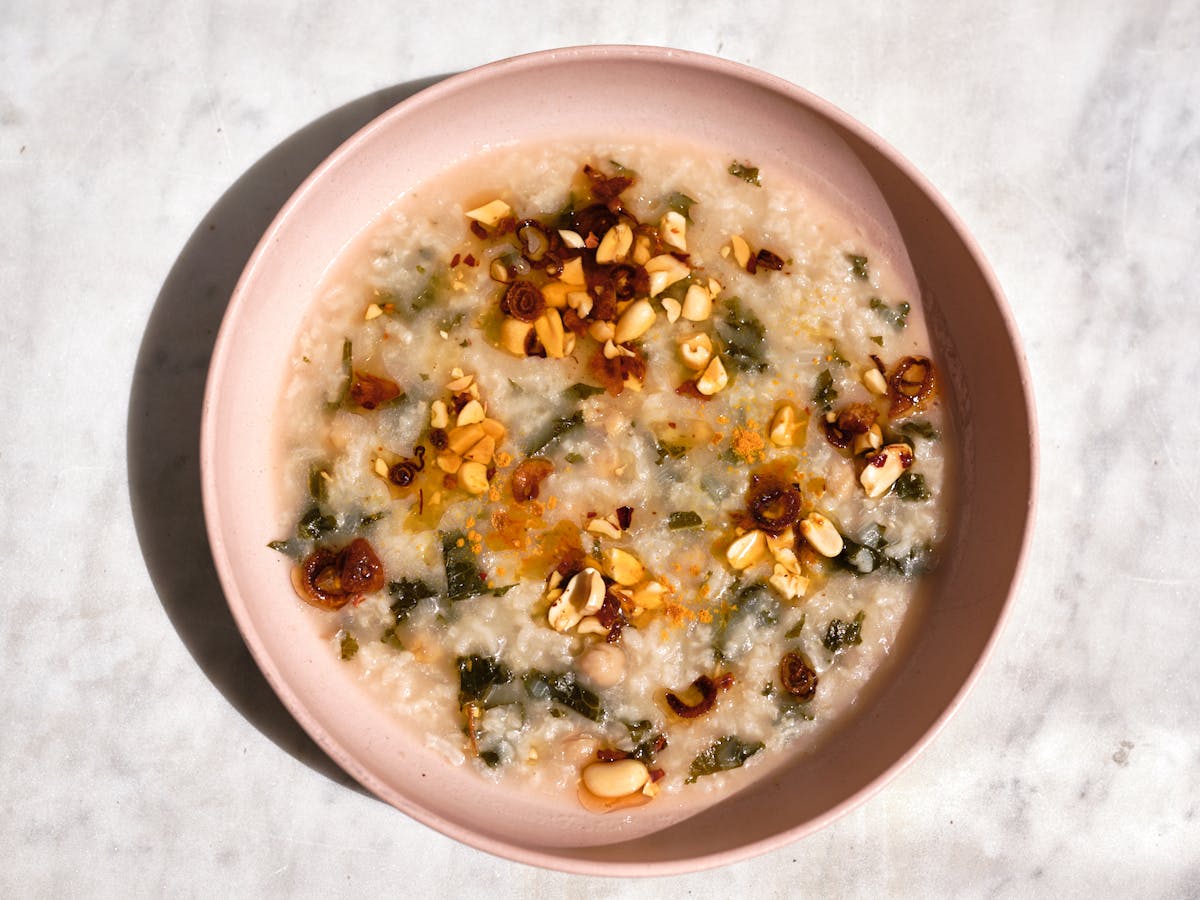 Let this be your cozy bowl of goodness for the season. You're looking at a chunky rice soup, studded with lots of chickpeas, flecked with kale, and drizzled with a vibrant garlic-chile oil. It has peanuts, and a dusting of turmeric. I made it for lunch, and decided at the last minute to pop off a few shots so I could share the recipe here. The whole thing is deeply satisfying and perfect as the weather cools off.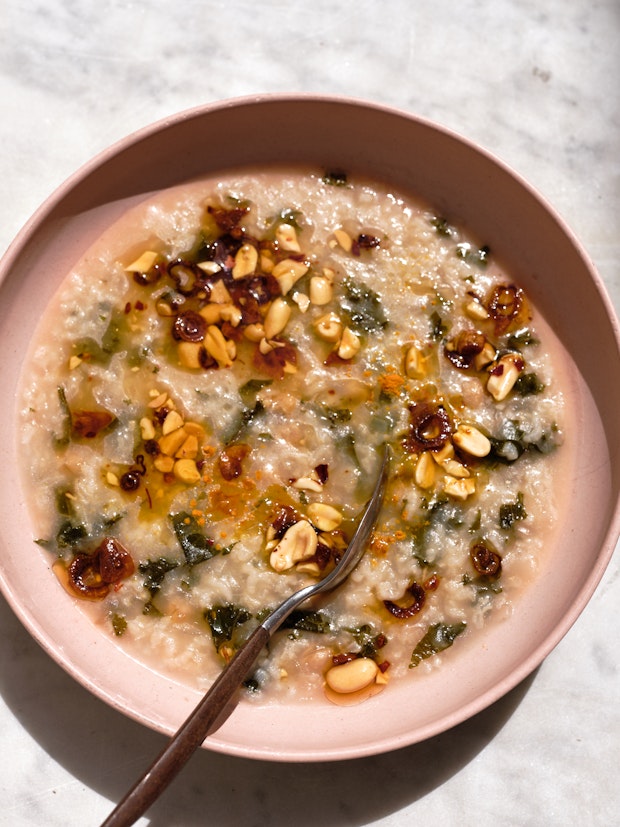 Rice Soup: The Ratios
You can play around with the type of rice (or rices) you use here. Because I was craving something light and extra-creamy for today's soup, I went with 100% Arborio rice. Often, I like to take more of a whole grain approach, and have a go-to ratio. I like 2 parts brown rice to 1 part white rice. So, for example, 1 cup brown jasmine rice, and 1/2 cup white jasmine rice. I use that ratio in this favorite Turmeric Congee and this Life-Changing Green Rice Porridge. So, yeah! Play around.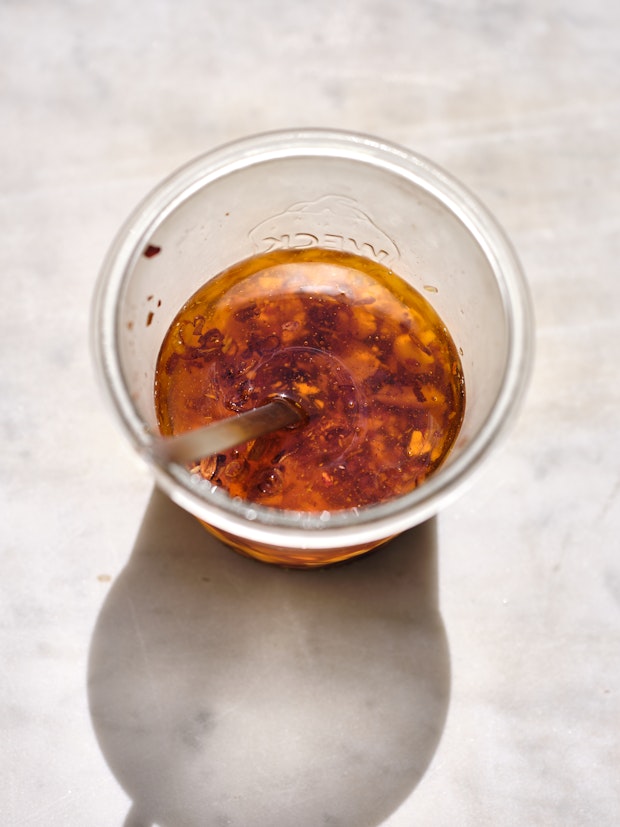 Chunky, Peanuty Garlic Chile Oil
It's the magic. This powerful, fragrant chile oil is good on just about anything, and (yes!) you can absolutely make it ahead of time. You'll likely have extra, so here are a few ideas. It is good drizzled on this Cauliflower Soup, this Asparagus Soup, and as an alternate finishing scenario for this Split Pea Soup. It's a nice finishing oil on open faced sandwiches, like this lentil version.
Seasonal Variations
I loaded up on the chopped kale in this version. It's an easy way to work a good amount of greens into a meal. That said, you can absolutely play around with whatever is in season. Late summer? Oven roasted cherry tomatoes would be beautiful on top, and explosively flavorful. Or, put a dent in summer squash by topping the soup with this Simple Sautéed Zucchini. Early autumn? Roasted delicata squash is always a favorite.
Chickpea & Rice Soup with Garlic Chile Oil
Ingredients
Garlic Chile Oil:
1/2 -2/3

cup

extra-virgin olive oil

12

garlic cloves, peeled & thinly sliced

3

shallots, thinly sliced

1 1/2

teaspoons

red chile flakes

1/2

cup

peanuts, toasted & chopped

Salt to taste
Chickpea & Rice Soup:
2

small onions, chopped

2

tablespoons

extra-virgin olive oil

1 1/2

cups

white rice, preferably Arborio

1 15-

ounce

can chickpeas, drained

1

large bunch kale, de-stemmed & chopped

2-3

teaspoons

fine grain sea salt

1-2

lemons

pinch

of turmeric
Instructions
To make the garlic chile oil (you can make this up to a week in advance): Combine the oil, garlic, and shallots in a small saucepan over medium heat. Cook, stirring often, until the garlic gets golden brown (but not too dark), remove from heat, wait a few minutes for it to cool a bit, and transfer to a heatproof jar. Stir in the the chile flakes and peanuts, and set aside.

In a large soup pot, heat the olive oil over medium. Stir in the onions. Cook, stirring often, until the onions caramelize - 10 minutes or so. Stir in the rice, and then 9 cups of water or your favorite broth. Bring to a boil, and then dial back the heat to a simmer. Cook for 20 minutes or so, until the rice is just cooked through.

Stir in the chickpeas and kale and cook until heated through. If you want a thinner broth, add another cup of hot water. Now, getting the salt right here is key. If you used a salty broth, you'll need a lot less than if you used water. If you under salt this it's going to be bland, so take your time. Season with lots of fresh lemon juice. Served topped generously with the garlic-chili oil, and a little pinch of turmeric if you have some on hand.
Related Recipes
More Recipes
Popular Ingredients