Quick Vegan Enchiladas with Sweet Potato Sauce
These vegan enchiladas are knock-out delicious, in the oven in less that ten minutes, and a healthful alternative to all the heavy cheese versions out there. With black beans, sweet potatoes, and a stealthy turmeric boost.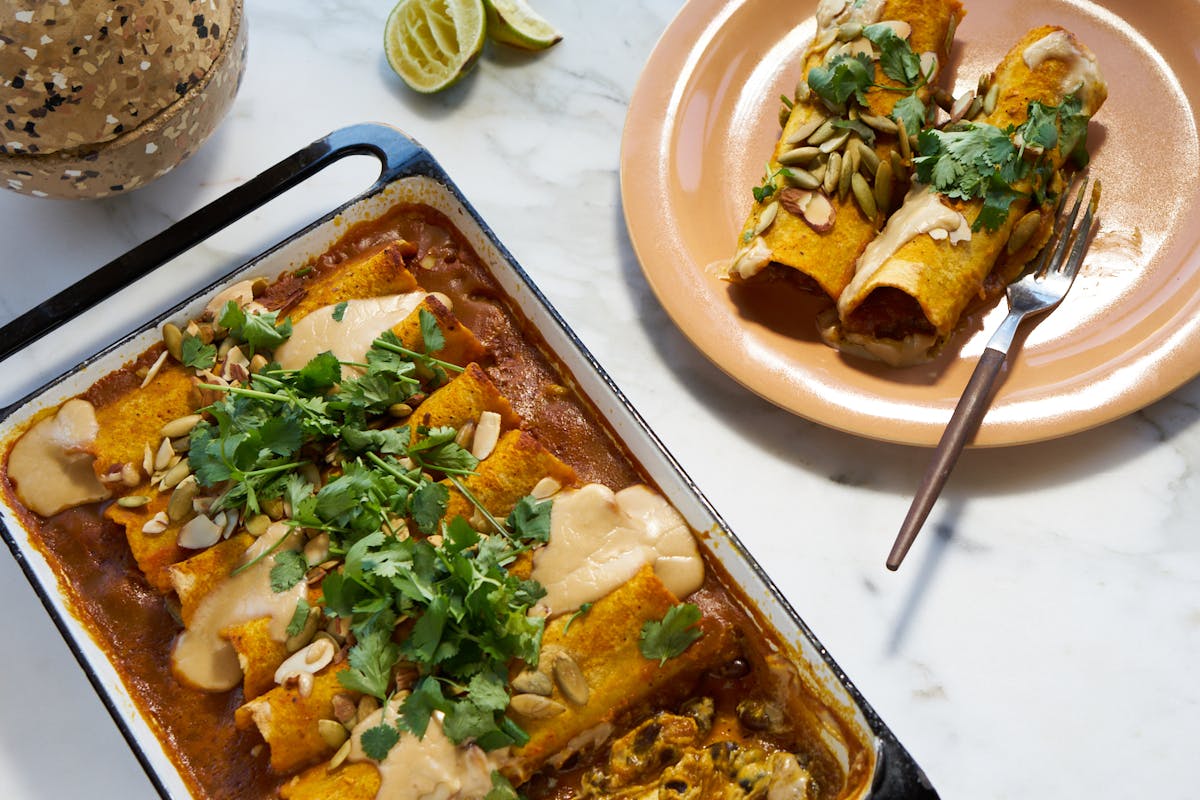 A weeknight-friendly enchilada has to check a lot of boxes for me. You ready for the short list? Here we go. These enchiladas need to be knock-out delicious AND: easy to assemble, free from pre-cooking any components, a healthful alternative to all the heavy cheese versions out there, and, ideally, in the oven in less that ten minutes. That's the dream scenario. After some experimentation, I offer you these - quick, vegan enchiladas.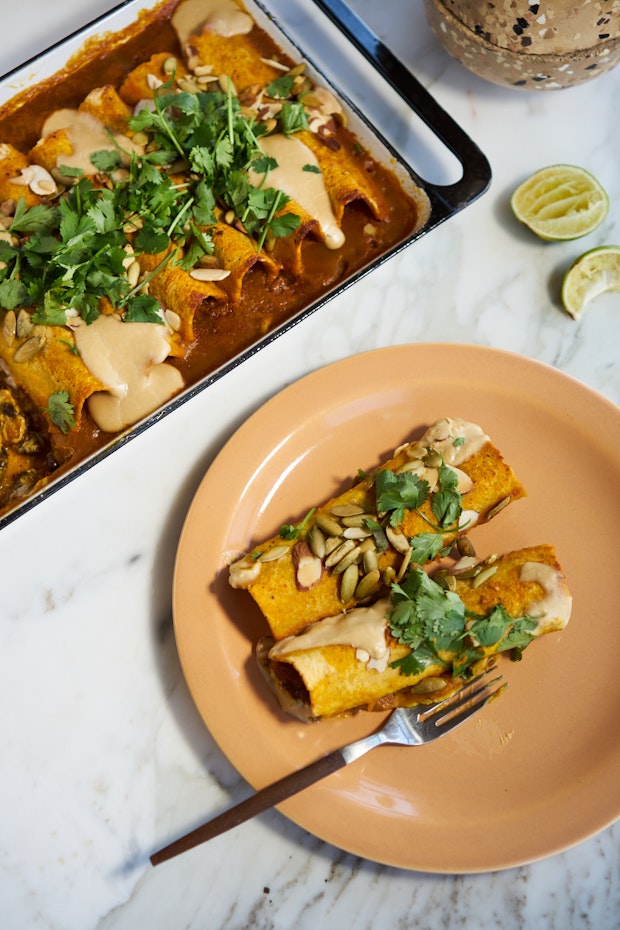 What you're looking at are tender enchiladas made with black beans, sweet potatoes, and a stealthy turmeric boost. I also focused on making a version that was plant-based and vegan, but also easily adaptable. If you want to add a bit of feta to the filling here (if you're not vegan, of course) then go for it. These are also extra good topped with a bit of good guacamole. It's a recipe that should be able to accommodate much of what you might dream of rolling into a tortilla and baking until bubbly and golden.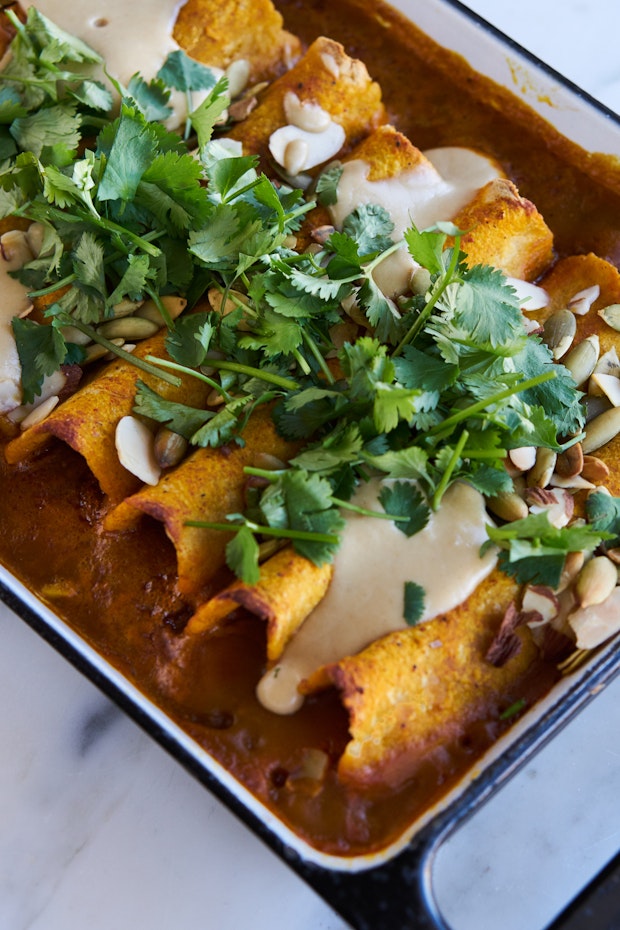 This recipe is similar in spirit to the Last Minute Lasagna a bunch of you have been making. In fact, I started working on both of those around the same time, so if you like one of them, give the other a try as well.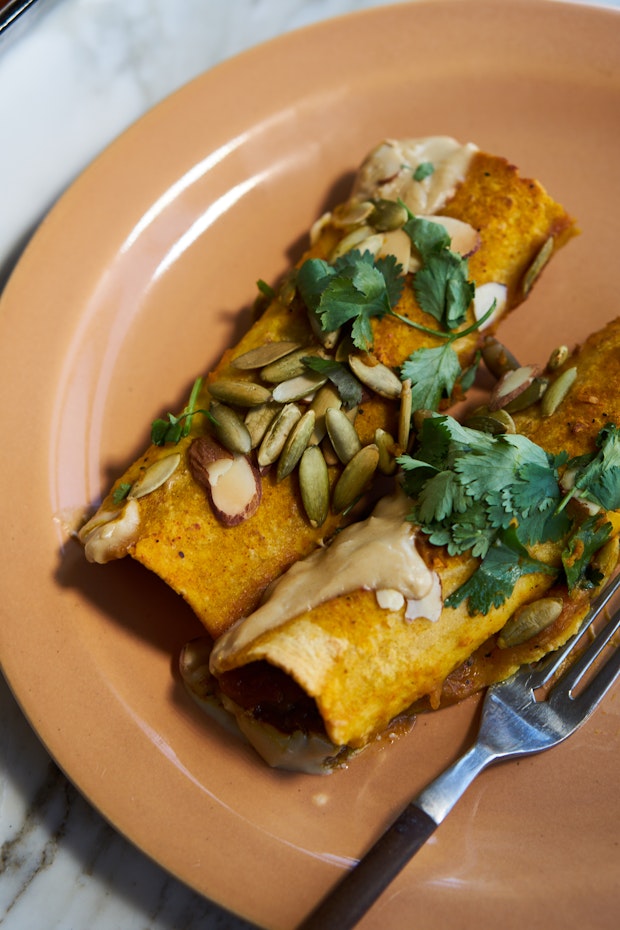 Variations
A couple of notes, I wrote the recipe calling for canned winter squash - anything like pumpkin, sweet potato, or another winter squash will work. Whatever you and your family tends to like. I stumbled on a canned butternut squash during a spin through Trader Joe's, a while back, stocked up, and that is what you see pictured here. You can, of course, use squash you've roasted at home in place of canned - it just makes the process less quick ;)...
Quick Vegan Enchiladas with Sweet Potato Sauce
A couple of tips - you want to use flexible, pliable tortillas, at room temperature or warmer. If you're tortillas are on the stiff side, place them in a baking dish, covered, in a warm oven for a few minutes to soften up. Or if you have a microwave, give them a quick hit. Play around with fillings here - a small amount of crumbled feta (if you're not vegan), or plant-based equivalent, added along with the black beans adds a nice creamy component to the filling, a nice accent without needing to be the main event. ;)
Ingredients
1

tablespoon

extra virgin olive oil

1 15-

ounce

can sweet potato puree, butternut squash puree, or pumpkin puree

1/2

teaspoon

turmeric powder

2

medium cloves garlic, grated on microplane

1

tablespoon

taco seasoning

3/4

teaspoon

fine grain sea salt

1

lemon, zest and juice

8

corn tortillas (6-inch), room temperature or warm

1 15-

ounce

can black beans, drained and rinsed

1/3

cup

chopped black olives

1/3

cup

tahini

1/2

cup

sliced almonds

1 1/2

cups

chopped cilantro leaves

to serve (optional): oven-roasted tomatoes, serrano vinegar & chiles*, a favorite salsa, etc.
Instructions
Make the Sauce:
In a large mixing bowl combine the olive oil, sweet potato puree, turmeric, half of the grated garlic, taco seasoning, salt, zest of the lemon, and 1 1/2 cups of water. Stir well.
Assemble the Enchiladas:
Ladle a cup of the sweet potato mixture into the bottom of an 8 x 12-inch (or larger) baking dish, or equivalent. Lay the tortillas on a work surface, and divide the black beans equally between them, sprinkle equally with olives. Roll up tortillas, and place seam side down in baking dish. Pour the remaining sauce on top (it will thicken).
Bake and Finishing Touches:
Bake the enchiladas for 30-35 minutes, or so. Half way through, sprinkle with sliced almonds, and finish baking - until golden and bubbling. While the enchiladas are baking, thin the tahini with 1/4 cup warm water. Whisk in the remaining garlic, a pinch of salt, and squeeze of lemon juice. Top the enchiladas with dollops of the tahini sauce, and the fresh cilantro when they come out of the oven. Serve hot!
Notes
*Serrano Chile Vinegar & Chiles: Combine 8 serrano chiles, sliced 1/8th-inch thick with 2 cups white vinegar in a Mason jar, and refrigerate. Use the chiles w/in a week or two. You can use the vinegar for weeks after that in dressings, etc.
Related Recipes
More Recipes
Popular Ingredients