Rhubarb & Rosewater Syrup
A beautiful ruby-hued rhubarb rosewater syrup. Perfect on (or in) everything from yogurt, spritzers, waffles, or oatmeal.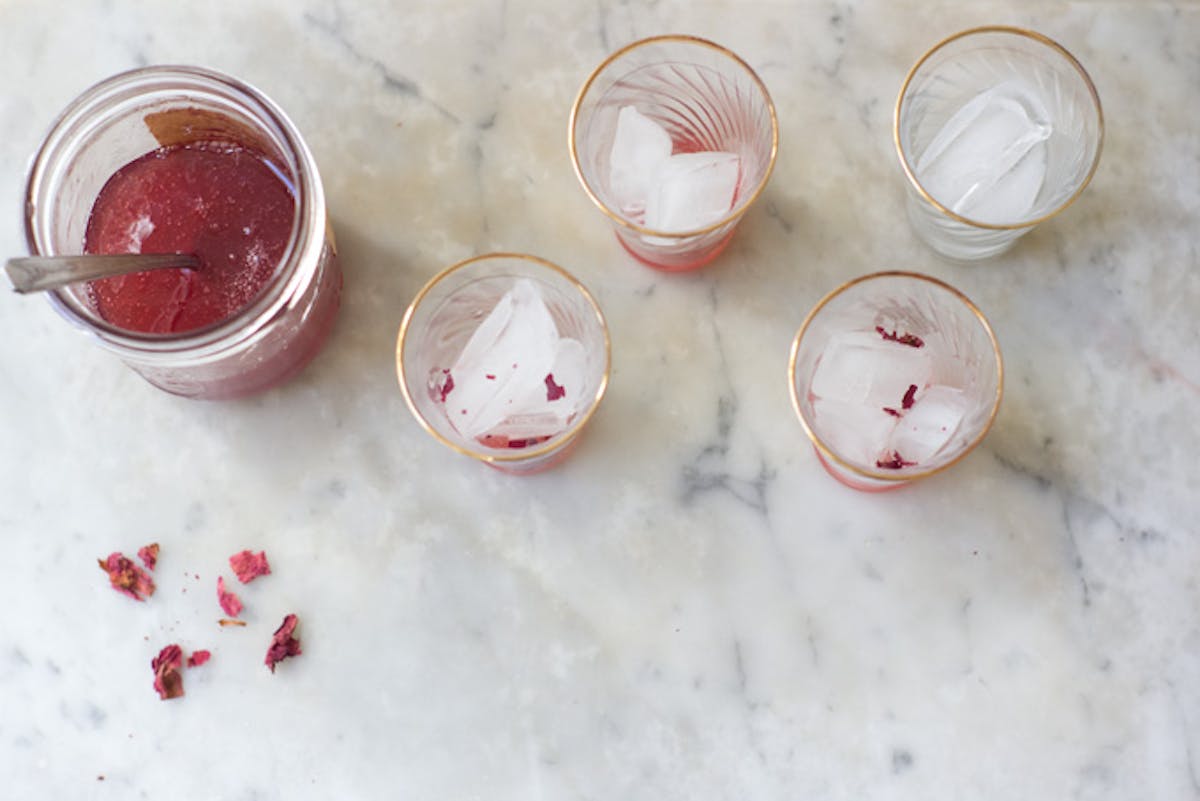 This, my friends, is how you want to use that rhubarb you've been seeing at the market lately. It's a syrup, sure, but I'd venture to guess it's a syrup unlike any you've tasted. It has a lot going on, tartness from the rhubarb, tang from fresh lime juice, a backdrop of sweetness that's anything but shy, and the wildcard finish - rosewater. The resulting syrup is strong, and lovely, and a kiss of it is just what a bowl of yogurt, or glass of soda water needs.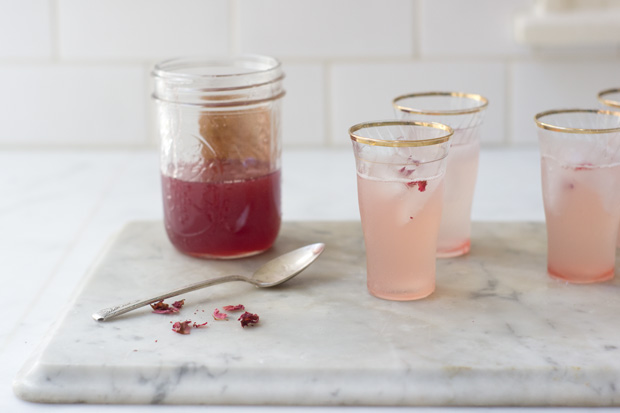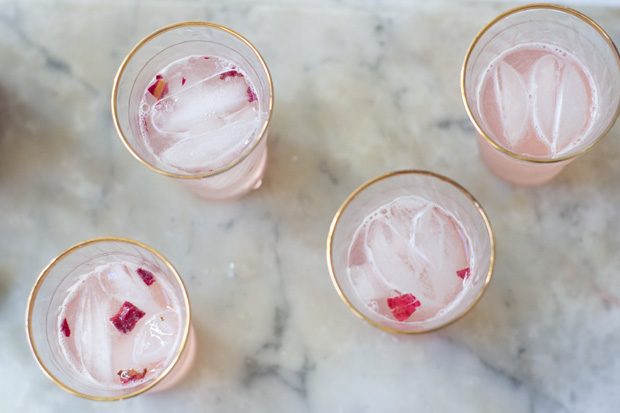 And it really couldn't be simpler to make. Chop a few stalks of rhubarb, toss with sugar, then let it sit around until everything settles into a cold, sweet stew. Fire up your burner, and simmer until the rhubarb breaks down, then strain out the solids. You're left with a vibrant rose-hued liquid. When you cook this down with a bit of fresh lime juice you end up with a fragrant, beautiful gem of a syrup. A finishing splash of rosewater is the final surprise - the je ne sais quoi factor.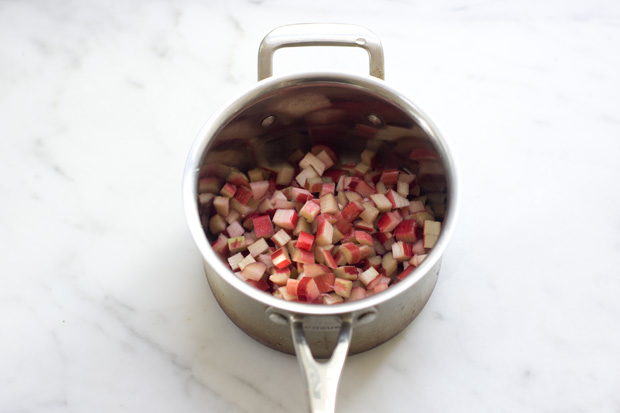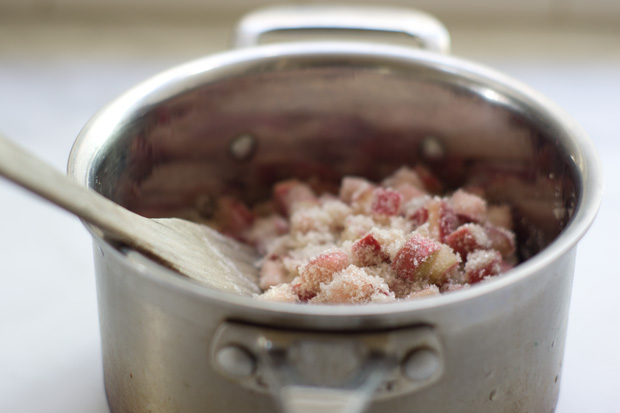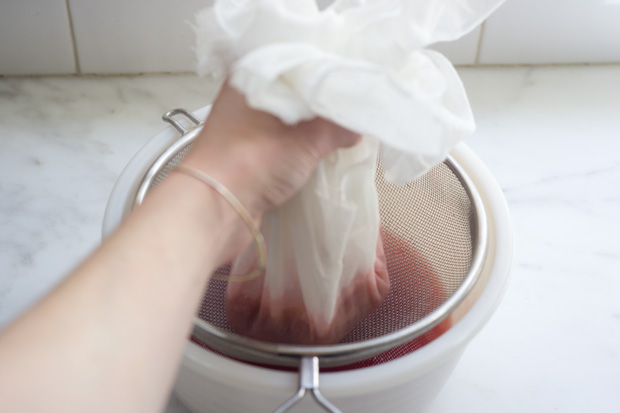 As I mention up above, I use this syrup in simple spritzers, and as a way to add a bit of flair to plain yogurt. I imagine it would be amazing over cornmeal waffles or pancakes, or in place of a drizzle of honey over certain cheeses - good, soft goat cheese comes to mind. It's just one of those simple, homemade things that is nice to have on hand. And come to think of it, it'd be a nice lip gloss flavor as well ;)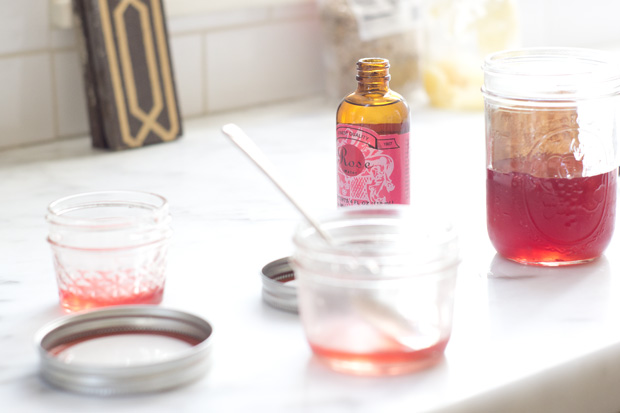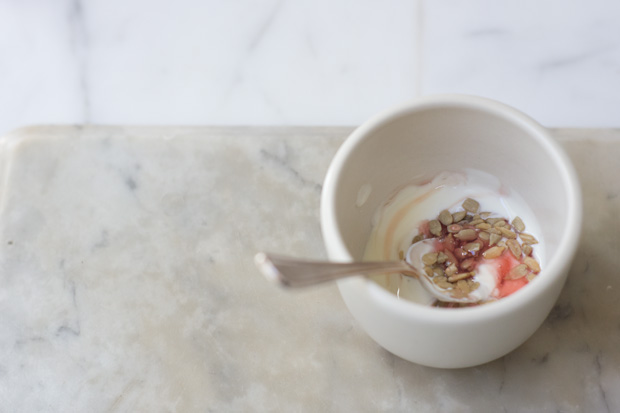 Let me know if you do something fun with this, or if you give it your own twist. xo -h
More Drink Ideas
Rhubarb Rosewater Syrup
HS: I use lime here, I think it really adds something, a needed edge. That said, lemon is quite nice as well.
Ingredients
4

large / 500 g / 1 pound rhubarb stalks, chopped

2

cups

/ 400 g granulated sugar

2

cups

/ 475 ml water

2-3

tablespoons

freshly squeezed lime juice, or to taste

scant 2 teaspoons rosewater, or to taste

rose petals, optional
Instructions
Combine the rhubarb and sugar in a medium, thick-bottomed saucepan. Stir well, and leave for 45 minutes or so (unheated), stirring now and then.

Add the water and bring to a gentle simmer over medium heat, stirring until the sugar dissolves. Continue to simmer for another 15-20 minutes, until the rhubarb starts to break down. Carefully strain into a bowl through a cheesecloth-lined strainer. Transfer to a clean saucepan, stir in the lime juice, and bring to a simmer. Let simmer over medium heat for another 15 minutes or until the syrup has reduced quite a bit and thickened. Remove from heat and allow to cool completely.

Stir in the rosewater a bit at a time, until it is to your liking. Rose water can be quite an assertive flavor, so be judicious to start. It keeps, refrigerated, for a week or so.

Serve over yogurt, in soda water, or drizzled over waffles.
Notes
Makes one medium jar of syrup.
Related Recipes
More Recipes
Popular Ingredients