Roasted Tomato & Sourdough Soup
If you have both tomatoes and sourdough on hand, consider this. A spicy, saffron-smacked take on pappa al pomodoro, the bread-thickened Tuscan classic. A spicy, saffron-smacked take on pappa al pomodoro, the bread-thickened Tuscan classic.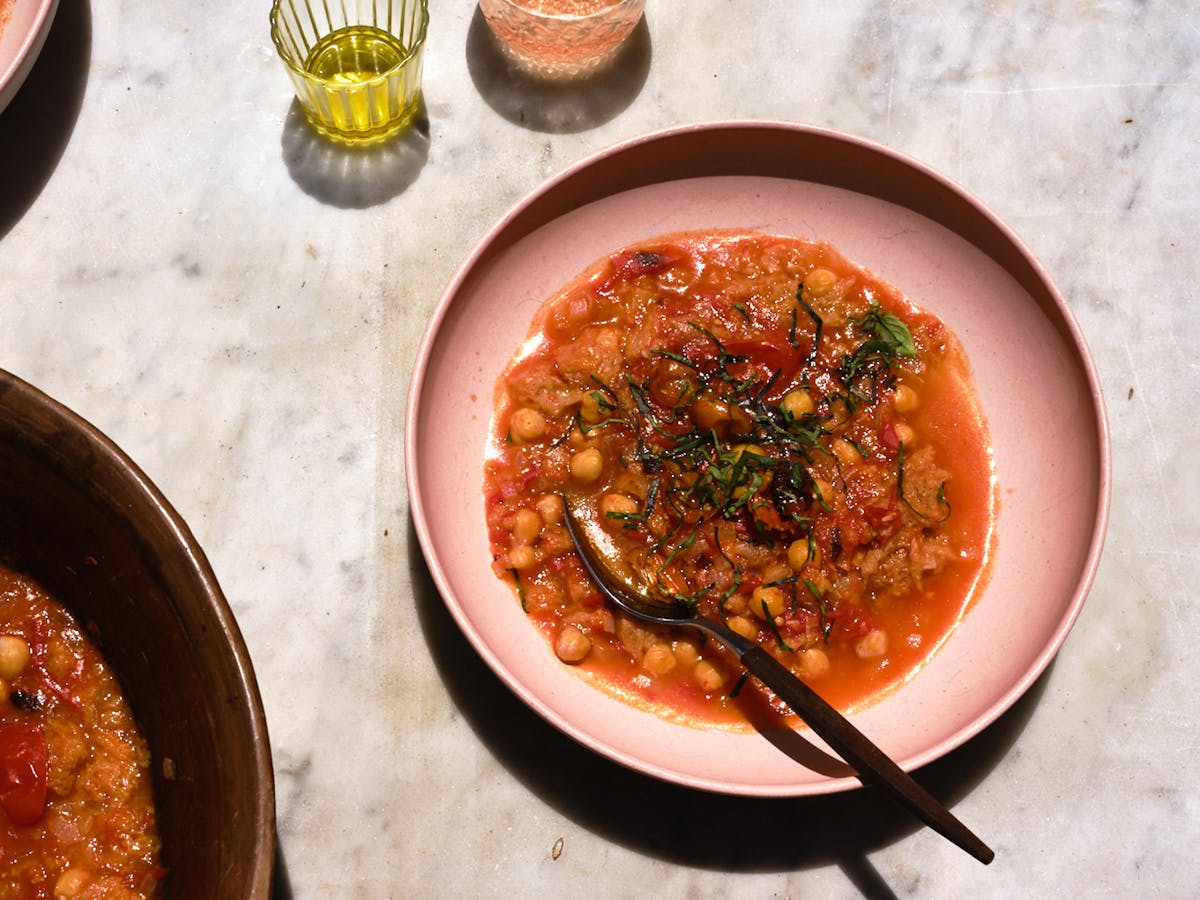 There are two things we have in spades right now - ripe tomatoes and sourdough bread. Inevitably, this time of year the variations on tomato soups and sauces coming out of the kitchen are many. The other night, I made this. Walking into the kitchen, I imagined building on the idea behind pappa al pomodoro, the tomato-centric, bread-thickened Tuscan classic. We ended up sitting down to a spicy, saffron-smacked stew with a tomato and sourdough foundation dotted with chickpeas. It was a big hit, so I made it again the next day so I could shoot and share it here. If there's a place where summer eating meets comfort food, this is it.

The tomatoes!
Let's talk details. Your choice in tomatoes here is key. It's the flavor base of this soup. Go for the most flavorful, ripe, in-season tomatoes you can get your hands on. Ugly or not-perfect is fine, they're going to get roasted and blitzed anyway. I save my cherry tomatoes for other uses - salads, roasting, pastas, etc. and opt for medium-sized varietals like Early Girl or San Marzano instead.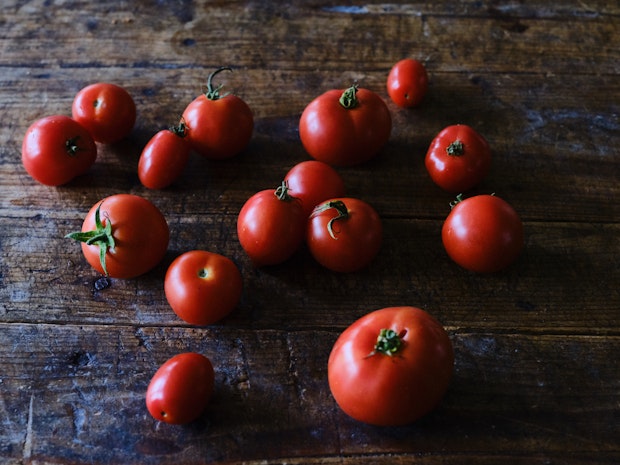 Roasting For Flavor
Here's roughly what your tomatoes, onions, and garlic should look like after roasting (below). I put the onions and garlic on their own baking sheet in case they cook faster. It makes it easier for you to remove them early if needed. You can certainly do a version of this soup without roasting, but the depth of flavor you get from this extra step is worth it.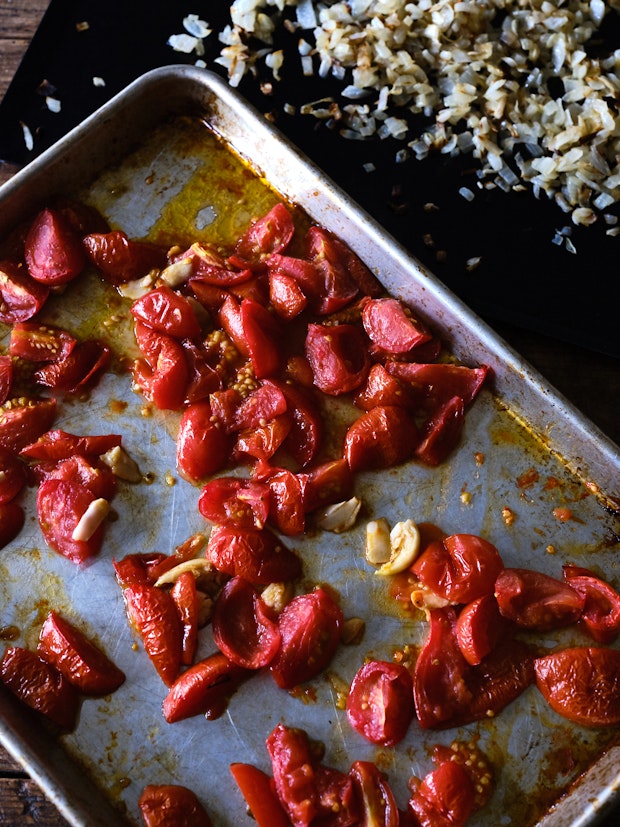 The Bread Component
Our "house" sourdough bread is ~60 % whole wheat / rye flour blend, plus a good amount of cooked quinoa. It's quite hearty and wholesome, and it's great here. I use heartier whole-grain sourdoughs in soups like this one, or bread-thickened ribollita all the time. I think people worry that they need to use a white loaf (like a ciabatta or "Italian" bread), but you can totally experiment. It might not be typical, but it can be tasty (and more nutritious).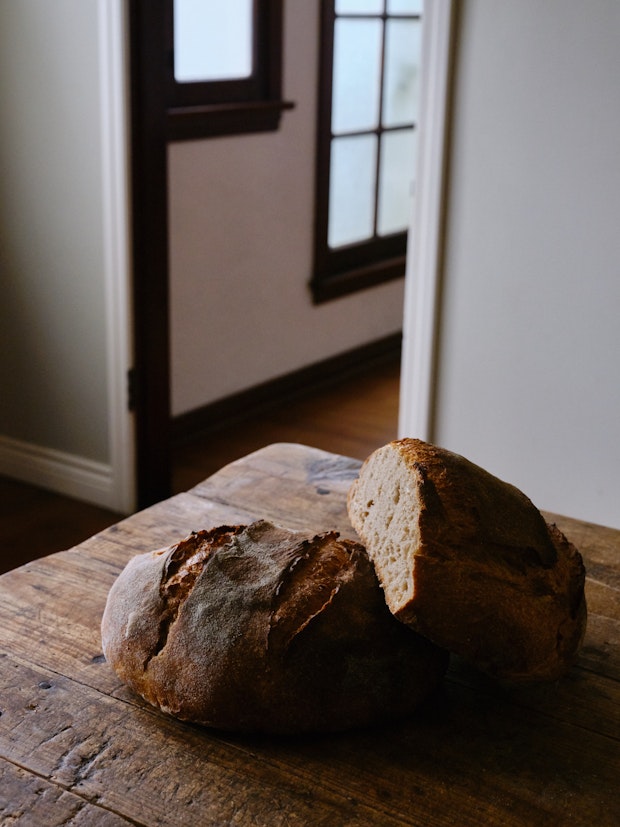 Variations
I was craving something invigoratingly spicy when I threw this together the other night. I was after a straight, direct shot of tomato & spice. That's why you see a good dose of cayenne in the recipe. I added a bit of saffron because tomatoes and saffron are one of my favorite flavor combinations. That said, there are (of course) endless other directions you could explore! For example: 
A more classic flavor profile: dial back the spices, turn up the basil.
Add a dollop of harissa instead of cayenne.
Use yellow tomatoes + lots of black pepper & experiment with a turmeric-chive-garlic drizzle of some sort.
Use some of your corn by adding it with the chickpeas. And for the experimenting bread bakers out there - how about a sourdough with a percentage of cornmeal, whole corn, etc in the bread slot? I'd use something other than a quick bread style cornbread (not enough structure when it hits the soup).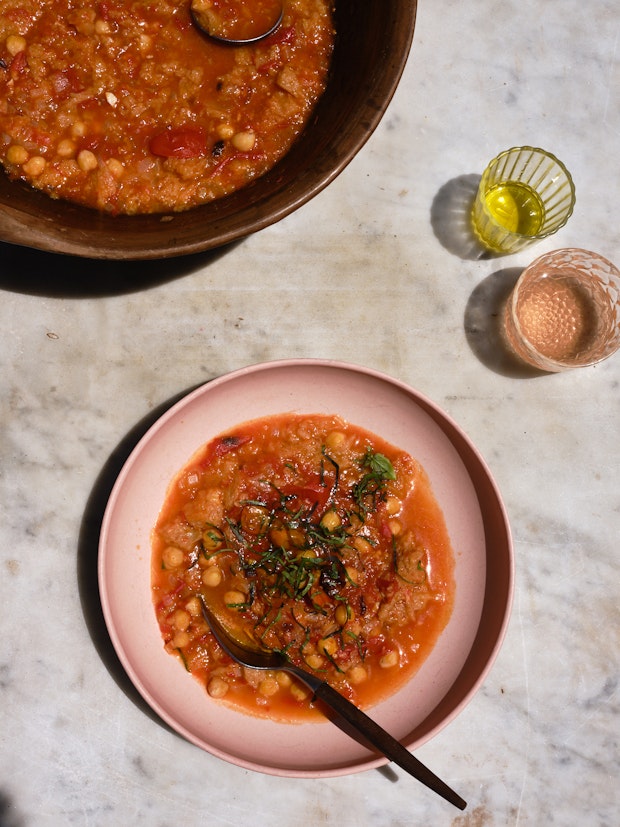 It's wild how in my garden there will be a blast of tomatoes for a few weeks and then it's over in a flash. If you're looking for other ways to put a dent in your tomato supply right now - some ideas. Try to make the most of them while they're here. Try a fresh version of this tomato sauce. Use them in a tomato tart. Make this favorite salsa. Or load them into a coleslaw. xx - h
Roasted Tomato & Sourdough Soup
Ingredients
1 1/2

pounds

ripe tomatoes, quartered and cored

1

onion, finely chopped

4

garlic cloves, smashed and peeled

3

tablespoons

extra virgin olive oil

1/4

fine grain sea salt, plus more to taste

scant 1/2 teaspoon cayenne pepper

pinch

of saffron (optional)

4

ounces

day-old sourdough bread, crusts removed, cut into 1-inch cubes (about 2 cups)

1

cup

cooked chickpeas

basil, to serve, thinly sliced
Instructions
Preheat oven to 425F. With a rack in the center.

Ideally, you'll want two baking sheets here. Arrange the tomatoes and garlic in a single layer across one. And then arrange the onion across the other. Sprinkle the salt across both and drizzle with the olive oil. Toss well, and place in the oven to roast for 35-45 minutes, or until the onions are golden, and the tomatoes have released their liquids and concentrated a bit. Remove from the oven.

Transfer the tomatoes and garlic to a soup pot, and use a hand blender to pulse a few times. You don't want the tomatoes completely smooth, go for a slightly rustic texture. You're done with the hand blender, so you can put it away. Stir in the onions and four cups of water. Bring to a simmer over medium high heat and stir in the cayenne and saffron. Taste, and season with more salt at this point to your liking. Stir in the bread and chickpeas and bring back to a simmer for 10 minutes or so, gently stirring now and then along the way.

Serve topped with the basil and a drizzle of good olive oil.
Related Recipes
More Recipes
Popular Ingredients