Pasta with Smashed Zucchini Cream
If you have an endless supply of zucchini right now, this is your recipe. A simple, garlic-boosted pasta, it uses two pounds of zucchini, and is endlessly adaptable.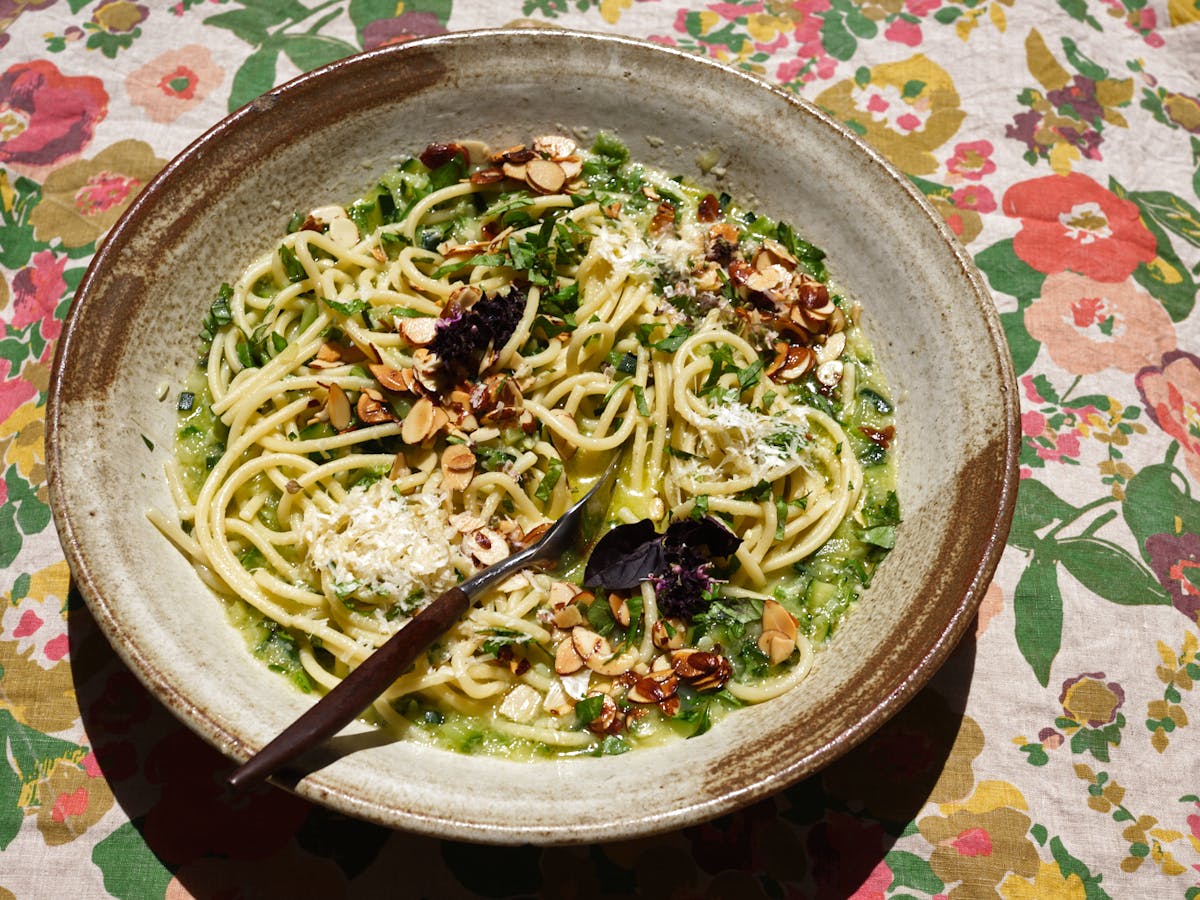 There is an incredible amount of zucchini coming out of our garden right now, and I'm focused on using it. This means ignoring recipes that call for small quantities of zucchini, turning my attention to making things that can put a real dent in the supply. Enter this simple, garlic-boosted pasta. It uses two pounds of zucchini, and is endlessly adaptable.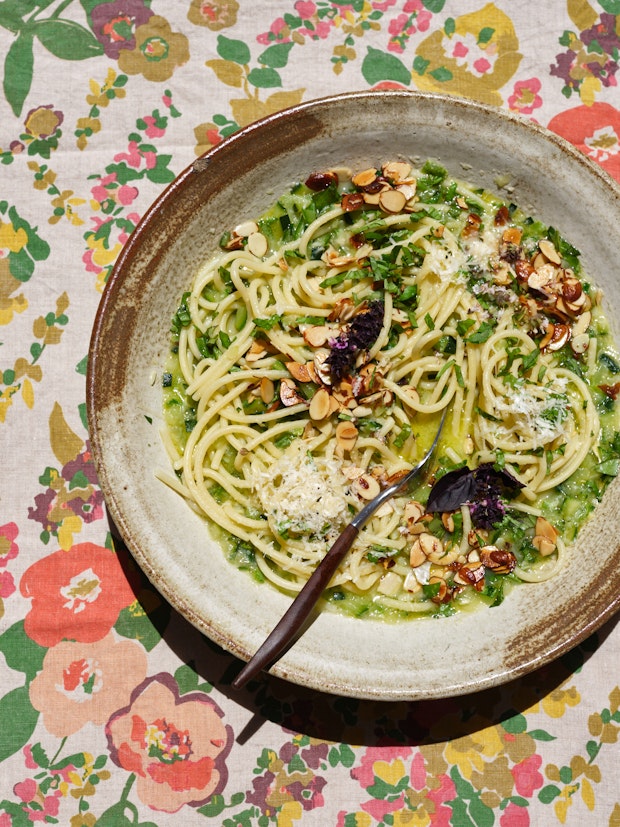 Pasta Choices
I used long, slender bucatini pasta this time around, but enjoy this recipe with a wide range of pasta shapes. It's nice with whole wheat pasta, or even some of the alternative lentil noodles. It's particularly good with textured, short pastas because the sauce and garlicky zucchini chunks get caught up in every bite.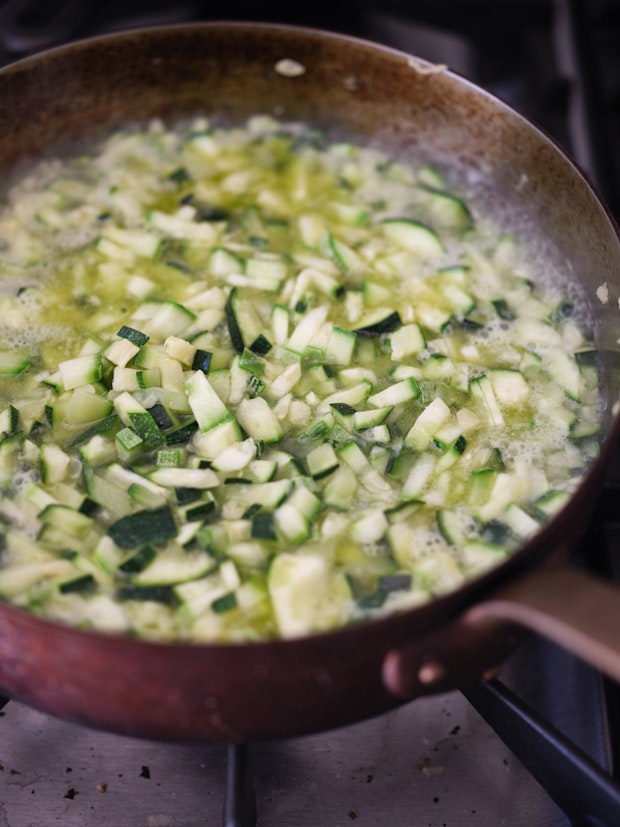 Favorite adaptations
Once you have your smashed zucchini sauce and pasta as a foundation, you can take this in a lot of different directions. We've been finishing it off with lots of halved cherry tomatoes plus garlic bread crumbs in place of the sliced almonds. The flavor pop of sweet from the tomatoes alongs with the crunchy crisp of the breadcrumbs is great. Alternately, you can boost the whole situation nutritionally by stirring in a few handfuls of thinly sliced kale that you've massaged with a bit of olive oil and lemon juice. You can also make more Asian-inspired, brothy version by adding more water to the zucchini, add a dollop of favorite curry paste, and use rice noodles. Top with crispy, grilled or oven roasted mushrooms and a drizzle of toasted sesame oil. Or, simply add a few dollops of pesto to the smashed zucchini sauce to up the summer basil factor.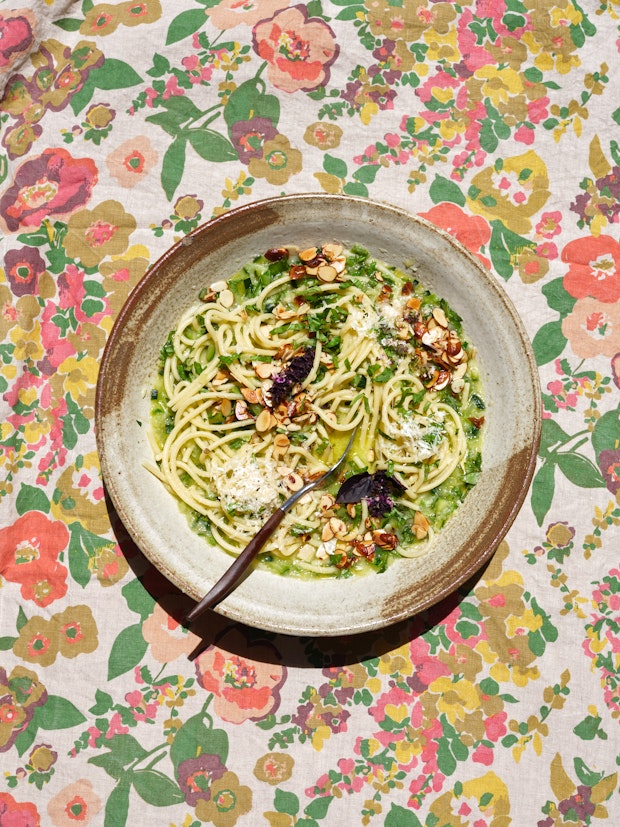 Other ways to use up zucchini
I like this super quick, sautéed zucchini - similar in spirit to today's recipe, it is also extra garlicky, and you get those nice browned bits where the zucchini hits the pan. You see it pictured over noodles as well, but I often enjoy it over quinoa or farro. And, this one is an oldie (posted in 2010), but these quick pickled zucchini are always nice to have on hand. Need more ideas? Here's where I've collected all my favorite zucchini recipes.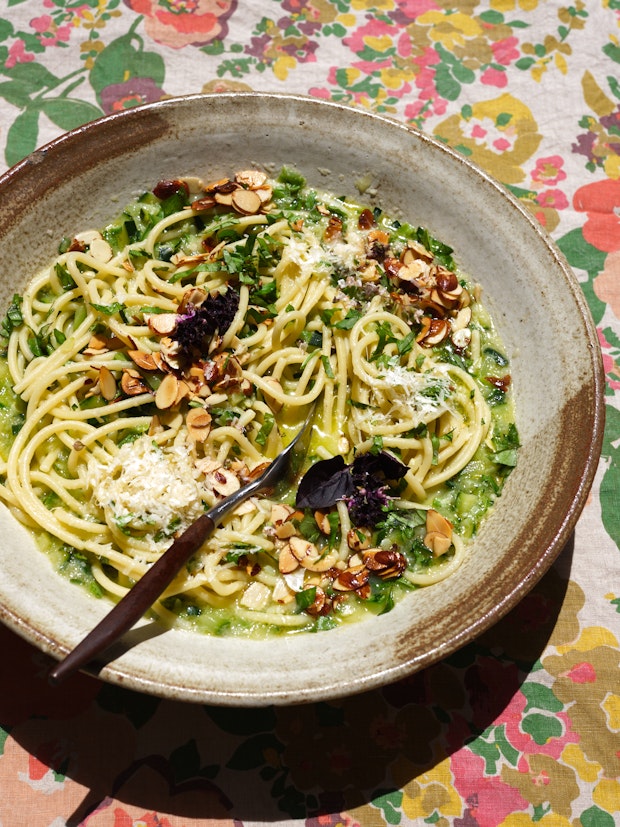 Other favorite noodle recipes include: this incredible vegan ramen, my favorite pad thai, sriracha rainbow noodle salad, and black sesame otsu. Or browse this list of tasty noodle soups!
Pasta with Smashed Zucchini Cream
Use your favorite noodles here, long or short. I used bucatini here, but also love stubby shapes with grippy ridges.
Ingredients
8

ounces

dried pasta

3-4

medium zucchini (2 lbs), washed

2

tablespoons

extra virgin olive oil

6-8

medium cloves garlic, grated on microplane

1/2

teaspoon

fine grain sea salt

1 1/2

cups

grated Parmesan or pecorino cheese (fluffy, not packed)

1

cup

basil, thinly sliced

black pepper

toasted almond slices
Instructions
Bring a large pot of water to a boil. Salt the water well, and boil pasta per package instructions. Drain, reserving some pasta water, and set aside.

In the meantime, slice the zucchini in half lengthwise and use a spoon to remove most of the seeds. Cut into 1/4-inch pieces. Heat the oil in a large skillet over medium heat. Add the garlic and cook until fragrant, a minute or so. Stir in the chopped zucchini and 1 1/3 cups water, cover, and simmer until the zucchini absorbs most of the water and softens, roughly 8-10 minutes. Remove from heat, and carefully, with a fork or (even better) a potato masher, smash the zucchini until creamy.

Transfer the zucchini to a large serving bowl. Add most of the cheese and most of the basil, and lots of pepper. Stir in the pasta, and a splash of the pasta water if you want to thin it out at all. Taste, and add salt if needed. Finish by topping with lots of toasted almonds, and the remaining cheese and basil.
Related Recipes
More Recipes
Popular Ingredients