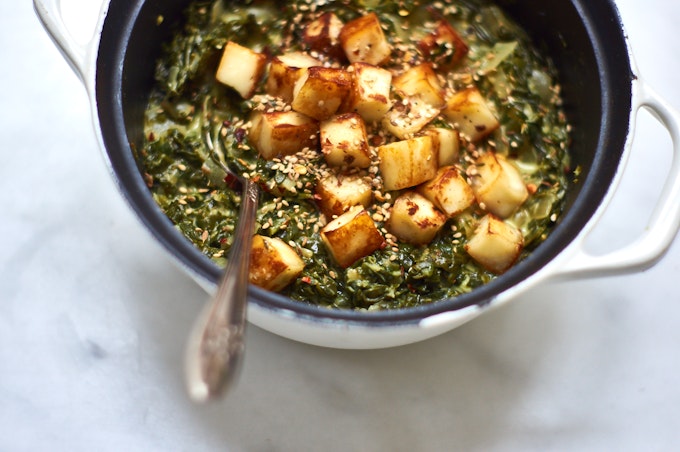 A Really Good Saag Paneer
This is a saag paneer that uses a truckload of spinach, gets tang from buttermilk and a finishing squeeze of fresh lemon, magic from a host of spices, and a bit of heat from ginger and chile flakes. I bring on a bit of crunch and contrasting texture where ever I can - paneer, toasted sesame seeds, and add a touch of decadence with a splash of cream (you can use yogurt, buttermilk, or cashew cream if you like).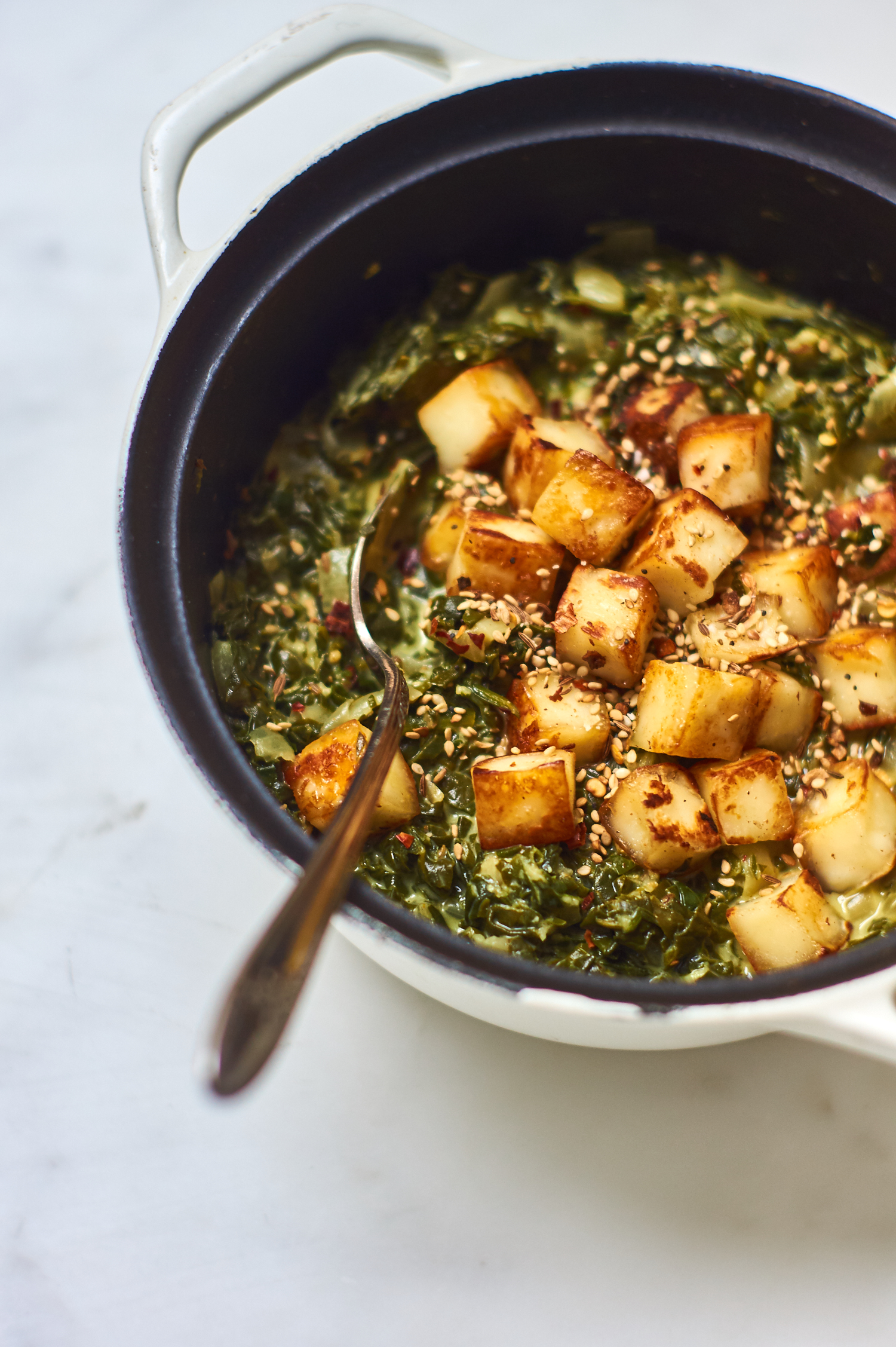 Saag Paneer Inspiration
A bit of context. We make saag paneer at home all the time. I'm talking once a week or every ten days. Wayne started it, years ago, when he cooked Merrill's saag paneer one night, and from there it became a regular thing. The recipe has evolved and meandered quite a bit, so I thought I'd share the version I've settled into with you. I try to make it exactly the way I want to eat it, because, at some point, personal preference trumps everything else. Even when you're dealing with a classic preparation. I also featured another, different, streamlined version in Near & Far (also great!) a few years after this.

To that end, for this take on saag paneer, I cook the paneer cubes until they aren't just golden, they need to go well beyond that. I like them crispy cornered, and outright crusty. Beyond that, I chop the mountain of spinach you need here into flecks the size of big confetti. This assures no slurpy, sloppy, un-chewable greens. And I (almost) always use fresh spinach, but you can do a (more traditional) blend of mustard greens, chard, etc. if you like!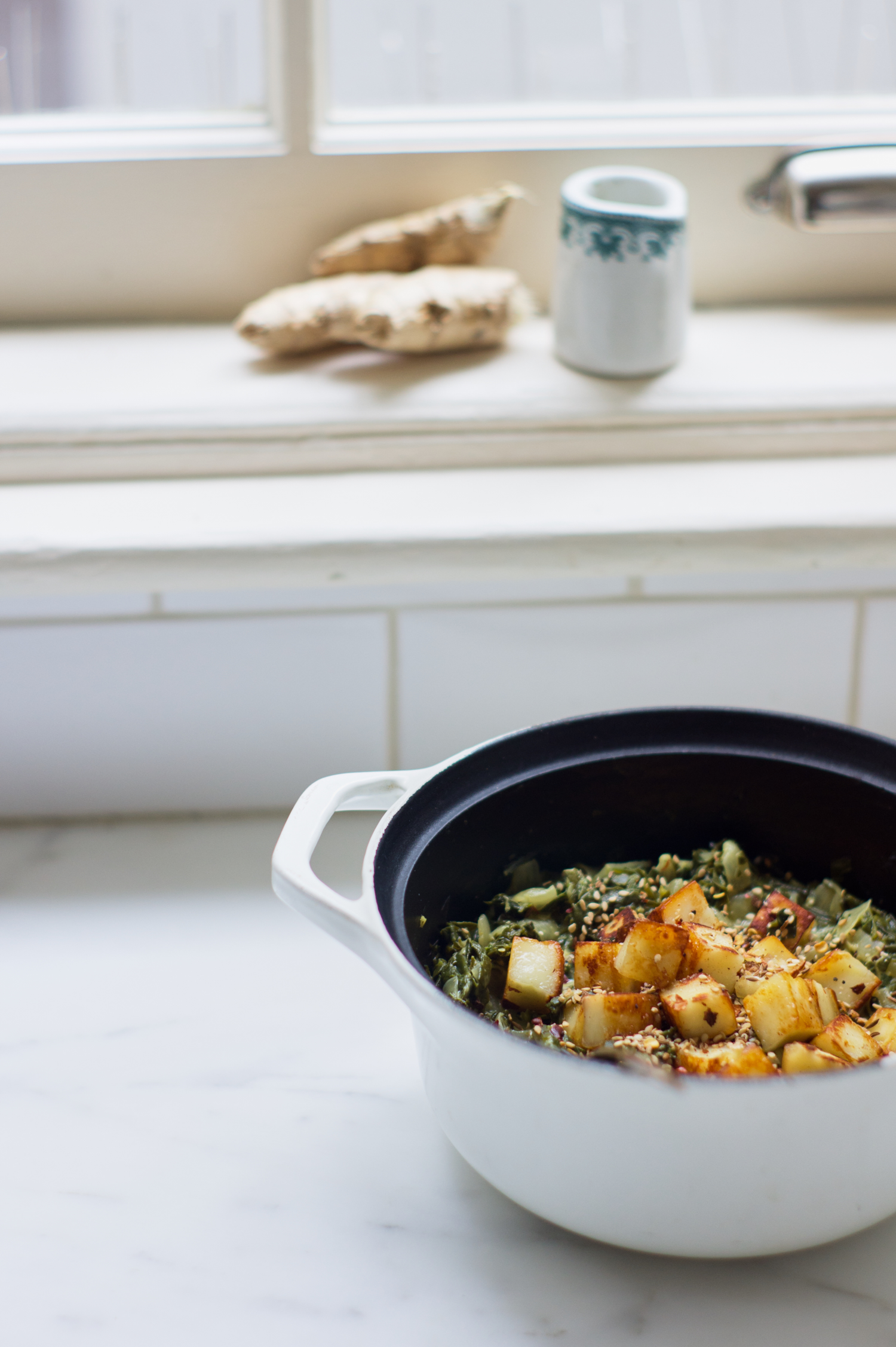 It is the sort of thing that is even better the day after - spread on thin crackers, or inside this sort of quesadilla. You make your own spice blend here, but you can certainly experiment with your own or a good store-bought blend.
A Really Good Saag Paneer
A bunch of head notes here, apologies. This recipe calls for an incredible amount of spinach. Just know, it cooks down dramatically. I call for baby spinach, because it saves me having to trim a lot of unruly stems from bundles of spinach. Feel free to use any fresh spinach, but make sure it isn't overly stem-y. On the cheese front, Halloumi is a solid substitute for paneer, and here's a link if you want to make paneer at home. And if you like a higher cheese to spinach ratio, cook up 12 ounces of paneer. If I have canned crushed or whole tomatoes that need to be used up, I throw some of those in too (chopped/drained) - good. And if you have kale you need to use, trade chopped kale for some of the spinach if you like.
Ingredients
1 1/2

pounds

fresh (baby) spinach, well washed and dried

2

tablespoons

ghee, clarified butter, or unsalted butter

8 - 12

oz

paneer cheese, cut into 1/2-inch cubes

2

medium onions, finely chopped

scant 1/2 teaspoon fine grain sea salt

3

medium garlic cloves, finely chopped

1

tablespoon

grated fresh ginger

1

tablespoon

spice mixture* (see below)

1/4

teaspoon

turmeric

1

cup

buttermilk

splash of cream or dollop of plain yogurt (optional)

fresh lemon to finish, and toasted sesame seeds to sprinkle
Instructions
Chop the spinach well, and set aside in a large bowl.

While you're chopping spinach, cook the paneer in one tablespoon of the butter over medium heat in a large skillet. Make sure the paneer is in a single layer and use a spatula to flip it regularly so all sides get deeply brown. This typically takes 7 minutes or so. Remove from the pan and set aside.

Heat the other tablespoon of butter in your largest soup pot. Add the onions and salt, and saute until the onions soften up, five minutes or so. Add the garlic, ginger, spice mixture, and turmeric. Cook, stirring frequently, until fragrant and nicely combined - a minute or two.

Turn the heat up to medium-high and add the spinach to the pan all at once, if possible. Cook, stirring all the while, until the spinach is collapsed and wilted, a couple of minutes. If you need to add the spinach in batches (adding more spinach as it collapses), that is fine too, just do it as quickly as possible.

Stir in the buttermilk and cream and heat gently while stirring. If the mixture seems dry, add more buttermilk a splash at a time (this rarely happens to me). Taste and add more salt if necessary and more red pepper flakes if you like. Add a generous squeeze of fresh lemon juice, stir in the paneer, sprinkle with sesame seeds and serve.
Notes
*Spice Mixture: Use a mortar and pestle or spice grinder to grind the following spices as finely as possible: 2 tablespoons cumin seed, 1 tablespoons coriander seed, 2 teaspoons mustard seed, 1 teaspoon red pepper flakes, 1/8 teaspoon cardamom seeds, 3 whole cloves. Store in an airtight container and use as needed.
Related Recipes
More Recipes
Popular Ingredients