Sheet Pan Frittata
You don't need much to make a good sheet pan frittata. This one starts with a dusting of lemon zest across a sheet pan, and uses a simple egg, cream, salt and pepper base.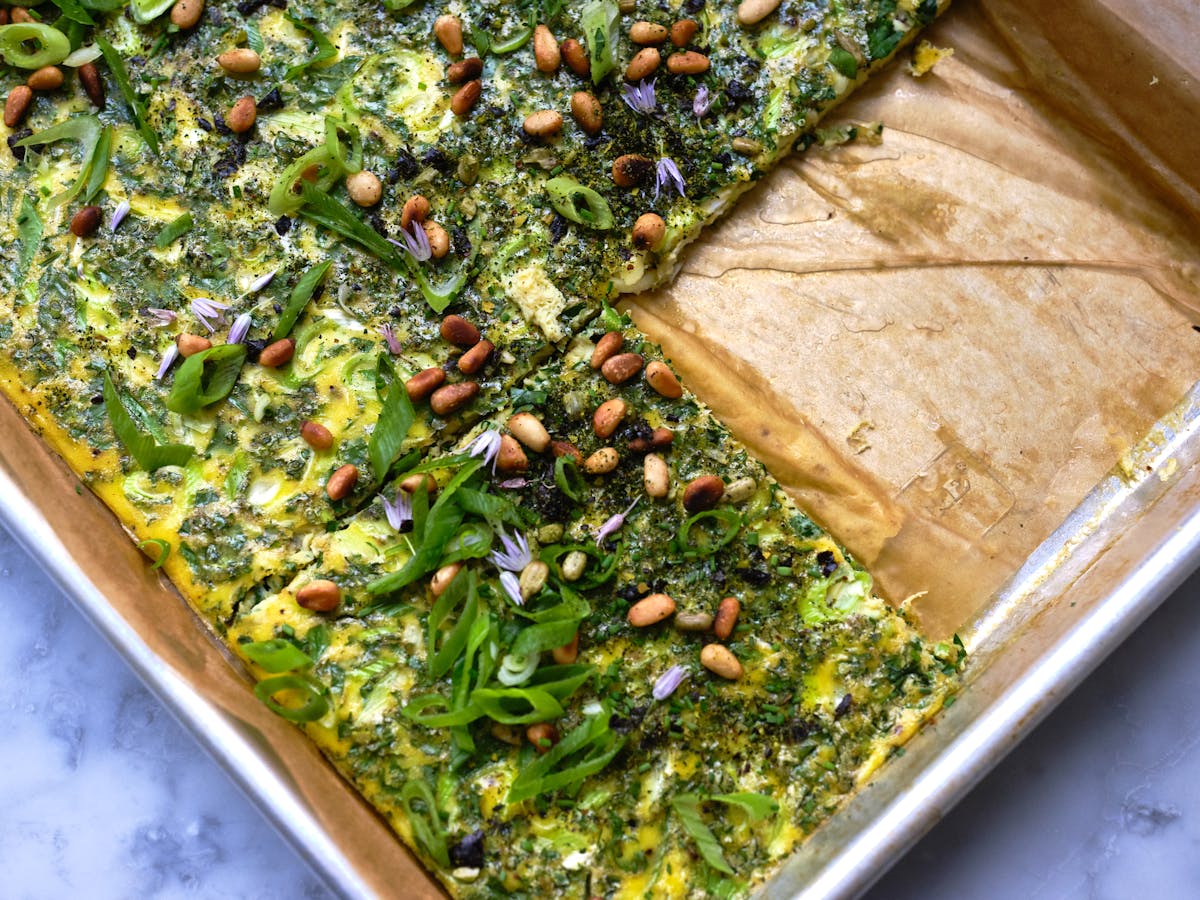 When you grate a lot of lemon zest onto a pan before baking a sheet pan frittata, it makes it extra special. I like to add a good amount to the eggs as well. The zest perfumes everything as the frittata cooks and wraps the whole thing in a lemony haze. Not that you need much to make a sheet pan frittata good. I mean, they're a legitimate kitchen hero. One of those mealtime workhorses able to step up into a range of roles.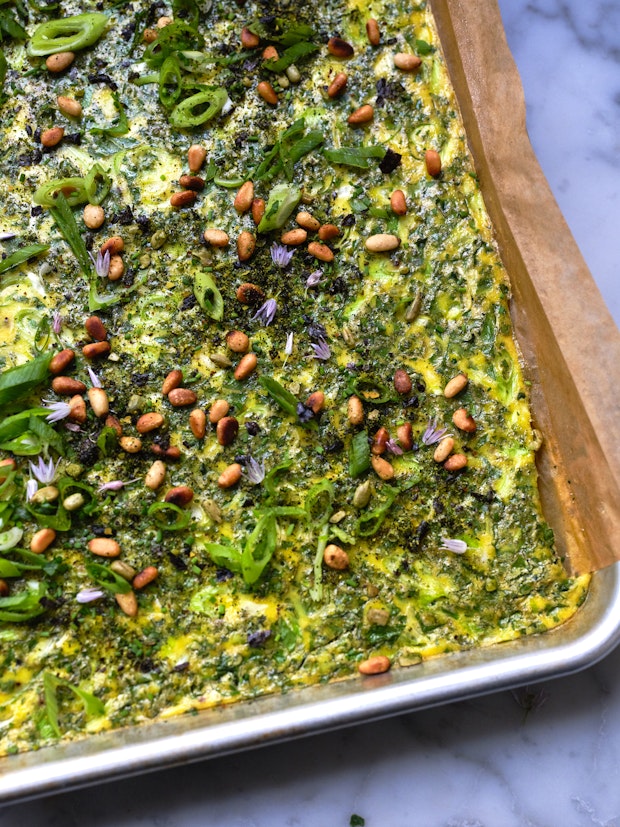 For example. let's say you bake one on a Sunday. You can enjoy a slice in your breakfast burrito on Monday. Pack a slab in your lunchbox on Tuesday, and then make an epic sheet pan frittata sandwich with it on Wednesday. If you've never baked a sheet pan frittata, let's talk it though. There are a few things to get right.
How To Make a Sheet Pan Frittata
If you have a rimmed baking sheet, preferably the quarter pan size (13 x 9 x 1 inches), some parchment paper and a carton of eggs, you're in business. To make a sheet pan frittata, line the pan with parchment paper, whisk a bunch of eggs together with a bit of cream, and add in whatever seasonal ingredients you like. If you love cheese and eggs, add some crumbled feta or goat cheese as well. Or grate some gruyere on top once the egg mixture is in the pan.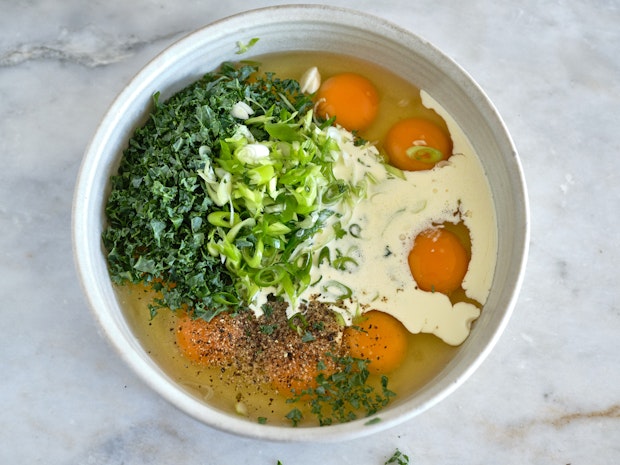 Just combine any well-chopped ingredients (above). Whisk until uniform (below).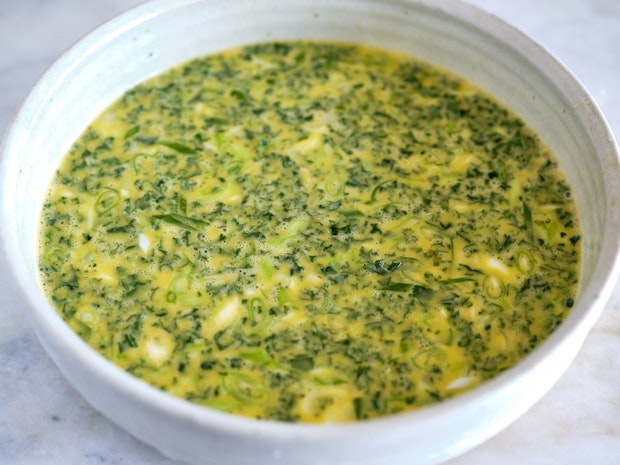 Then transfer to your prepared sheet pan. Like the one pictured below.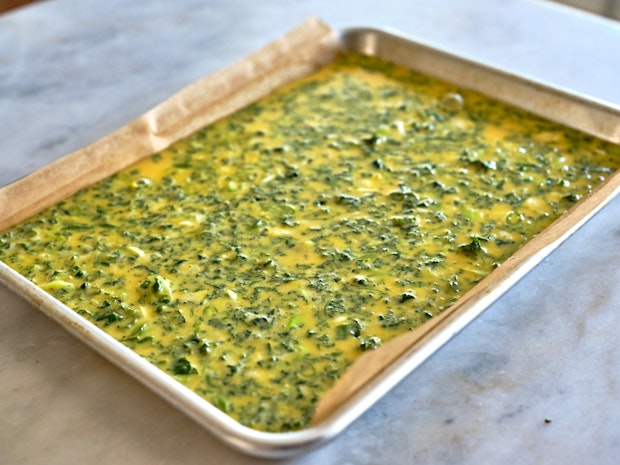 Sheet pan frittatas are all about knowing the basic technique and then adding whatever other ingredients you're excited about. Bake until set and enjoy. But let's talk through how to make them great.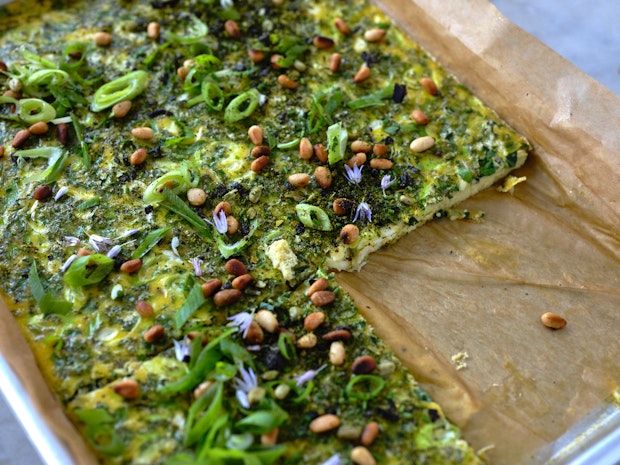 A Few Important Tips
Line the pan: Lining your rimmed baking sheet with parchment paper allows easy removal of your sheet pan frittata once it is cooked. It's important to get the parchment paper to seal with the pan though, so the egg doesn't run under. The way you do this is to evenly (and thoroughly) rub the baking sheet with a bit of oil, and then press the paper into the pan. Use your hands to smooth out any bubbles across the pan and up the sides.
Pre-cook add-in ingredients: Similar to quiche, water is the enemy here. You want to avoid adding watery ingredients to your frittata. Go for pre-cooked or pre-roasted ingredients instead. So, for example, instead of adding sliced cherry tomatoes to your frittata, add roasted tomatoes. The flavor is more concentrated, and most of the water has been cooked out ahead of time.
Make ahead: If you are making a sheet pan frittata as part of your meal prep, allow the frittata to cool after baking. Slice and stack in an airtight container, refrigerated, for up to 4-5 days. To reheat, warm gently in a skillet. Or, serve at room temperature as a component in a sandwich or salad bowl.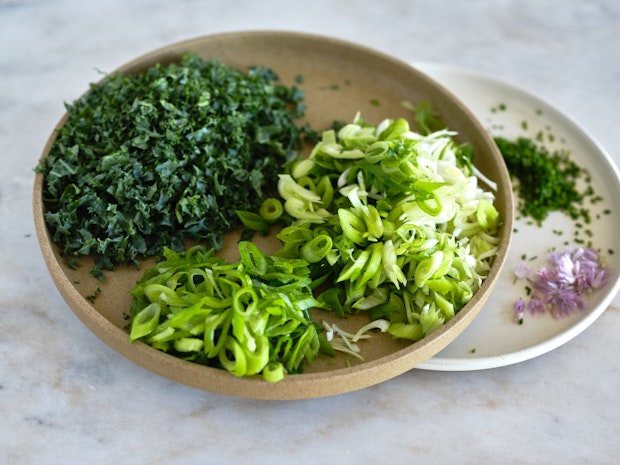 The Best Add-Ins
Above you can see the add-ins and toppings I used for this frittata, but there are endless options to consider. Here are a few favorites.
Herbs: Load up on the chopped herbs. It's hard to go wrong. Chives, cilantro, dill, parsley, basil - really go for it.
Lemon zest: This one is incorporated into the recipe below. You can also experiment with orange zest and even different types of lime.
Potatoes: Hard to go wrong with potatoes here. You can roast sliced potatoes in a bit of olive oil, let them cool, and add to the frittata before baking. Room temperature hash browns torn and scattered across the frittata mixture is also good move.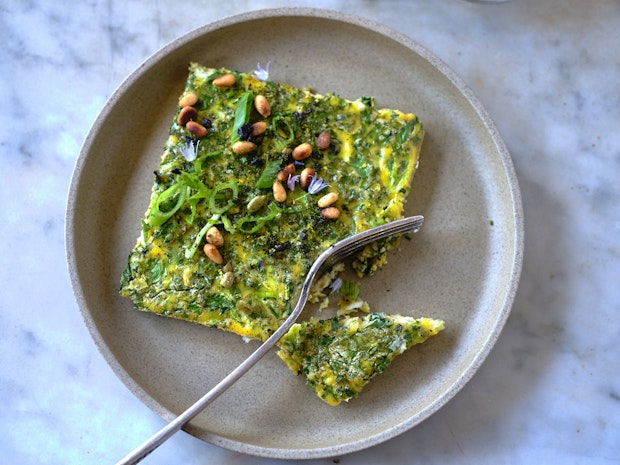 A Few Seasonal Variations
A frittata like this is the perfect vehicle for whatever is in season, or whatever you have around the kitchen.
Late summer: roasted cherry tomatoes, roasted corn, caramelized onions, serrano chile
Fall: black olives, roasted winter squash, crumbled feta, dill
Spring: crumbled Boursin cheese, sautéed artichoke hearts, lemon zest, roasted asparagus, roasted new potato slices
Let me know your favorite combinations in the comments, I'm always looking for inspiration!
More Egg Recipes
Sheet Pan Frittata
If you're making two of these, place each frittata on a rack, one in the top third of the oven. The other in the bottom third. Rotate top to bottom 2/3 of the way through baking. There are a lot of other variations explored in the post up above.
Ingredients
Olive oil

Zest of two lemons
Basic Sheet Pan Frittata Base:
12

eggs

1/4

cup

heavy cream

1/2

teaspoon

fine grain sea salt

1/4

teaspoon

freshly ground pepper
Add-ins:
3/4

cup

well-chopped kale, stems removed

4

scallions, thinly sliced, green parts included

For serving: toasted nuts, chives, drizzle of olive oil, crushed potato chips, and/or a bit of grated cheese
Instructions
Preheat oven to 325°F / 160°C with a rack in the top and bottom thirds of the oven.

Rub a quarter sheet pan (13 x 9 x 1 inches) with a bit of olive oil. You want to make sure there is coverage all across the bottom and up the sides. Line with parchment paper, and press out any bubbles or gaps. Sprinkle the zest of one of the lemons across the pan.

In a large bowl whisk together the eggs, cream, salt, pepper, and the zest of the other lemon. Stir in the kale and green onions. Pour the mixture into the prepared sheet pan and carefully transfer to the oven.

Bake for 25-30 minutes, or until the eggs are a bit puffy and well set. Remove from oven and serve with any additional toppings you like.
Related Recipes
More Recipes
Popular Ingredients