Caramelized Brussels Sprouts and Apples with Tofu
A Brussels sprout recipe for people who think they might not like them. Shredded Brussels sprout ribbons, apples, garlic, pine nuts, and tofu in a skillet with a hint of maple syrup.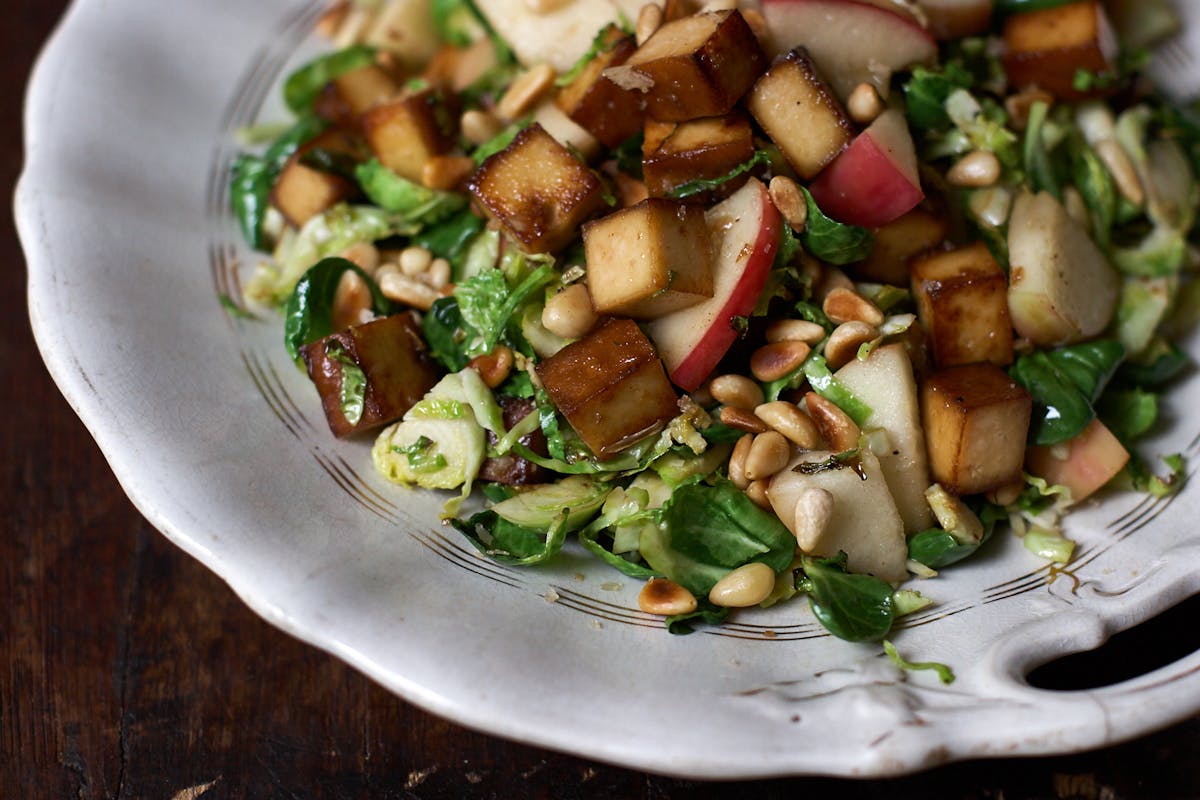 I bought a three-foot stretch of Brussels sprouts the other morning at the farmers' market. For those of you who've never encountered the spectacle of Brussels sprouts still on the stalk, it is something to behold. A thick, stick-straight center stalk is punctuated by tight, green Brussels sprout pom-poms. It looks fantastically prehistoric. And while it doesn't fit very nicely in my market basket, once I get it home the sprouts will keep nicely this way - seemingly longer than off the stalk.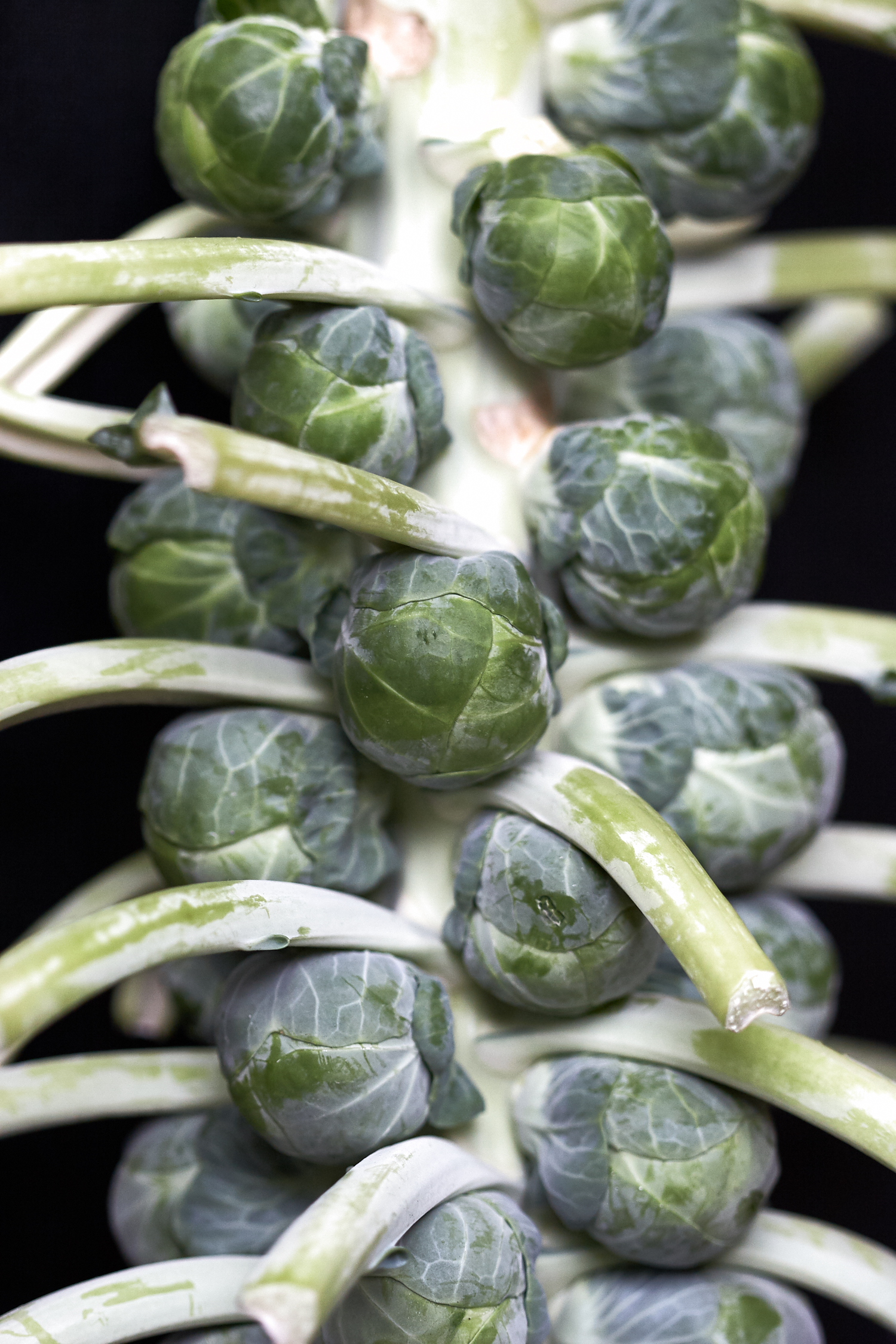 I buy sprouts on the stalk whenever I can, and typically get three or four sprout-centric meals out of each, breaking off the buds as needed. In this case I combined shredded Brussels sprout ribbons, apples, garlic, pine nuts, (and tofu if you like) in a skillet with a hint of maple syrup.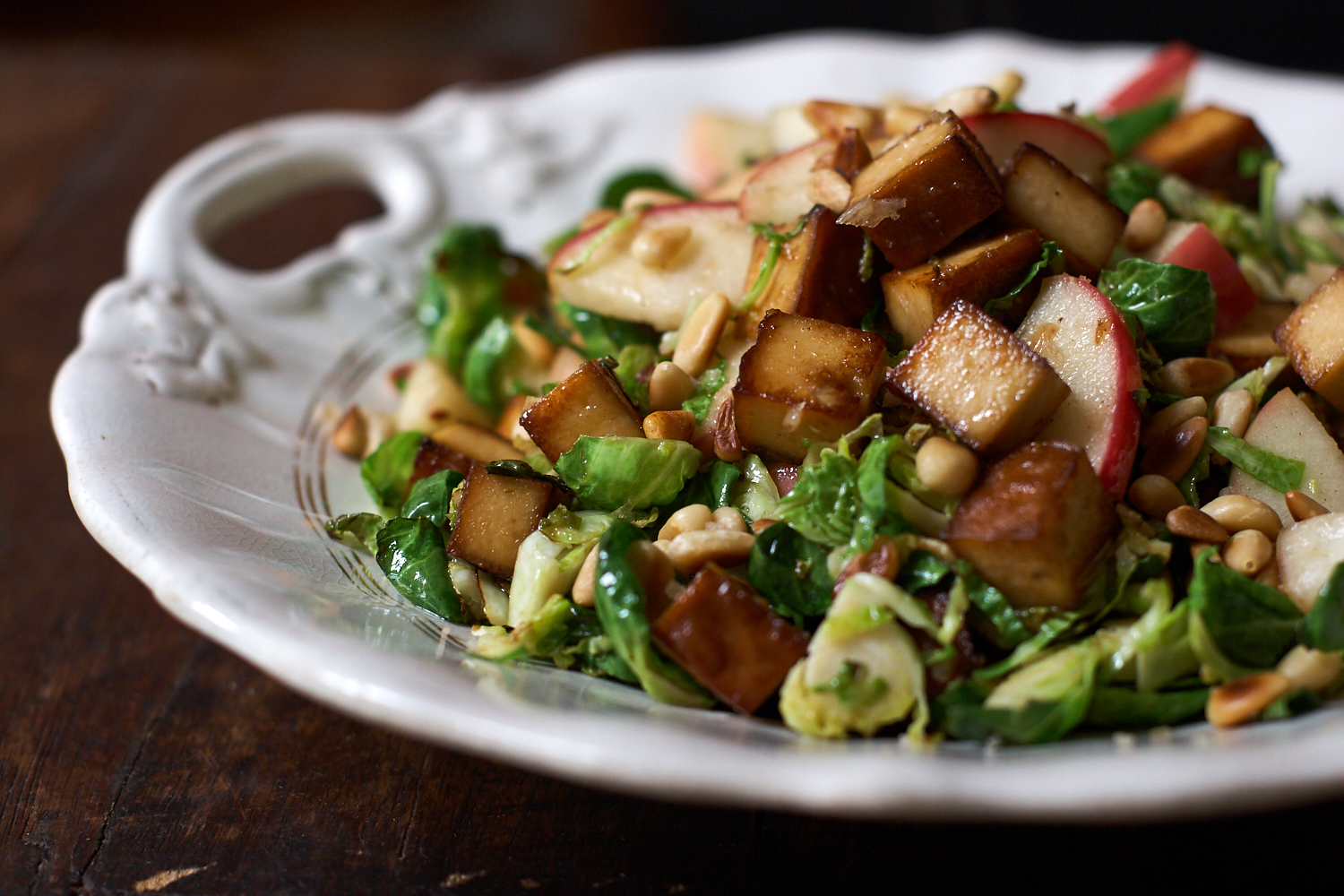 I know not all are Brussels sprout fans, but based on some of the emails you've passed along to me, this golden-crusted Brussels sprout recipe seems to be a well-received gateway recipe for people who thought they didn't like Brussels sprouts, but really do. You could start there, and then make the jump to this recipe if you're at all apprehensive. Or, I highlight a few other ideas down below....
Caramelized Brussels Sprouts and Apples with Tofu
Feel free to leave out the tofu if you like - I add it to make this a one skillet meal. I used the Wildwood Organics baked savory tofu here, it browns up nicely and holds its shape - though any extra-firm tofu will work. If you don't feel like shredding the Brussels sprouts, you could do a version of this recipes cutting them into quarters instead - a bit quicker as far as prepping the ingredients goes.
Ingredients
1

large, crisp apple, cut into bite-sized wedges

1

lemon, juice only

4

ounces

extra-firm tofu cut into tiny-inch cubes (see photo)

a couple pinches of fine-grain sea salt

a couple splashes of olive oil

2

medium cloves garlic, minced

a scant tablespoon of maple syrup

1/3

cup

pine nuts, toasted and chopped

12

ounces

(3/4 pound) Brussels sprouts, washed and cut into 1/8-inch wide ribbons
Instructions
Soak the apples in a bowl filled with water and the juice of one lemon.

Cook the tofu in large hot skillet with a bit of salt and a splash of oil. Saute until golden, about 4 minutes. Stir in the garlic, wait a few seconds, now stir in the maple syrup, and cook another 30 seconds or so. Drain the apples, and add them to the skillet, cooking for another minute. Scrape the apple and tofu mixture out onto a plate and set aside while you cook the Brussels sprouts.

In the same pan (no need to wash), add a touch more oil, another pinch of salt, and dial the heat up to medium-high. When the pan is nice and hot stir in the shredded Brussels sprouts. Cook for 2 - 3 minutes, stirring a couple times (but not too often) until you get some golden bits, and the rest of the sprouts are bright and delicious.

Stir the apple mixture back into the skillet alongside the Brussels sprouts 1/2 of the pine nuts - gently stir to combine. Remove from heat and enjoy immediately sprinkled with the remaining pine nuts. This isn't a dish you want sitting around, the flavors change dramatically after ten minutes or so, and I think that is part of the reason Brussels sprouts get a bad rap. Even I don't like them after they've been sitting around.
Notes
Serves 2 - 3 as a main, 4 as a side.
Related Recipes
More Recipes
Popular Ingredients