Smoked Chocolate Mousse
A deep, concentrated dark chocolate mousse made with gently smoked chocolate. I've used my stovetop smoker for many things, but chocolate didn't occur to me until recently.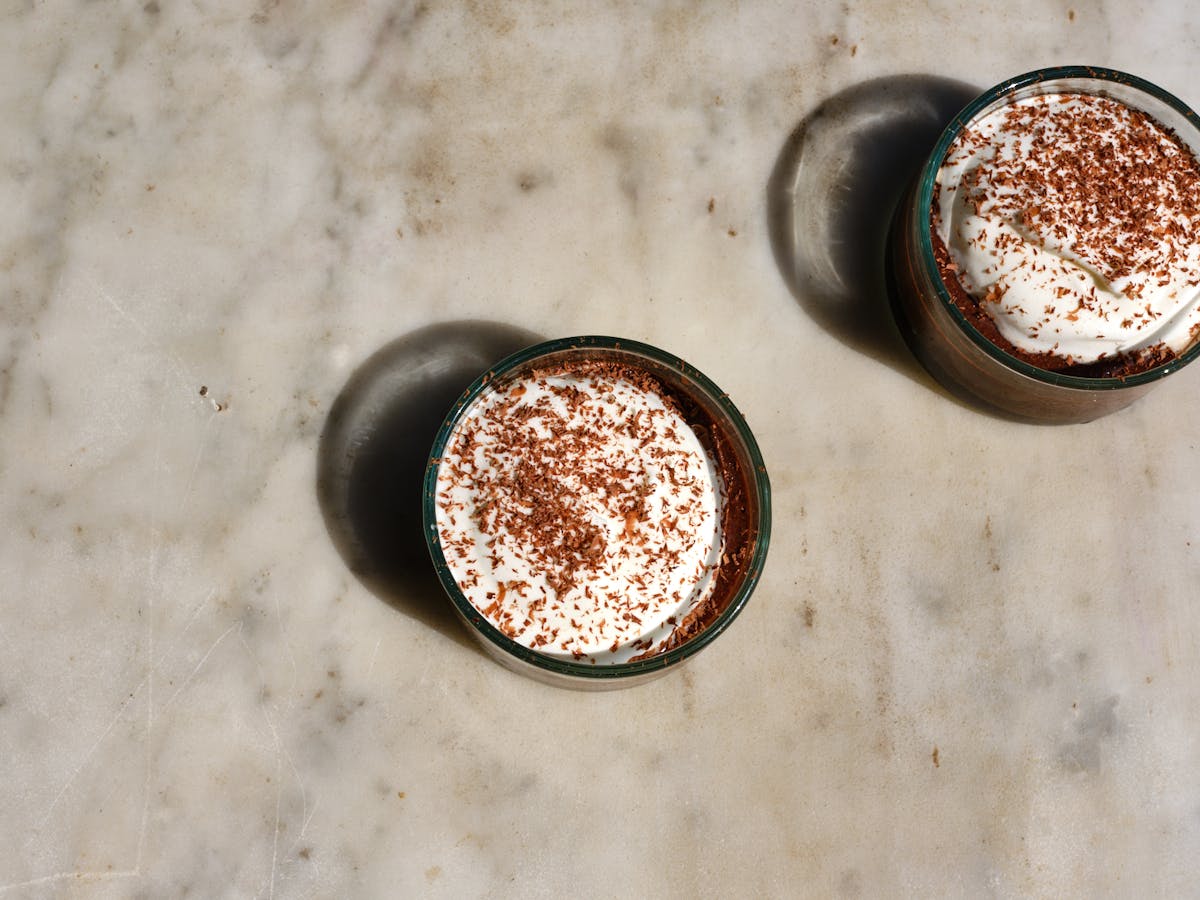 Gently smoking chocolate is amazing. The fat in the chocolate is receptive to whatever you're using for smoking – I've used cherrywood, applewood, hickory, and rosemary in the past. The trick is maintaining those wonderful smoky notes when you take the next step. I haven't had much luck using smoked chocolate in cakes and cookies, but when you use it in more direct (and concentrated) desserts like pudding and this chocolate mousse, it can be a delightfully surprising game-changer.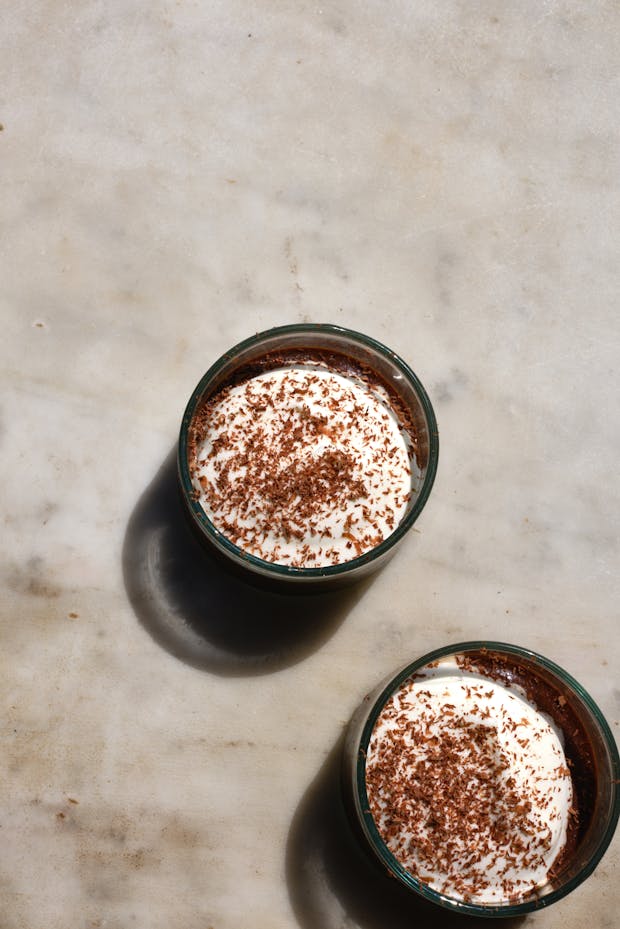 How We Got Here
The road to this chocolate mousse recipe wasn't linear. On a whim, I decided to smoke chocolate in my donabe & it blew my mind. I smoke all sorts of things in the ibushi gin (smoker donabe) - tomatoes, veg, nuts, hardboiled eggs, tofu, etc. But the first time I tried smoking chocolate was this summer. I used Guittard 72% (because I almost always buy Guittard) and the chocolate ended up tasting subtly smoked but also like dark caramel was threaded in. I was blown away. My first idea was to use it in basic molten chocolate baby cakes, but that was a big fail. The flavor just baked out.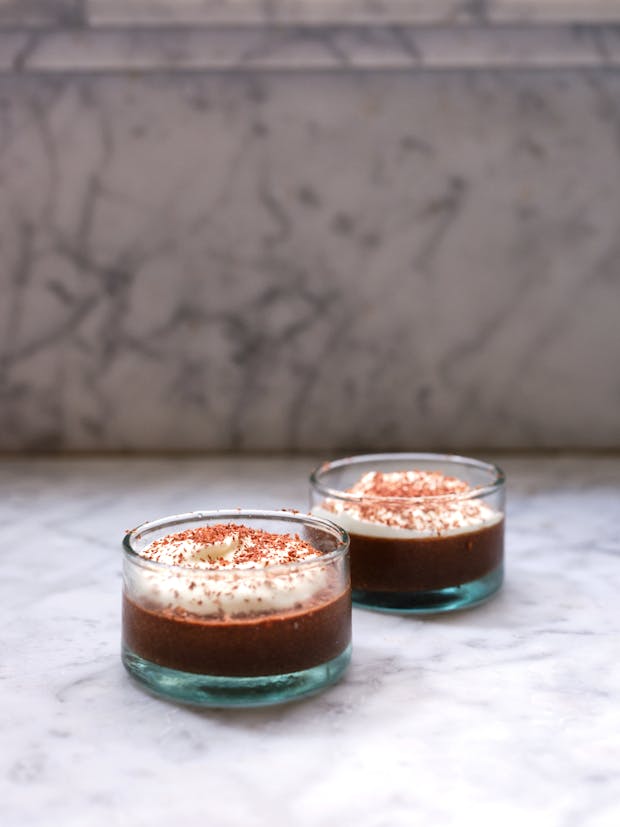 Serendipity
Around the same time, I was chatting with Amy Guittard, telling her what I was doing & she asked me to be part of a holiday promo campaign along with Sylvie from Just Date (who I'm also a big fan of from my San Francisco days). So here we are. I started thinking about where the smoked chocolate might really shine. I ended up developing this smoked chocolate mousse recipe & love, love, love it. You can see the smoker in action here. The chocolate mousse ended up being a great vehicle, but I can also imagine chocolate frosting, a thick hot chocolate drink, or maybe a smoked chocolate fondue working beautifully as well. I used Guittard 72% Sante Dark Chocolate Chips made with coconut sugar and Just Date organic date sugar. If needed, you can substitute another chocolate (shoot for 60% - 80% cacao), and granulated cane sugar will also work.
Smoking Chocolate
If you don't have access to a stovetop smoker, no problem, an unsmoked version has long been a family favorite. This is the stovetop smoker donabe (ibushi gin) I use: The main thing to be considerate of is strength. You're much better off under-smoking ingredients versus overdoing it. Taking good notes has been helpful. As I experiment I make note of what is being smoked, the wood source, timing and "notes to self" for next time.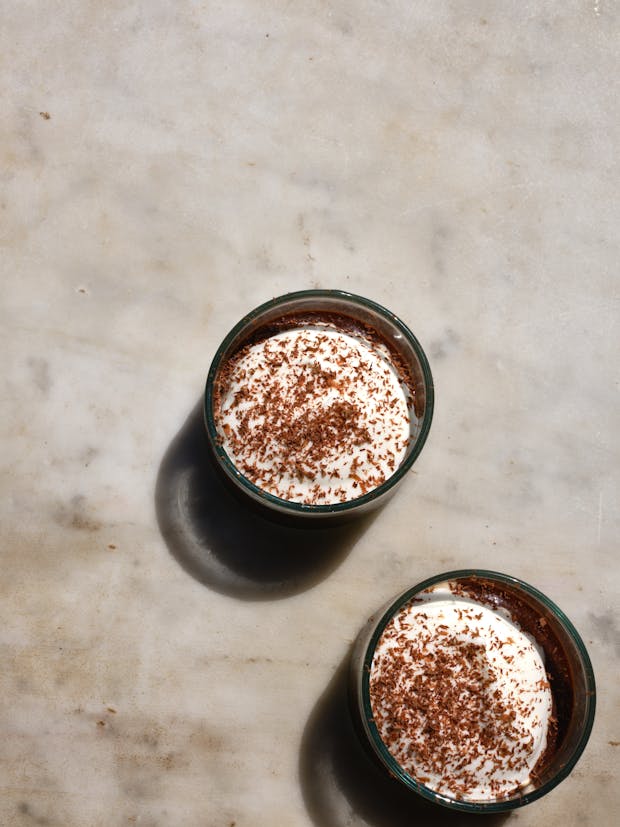 Make-ahead Chocolate Mousse
This is the perfect make-ahead dessert, and it's best when you make it a day ahead of time. It's the perfect dessert for holidays or when you're having friends over. You need time for the mousse to set and can do everything in the days before serving. Serve straight from the refrigerator.

Lastly, as noted below, this recipe does feature raw egg* The standard disclaimer recommends children, pregnant women, the elderly, and anyone with an immune system disorder should avoid eating uncooked egg because of salmonella risk.

More Chocolate Recipes
There are a lot of chocolate recipes on the site, so have a look around. A few favorites include these all-time fave chocolate brownies, chocolate puddle cookies, and this flourless chocolate cake.
Smoked Chocolate Mousse
Because the ingredient list is so short, the devil is in the details here. Use the best quality chocolate you can get your hands on - preferably in the 60-80% range. I've been making this recipe with Guittard Sante' 72% Cacao made with coconut sugar. You also have options on the sweetener front – Just Date organic date sugar, granulated cane sugar and muscovado sugar are all good options.
Ingredients
6

ounces

/ 170 g dark chocolate baking chips

2

eggs, brought to room temperature shortly before using*

1/4

cup

water

1/4

cup

Just Date sugar, granulated cane sugar, or muscovado sugar

4

tablespoons

unsalted butter

1/4

+ teaspoon fine grain sea salt

1

cup

cold heavy cream, plus sugar to taste

2

teaspoons

almond extract
Instructions
Smoke your chocolate. Start by placing the chocolate baking chips in a shallow, heat-proof, dish or bowl. Smoke the chocolate per your smoker instructions, for about 18 minutes. The smoker temperature should be very low and gentle. The chocolate should be barely melted after smoking.

Meanwhile, separate the whites and yolks of the eggs. In a large bowl, beat the egg whites until they hold very stiff peaks.

Combine the water, sugar, butter, and salt in a double boiler. If you don't have a double-boiler, you can fashion one by combining the ingredients in a medium stainless steel bowl, and then placing this bowl atop a small, barely simmering saucepan of water. Stir until the ingredients come together smoothly.

Remove from heat stir in the smoked chocolate. Next, beat in the egg yolks, stirring until the mixture is smooth and glossy. Add the egg whites, and fold gently until the pudding is uniform in texture. Divide the mousse evenly across 4-6 serving cups or glasses. Chill (covered) - for a few hours or overnight.

Prior to serving, whisk the heavy cream into loose, floppy peaks adding the almond extract and sugar to taste toward the end. I typically use about 1 ½ - 2 tablespoons of sugar or date sugar. Serve the chocolate mousse with a generous dollop of whipped cream.
Notes
Serves 4-6.
*This recipe does use raw egg - children, pregnant women, the elderly, and anyone with an immune system disorder should avoid eating uncooked egg because of salmonella risk.
Related Recipes
More Recipes
Popular Ingredients