Spicy Rainbow Chopped Salad with Peanuts
Everyone loves this beautiful rainbow chopped salad made with blood oranges, crispy shallots, peanuts, and a creamy, red curry dressing. Give it a try!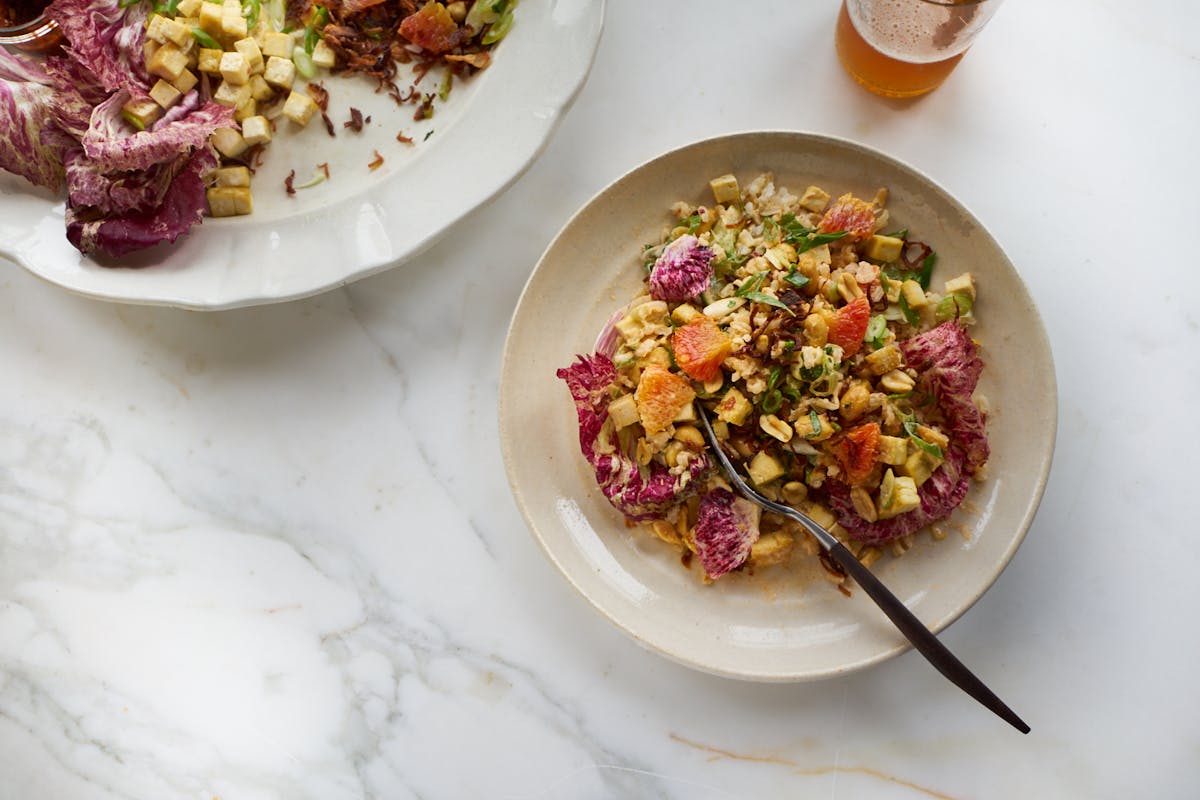 The base of this rainbow hued chopped salad is a new-to-me, homemade, red curry paste. I can't stop using it, and it was the perfect back note to this salad situation, where every bite is a flavor explosion. The curry paste went in the dressing. Once you've made the dressing, blood oranges, crispy shallots, peanuts, radicchio, herbs, brown rice, scallions, and tofu are tossed with it. I'll be honest, this isn't the most weeknight-friendly recipe (here's a link if you're looking for the easiest dinners, or quick recipes in general), but it's so good, you'll want to give it a try at some point when you aren't crunched for time.
I'm posting the red curry paste I used on its own page, it's the A.P.C.P. - All-Purpose Curry Paste from Kris Yenbamroong's Night + Market Cookbook. If you're inclined to make your own curry pastes, you're going to want to take this one for a spin. I love it, and have been using it in everything lately - curry pots, this salad, spring rolls, chopped salad, etc. Enjoy!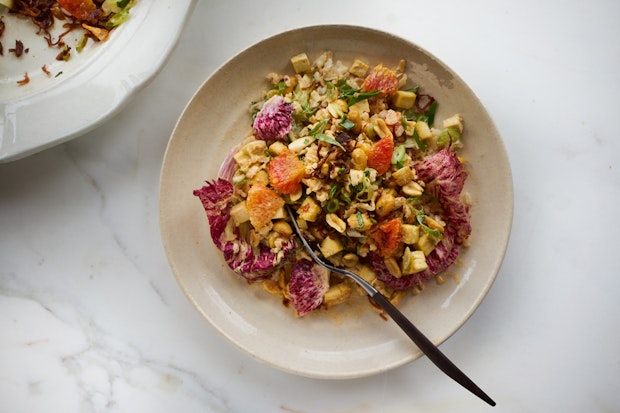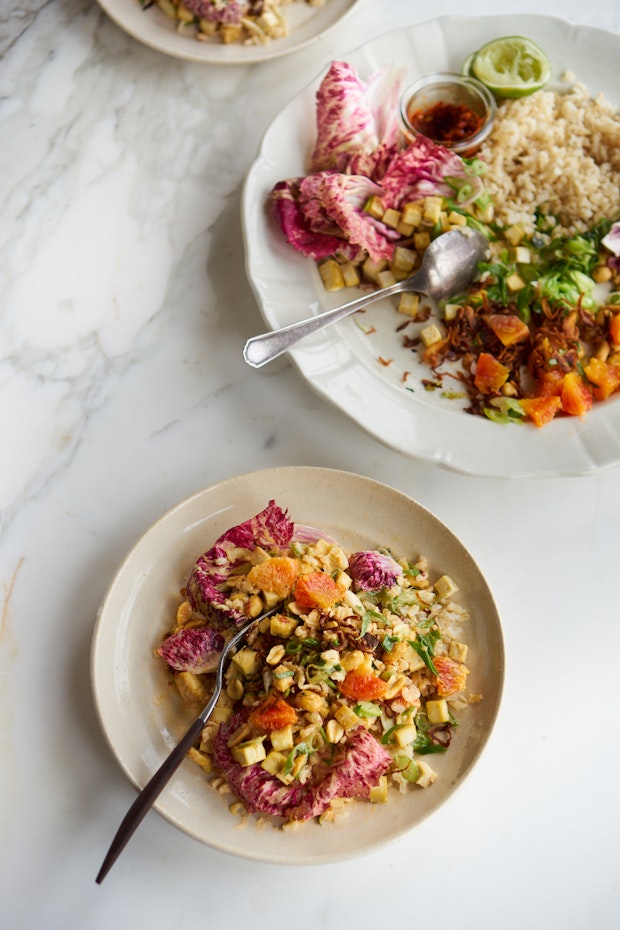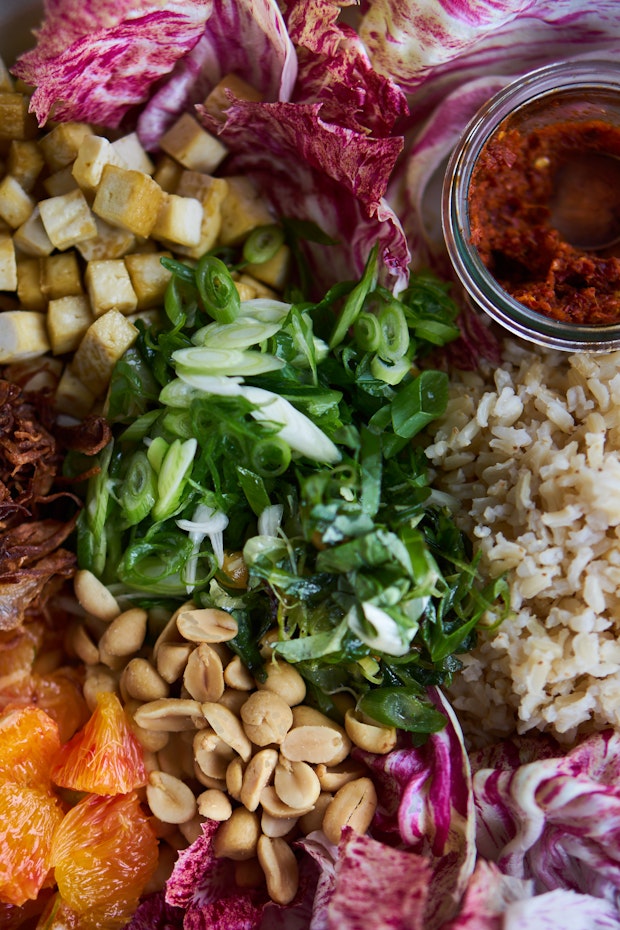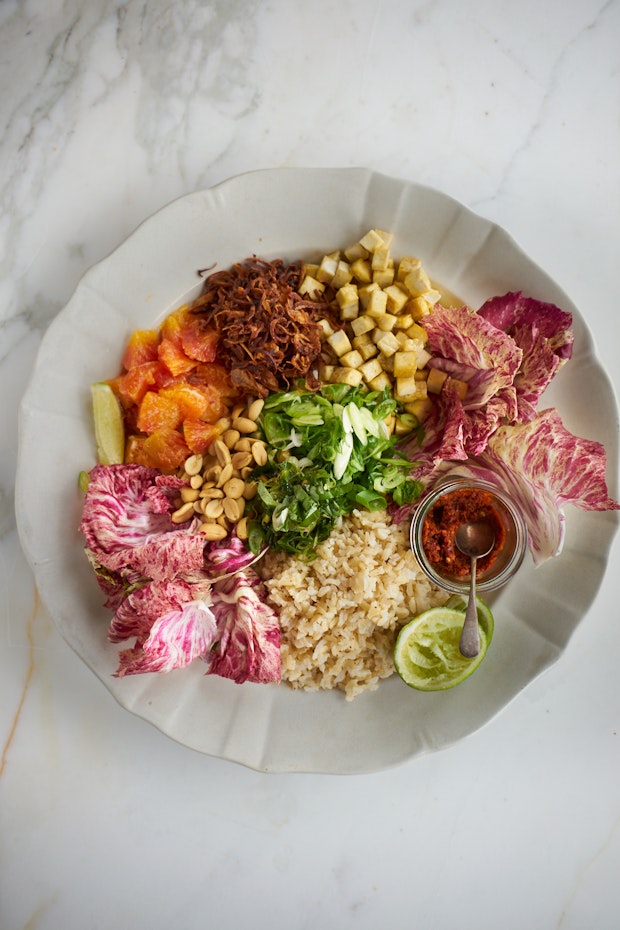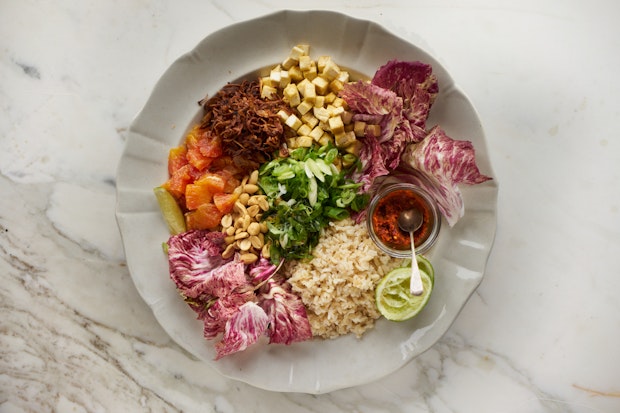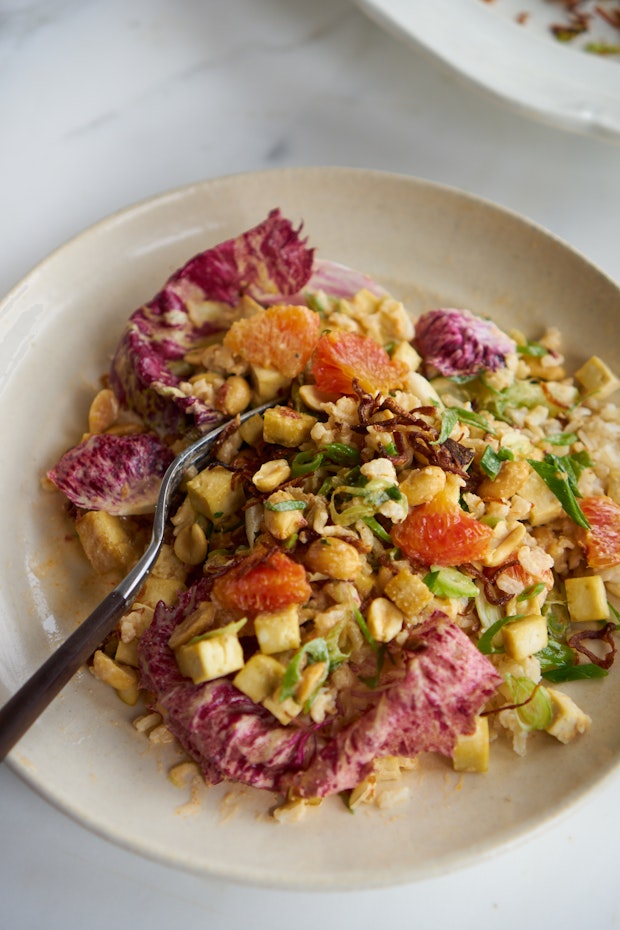 I noticed a lot of you are using the winter green miso paste and lemongrass turmeric paste from my site, & this should round out your collection!
Spicy Rainbow Chopped Salad with Peanuts
I use this homemade red curry paste mentioned above, but you can use any favorite store-bought paste as well.
Ingredients
8

ounces

firm tofu, cut into 1/2-inch cubes

extra virgin olive oil

fine grain sea salt

1

medium head of radicchio, romaine, or structured lettuce, trimmed and torn

3

cups

of brown rice, room temperature or slightly warmed

1/2

cup

peanuts

2

oranges (or blood oranges), peeled and segmented

1/2

cup

crispy, fried shallots*

1-2

big handfuls of chopped herbs (basil, cilantro, or combination)

4

scallions, thinly sliced
Creamy Red Curry Dressing:
3/4

cups

cashew milk**

1

tablespoon

red curry paste, or to taste

juice of one lime

1

teaspoon

sugar or other sweetener
Instructions
Prepare the Tofu
Toss the tofu in a bit of oil, and a sprinkling of salt, and roast until golden, 10 - 15 minutes. Alternately, you can sauté the tofu, or grill. Remove and set aside.

In the meantime, prepare the other ingredients, arranging in "neighborhoods" on a large platter (see photos), include the tofu on the platter.
Make the Red Curry Dressing
Make the dressing by combining the cashew milk, curry paste, lime juice, and sugar in a jar. Add a pinch of salt, shake well, and adjust to taste.
Serve
I like to let people make their own salad from the platter, and dress/toss on their own plate. Alternately you can dress and toss it on the main platter.
Notes
*Crispy Fried Shallots: Peel and slice shallots paper thin, a small pile of them. Transfer to a small saucepan, cover with sunflower oil by 1/4-inch, and cook over low-medium heat until the shallots are deeply golden. Remove from heat, strain the oil off into a jar, and set aside. Place the shallots on a paper towel and allow them to cool and crisp, sprinkle with a bit of salt.
**1 cup cashews/2.5 cups water - Blend in high-speed blender until silky and creamy.
Related Recipes
More Recipes
Popular Ingredients