White Bean Soup with Pesto Herb Dumplings
The perfect dinner. A hearty white bean soup topped with pillowy dollops of herb-packed pesto dumplings. Both vegan and vegetarian versions.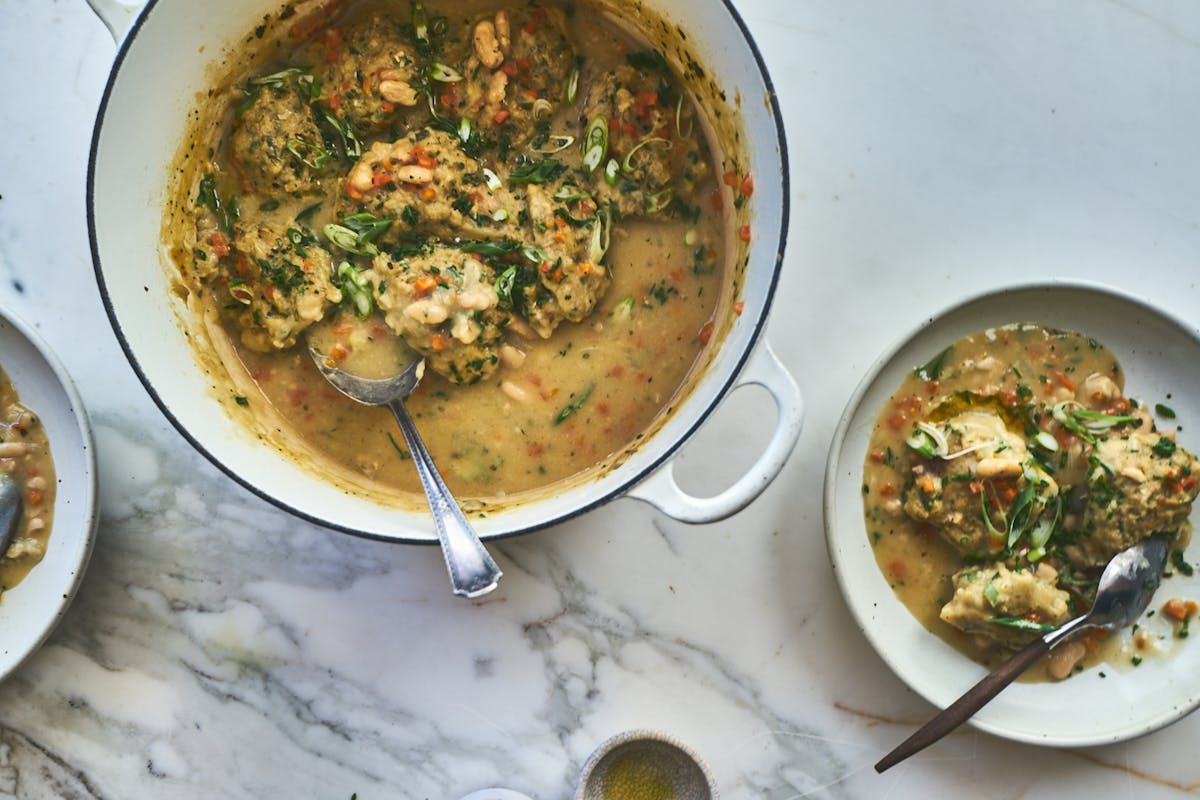 This is the sort of soup I crave when the weather turns. Hearty, substantial, and squarely in the comfort food realm. It's the simplest of bean soups, topped with plump herb-packed dumplings. I use whatever herbs I have on hand, and in this case it was dill, basil, and minced lemongrass, along with lots of scallions. Doubling down on the herb flavors, I also add a big dollop of pesto. A classic dumpling stew with a green, herby twist. Super delicious, and satisfying.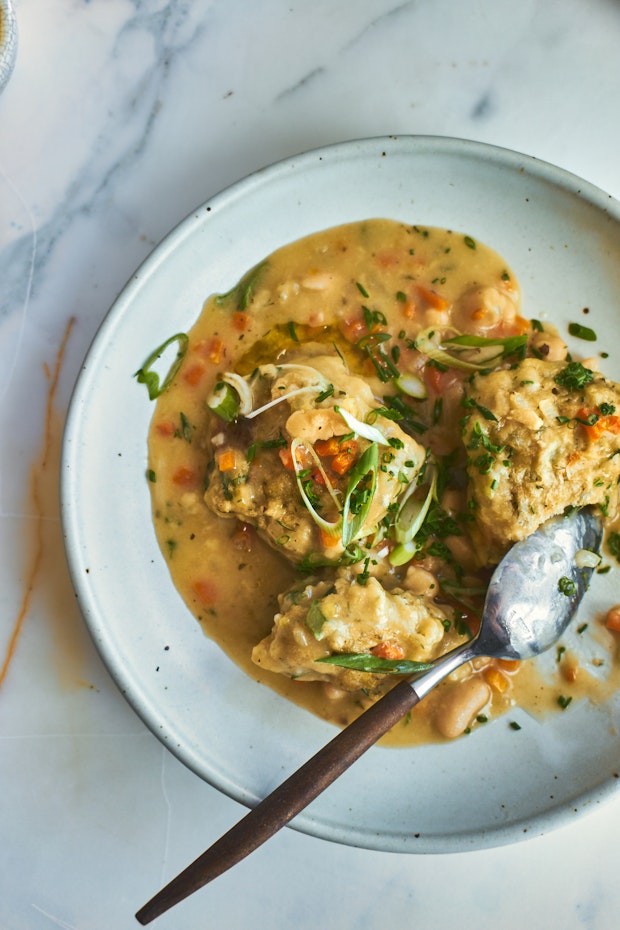 Variations
I note a number of variations in the headnotes of the recipe down below. If you don't want to go the pesto route, a mustard-spike is also delicious. Or, harissa! A couple of tablespoons of harissa paste in place of pesto takes the dumplings in a completely different directions.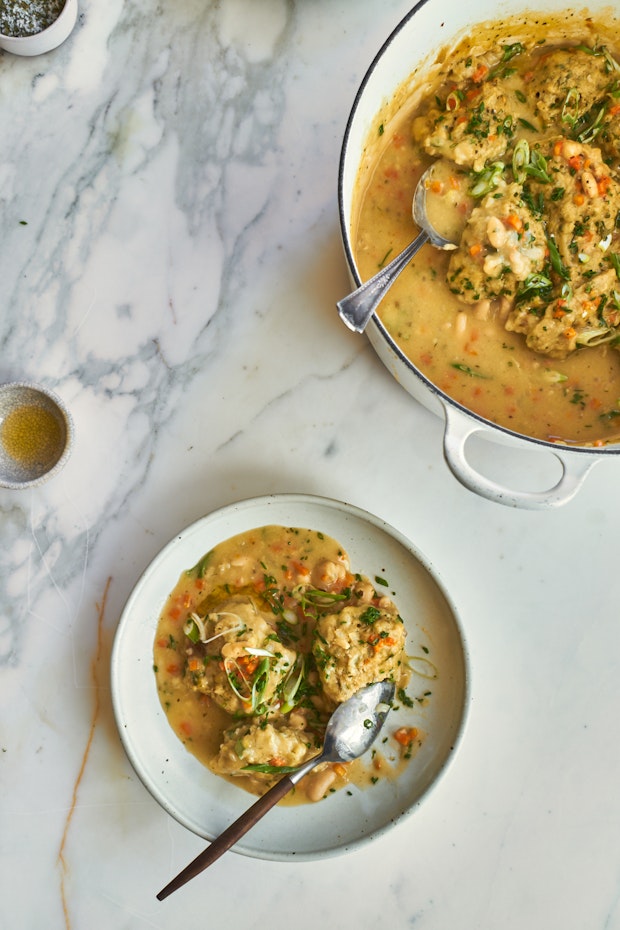 Making this soup vegan is simple. The soup is already vegan, you just need to make a couple tweaks to the dumplings. First, be sure to use nut milk in the dumpling batter, and omit the egg (adding an extra 1/4 cup of nut milk to the batter). The details are in the headnotes as well. The dumplings are a bit more dense, but still tasty. The one important detail to adhere to - don't oversize the dumplings.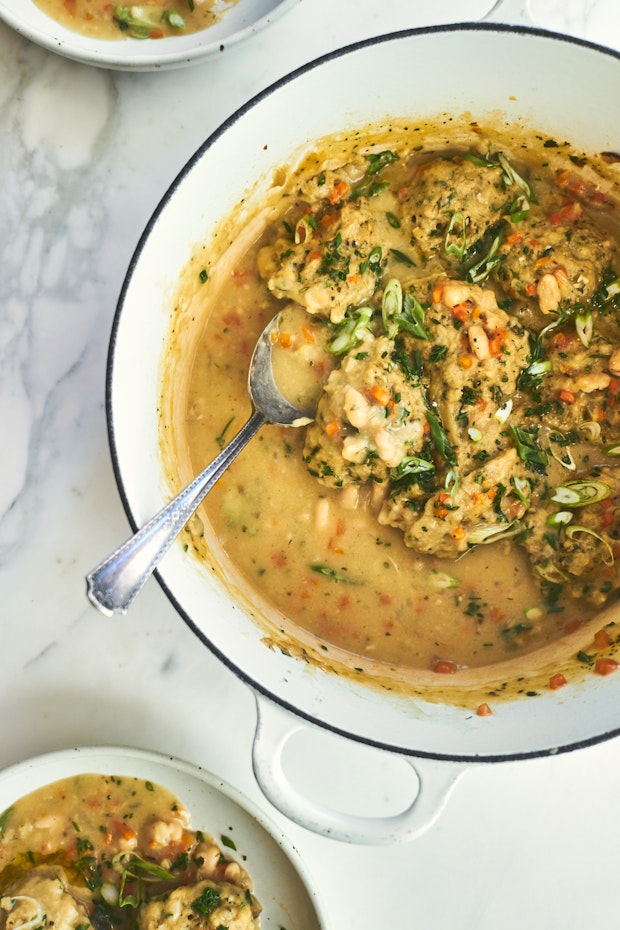 More Bean Recipes
If you're on the lookout for more ways to cook beans, here's a post with my favorite bean recipes. Be sure to check out this favorite method of how to cook beans. And don't miss the recipe for Cinnamon Chipotle Slow-Cooked Coconut Beans that I just posted. So good!
White Bean Soup with Pesto Herb Dumplings
To make this soup vegan, omit the egg in the dumpling, and bump the almond milk up to 1 1/4 cup. The dumplings won't be quite as tender, but they're still good. I also like to make this soup with a mustard accent or (!) a harissa accent in the dumplings. For this, omit the pesto, and use either 1 tablespoon Dijon-style mustard, or 2 tablespoons harissa paste.
Ingredients
White Bean Soup:
1

large onion, peeled and finely diced

2

carrots, peeled and diced

3

tablespoons

extra-virgin olive oil

1

teaspoon

caraway seeds, lightly crushed (optional)

1/2

cup

whole wheat pastry flour

5

cups

of water or vegetable broth

1

teaspoon

fine grain sea salt, or to taste

14-

ounce

can cannellini beans, drained and rinsed
Pesto Herb Dumplings:
1

cup

almond milk (or whatever milk you like)

1

egg

2

tablespoons

pesto

1

cup

chopped herbs (dill, scallions, basil, lemongrass, etc.), plus more for serving

1 1/2

cups

whole wheat pastry flour

2

teaspoons

baking powder

1/2

teaspoon

fine grain sea salt
Instructions
In a large, wide soup pot saute the onions and carrots in the olive oil over medium high heat. Cook until the vegetables are tender, 5-7 minutes. Stir in the caraway seeds, if using, and then sprinkle with the flour, stir, and allow to cook for another 2-3 minutes, allowing the flour to toast just a bit. Stir in the water, and salt, and bring to a gentle simmer, and cook until the soup thickens, 5 minutes or so. Stir in the beans. Allow to simmer gently while you make the dumplings.

In a mixing bowl, combine the almond milk, egg, and pesto, whisk well, until uniform, then add the herbs. In another mixing bowl whisk together the flour, baking powder, and salt. Pour the liquid ingredients into the dry, then stir with a large fork until just combined. Drop generous tablespoons of this dumpling mixture into the gently simmering soup. Resist the urge to make the dumplings larger than this, they will definitely blossom in size. It's fine if the dumplings are touching. Cover and cook for 7 minutes or so. Use a big spoon to flip each dumpling, and cook for another 7 minutes, or until cooked through. Serve hot, topped with more chopped herbs and scallions.
Related Recipes
More Recipes
Popular Ingredients