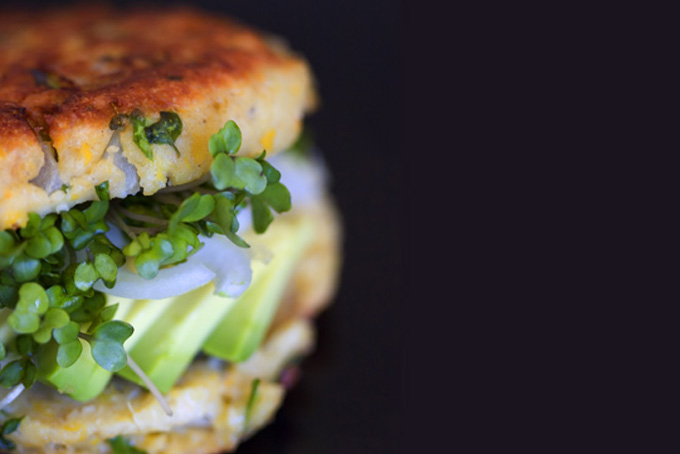 Ultimate Veggie Burger Recipe
I'm going to highlight one of my favorite recipes from Super Natural Cooking - my favorite veggie burgers. I think I cracked the code on how to make a better veggie burger, I was doing it wrong for years. When you put a bean or lentil patty on a bun, you run the risk of building a burger that is too dry and bready. The ratio is all out of whack, with not enough ooey-gooeyness to balance the bread and mashed beans. It wasn't until I sat down to write this recipe for the book that I had the revelation I needed: Turn the patty into the bun and stuff that with all sorts of good stuff. Problem solved.
As a side note, I was surprised and delighted to walk into one of my favorite stores a few days ago and come face to face with my own cookbook. My passport is due to expire in a few weeks, so I was at the UPS store getting new photos taken. Just across the street and down the block a bit is Nest. I've been shopping there for years for their fantastically eclectic glasses, plates and platters, fabrics, and all manner of pretty things. There amongst the gold-rimmed Moroccan tea glasses and French flea market finds was my book. (I'm going to try to refrain from overzealous use of exclamation points in this post - but it's hard.)
This was the first time I've seen Super Natural Cooking in public, in an actual brick-and-mortar establishment. Nest only carries a handful of cookbooks, so the idea that someone there chose mine made me love the place even more. I totally lost my cool and started gushing to the nice girl at the register about how excited I was to see it there. I promise, you would have been embarrassed for me.
So, I wanted to give you all the heads up, you might start seeing my book out and about. I'm so excited to be able to share it with you (finally)! Please let me know if you see it where you live, I'd love to know where it is being sold, so I can link to some of those shops from the site.

Filling ideas for your next round of veggie burgers:

Avocado Slices
Cipollini onions - sweet and just the right size
Sliced Roma tomatoes
A sprinkling of smoked paprika
Grilled vegetables
Ultimate Veggie Burger Recipe
These make great do-ahead meals, and you can store shaped, ready-to-cook patties in the refrigerator for a week's worth of work lunches. Sprouted garbanzos are becoming more readily available, but if you can't find them, canned or cooked garbanzos (chickpeas) will work great. Sprouting boosts their already fantastic nutritional value even more...
2 1/2 cups sprouted garbanzo beans (chickpeas) OR canned garbanzos, drained and rinsed
4 large eggs
1/2 teaspoon fine-grain sea salt
1/3 cup chopped fresh cilantro
1 onion, chopped
Grated zest of one large lemon
1 cup micro sprouts, chopped (try brocolli, onion, or alfalfa sprouts - optional)
1 cup toasted (whole-grain) bread crumbs
1 tablespoon extra-virgin olive oil (or clarified butter)
If you are using sprouted garbanzos, steam them until just tender, about 10 minutes. Most of you will be using canned beans, so jump right in and combine the garbanzos, eggs, and salt in a food processor. Puree until the mixture is the consistency of a very thick, slightly chunky hummus. Pour into a mixing bowl and stir in the cilantro, onion, zest, and sprouts. Add the breadcrumbs, stir, and let sit for a couple of minutes so the crumbs can absorb some of the moisture. At this point, you should have a moist mixture that you can easily form into twelve 1 1/2-inch-thick patties. I err on the moist side here, because it makes for a nicely textured burger. You can always add more bread crumbs a bit at a time to firm up the dough if need be. Conversely, a bit of water or more egg can be used to moisten the batter.
Heat the oil in a heavy skillet over medium low, add 4 patties, cover, and cook for 7 to 10 minutes, until the bottoms begin to brown. Turn up the heat if there is no browning after 10 minutes. Flip the patties and cook the second side for 7 minutes, or until golden. Remove from the skillet and cool on a wire rack while you cook the remaining patties. Carefully cut each patty in half, insert your favorite fillings, and enjoy immediately.
Makes 12 mini burgers.
For new recipes & inspirations
Comments