Crispy Paprika Oven Fries
Perfect homemade oven fries where the tender, evenly cooked, starchy insides of the fries contrast the crisped, pan-blistered outsides.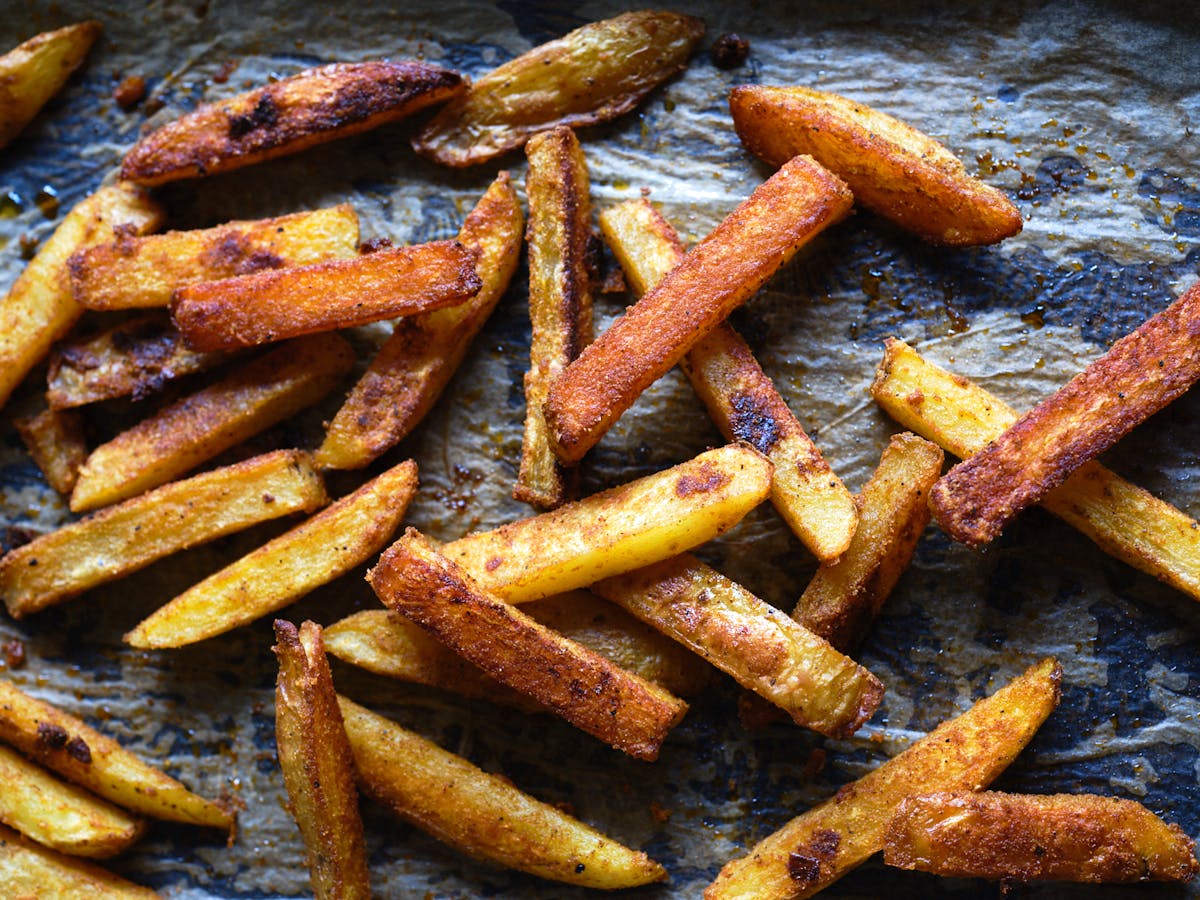 Today's post is all about oven fries. We moved a few weeks ago (just up the street), and that meant packing up my cookbook collection. It's a slow process, because I tend to flip through every book before boxing it. Some books like to fall open to a much-loved recipe or photo spread, and that was the case with NOPI (Ramael Scully & Yotam Ottolenghi). The recipe was their crispy, spicy Paprika Oven Fries. I made them for years before leaving San Francisco, and have been happily revisiting them again lately.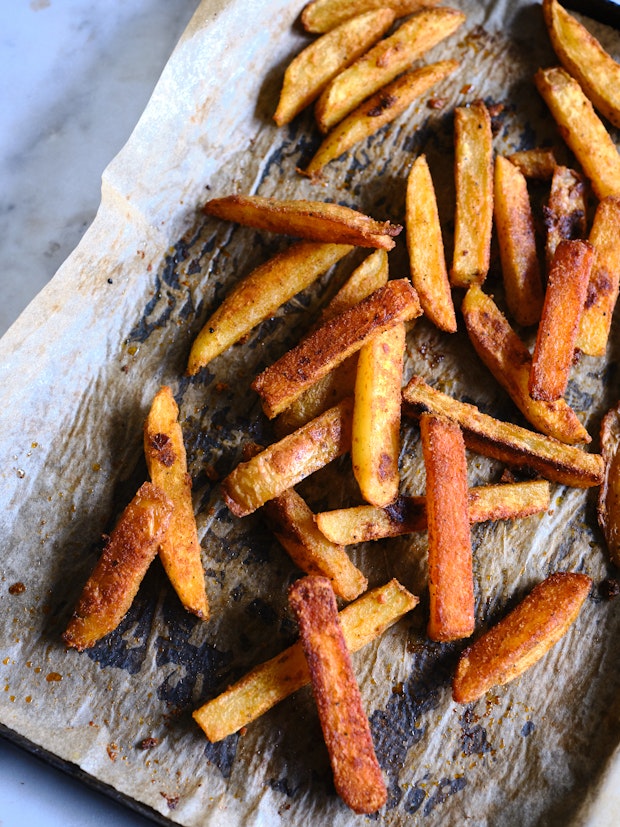 The Technique
These fries are brilliant because you get the tender, evenly cooked, starchy insides of the fries contrasting crisped, pan-blistered outsides. All without the use of a deep fryer. The trick is a quick pre-boil of the potatoes prior to seasoning, and then baking in a hot oven. I'm including the NOPI paprika seasoning method in the recipe below (slightly tweaked), but will also include a list of variations we've loved over the years, in case you want to switch it up from time to time.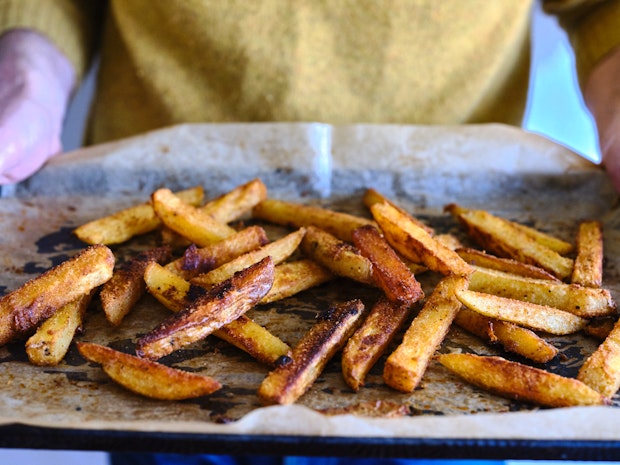 Choosing the Best Potatoes
The potato of choice here is something thin-skinned and waxy textured like Yukon Gold, or other new potato. They hold their shape and structure once cooked and are rich and creamy. That said, you can absolutely use russet potatoes if that's what you have. Your oven fries will still be so good! Be careful not to over-boil them though - start checking the potatoes about 3 minutes into the boiling step. Russets start to fall apart sooner than waxier new potatoes.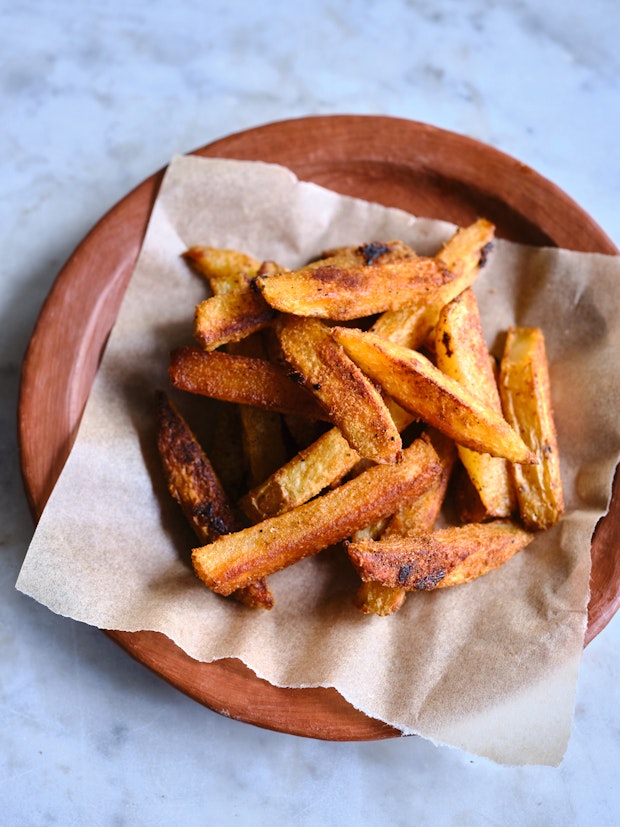 Variations on Oven Fries
- Masala Oven Fries: Swap a favorite curry powder in place of the paprikas. A teaspoon or two should be a good place to start. Or if you have the chana masala powder from the chana masala recipe, that is amazing one these fries.
- Curry Oven Fries: In place of the paprikas and garlic, use a scant tablespoon of a favorite yellow or red curry paste.
- Lemon Oven Fries: Use a lemon olive oil, and finish with lots of fresh lemon zest and grated Parmesan when the fries come out of the oven. Bonus points if you have Meyer lemons.
- Big Wedge Fries: Cut the potatoes into big wedges instead of batons and proceed with the recipe from there.
- Simple Rosemary Garlic Oven Fries: Skip the paprika, double the amount of garlic, and add a tablespoon or so of finely chopped fresh rosemary.

If you're looking for other ways to use potatoes right now. These mashed potatoes are next level, you could try making gnocchi, or just make baked potatoes and keep it simple. Or browse these potato recipes. I also love this Samosa Shepherd's Pie, and this potato salad.
Keep in touch with Scully, here and here. And keep in touch with Yotam here and here! And, more info on the NOPI cookbook.
Crispy Paprika Oven Fries
I listed off a short list of oven fries variations in the post up above. Also, the recipe calls for semolina flour, if you don't have it on hand, I've listed off a few reasonable alternatives.
Ingredients
6

large waxy-skinned potatoes, cut into 1/2-inch wide batons (~ 2 1/2 lbs.)

3

cloves

garlic, peeled, crushed, and chopped

1/2

teaspoon

smoked paprika

1

teaspoon

paprika

1/4

cup

extra-virgin olive oil

2

tsp

fine semolina, rice flour, or fine breadcrumbs

1/2

teaspoon

fine grain sea salt, plus more to taste

freshly ground pepper
Instructions
Preheat the oven to 375F.

Place a large saucepan with plenty of salted water over high heat. Bring to a boil, add the potatoes, and blanch for 5 minutes. Drain, then place in a bowl with the garlic, paprikas, olive oil, semolina, salt, and plenty of pepper. Mix gently but thoroughly, be careful not to break the potatoes.

Arrange across two parchment-lined baking sheets in a single layer. Avoid crowding the potatoes so they will color nicely. Roast for about 30-40 minutes, flipping the fries half way through, until the fries are deeply golden and crisp.
Related Recipes
More Recipes
Popular Ingredients