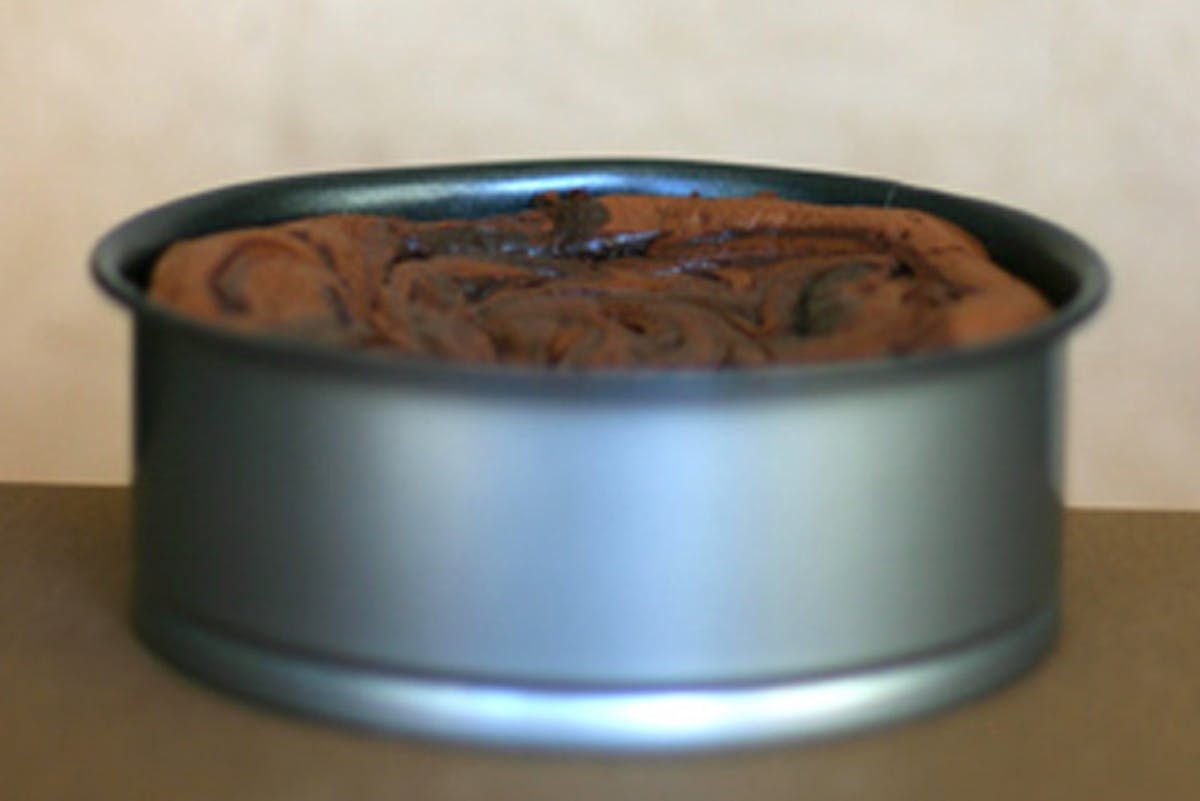 Gateau Fondant au Chocolate Recipe
I'm a believer that everybody's recipe wardrobe needs a great chocolate cake. This cake isn't your traditional, American-style, multi-layer, frosted cake. It's a flourless, fudgy, rustic, $20-worth of Scharffen Berger chocolate, chocolate cake -- with a thick ganache marbled top thrown in for good measure.
Before I get into the details surrounding the creation of this cake, let me start off by telling you about where the recipe comes from.
Pascal Rigo is a force of nature. Over the past few years Pascal has opened up bakery after bakery and restaurant after restaurant here in San Francisco's Potrero Hill, Russian Hill, and Fillmore (also on a hill) neighborhoods. He is French. He bought his own mill for grinding the organically grown wheat he uses in his establishments. He lives above one of his bakeries with his wife and, count them, three kids. And as if he didn't have enough going on last year, he decided to publish a beautiful book of his french pastry and bread recipes for the rest of us.
I tagged a handful of recipes to try from his book including a couple of the breads made from a natural bread starter (Levain Nature), there is also the Blue Cheese, Pear, and Walnut Quiche, and the Meringues a L'eau de Rose (Rosewater Meringues) -- but the bittersweet chocolate cake was up first.
It turns out this cake is a breeze to make. You have to whip up some egg whites and chop a lot of chocolate, but because there are only a handful of ingredients and no flour, you don't have all the typical sifting and measuring to do. I literally melted some chocolate and butter, added some cocoa powder and egg yolks, whipped up the whites, and I was 90% of the way there. I am also partial to this cakes rustic quality but I think many might agree that it isn't much of a looker. It gets all tall and proud while baking but then frumps down once you take it out of the oven -- the sides bow in a bit (especially if you bake the cake in a smaller pan). I think if you bake the cake in the recommended 10-inch pan the bowing in the sides is much more subtle. I don't have a 10-inch springform, so I just used a smaller one and used a bit less batter.
It is important not to overcook this cake or it will become dry on top and around the outside -- you want it to be dense and fudgy. Popular opinion here was that it would also be great with a floppy dollop of sweetened whipped cream or some fresh raspberries. For all of you Pizzetta 211 fans here in San Francisco, there is a chocolate cake very similar to this one that is a staple on their menu (as well as their counter).
It is worth buying the book just for this cake recipe. Enjoy!
In some of the early entries on this site I didn't request permission to run the recipe I was writing about from the publisher so it won't appear here. The majority of entries on 101 Cookbooks will have the recipes attached, this just happens to be one of the ones that doesn't. You can find the referral to the book it came from at the top of the post.