Roast Banana-Pumpkin Breakfast Bread Recipe
Stephan Pyles' banana bread recipe includes rum-soaked golden raisins, toasted pumpkin seeds, coconut milk, and oven-caramelized ripe bananas.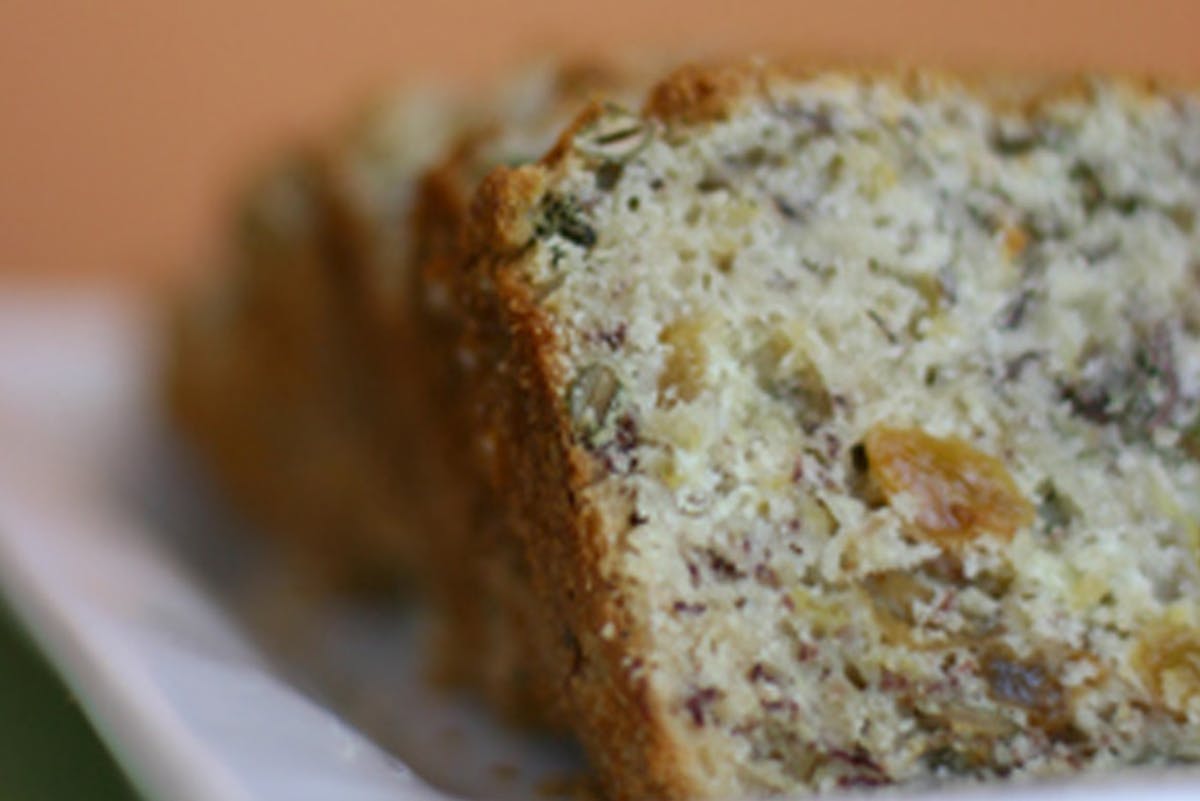 Banana bread recipes tend to come in one of a small handful of variations. Some bake it straight and smooth - no nuts, no chunks. Some bake it hearty and chunky by adding lots of walnuts or pecans or macadamias (and sometimes chocolate chips). And others bake it sweet and drunk by adding shredded coconut and sugary rum glazes. Regardless of your personal preference, anyone who bakes these types of quick breads will tell you, the key to great banana bread is to start with extra-ripe bananas. I still get a bit squeamish when people suggest letting your bananas go all the way black before starting, but I try to let them ripen as much as possible before crossing the line...and then go for it.
I've been looking forward to trying this recipe for quite a while for a couple of reasons. First, because of the ingredient list. Stephan Pyles takes a traditional approach to banana bread and turns it on its head by infusing it with his distinctive Texas/Southwest flair. This version of banana bread includes rum-soaked golden raisins, toasted pumpkin seeds, coconut milk, and oven-caramelized ripe bananas.
The second reason I picked this recipe was because Chef Pyles also tends to use one or two special techniques in each his recipes that send his flavors over the top into a realm of deliciousness you didn't think was possible (especially in your own kitchen). This usually takes the form of an extra step or two, a bit more time, or extra ingredients - but as I've cooked my way though quite a lot of the recipes in this book, I've realized the payoff is always huge -- so I roll with it. In this case he has you soak golden raisins for an hour or so in a pot of hot rum until they are plump and juicy with booze. He also has you bake your bananas in the peel for a while until they are mushy and oozing, and starting to caramelize.
Once I had all the ingredients prepped, preparing the bread batter was a breeze. This is a quick bread so there is no yeast or rising time involved. The batter came together in just a few minutes. Into the oven it goes, and an hour later out came a beautiful golden, moist loaf of delicious roasted banana bread.
I am a huge fan of this cookbook and have another of his books, New Tastes from Texas, coming in the mail with my next Amazon shipment.
Roast Banana-Pumpkin Breakfast Bread Recipe
3/4 cup golden raisins
1/2 cup Myer's dark rum
2 ripe bananas, unpeeled
2 cups cake flour
2 teaspoons baking powder
1/2 teaspoon baking soda
1/4 teaspoon salt
6 tablespoons unsalted butter, softened
2/3 cup sugar
2 large eggs
1/2 cup unsweetened coconut milk
1 teaspoon pure vanilla extract
1/2 cup toasted pumpkin seeds
Powdered sugar (optional)
Preheat the oven to 325 degrees.
In a small saucepan, combine the raisins and rum. Bring to a boil over medium heat, and let stand for 1 hour. Strain the plumped raisins and set aside; discard any remaining liquid.
Place the bananas on a cookie sheet. Bake in the oven for 12 minutes, or until the skins are black and they have started to seep. Remove from the oven , set aside, and let cool.
Sift the flour, baking powder, baking soda, and salt into a mixing bowl. Set aside. In the bowl of an electric mixer fitted with a paddle attachment, cream the butter and sugar on medium speed for about 3 minutes. Turn the machine to low and add 1 egg. Mix until completely incorporated and then add the second egg. Mix again until completely incorporated.
Meanwhile, squeeze the flesh of the bananas out of the skins and into a small mixing bowl. Add the coconut milk and vanilla and mash together. Add half of the banana mixture to the electric mixer bowl and blend thoroughly on low speed. Add half of the flour mixture and mix until combined. Add the remaining banana mixture, blend thoroughly, and add the remaining flour mixture; mix just enough to thoroughly blend the ingredients. Fold the pumpkin seeds and reserved raisins into the batter and pour it into a lightly greased 9 by 5-inch loaf pan.
Bake in the oven for 1 to 1 1/4 hours, or until a toothpick inserted in the center comes out clean. Cool on a rack, slice, and serve warm. Alternately, sprinkle with the powdered sugar and glaze briefly under a preheated broiler.
Makes 1 loaf
from Southwestern Vegetarian by Stephan Pyles - reprinted with permission