Sweet Potato Pot Pies Recipe
A recipe from my first book that was featured in the Washington post - sweet potatoes, chipotle, corn, onions, and puff pastry.
Thank you to everyone who has mailed me about the article that ran in yesterday's Washington Post. I included a scan of the article below for those of you who are interested but don't live in the area.
The write-up is an excerpt from the pot pie chapter of my book, it includes a recipe for Sweet Potato Pot Pies -- one of my favorites for this time of year (also a good vegetarian option for mixed families around the holidays). Quick, easy, and I added a little chipotle flavor to give them a bit of spicy kick.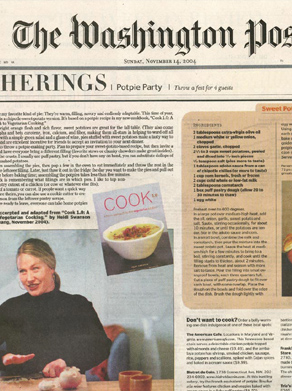 To see a full scan of the article,click here, to read a text-only version of the article online click here
If you are a pot pie fan (who isn't?) there are six other pot pie recipes in my book including a winter creamy mushroom pot pie and a spicy chili pot pie...great cold weather cooking. Also, have fun with your pies, just about any stew makes a great filling and if you don't want to use puff pastry for the tops, try using dollops of biscuit dough or scoops of mashed regular or sweet potatoes. Its really hard to mess them up. Enjoy~
Sweet Potato Pot Pie Recipe
3 tablespoons extra-virgin olive oil
1 medium white or yellow onion, chopped
3 cloves garlic, chopped
2 1/2 to 3 cups sweet potatoes, peeled and diced into 1/4-inch pieces
1/2 teaspoon salt (plus more to taste)
1 tablespoon adobo sauce from a can of chipotle chilies (or more to taste)
1 cup corn kernels, fresh or frozen
2 cups cold whole or low-fat milk
2 tablespoons cornstarch
1 box puff pastry dough (allow 20 to 30 minutes to thaw)
1 egg white
Preheat oven to 400 degrees.
In a large pot over medium-high heat, add the oil, onion, garlic, sweet potato and salt. Saute, stirring occasionally, for about 10 minutes, or until the potatoes are tender. Stir in the adobo sauce and corn.
In a small bowl, combine the milk and cornstarch, then pour the mixture into the sweet potato pot. Leave the heat at medium-high for a few minutes to bring to a boil, stirring constantly, and cook until the filling starts to thicken, about 2 minutes. Remove from heat and season with more salt to taste. Pour the filling into small ovenproof bowls, each three quarters full.
Cut a piece of puff pastry dough to fit over each bowl, with some overlap. Place the dough on the bowls and fold over the edge of the dish. Brush the dough lightly with egg white (this creates a golden crust).
Using a fork, poke a few holes in the top of each pie to allow steam to escape, and bake until the crusts are tall and deeply golden, about 15 minutes. Tip: Bake the potpies on a baking sheet lined with foil in case some of the filling bubbles over.
Serves 4 as a main course.