Sunshine Pad Thai (Vegetarian)
The pad thai recipe you're looking for! Try this simple trick to make a turmeric noodle version.
Pad Thai is nearly always a crowd-pleaser. It's the sort of food that's good, even when it's not the best. I mean, everyone loves a noodle-based stir-fry. Also, all the gluten-free people can get on board, because, rice noodles. Today's pad Thai recipe is the riff I've been making lately - combining a Thai heart and a California spirit. Hot water is traditionally used to soften the rice noodles. I boost that water with lots of turmeric and the noodles drink it up until they glow a hot yellow. Also, this typically ends up being a one-dish meal for us, and I can't help but add a significant green component. Enter broccolini.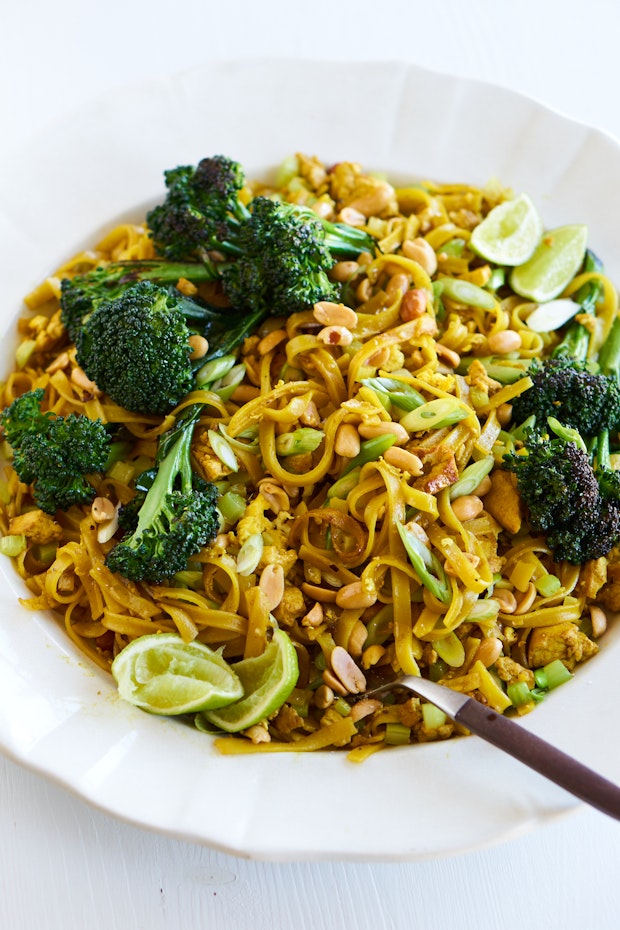 The Pad Thai Set Up
Like any other stir fry, you want to have all your ingredients prepped, and your noodles soaked before you fire up the burner. Once you start cooking, things go down fast. For this recipe I have you cook the broccolini first, remove it from the pan, and then proceed with the recipe. One pan meal.
The other wild card here is in relation to the bean sprouts. Sometimes, none of the stores within walking distance of my house have them, or they are sad looking. I substitute dice celery, which I actually love - lots of crunch and flavor! Hope you enjoy!
Variations
A number of you have left tweak and variations in the comments that I wanted to highlight. Shanti noted, "I used normal broccoli and also threw in peppers and carrots I had lying around for extra crunch." Similarly, Christine says, "we used regular broccoli instead of broccolini – next time I will use even more. I also used both celery AND sprouts to up the veggie content." Jen is a cook after my own heart (using what she had on hand) saying, "Made this with what I had – broccoli, cashews for peanuts, no green onion or bean sprouts/celery – and brown rice noodles. Still delicious!"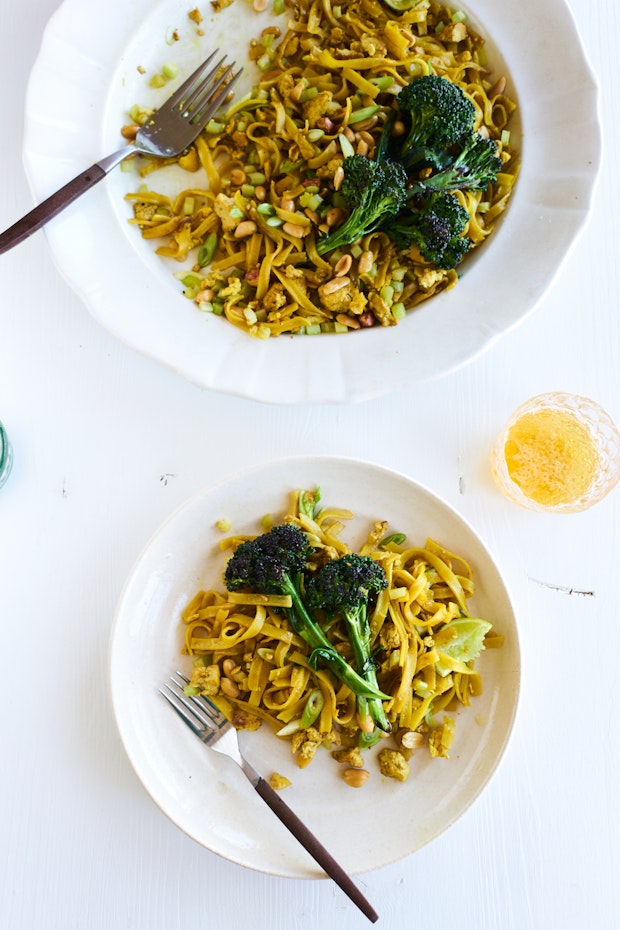 For you turmeric lovers, you can also browse these turmeric recipes. This pad thai recipe is one of my favorite ways to incorporate the super spice, but you'll find lots of other ideas as well. Enjoy!
Sunshine Pad Thai (Vegetarian)
Rice noodles come in varying thicknesses - I like to opt for the wide ones - 1/4-inch. As far as sugar goes, you can use brown, palm, or coconut sugar here. Or, granulated sugar. To go the extra step and make this vegan, simply leave out the egg - still really delicious! Keeping things gluten-free? Look for tamari or soy sauce labeled gluten-free.
Ingredients
6

ounces

dried rice noodles

1 1/2

tablespoons

dried turmeric powder

3

tablespoons

white vinegar

3

tablespoons

sugar

2

tablespoons

vegetarian "fish" sauce or soy sauce

2

tablespoons

sunflower oil

1

bunch of broccolini,

trimmed

6

ounces

extra-firm tofu,

crumbled

1

egg

3/4

cup

bean sprouts or diced celery

1/3

cup

roasted peanuts

3

green onions,

thinly sliced

2

limes,

cut into wedges
Instructions
Fill a large bowl with boiling water, stir in the turmeric, and the noodles. Use a fork to swish them around a bit, and soak until the noodles are pliable and bendy - 5 to 10 minutes. Drain and set aside.

In the meantime, whisk together the vinegar, sugar, and soy sauce in a small bowl.

Just before you're ready to eat, heat the oil in a wok or large skillet over high heat. Stir in the broccoli, cover, and allow to cook for a few minutes, until the broccolini is bright green, but still al dente. Remove it from the pan, and set aside. Next, add the tofu to the pan, and cook until it begins to brown, a couple of minutes. Add the noodles, and the sauce, and stir constantly until the noodles absorb the sauce - a minute or so.

Push the noodles to the side, add the egg, whisk and break it up with the spatula, and allow it to set a bit, 10 or 20 seconds. Break it up, and toss the egg with the noodles. Add the bean sprouts, peanuts, and scallions. Transfer to a large platter and serve topped with the broccolini, and lime wedges.
Notes
The pad thai recipe I've enjoyed most in recent years is from Kris Yenbamroong's Night + Market Cookbook, and my recipe uses his as a jumping off point. This book has been one of my favorites to cook from over the past few months, and I love that he doesn't leave home cooks in the dust. For example, he tells us it's cool to use white vinegar and sugar in place of (harder to source), palm sugar and white vinegar. And that's what you see here.
Related Recipes
More Recipes
Popular Ingredients