Ultimate Chickpea Noodle Soup Recipe
The ultimate noodle soup recipe - imagine garbanzo beans bobbing about in a rich broth with thick ribbons of pasta noodles weaving in between them, droplets of olive oil suspended on the surface of the broth, and the whole thing punctuated with crisped fresh pasta that had been fried in olive oil.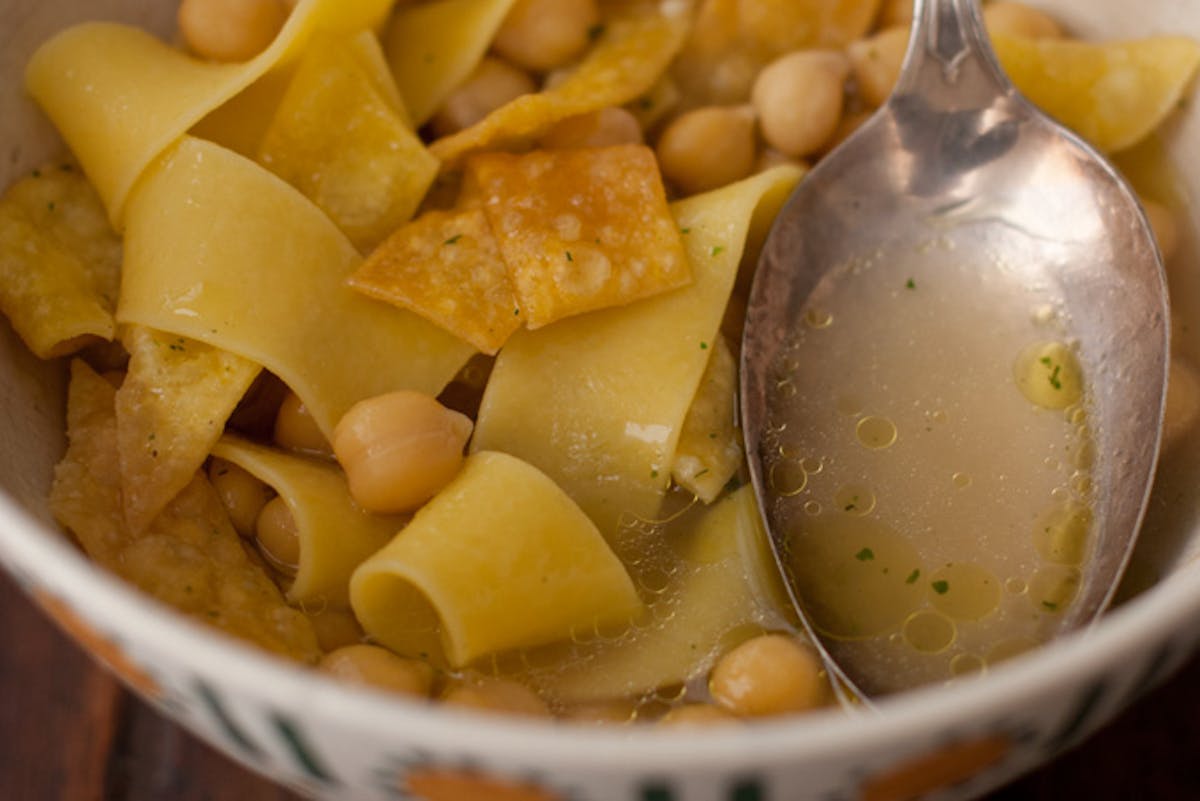 This is my current favorite noodle soup recipe. Last month on my trip to Puglia, Italy I encountered various dishes that combined the following ingredients: pasta, garbanzo beans, local olive oil, and broth. Some appeared to be braised and served in just a few splashes of concentrated broth, others were bonafide ladle-worthy soups.
There was one that really stuck out. Imagine garbanzo beans bobbing about in a rich chicken broth with thick ribbons of pasta noodles weaving in between them, droplets of olive oil suspended on the surface of the broth, and the whole thing punctuated with crisped fresh pasta that had been fried in olive oil. Someone said to me, "this is like an Italian version of tortilla soup." Indeed. I believe it was Waldy Malouf who made it as part of one of our amazing lunches at the Oldways Conference.
For the vegetarian readers who are wondering why I'm writing about chicken soup, or the new readers who might not be aware - I'm vegetarian. That being said, very rarely -in a situation like this where I am really trying to understand aspects of a regionally-specific, traditional cuisine, I'll taste a certain dish to educate my palette. Hope that makes some sort of sense. You won't find me eating beef cheeks, but when I encounter something like this (something that isn't inherently meat-centric - like say, steak tartare) I want to understand all the dynamics at play because it can inspire new creations using the palette of ingredients I gravitate to when cooking in my own kitchen (vegetarian, lots of whole ingredients, etc). For perspective, I'll also mention this has happened two, maybe three times in recent years.
So, here's my version of the soup I enjoyed so much in Puglia, I look forward to slurping it up on cold nights in my own kitchen all winter.
For those of you interested in reading about the food of Puglia in more detail there is a nice feature by Dan Hofstadter in Gourmet this month (January 2007).
Ultimate Chickpea Noodle Soup
I found petite dried ceci beans at a local Italian shop to use in this soup, but standard-sized beans work beautifully as well. I used a bit of vegetable bouillon to create a quick broth - the Rapunzel brand (regular with herbs) is a favorite. Soak your beans overnight or at the very least for a few hours before cooking the soup - in a pinch you could conceivably get away with using canned beans.
4 cups water or a mild vegetable stock
2 cups pre-soaked ceci beans (also known as chickpeas or garbanzo beans)
6 ounces fresh or dried pappardelle

1/3 cup extra virgin olive oil
sea salt
Bring the stock and ceci beans to a simmer and cook until the beans are cooked through. Taste and season with salt - you will need more or less depending on how salty your stock (bouillon) is. I wanted my broth to have a bit more body so I scooped out a small handful of cooked beans (20 or so), pureed them with a hand blender, and added them back into the pot -an optional step and not necessary if you opt for a homemade chicken stock which tends to have more body (from the gelatin in the bones)...this was my vegetarian work-around.
While the beans are cooking, boil the pappardelle in well-salted water. Drain and set aside 1/3 of the cooked noodles, you are going to fry these. Also, hang on to a cup (or two) of the pasta water in case you need a bit more liquid for your soup.
Heat the olive oil in a large, heavy skillet. Add the reserved noodles and fry them up until they are nice and crispy, don't let the oil get overly hot, it should be nicely fragrant and able to do its crisping job. Just remember, you are going to use it later in the recipe, so you don't want it to get to its smoking point.
Add the boiled-not-fried noodles into the bean pot and taste for seasoning, salt if needed (add in the reserved pasta water here if you want a bit more broth, but I like this soup light on the liquid). Spoon about 3 tablespoons of the olive oil from the skillet into the soup and serve with a generous sprinkling of the fried noodles mixed in at the last minute. A drizzle of your favorite table olive oil is a great way to finish the soup.
Serves 4.