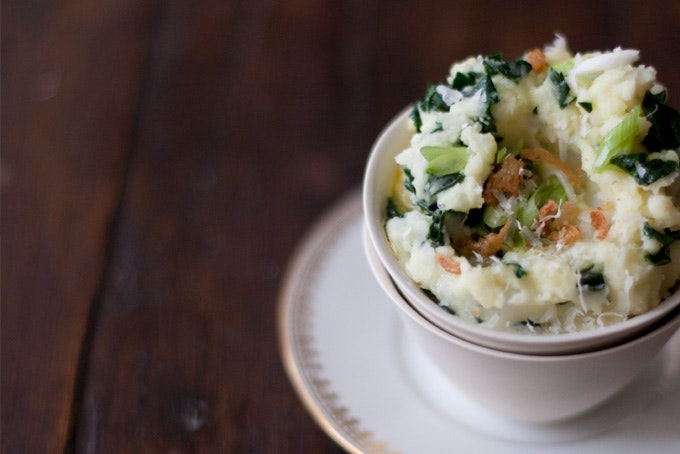 Kale and Olive Oil Mashed Potatoes Recipe
Meet my new favorite mashed potato recipe - creamy mashed potatoes flecked with finely chopped greens and garlic. Adding a green like kale is a great way to add color and nutritional umph to America's favorite starch-packed side dish. Good luck passing this one off on the kids, at that age I liked my mashed potatoes just-so and this meant free of lumps, skins, and most importantly, anything remotely green. Let's hope your kids are more adventurous eaters than I was.
The inspiration for this recipe comes from The Oldways Table, a cookbook that has been sitting on my desk since it came out late last year. It's a fantastic collection of recipes highlighting healthy eating where it intersects traditional foodways. You end up with a book full of recipes contributed by food writers like Paula Wolfert, Molly Stevens, and Lidia Bastianich alongside dozens of essays by influencers like Deborah Madison, Bill Niman, Zarela Martinez, and Oldways principals Dun Gifford and Sara Baer-Sinnott.
Today's mashed potato recipe was contributed by Steve Petusevsky - I made a few minor tweaks, but the version below is similar in spirit to what you'll find in the book.
I brainstormed a few other directions you could take this recipe.
Use mashed white beans in place of the mashed potatoes.
Add stock until you have a potato soup with kale.
Add some sauteed or baked mushrooms (chopped) and use as an empanada filling.
Kale and Olive Oil Mashed Potato Recipe
For this recipe, be sure to wash the kale well (or spinach, or chard) - dirt and grit hides in the leaves. I don't like floppy leafiness in my potatoes, so I chop the kale quite finely. If you stir the kale in too much it can lend a slight green cast to your potatoes, so i just barely stir it in right before serving. Also, on the potato front - feel free to use unpeeled potatoes if you like something a bit more rustic (and nutritious). I picked up some yellow-fleshed German Butterball potatoes at the market last week and they added the visual illusion that the mashed potatoes were packed with butter. Didn't miss the real thing a bit.
3 pounds potatoes, peeled and cut into large chunks
sea salt
4 tablespoons extra virgin olive oil
4 cloves garlic, minced
1 bunch kale, large stems stripped and discarded, leaves chopped
1/2+ cup warm milk or cream
freshly ground black pepper
5 scallions, white and tender green parts, chopped
1/4 cup freshly grated Parmesan, for garnish (opt)
fried shallots, for garnish (optional)
Put the potatoes in a large pot and cover with water. Add a pinch of salt. Bring the water to a boil and continue boiling for 20 minutes, or until the potatoes are tender.
Heat two tablespoons of olive oil in a large pan or skillet over medium-high heat. Add the garlic, chopped kale, a big pinch of salt, and saute just until tender - about a minute. Set aside.
Mash the potatoes with a potato masher or fork. Slowly stir in the milk a few big splashes at a time. You are after a thick, creamy texture, so if your potatoes are on the dry side keep adding milk until the texture is right. Season with salt and pepper.
Dump the kale on top of the potatoes and give a quick stir. Transfer to a serving bowl, make a well in the center of the potatoes and pour the remaining olive oil. Sprinkle with the scallions, Parmesan cheese, and shallots.
Serves 6.