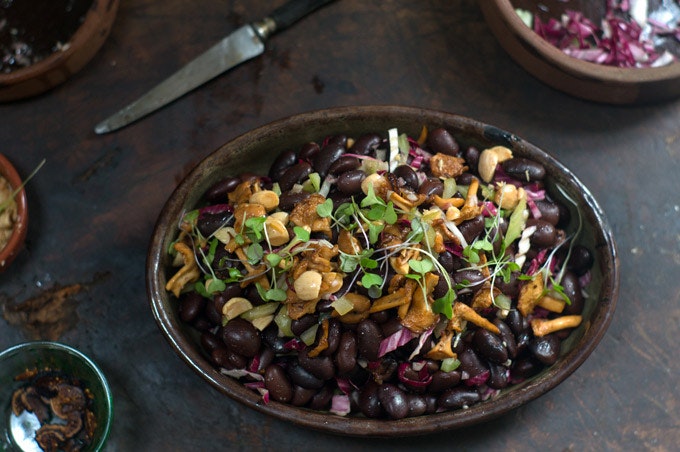 Ayocote Bean & Mushroom Salad Recipe
Steve Sando of Rancho Gordo writes one of my favorite newsletters. For those of you who don't know Steve, you've likely encountered his beautiful heirloom beans, they're celebrated by some of the country's best chefs, and fanatically embraced by just about every great cook I know. If not, you're in for a treat. Cooking my way through Steve's beans over the years has been a grand culinary adventure - one I hope to continue for many more years - and I like to look to the Rancho Gordo newsletter for ideas. I always find myself wishing other businesses would take inspiration from newsletters like this one. Here's why. It comes from Steve, Steve started the business. He's knowledgable, passionate, enthusiastic, and continually evolving and learning as an individual. All of this comes through in the first-person letters he sends. The mix of content is also part of the magic - a cocktail of good stories, humor, cooking insights, and detailed information about whatever product he is highlighting. You might get a glimpse of some travel, and always a selection of bang-on recipes. Because he interacts regularly with chefs and great cooks who share their insights and ideas, Steve passes on the gems to the reader. Most important, I always get the feeling that I received the email because he had something worth sharing, not because he felt like he had to send out a newsletter.
In addition to the Rancho Gordo newsletter, I'll also mention the Aesop newsletter, which I enjoy for entirely different reasons, here's a link to the archives (although I think I'm now signed up for all their marketing emails which I don't love). And I love the notes from Marta & Robert at cookbook in Echo Park, Los Angeles where each email opens with a piece of poetry, and a glimpse of what they're cooking for the store. With my in-box constantly at capacity, these are always welcome additions. And there is always room for a few others, so let me know if there is a newsletter you love. I'm game.
Back to the heirloom beans - I made this wintery bean salad with gorgeous Rancho Gordo ayocote negro beans, and pan-fried hedgehog mushrooms. You get some crunch from toasted almonds, and sweetness from dried figs which works nicely to offset the acid in the shallot vinaigrette. There's also some shredded kale involved. It's a good lunch salad, and you can make a good portion of it in advance.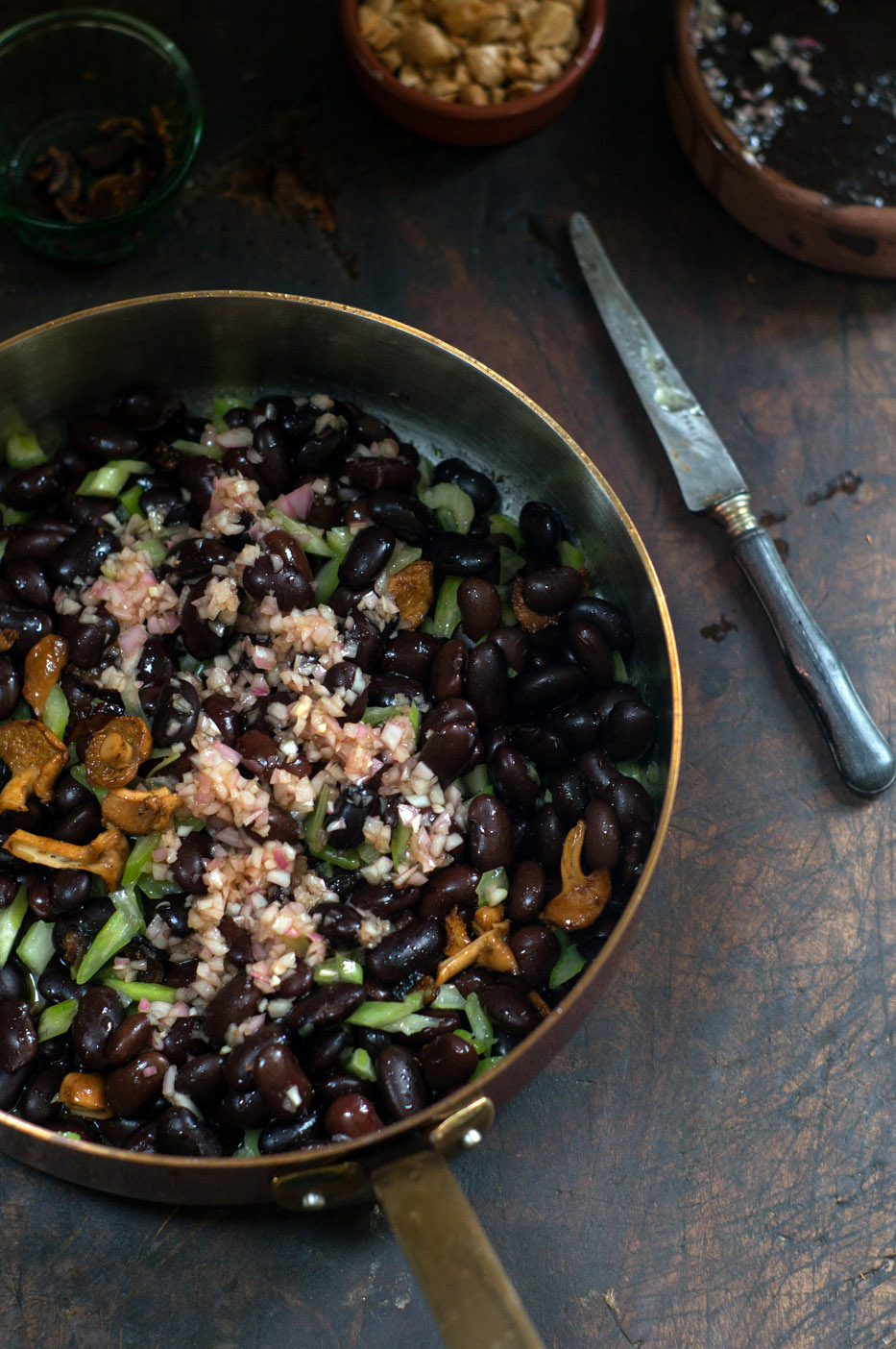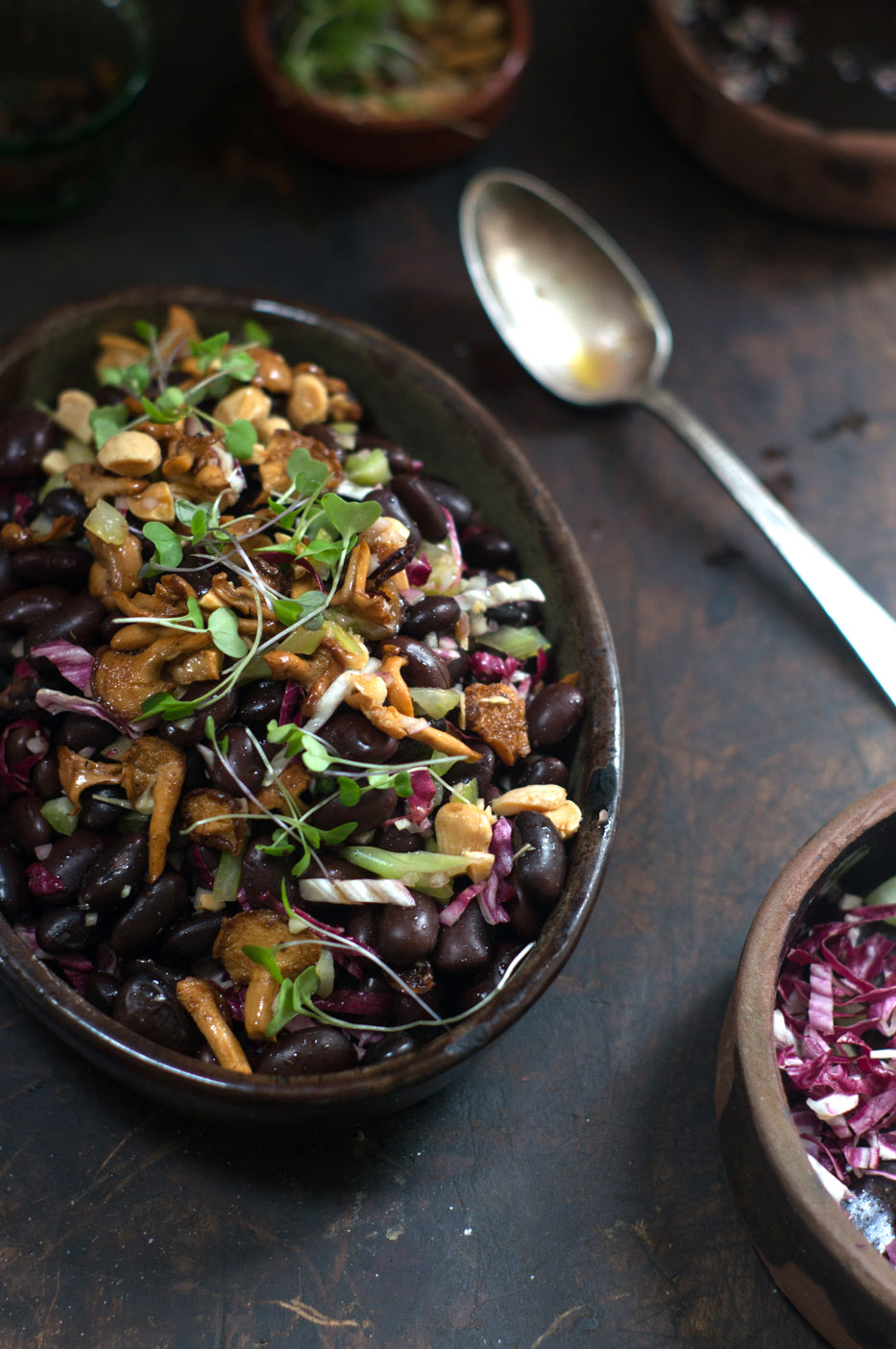 Ayocote Bean & Mushroom Salad
I use Rancho Gordo Ayocote Negro beans here, but you can substitute another black bean if you like. If you use canned beans, make sure they're well rinsed. Also, I use dried figs here, but other dried fruit such as apricots, pluots, or persimmons will work equally well.
shallot vinaigrette
1/3 cup minced shallots
1/3 cup red wine vinegar
1/4 teaspoon fine grain sea salt
4 tablespoons extra virgin olive oil

3 tablespoons extra virgin olive oil
1/2 pound sliced mushrooms
1/4 teaspoon fine grain sea salt
4 cups cooked black beans
3 celery stalks, chopped
1/3 cup sliced dried figs
1/3 cup chopped toasted almonds

1 big handful of shredded radicchio and/or kale
micro greens or chopped chives to finish
Combine the shallots with the red wine vinegar in a small bowl. Allow to sit for ten minutes or so. Whisk in the salt, and olive oil. Taste and adjust if needed. If your vinaigrette is too harsh, add a small amount of honey or a sprinkling of sugar to take the edge off.
In the meantime, heat the olive oil in a large skillet over medium-high heat. Add the mushrooms, and salt, and cook, stirring a few times along the way, until the mushrooms take on color and release their water. About 4 minutes. Remove from heat, and gently fold the beans, celery, figs, and almonds into the skillet with the mushrooms. Pour the shallot vinaigrette over everything, add the shredded radicchio/kale, and toss before serving.
Serves 4-6.