Mung Bean Yoga Bowl
The kind of power bowl that keeps you strong - herb-packed yogurt dolloped over a hearty bowl of mung beans and quinoa, finished with toasted nuts and a simple paprika oil.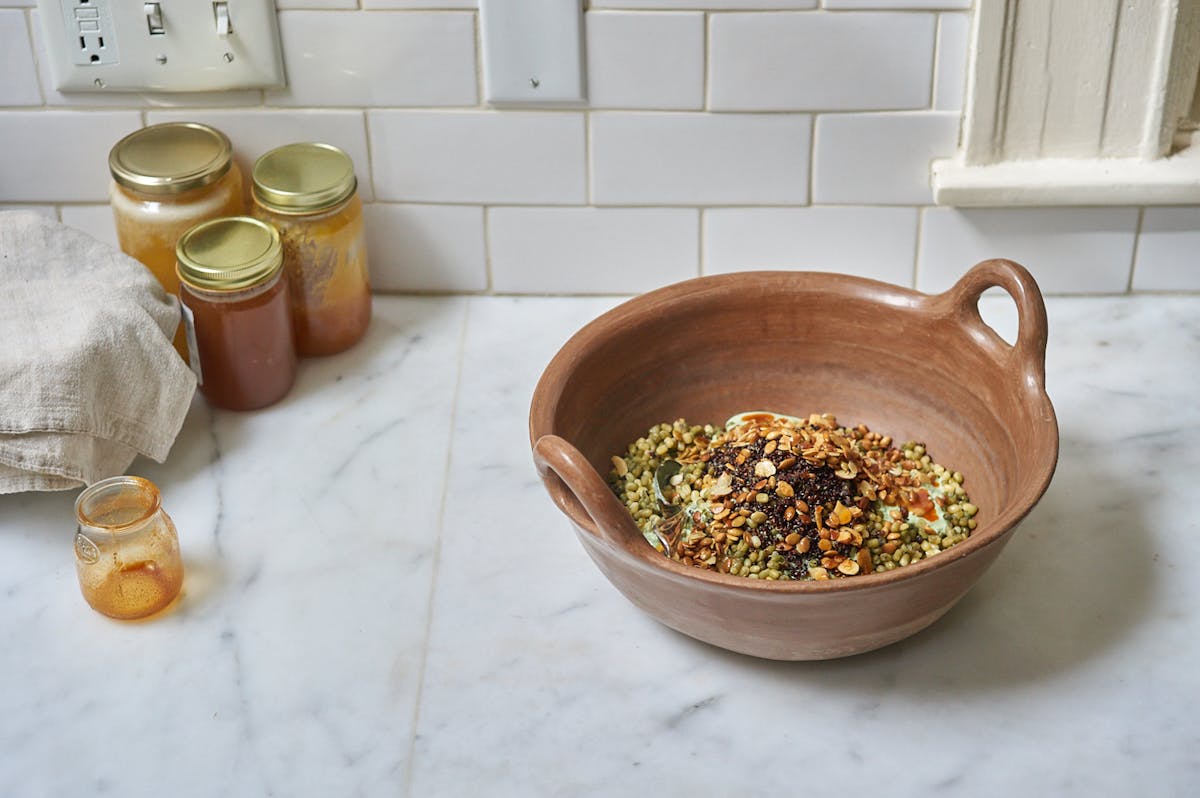 I thought I'd show you how I take a favorite component of a recent recipe, make a minor tweak, and turn it into something completely different. Do you remember the herb-packed coconut milk from this green curry porridge? Well, it's good. Good in its own right. And if you have some on hand, it's a nice jumping off point for a meal. It has a luxe, cilantro-ginger creaminess that makes for a brilliant component in dressings, drizzles, and sandwich spreads. Add some eggs and you have an easy tart filling.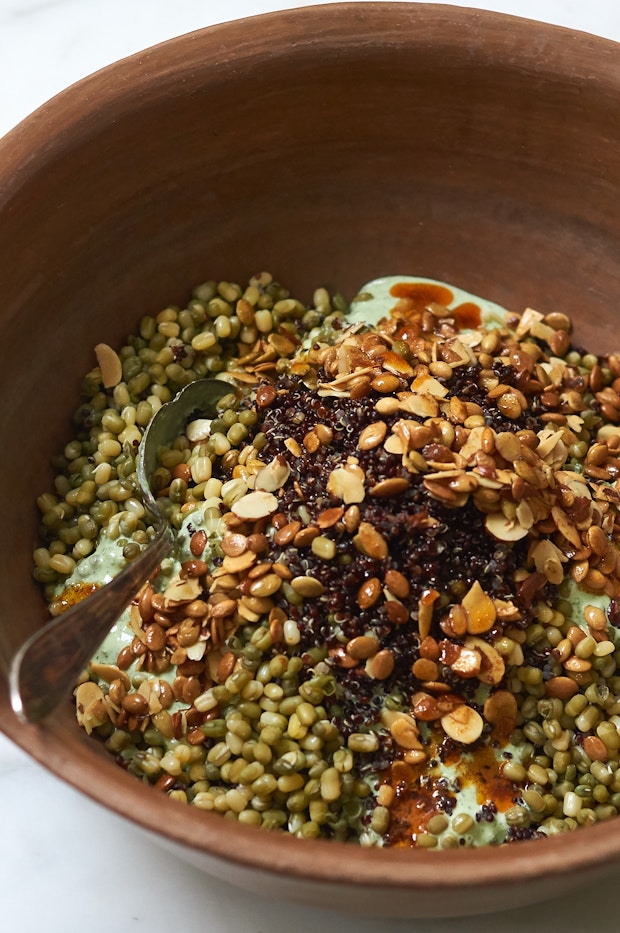 For today's recipe I made a version with yogurt in place of the coconut milk, and it did not disappoint. Lobbing dollops over a simple bowl of mung beans and quinoa made for the sort of easy, nutritious lunch I aim for. Some toasted nuts and a drizzle of paprika oil bring a bit of flair and textural contrast. It'll keep you strong for whatever you afternoon has in store - yoga class, a bike ride, work meetings, or whatever.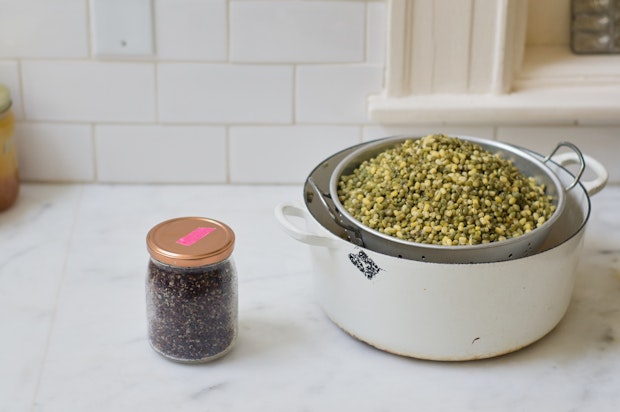 This is the sort of thing that you can pack in layers in a wide-mouthed mason jar as a portable lunch or picnic go-to. It's good at room temperature and doesn't require much fuss at all once you have the components prepared. And really, don't get too hung up on the base ingredients - like I mentioned, I used mung beans and black quinoa, but if you have lentils and/or brown rice on hand, you're set. Try to work in a substantial protein component though like some sort of bean or lentil. It'll keep you strong and less hungry compared to, say, a rice-only version. xo Enjoy! -h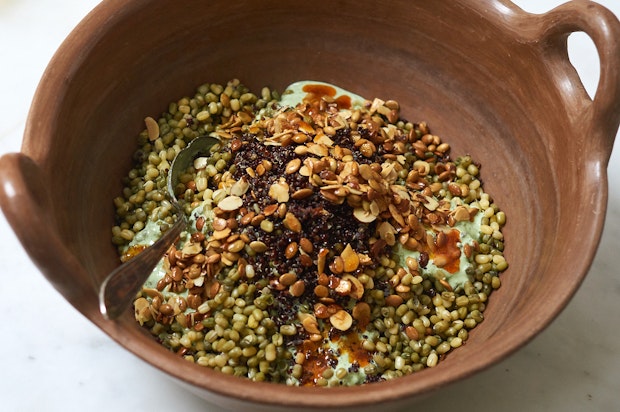 More lunch ideas:
Mung Bean Yoga Bowl
To cook mung beans, cover with a couple inches of water, cook until tender, drain and season with salt.
Ingredients
1

cup

Greek yogurt

1/2

tablespoon

minced ginger

1/2

small serrano chile, seeded

1/2

cup

cilantro, plus more for serving

1/4

cup

green onion tops

1/2

cup

spinach

scant 1 teaspoon fine grain sea salt

5-6

cups

cooked mung beans

1

cup

cooked quinoa

1/3

cup

toasted almonds and/or pepitas

3

tablespoons

warmed olive oil

1 1/2

teaspoons

smoked paprika

lots of freshly squeezed lime juice
Instructions
Combine the yogurt, ginger, chile, cilantro, green onion tops, spinach, and salt in a blender. Alternately, you can use a hand blender here. Blend until smooth, taste and adjust, if needed.

Just before serving, combine the mung beans, and quinoa in a large bowl, and sprinkle with the nuts. Dollop generously with the yogurt, and then whisk together the warmed olive oil and paprika. Drizzle this across the bowl. Finish with a good amount of lime juice, and mort salt, if needed. The lime juice really pulls this whole bowl together, so do your best not to skimp.
Related Recipes
More Recipes
Popular Ingredients