Bar Tartine Cauliflower Salad Recipe
A beautiful cauliflower salad from the new Bar Tartine cookbook - a crunchy, hearty mixture of cauliflower, seeds, chiles, radishes, chickpeas, and green onions slathered in an enveloping garlicky yogurt dressing.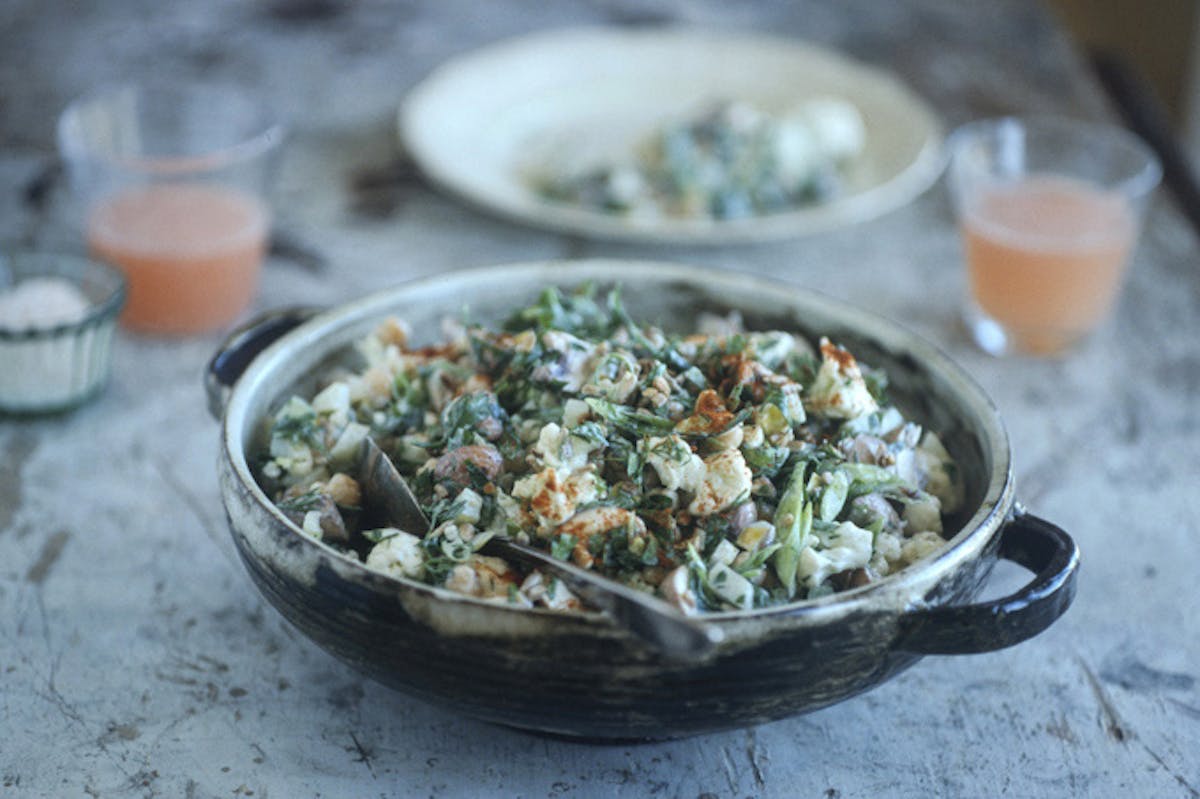 I'm not much of a menu collector, although I have a small stack of gems in one of my desk drawers. A good number of them are menus from past meals at Bar Tartine. For those of you who have yet to visit San Francisco, Bar Tartine is a much loved establishment in the heart of San Francisco's Mission district, just a couple of blocks from the (deservedly famous) namesake bakery. After Tartine, Chad Robertson and Liz Prueitt opened Bar Tartine - nearly ten years ago - and chefs Nick Balla and Cortney Burns have been at the helm since 2011. It's the place Wayne and I like to go to celebrate a birthday, or walk to on a sunny day for brunch, or just sit for a drink and a couple of little plates. That said, there are a lot of great places to eat in San Francisco, and when I think about why I appreciate Bar Tartine as much as I do, it's not because I love the scale of the space, the nice staff, the old floors, or the hand-thrown plates and drinking vessels - because that stuff is all good. I like to go because, foremost, the food is fascinating to me. The menu is always evolving, the food intensely flavorful - beautiful without being fussy or contrived. It's deeply California in source, but influenced by travel, and family, and life beyond that. There's all sorts of fermenting, drying, and experimenting going on, and the kitchen is open, so you get to watch as everything unfolds. I was incredibly eager to crack the spine on their upcoming cookbook, pestered my pals at Chronicle for an early copy of it, and chose this cauliflower salad to start. It's a crunchy, hearty mixture of cauliflower, seeds, chiles, radishes, chickpeas, and green onions slathered in an enveloping garlicky yogurt dressing, and I hope you enjoy it as much as I enjoyed making it. -h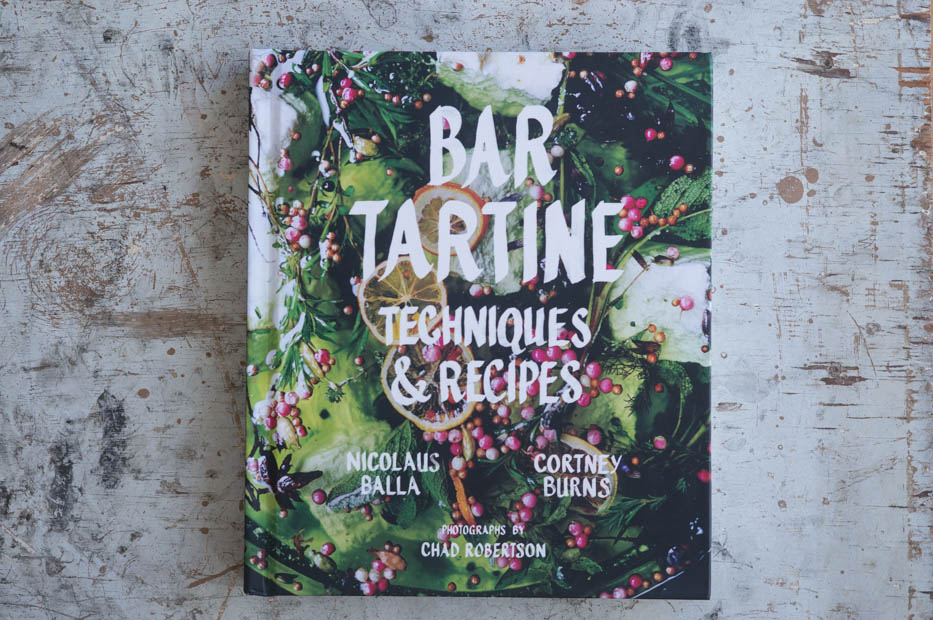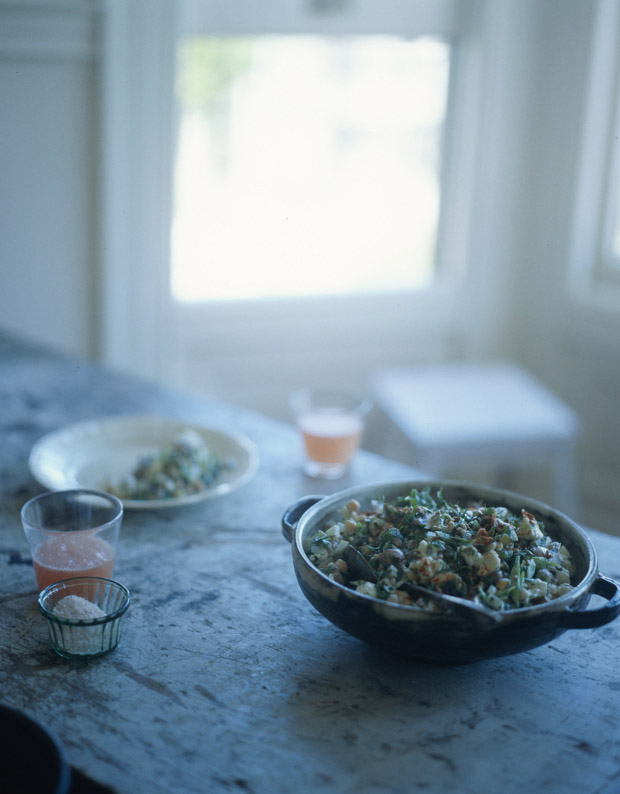 Bar Tartine Cauliflower Salad
Heidi note: If you're sensitive to chiles, start with one, then add more to taste. You can seed them if you like, but the heat is a nice play off the creamy yogurt.
Yogurt Dressing:
1 cup strained or Greek yogurt
5 tablespoons unfiltered sunflower oil
2 garlic cloves, minced
2 tablespoons freshly squeezed lemon juice
1 tablespoon red wine vinegar
1 tablespoon honey
1 1/2 teaspoons fine grain sea salt
freshly ground pepper, to taste

2 medium, Persian or Japanese cucumbers, seeded, cut into 1/2-inch dice

one 12-ounce head of cauliflower, trimmed into tiny florets
1 bunch green onions, cut into 1/4-inch rounds
1 cup cooked chickpeas
8 ounces button mushrooms, quartered
1 bunch radishes, trimmed and thinly sliced
1 or 2 green serrano chiles, stemmed and thinly sliced
1/4 cup sunflower seeds, lightly toasted

leaves from 1/2 bunch each fresh dill, flat-leaf parsley, and tarragon, chopped
sweet paprika, to serve
To make the yogurt dressing: In a large bowl, whisk together the yogurt, sunflower oil, garlic, lemon juice, vinegar, honey, salt, and pepper to taste. The dressing can be made up to a week in advance and stored in an air-tight container.
Add the cucumbers to the bowl with the dressing along with the cauliflower, green onion, chickpeas, mushrooms, radishes, chiles, sunflower seeds, dill, parsley, and tarragon and let stand for 15 minutes. Toss all of the ingredients with the dressing and let stand until the vegetables begin to give off some liquid and the cauliflower begins to take on a silky texture, about 15 minutes longer. The salad should be slightly soupy.
Transfer the salad to a serving platter, finish with the paprika, and serve. Leftover salad will keep in an airtight container in the refrigerator for up to 2 days.
Serves 6.
Adapted slightly from Bar Tartine: Techniques and Recipes, by Nicolaus Balla and Cortney Burns, Chronicle Books, 2014.