Black Pepper Cauliflower Salad Recipe
A friday lunch favorite - cauliflower florets doused in a warm black pepper and red onion vinaigrette, and tossed with nuts, apples, olives, and a bit of feta.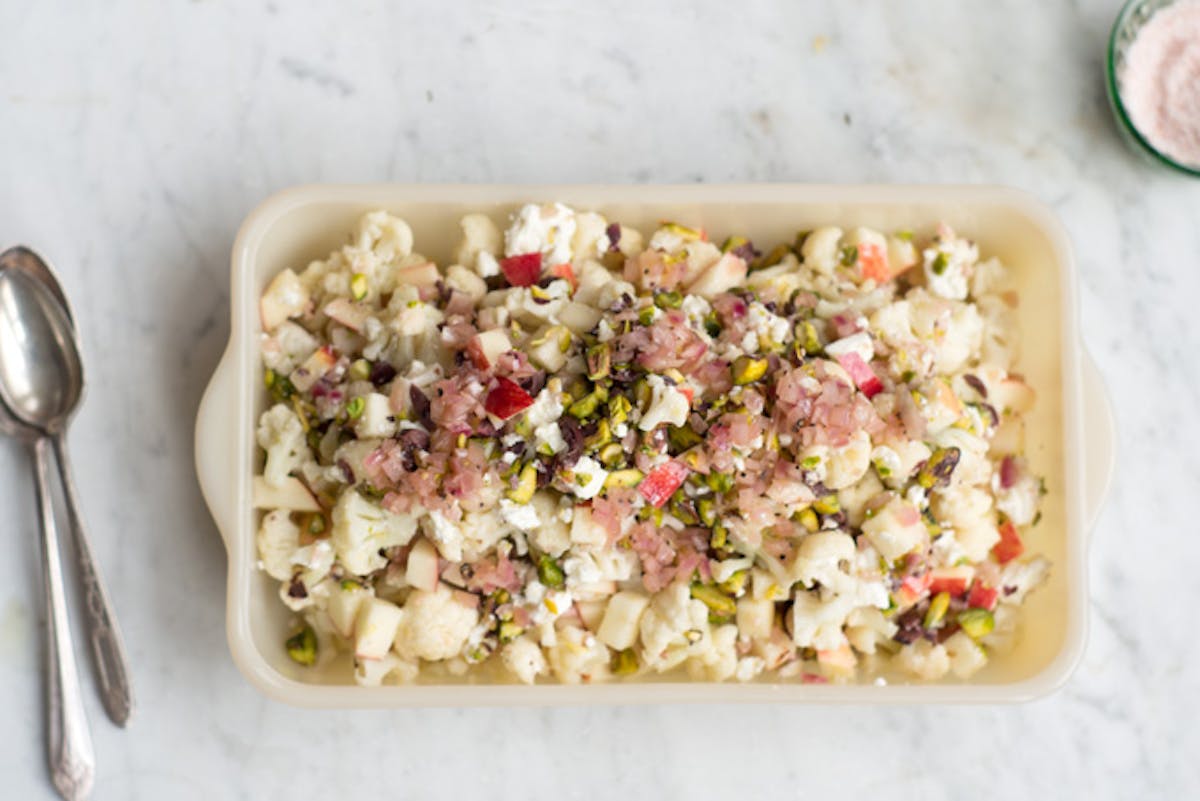 Fridays have unofficially become guest lunch days around here. It wasn't something planned, Fridays just seem to be the day people swing by with deliveries for the shop, or the day everyone has a bit of extra time. Adele came by last, and Dave from Jacob May before that. I like it. We'll often break out a bit of wine, pull a few things together (along with whatever leftovers from the week are in the refrigerator), chat, throw ideas around, and generally enjoy each other's company. Today's black pepper cauliflower is one of the things that has landed on the table in various guises over the past couple of months. The florets are doused in a warm black pepper and red onion vinaigrette, and tossed with nuts, apples, olives, and a bit of feta. The version with broccoli was also popular (simply swap out the cauliflower for broccoli)...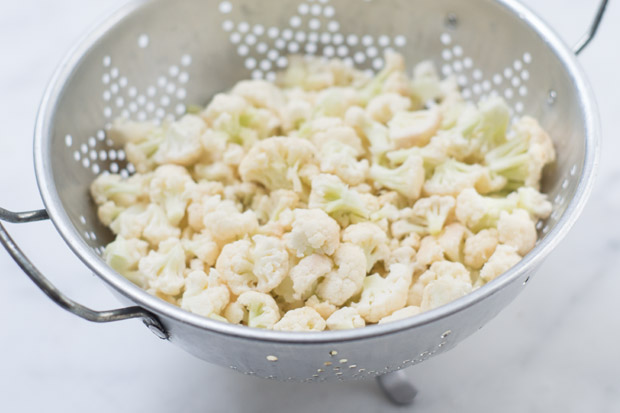 As far as how one of the spreads comes together, we'll often have a big pot of soup, a couple of salads (like this), and someone typically throws a few eggs in a skillet to poach and top the soup.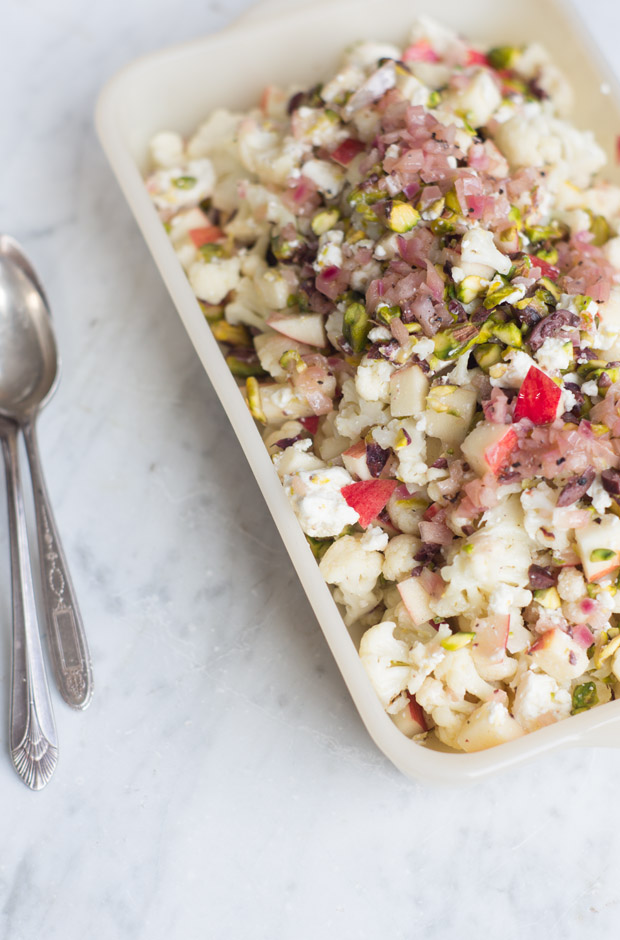 We typically have them friday lunches here at the house, but(!) that might change soon. After a long search, we finally found a new home for QUITOKEETO. It's a little rough around the edges, and is going to take some time to clean up - but new floors are en route, paint swatches are being debated, bars are hopefully coming off the windows, and the fluorescent lights will politely be escorted out. I promise more details as this unfolds in the coming weeks. The light in the space is beautiful and soft, the ceilings high. It was a painter's studio for many years, and after spending some time in it, I understand why. More soon. xo -h
Black Pepper Cauliflower Salad
*To keep your apples from browning after slicing, place them in a bowl of water with a big squeeze of lemon juice until ready to use.
2 pound head of cauliflower, cut into tiny florets
3/4 cup diced red onion
1/4 cup red wine vinegar
1/3 cup extra-virgin olive oil
3/4 teaspoon fine grain sea salt
1 tablespoon black peppercorns, crushed
1 cup toasted pistachios, roughly chopped
1/2 cup crumbled feta cheese
3 apples, diced*
1/3 cup chopped black olives

Bring a pot of water to a boil, salt well and cook the cauliflower for a minute, until just tender. Drain, run under cold water to stop cooking, drain well, and set aside.
Combine the red onion, red wine vinegar, olive oil, salt, and black pepper in a saucepan over medium-high heat. Once the onions have turned pink and infused the oil and vinegar mixture, remove from heat and set aside.
When ready to serve, place cauliflower florets into a large bowl. Add the pistachios, feta, apples, olives, and 2/3 of the red onion vinaigrette. Toss everything together gently and give it a taste--depending on the saltiness of your feta, you might wish to add a little more salt. You might want to add the remaining vinaigrette as well.
Serves 6.
Prep time: 10 minutes - Cook time: 10 minutes