Brown Butter Tortelli Recipe
A few more Rome pics & a simple pasta dish made from ricotta-stuffed tortelli tossed with brown butter balsamic sauce, arugula, pecorino cheese, and lemon zest.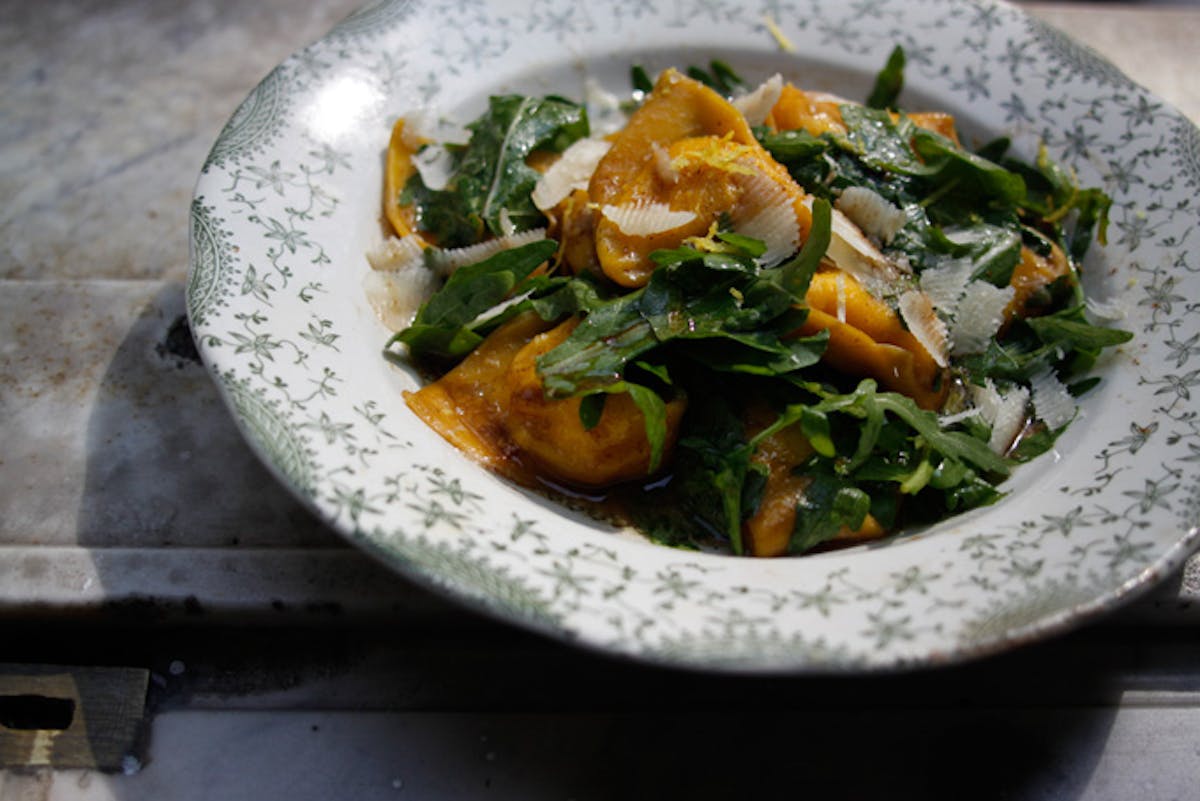 I have three days left in Rome. A stack of used bus tickets thick as a deck of cards is on the nightstand. I see my little pocket journal filled with scribbles and notes. And next to it there's a yellow Bakelite bracelet I picked up in a Pigneto vintage shop for 12 euros. After two weeks+ here, I'm ready to say, I'm tired. Rome is intense. I love it, but it makes my head explode a bit. I ended up making a quiet lunch yesterday for Wayne with some freshly made, fat-bellied ricotta tortelli. I tossed the cooked pasta in some browned butter with a splash of balsamic vinegar and some lemon zest. Added a bunch of arugula and some pecorino and that was that. Easy.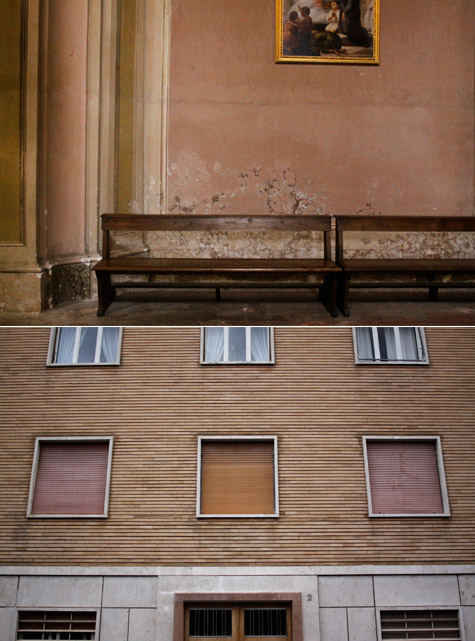 As someone who has lived most of their life in California, where buildings more than a hundred years old are rare, sitting in the midst of thousand+ year old structures never gets old. I find myself seeking out quiet places, and then, alternately, plopping myself down smack in the middle of the Trevi Fountain crowds. Sitting there for the umpteenth time to watch the crowds go by. There is no other public space quite like it.
I took a picture of Wayne in this church, above, years ago. It's a beautiful place high on the Aventine Hill, Santa Sabina all'Aventino. Next to the church is one of the best overlooks of Rome. Inside the church the light changes throughout the day and soft, lace-like patterns are projected from the windows onto the walls. I caught a group of students in there the morning I passed through.
(Above) Here's a shot of me in a room overflowing with Barilla pasta. And below that, my favorite genre of graffiti - ti amo graffiti.
For those of you who think you might visit Rome at some point, I'll do my best to wrangle all my notes into a single, updated post for you when I get home. The problem with travel related posts is they become dated so fast. My Rome post from a few years back needs some t.l.c. Anyhow, I'll work on it. I'm looking forward to sharing some of the new places I've visited this time around. There are also a number of good Rome-based blogs and references I can point you to. I even found a lab that did a really nice job developing film for me while I was here.
In the meantime, give this pasta recipe a try. It's super simple and quite delicious. I know tortelli is tough to find in the U.S., but, as I mention below, feel free to substitute ricotta ravioli or tortellini. Pumpkin filled pastas would work beautifully with the brown butter and bitter greens as well. See you all when I get back. -h
Brown Butter Tortelli
I used a dozen big, chubby fresh tortelli here. You can certainly use ravioli. The ones I used were stuffed with ricotta al limone, but a bit later in the year I can imagine substituting winter squash / pumpkin tortelli/tortellini/raviolis - about 1/3 pound / 150g for 2 servings.
one dozen fresh tortelli pasta
4 tablespoons unsalted butter
1 tablespoons aged balsamic vinegar
fine grain sea salt
grated zest of one lemon

2 - 3 big handfuls of torn arugula or other bitter/spicy greens

plenty of grated fresh pecorino or Parmesan cheese
Bring a large pot of water to a boil. Cook tortelli per package instructions, or until the pasta floats, in well-salted water. Then drain, reserving a small cup of the pasta water.
In the meantime, place the butter in a skillet or saucepan over medium heat. Cook until the butter has browned and is very fragrant and nutty smelling. Remove from heat, and let it cool off for a minute or so. Whisk in the vinegar, a couple pinches of salt, and most of the lemon zest.
Add the cooked pasta to the brown butter pan and toss gently. Add a tiny, tiny splash of the reserved pasta water and toss again. Add the arugula, then turn out immediately into individual bowls or a serving platter topped with a bit of cheese and the remaining lemon zest.
Serves 2. You can easily double or triple the recipe to feed more.
Prep time: 5 minutes - Cook time: 10 minutes