Buttermilk Squash Soup Recipe
A nice way to use up a good amount of summer squash. This soup is a soft, pastel shade of yellow, and aside from a hint of tang from the buttermilk, is quite mild in flavor. I finish it with a cumin brown butter drizzle that punches right through the creaminess, and plenty of chopped chives.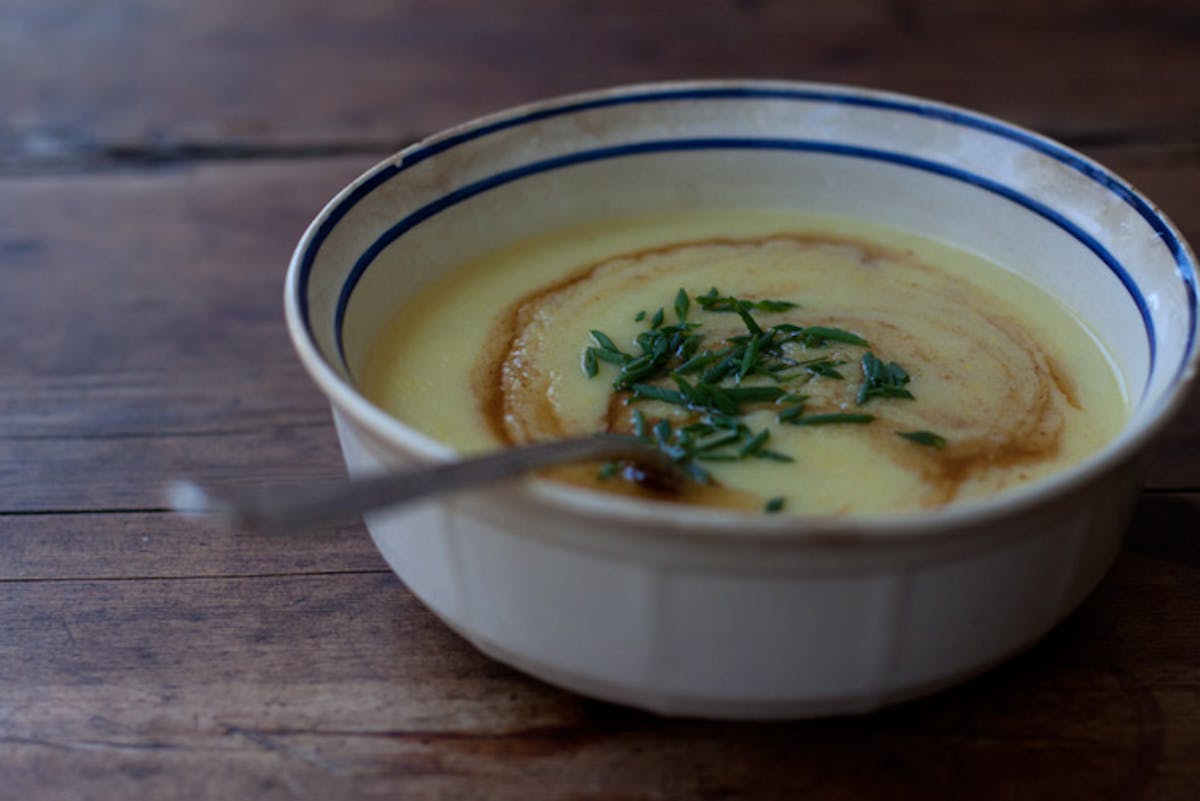 It has been one of those afternoons...I finished writing up this recipe, then realized I made a similar soup this time last year. Yikes. I'm officially starting to repeat myself. My apologies. Although, it was bound to happen at some point, I suppose. The soups - they're not exactly the same. I'm noticing a few significant differences as I look a little more closely. So I hope you don't mind if I still share this version.
This is what to expect. Compared to the original, this recipe makes a larger pot of soup - which should be helpful to those of you neck-deep in summer squash right now. It is a soft, pastel shade of yellow, and aside from a hint of tang from the buttermilk, is quite mild in flavor. Now, here's where the magic comes in. I finish the soup with a cumin brown butter drizzle that punches right through the creaminess. I can't get enough of the brown butter on its own. And just a drop of it swirling across the surface of each spoonful of soup makes all the difference here - so, don't be tempted to skip it.
The soup - I enjoyed it hot, but it is good thinned out a bit and served cold too. It's an efficient way to put a dent in any squash supply, and leftovers freeze quite well. If you have a large enough pot and a whole lot of squash to use up - double the recipe. And if cumin isn't your thing, or if you prefer rosemary or toasted almonds, have a look at this one. I'll try to avoid another repeat next year ;) -h
Buttermilk Squash Soup Recipe
I used yellow summer squash here, but you can certainly substitute any green summer squash/zucchini. I also do a version with peas - also good with the cumin butter. And while we're on the topic, it's nice to have the cumin brown butter on hand, so if you think it sounds like something you might like make a double or triple batch of it.
1 teaspoon cumin seeds
1/4 cup / 2 oz / 55g unsalted butter
fine grain sea salt

3 tablespoons unsalted butter
2 medium yellow onions, chopped
2 medium garlic cloves

1 pound / 16 oz / 450 g potatoes, cut into 1/4-inch cubes

2 1/2 pounds / 40 oz / 1+kg yellow summer squash, cut into 1/2-inch slices

4 cups / 950 ml good tasting vegetable stock
1 cup / 240 ml buttermilk
1 bunch of chives, chopped
In a skillet, over medium heat, toast the cumin seeds until they are fragrant. Just a minute or two. Use a mortar and pestle to pound the seeds into a fine powder. Alternately, you can use an electric spice grinder. Set aside. In the same skillet, melt the butter and cook until it's brown and gives off a deliciously nutty aroma. Remove from heat, stir the cumin into the butter along with a generous couple pinches of salt, then set aside in a warm place. You want the butter to stay liquid until you're ready to use it.
To make the soup, heat the butter in your largest pot or stockpot over medium-high heat. Add the onions, garlic, and a bit of salt. Saute for a few minutes, or until the onions start to get translucent. Stir in the potatoes and squash and cook for another 7-10 minutes, or until the squash starts to soften up. Stir in 3 1/2 cups of the stock (most of it) - the stock should just barely cover the vegetables. Bring to a boil. Reduce heat to a simmer and cook until the potatoes are tender, roughly another 25 minutes. Remove the soup from heat, puree completely with a hand blender, then stir in the buttermilk. If you need to thin the soup out with a bit more stock, you can do so. Taste and add more salt if needed. Serve each bowl topped with plenty of the cumin butter, and a sprinkling of chives.
Serves 10.
Prep time: 15 minutes - Cook time: 40 minutes