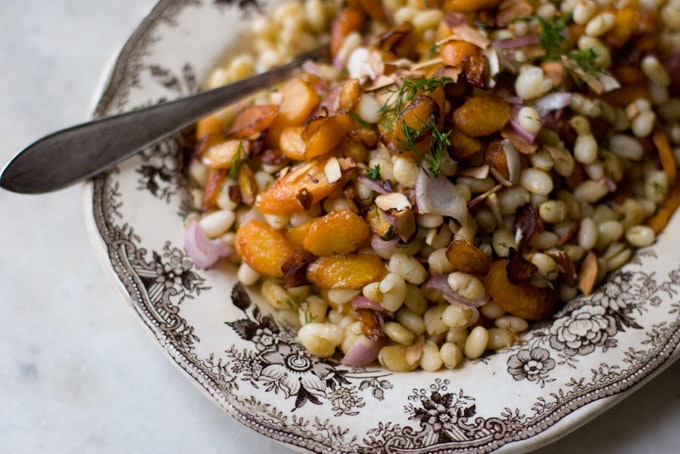 Carrot, Dill & White Bean Salad Recipe
I bought a single bunch of bushy-topped carrots the other day. At first glance it was a good looking cluster - bright orange in color, vibrant greens still attached. But it was on second glance that I noticed the tiny carrots nestled beside their larger brothers and sisters. Some of the smallest carrots were no thicker than a knitting needle, not much longer than my pinky finger. I snacked on those after a quick rinse. The bigger guys I put to work in this dill-flecked white bean skillet salad. Nothing too complicated - warm, coin-shaped slices of golden, pan-fried carrots, white alubia beans and chopped dill tossed with a tangy-sweet lemon shallot dressing. It tastes good the day you make it, even better the day after. And although it's certainly not as pretty, in my opinion, it might have tasted best on day three as the shallots infused the beans and the lemon mellowed.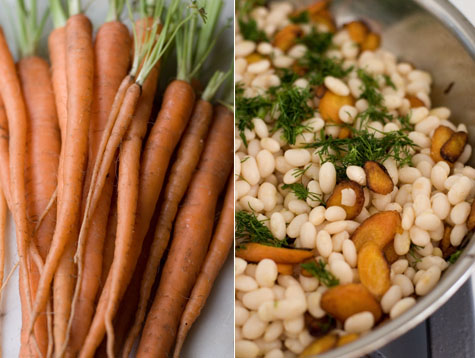 Look for young carrots with their greens still attached - you can get a good sense of whether the bunch is fresh or not. On the bean front, I cooked the alubias from scratch, but you can use well-drained canned white beans if you want to throw this together on a whim.
Carrot, Dill & White Bean Salad Recipe
I like to buy young carrots at the farmers' market - slice them slightly thicker than a banana chip for this salad.
1/4 cup extra-virgin olive oil
3 tablespoons fresh lemon juice
1/4 teaspoon fine grain salt
1/2 cup thinly sliced shallots

more olive oil (or ghee) for cooking
2 cups sliced carrots, cut 1/4-inch thick on deep bias
3 cups cooked white beans
scant 1/4 cup chopped fresh dill
2 tablespoons brown sugar (or honey)
1/3 cup sliced almonds, toasted
Combine the olive oil, lemon juice, salt and shallots in a small bowl. Stir and set aside.
In your largest skillet over medium high heat, toss the carrots with a splash of olive oil or a spoonful of ghee (I love ghee with carrots). Let them cook in a single layer - they'll give off a bit of water at first. Keep cooking, tossing gently every three or four minutes until the carrots are deeply browned. All told, about twelve minutes.
Add the beans and dill to the skillet and cook for another five minutes, or until the beans as well heated through. If you are using beans that weren't canned you can allow them to brown a bit as well (just cook a bit longer, and stir less frequently) - they can handle this in a way that most canned beans can't. If you need to add a bit more olive oil to the pan - do so.
Place the contents of the skillet in a large mixing bowl, sprinkle with the brown sugar and pour the 3/4 of the lemon-olive oil mixture over the top. Toss gently. Let sit for ten minutes. Toss gently once again, taste and adjust with more salt or sugar or lemon juice if needed to balance the flavors. Serve warm or at room temperature and finish by sprinkling with the almonds just before serving.
Serves 6 - 8 as a side.
Prep time: 10 minutes - Cook time: 20 minutes