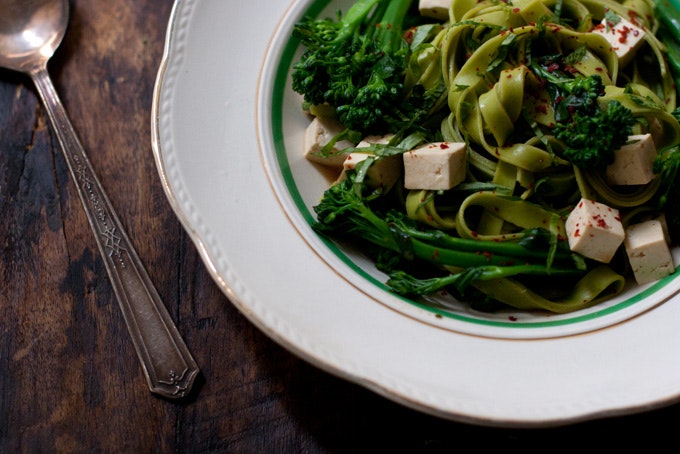 Ginger-Poached Noodles Recipe
A glance in my refrigerator revealed a bag bulging with mint, ginger, and basil leftover from the asparagus stir-fry I featured earlier in the week. The herbs were threatening to wilt, convincing me to give them a supporting role in one last meal. I should point out - this noodle recipe and the stir-fry feature many of the same ingredients, but the end result is entirely different. I thought it would be fun to show that with the addition/subtraction of just an ingredient or two - you can go in an entirely new direction. I poached spinach noodles, tofu, and baby broccoli in ginger broth. Finished it with a splash of soy sauce, mint, basil, lime juice and red pepper flakes, and in the end it was a quick, simple, clean, invigorating lunch.
I think I'll throw the last of the herbs, chopped, in a tub of yogurt, along with a bit of salt and fresh garlic. It's great on eggs, in soups, slathered on sandwiches, and on and on. I can't get enough of savory/salted yogurt.
Ginger-Poached Noodles Recipe
If you don't like picking around the ginger slices, tie them up loosely in a piece of cheesecloth. Also, I know that boiling pasta in a shallow pot of broth breaks rule #1 of pasta making - but it works out just fine in this case. I used dried noodles, but you can certainly use fresh noodles (use enough for 2-3 people).
4 cups vegetable broth
2 ounces fresh ginger, peeled and thinly sliced
8 ounces firm tofu, cut into small cubes
1-2 cups (half a bunch) of broccolini, broccoli, or baby broccoli - trimmed
4 ounces dried spinach noodles, soba, or noodles of your choice
1 - 2 tablespoons shoyu or soy sauce
1/4 cup fresh basil, shredded
scant 1/4 cup fresh mint, shredded
a squeeze of lime juice
crushed red pepper flakes (opt)
toasted sesame oil (opt)
Place the broth, ginger and tofu in a large saucepan and bring to a boil. Dial down the heat, and gently simmer for ten minutes or so. Remove (just) the tofu from the pan using a slotted spoon and set aside. Now add the broccolini to the simmering broth. Cook for just a minute, until bright, and remove from pan with fork. Add pasta to ginger broth and cook until done, stirring regularly. Remove pasta with fork, set aside, and pour out most of the broth and all of the ginger slices. Return the tofu, broccolini and noodles to the pot. Stir in the soy sauce, basil, mint, and a squeeze of lime juice. Finish with a couple pinches of crushed red pepper flakes. Taste and season to taste with salt, soy sauce, and perhaps a drop or two of toasted sesame oil.
Serves 2-3.