Green Soup with Ginger Recipe
From the new Anna Thomas cookbook, Love Soup - a soup cramming more spinach, leeks, sweet potatoes and chard into each bowl than I ever thought possible.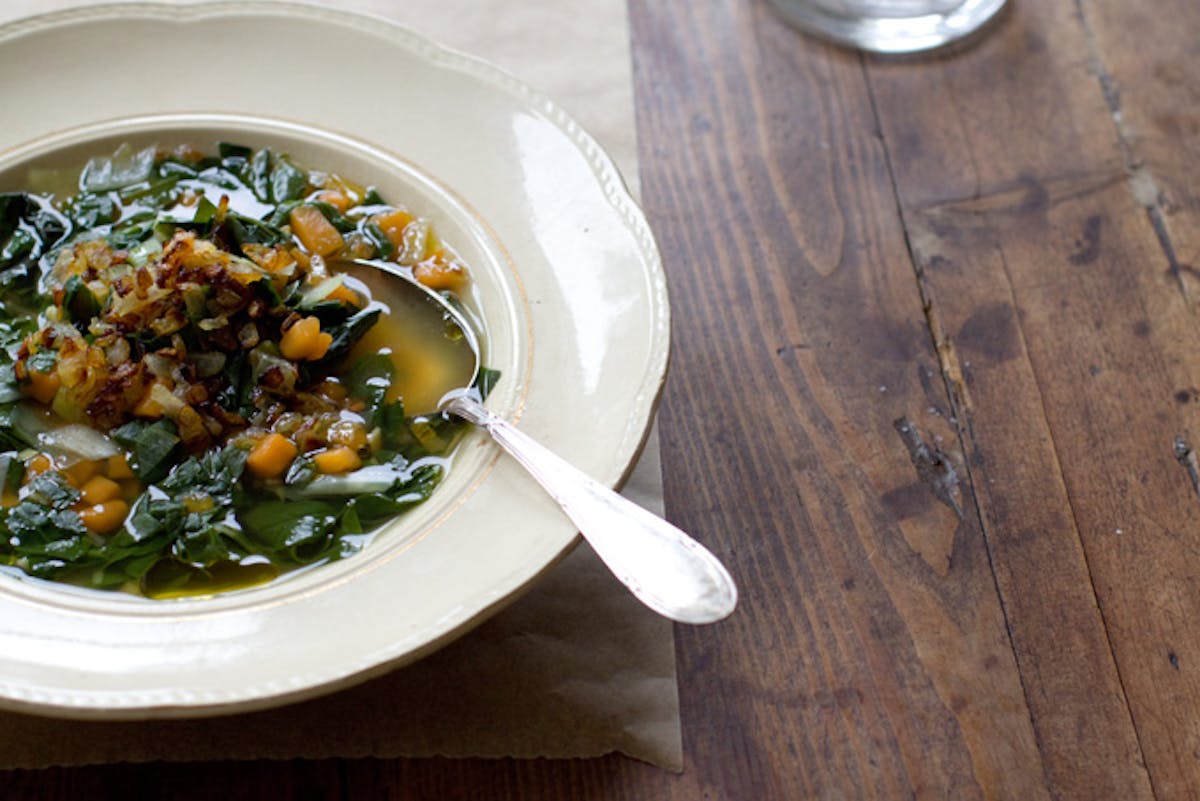 I think it must have been the combination of daybreak pain au chocolates, afternoon tarts, and twilight glasses of Chablis that sent me scrambling for my favorite soup recipes upon arriving home from Paris. Because that's what happened. I've been making soup and stews - big pots - for the past week. Hearty, rustic, chunky soups full of greens and grains and flavor. Remember this lentil soup from a while back? Made that. The cabbage soup? Made that too. But I also made this Green Soup with Ginger from the new Anna Thomas book, Love Soup. It has a short list of ingredients - onions, leeks, spinach, chard, sweet potatoes and ginger - and it's the kind of thing that makes you feel good. I'm not sure it's possible to pack more greens into a single pot.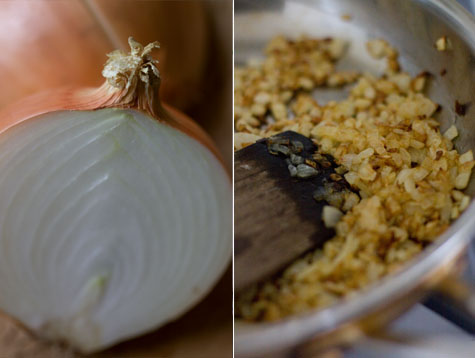 I should mention that Anna has a long track record of writing much-loved recipes. She wrote The Vegetarian Epicure in 1973, a classic, while she was a graduate student in film production at UCLA. I'm sure many of you know it well.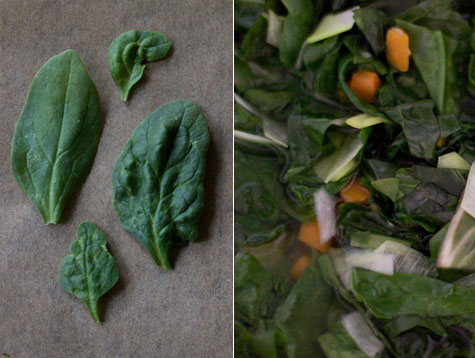 For those of you interested in knowing a bit more about the new book, all the recipes in Love Soup are vegetarian, many vegan. If you've ever wondered what to do with this ingredient or that in your farm box - from golden beets to purple cauliflower, this book is a nice catalog of ideas. I made her deconstructed hummus soup before we left for Paris, also good.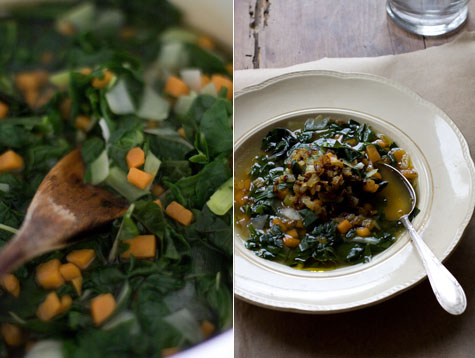 The book is 525 pages, b/w with illustrations, no photos. The soups are seasonally organized, and most are as approachable as the one I'm featuring today - unfussy instructions, achievable ingredient lists. Anna also includes a few salad, bread, and sweet recipes to close out the volume.
Let me know if any of you have tried any of the recipes from Love Soup yet. It'll help me decided which one to try next. -h
Green Soup with Ginger Recipe
I made my own tweaks to Anna's soup, and my version is as follows. The main difference was that the soup was so pretty after cooking (see photos), that I decided not to puree mine at the last minute. But I did puree the leftovers (also delicious!), just a different soup altogether. It's up to you really. Anna also mentions that she sometimes adds a bit of miso or tamari at the very end to deepen the flavor, but you should add it sparingly, and taste as you go.
1 large yellow onion (250g)
2 tablespoons (30 ml.) olive oil
1 1/2 teaspoons sea salt, plus more to taste
1 large sweet potato (12 ounces; 350 g)
1 large leek, white and light green parts (5 ounces; 140 g)
1 bunch spinach (8 ounces; 225 g)
1 large bunch green chard (12 ounces; 350 g)
3 tablespoons (30 g) chopped fresh ginger, plus more to taste
2 cups (500 ml) good-tasting vegetable broth
2-4 teaspoons fresh lemon juice
freshly ground black pepper
Chop the onion and cook it slowly in the olive oil with a sprinkle of salt, stirring now and then, over low heat until it is soft and golden, about half an hour.
Meanwhile, peel and dice the sweet potato and put it in a large soup pot with 4 cups (1 liter) water and a teaspoon of sea salt. Thoroughly wash the leek, spinach, and chard, chop them coarsely, and add them to the pot, along with the chopped ginger.
Bring the water to a boil, then lower the heat and simmer the soup, covered, for 30 minutes, or until the vegetables are completely tender. Add the caramelized onions when they are ready. When the vegetables are soft, add the vegetable broth (you can add less if you like a thicker soup) and decide whether you want your soup chunky, like this, or smooth. If the latter, puree the soup in a blender, in batches, or with an immersion blender until it is smooth.
Stir in 2 teaspoons of the lemon juice and a few grinds of black pepper. Taste, and correct the seasoning with additional salt or lemon juice.
Serves 5-6.
This recipe was adapted from Love Soup by Anna Thomas. Published by W. W. Norton & Company; September 2009. For those of you who want to get books signed, Anna is visiting quite a number of California book stores throughout October and November, more info here.

Prep time: 10 minutes - Cook time: 30 minutes