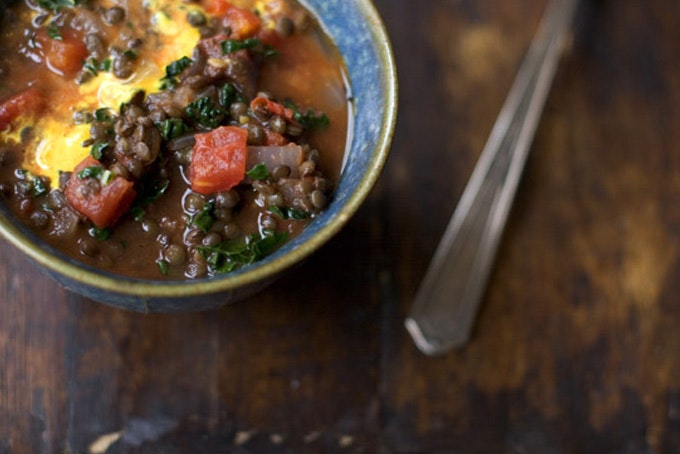 Lively Up Yourself Lentil Soup Recipe
I propose we kick off the year with one of my very favorite soup recipes from last. I eat lentil soup three, four, maybe five times a week (wish I was kidding), and come back to this lentil soup over and over for a few reasons. It's hearty yet healthy - which in my mind translates to a soup that is filling, tasty, adaptable, and also delivers plenty of good stuff to my body. I can get much of what I need from a meal nutritionally from just one bowl. It gives me energy without weighing me down, and delivers layer after layer of flavor. The tang of the tomatoes plays off the earthiness of the lentils, and the fragrant bolt of saffron yogurt brightens each bowl. Delicious.
I've been trying hard over the past six months to construct thoughtful, nutritionally balanced meals for myself. This can be more challenging than you might think (particularly being a vegetarian), but really - I feel so much better when everything is in balance. Protein? Check. Complex carbohydrates? Check. Fruits or vegetables?....and so it goes. This soup fits the bill for me - keep in mind that I also believe that everyone needs to navigate what they think constitutes a healthy and satisfying meal on their own, and I'm certainly not here to preach. Just hoping to provide a dash of ideas along with a sprinkle of inspiration.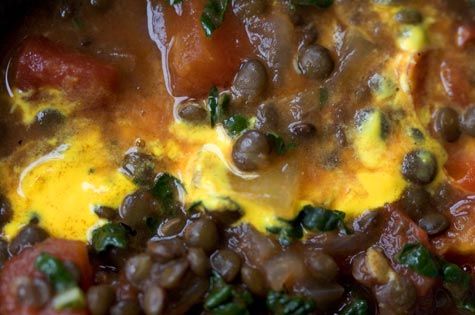 A few notes on why I like this soup nutritionally (I know this is where many of you nod off)...In addition to a nice amount of vegetable based protein in this soup (from the lentils), the recipe also incorporates a touch of dairy, vitamin-rich greens and tomatoes, and good fats. If I have a ripe avocado on hand I'll slice 1/4 of it into a small dice and sprinkle that across the top as well. The avocados have been so sad around here lately that I mostly skip them. With a bit of whole grain toast (or croutons) that have been rubbed with garlic, the whole thing comes together. Or you could make a batch of baked polenta fries.
Please feel free to think of this soup in broad strokes. There are dozens of ways I make subtle changes to this recipe depending on what I have on hand. I'll include a list of variations at the base of the recipe itself.
Lively Up Yourself Lentil Soup Recipe
I've found that French green lentils and black beluga lentils hold their shape nicely - they don't go to mush in the pot. I sometimes used fire-roasted organic crushed tomatoes, they lend a lovely deep smoky flavor to whatever you use them in. If you come across them, give them a try in this soup. If not, regular crushed tomatoes are just fine. Can't find greek yogurt, no problem - just use whole plain yogurt. Vegans can skip the yogurt entirely and finish the soup with a generous drizzle of good olive oil instead. And just a reminder, this makes a nice big pot of soup, so use a large pot - I eat the leftovers all week.
2 cups black beluga lentils (or green French lentils), picked over and rinsed
1 tablespoon extra virgin olive oil
1 large onion, chopped
1 teaspoon fine-grain sea salt
1 28-ounce can crushed tomatoes
2 cups water
3 cups of a big leafy green (chard, kale, etc), rinsed well, deveined, finely chopped

Saffron Yogurt
a pinch of saffron (30-40 threads)
1 tablespoon boiling water
two pinches of salt
1/2 cup 2% Greek Yogurt
Bring 6 cups of water to a boil in a large saucepan, add the lentils, and cook for about 20 minutes, or until tender. Drain and set aside.
While the lentils are cooking, make the saffron yogurt by combining the saffron threads and boiling water in a tiny cup. Let the saffron steep for a few minutes. Now stir the saffron along with the liquid into the yogurt. Mix in the salt and set aside.
Meanwhile, heat the oil in a heavy soup pot over medium heat, then add the onion and salt and saute until tender, a couple minutes. Stir in the tomatoes, lentils, and water and continue cooking for a few more minutes, letting the soup come back up to a simmer. Stir in the chopped greens, and wait another minute. Taste and adjust the seasoning if need be. Ladle into bowls, and serve with a dollop of the saffron yogurt.
Serves 6 to 8.
Variations:

- You can serve it with a poached egg on top,
- or crunchy, fried shallots,
- with a drizzle of chive infused cream,
- or with chunks of tiny pan-fried butternut squash cubes.

- Make a thicker version by using just a bit of water, and then spoon it over an omelette in the morning.

- Have some cooked farro or wheat berries around? Toss some in. Millet might be good too.

- You can finish the soup by adding your favorite spices or spice blends. Smoked paprika, crushed chiles, toasted cumin, would all work nicely.