Honey-sweetened Thumbprint Cookies Recipe
A simple thumbprint cookie recipe. Made with whole wheat pastry flour and oats, and sweetened with honey instead of granulated sugar.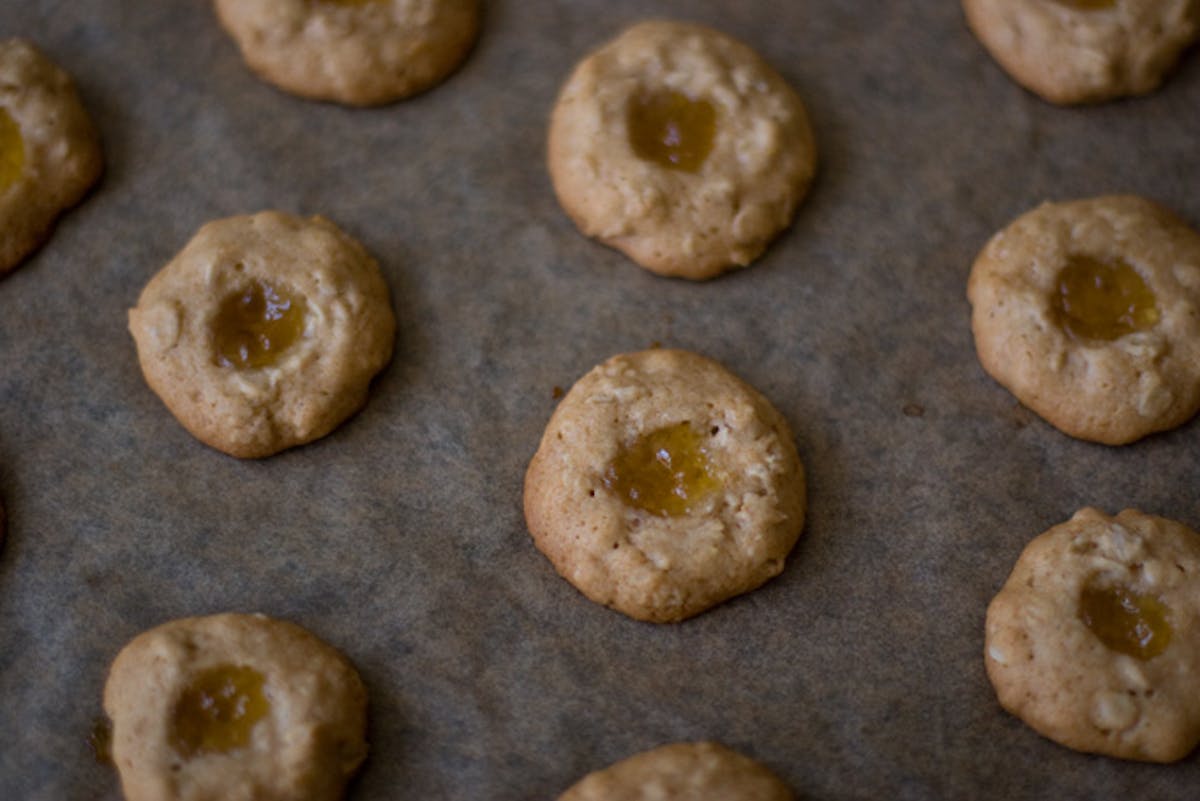 When I posted this recipe for chocolate chip cookies a while back, a number of you expressed interest in cookie recipes that use no granulated sugar. So, for example, instead of regular sugar, the cookies might be sweetened with maple syrup, honey, agave nectar, fruit syrup, ripe banana, and/or brown rice syrup. I make these little oat-flecked thumb-print cookies using honey as the sweetener. They bake up golden in color, and the oats add a bit of substance to them. They aren't the most attractive cookies I make, but with their jam-filled belly-buttons they're cute enough.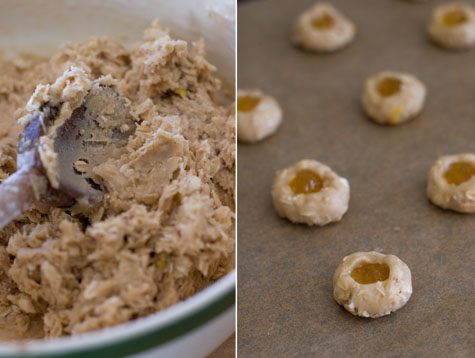 In my continuing fascination with tiny cookies, I made these mini. I used teaspoon-sized balls of dough. You could do larger, tablespoon-sized versions if you increase the baking time by a few minutes (and the amount of jam needed to fill the cookie dough).
And because of their diminutive size, truth be told, instead of using my thumb to make the imprint, I use my pinky finger instead.
Related links: A few other treats made without granulated sugar:Nikki's Healthy Cookies, peanut butter cookies, and I'm betting that you could do these bran muffins without the granulated sugar as well.
Honey-sweetened Thumbprint Cookie Recipe
2/3 cup honey (I use a clover honey)
1/3 cup warm coconut oil or clarified butter
1 1/2 teaspoon vanilla extract
1 1/2 cups whole wheat pastry flour
3/4 cup rolled oats
1 tablespoon all natural cornstarch (or arrowroot)
scant 1/2 teaspoon fine grain sea salt
1/4 teaspoon baking soda
zest of one lemon
your favorite jam or preserves (preferably fruit sweetened) - berry goes nicely
Preheat the oven to 350F, rack in the top 1/3. Line two baking sheets with parchment paper.
In a large mixing bowl pour the warm, melted coconut oil over the honey and whisk in the vanilla extract. In a separate medium bowl combine the flour, oats, cornstarch/arrowroot, sea salt, baking soda, and lemon zest. Add the flour mixture to the honey and stir until just combined. Let the dough sit for 2-3 minutes. Stir once or twice again - the dough should be quite stiff.
Roll the dough into balls, one level teaspoonful at a time, and place an inch or so apart on the prepared baking sheets. These will spread. Use a (damp) pinky finger or the back of a very tiny spoon to make a well in the top of each ball of dough. Fill each "well" to the top with 1/8 teaspoon of jam. If you chill the dough at this point for an hour, the cookies won't spread as much, but I'm usually too impatient.
Bake for 7 - 9 minutes or until the bottom and edges of the cookies are just golden. Resist the urge to over-bake, these tiny guys dry right out.
Makes a few dozen cookies.