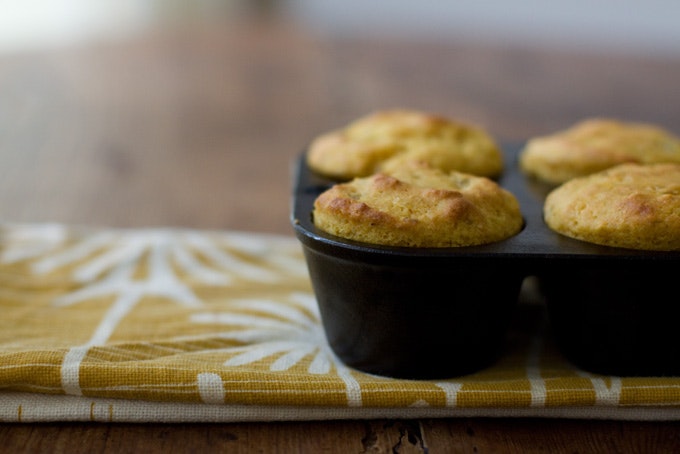 Some of you aren't going to like these muffins, I just know it. But a number of you are going to love them. So, non-traditional muffin fans? These are for you. At a glance they look like cornbread muffins, but aren't. Far from it, in fact. These muffins are saffron-smacked and riddled with golden raisins, buttermilk battered and barely sweet. Said another way, Lucia buns reinterpreted as muffins. If you love saffron give them a try. And come to think if it, like cornbread, they might make an interesting ingredient in a stuffing, or panzanella.
The recipe was inspired by a recipe in A Swedish Kitchen, which in turn was inspired by a recipe in the Swedish food magazine Allt om Mat. I adapted it to the ingredients I had on hand and finally put to use, the straight-sided, Lodge cast-iron muffin tins that have been sitting on my countertop for weeks - amazing, btw.
Saffron aficionados, give these a go. The rest of you, sit tight, I have another baked treat coming up I can't wait to share. I promise promise promise it is worth the wait.
Lucia Muffins
I used a blend of all-purpose and whole wheat pastry flour here, but you can exclusively use all-purpose flour if that is what you have available.
butter to grease muffin tins
3 tablespoons unsalted butter
1 loose teaspoon saffron threads
3 tablespoons natural cane sugar
1 cup / 240 ml buttermilk
2 egg whites
2 tablespoons water
1 cup / 4.5 oz / 125 g whole wheat pastry flour
3/4 cup / 3.5 oz / 100g unbleached all-purpose flour
1 teaspoon baking powder
1/2 teaspoon baking soda
1/2 teaspoon fine grain sea salt
2 tablespoons finely chopped almonds
1/2 cup / 2 oz / 60 g golden raisins, chopped
Preheat oven to 400F / 200C with a rack in the top third. Butter a standard 12-muffin pan, alternately you can use liners.
Melt the butter over low heat and set aside to cool. You want the butter to be melted, but not hot.
Very briefly toast the saffron in a small skillet over low heat, stirring and shaking the pan continuously to avoid burning. The saffron should be fragrant, but stop before the threads change color. You are definitely better off under cooking than overcooking the saffron.
Use a mortar and pestle to grind the saffron threads with 1 teaspoon of the sugar. Pour the buttermilk into a cereal bowl. Add the saffron mixture, then the egg whites, water, and melted butter. Stir until well combined.
In a large bowl, whisk the flours, baking powder, baking soda, salt, remaining sugar, and almonds. Pour the wet ingredients over the dry ingredients and sprinkle with the raisins. Use a spatula to stir until everything barely comes together, avoid over-mixing. Spoon the batter into the prepared muffin cups until about three-quarters full. The batter should fill 10-12 muffin cups.
Bake for 18 - 22 minutes, or until the tops of the muffins are golden and a toothpick inserted into one of them comes out clean. Pop the muffins out of the tins as soon as it is reasonable (after a few minutes) and cool on a rack. If you leave them in the pan they steam and can be challenging to remove.
Makes 10 - 12 muffins (12 in the Lodge cast iron muffin pans)...
Prep time: 20 minutes - Cook time: 25 minutes