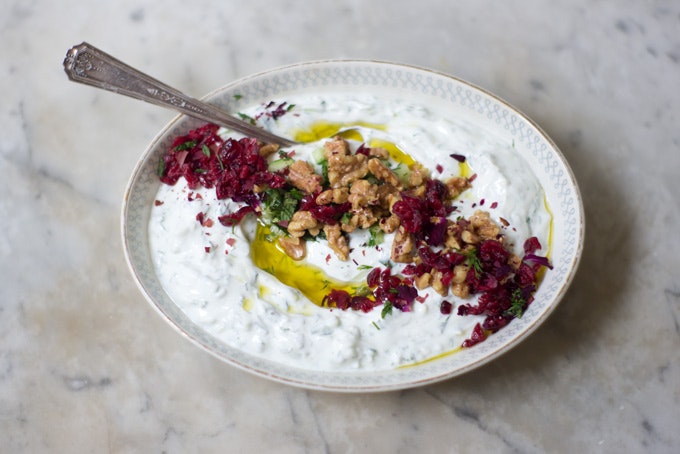 Mast-o-Khiar Yogurt Dip Recipe
I've been posting a sprinkling of recipes to
QUITOKEETO
, and this is one from a few months back. It is the prettiest dip in my repertoire, one I've been revisiting all summer, and I wanted to be sure you didn't miss it. It's a simple herbed-out yogurt base finished with dried fruit, rose petals, toasted walnuts, and a slick of the best olive oil you've got. A real show stopper. This version has drifted away from the traditional Iranian preparation of Mast-o-Khiar (yogurt and cucumber), which often uses dried mint and raisins, but this is how I prefer it - lots of fresh herbs, and the pop of added color and tartness you get from dried cranberries.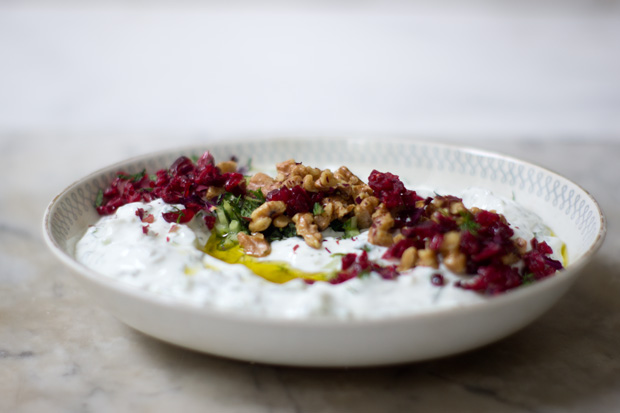 For me, this dip is all about the details, and personal preferences. I make it with 2% Greek yogurt, and walnuts that have been toasted exceptionally well. You want them as deeply toasted as you can get them without any burning - this makes all the difference. I'm also particular about the cut on the cucumber, instead of chunks large and small, I prefer a small dice yielding pieces just a bit larger than a pencil eraser. Also, don't skimp on the olive oil drizzle. The way good olive oil plays off the yogurt is magic. I know dried rose petals can be hard to find (sometimes I use fresh/unsprayed petals instead), it's ok to skip them - again, not the same, but still really good. If it saves you a trip to the store, almonds work beautifully in place of walnuts, but again, toast them well. And trading the cucumber for zucchini (remove seeds), is what I do when it is in season - or do a combination. You can tweak the basic idea many different ways. It's great with toasted (or grilled) pita bread.
Mast-o-Khiar Yogurt Dip
If you can't find dried rose petals, simply leave them out. The dip will be different but still delicious!
2 medium garlic cloves, peeled 1/2 teaspoon fine grain sea salt 2 cups / 480 ml Greek yogurt 3 tablespoons chopped fresh dill a dozen fresh mint leaves, chopped 1 medium cucumber, seeded & finely diced great quality extra-virgin olive oil 1/3 cup walnuts, deeply toasted 2 teaspoons crushed dried rose petals 3 tablespoons chopped dried cranberries
On a cutting board, sprinkle the garlic cloves with the salt, then mash/chop into a paste with a knife. In a small bowl combine the garlic paste with the yogurt, dill, and mint. Cover and refrigerate until ready to serve. When you're all set -stir in the cucumber, and salt to taste. Spoon into a favorite dish and serve drizzled with the olive oil, sprinkled with the walnuts, rose petals, and dried cranberries.
Serves 6-8.